Roast Your Greens—Even the Delicate Ones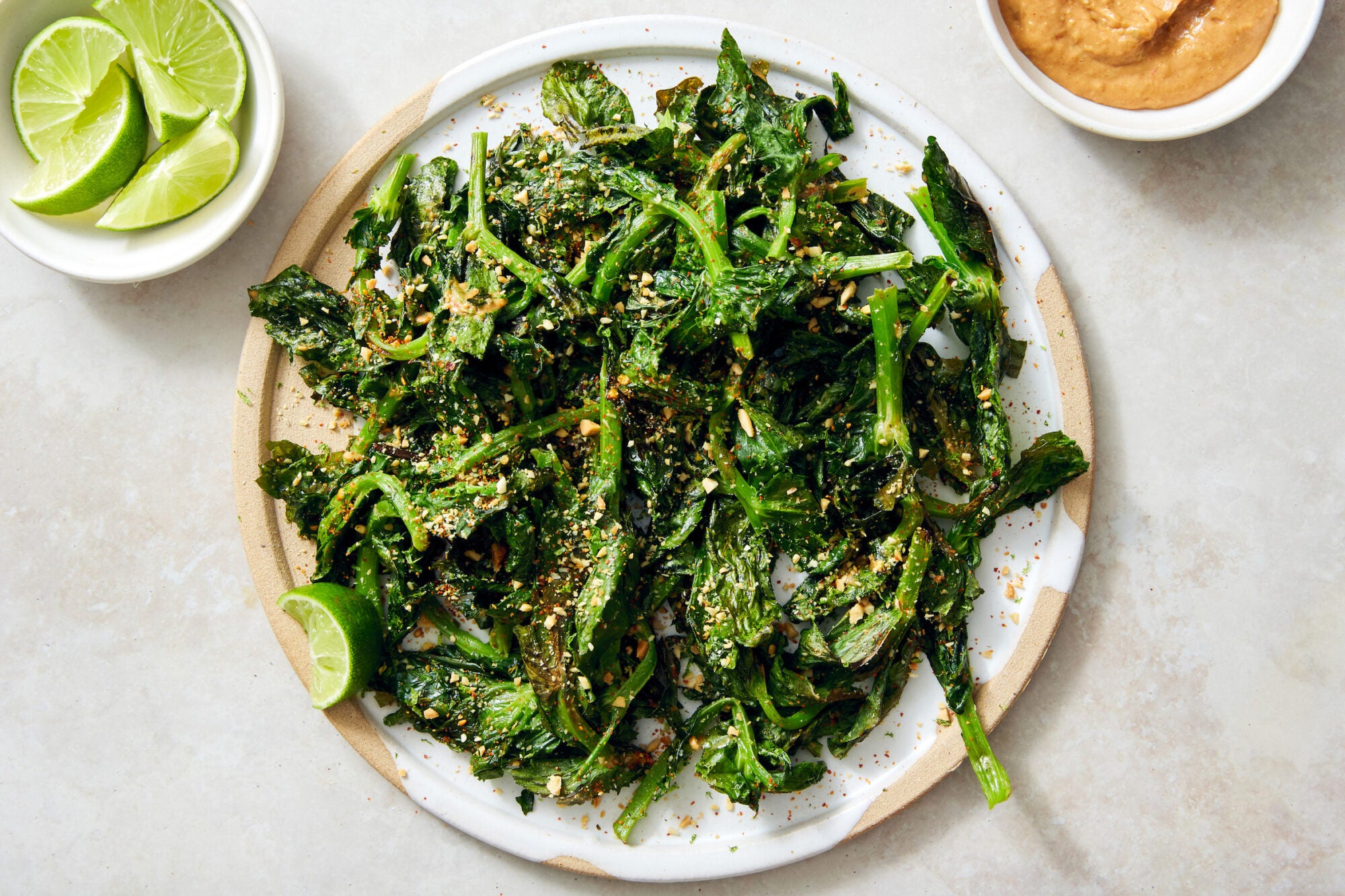 Pea shoots are great raw, but they're even better with a light char and a drizzle of cool, creamy dressing.
It was a mistake. I was meant to get the cast iron pan hot and slicked with oil to sauté some kale that was lingering at the back of my crisper, but I didn't—and now the roasted kabocha squash I had in the oven was nearly done. In a last-ditch effort to get in those greens, I tossed the kale with some oil, salt, and pepper, and I threw it on the sheet pan with the squash. Minutes later, I pulled it out of the oven to find perfectly wilted, blistered greens—crisp in only a few corners here and there. Dinnertime cooked greens were forever changed.
Sure, in the past decade or so, the world has come around to grilled greens. Grilled Caesars and wedges dot steakhouse menus and the tables of Fourth of July cookouts. Artfully grilled endive and radicchio are in salads at restaurants that tread the fine-dining line. But why not go fully roasted? This passive approach to cooking greens allows me to get the other parts of the meal together: the sauce, the grain, or the protein.
Common sense would indicate that the high, dry heat would incinerate even the toughest of collards, but instead, something much more interesting happens with that little coating of oil. Heartier greens, including kale and collards, pleasantly char and blister, while lettuces with higher water contents like romaine and Little Gems melt, turning them into perfect vehicles for dressing. And the very delicate greens, like arugula, shouldn't be skipped either—they'll crisp or soften depending on how the leaves are spread on the pan.
In my experimenting, I've developed a sort of formula to approach them all. Toss a half pound of greens, if you're serving a small group, or a few cups, if it's a side dish for one, with oil, salt, and seasoning. Then roast them at high heat (450ºF) and dress them with a richer dressing. This works with Tuscan kale that's been wilted and covered with tahini and dukkah, and with escarole drizzled with the greenest of olive oils, some minced or grated garlic, and lemon zest. But the combination I keep coming back to is blistered pea shoots with a spicy miso and peanut sauce. It was savory, and it had the richness to soften the char, along with the crunch of a crushed peanut.
The roasted green permutations are endless. They come together quickly, comprising a maximum of ten minutes from toss to plate, and they work wonders in using up the fading mustard greens at the back of the fridge. I'm pretty crazy about preventing food waste, so I've even gone so far as to roast day-old salad. I know what you're thinking—but it was good. The Little Gem lettuce became soft, with caramelized and blistered edges. Maybe a roasted green goddess romaine will be the next new "it" dish? It will be at my next dinner party, at least.