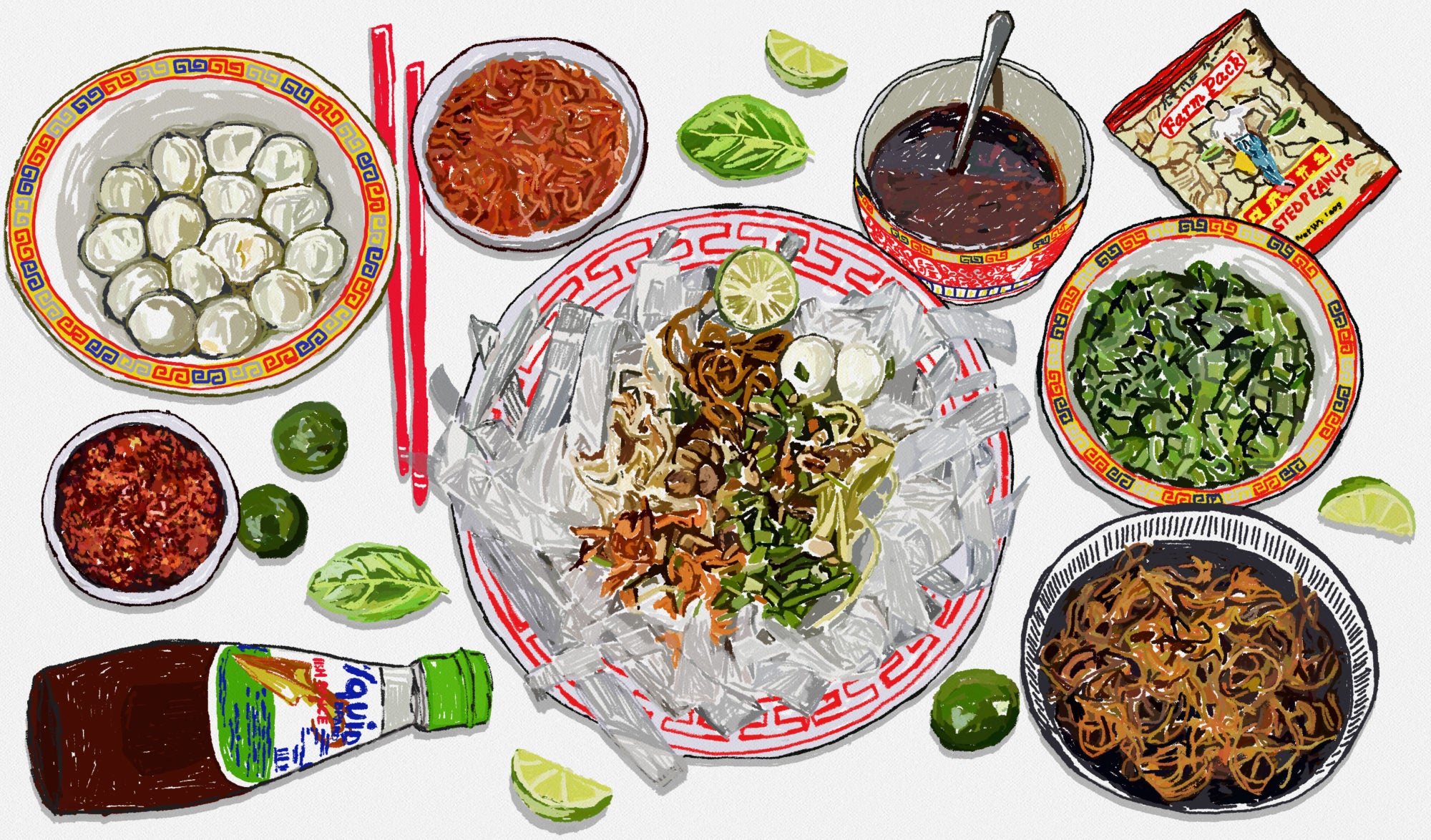 You can make any rice paper salad your own, as long as you follow a few loose rules.
At Di An Di, a lush, plant-filled Vietnamese restaurant in Greenpoint, Brooklyn, the menu homes in on pho and rice-paper-based dishes like banh trang tron, likened to pizza due to its starchy foundation with various toppings (egg, pork, hot sauce), and cha gio, crispy fried spring rolls filled with pork and shrimp. For me, each visit warrants the exact same order: rice paper salad. Served at room temperature, cut-up strips of rice paper are adorned with strings of pickled papaya, shreds of beef jerky, flakes of shrimp floss, and crushed peanuts. Rau ram, also known as Vietnamese mint, is woven between miniature hard-boiled quail eggs and shards of sliced rice paper, which soften under a coating of sweet chile dressing. It's equal parts punchy, tangy, spicy, and fresh—and most critically, the rice paper squares bring it all together.
"It's a clever use of rice paper, which is an ingredient commonly associated with cuon, or rolls—think summer rolls or fried spring rolls—in Vietnamese food," the restaurant's chef, Dennis Ngo, tells me. "To cut the rice paper up and then use it as a main ingredient in a salad speaks to the ingenuity of a Vietnamese cook and really stretches the use of a Vietnamese staple."
And ingenious it is. Like all salads, banh trang tron is highly adaptable. There's a loose template to follow—a rice paper base, salty threads of jerky, crunchy add-ons, egg yolk, and fish sauce. Some recipes call for green mango as the main acidic element, whereas others lean on fried shallots to bring out the crunch or dial back on the chile powder for a milder spice.
When making rice paper salad at home, Ngo suggests not skimping on Vietnamese mint or whatever herb you enjoy. "The dish really is all about the herbs and the rice paper at the end of the day," he says. "The rice paper adds texture, but the herbs, as in all Vietnamese food, are really what make the dish great."
In a quest to make my own rice paper salad, I knew rau ram would be integral to replicate that burst of freshness I always craved. Rau ram is similar to cilantro: Both add an herbal brightness to balance out salty and meaty dishes. Rau ram, however, is less bracing than cilantro, with its mild notes of lemongrass and whisper of muskiness. After a quick Google search of Vietnamese markets in Chinatown, I tracked down a small plastic baggie of it at Ken Hing Market for $1.50, sold alongside multicolored packets of dried fish and meat. But if you're not one to make a special trip for a single ingredient, cilantro will work OK, too.
Now equipped with a dizzying array of toppings, the only thing left to do was to assemble it all: a wreath of rau ram and mint, slivers of beef jerky, shredded dried squid, fried shallots, roasted peanuts, green mango, and nuoc mam—a blend of fish sauce, lemon juice, garlic, chile peppers, and sugar.
Each addition isn't merely a garnish, but rather a pillar of texture or flavor. The slim, soft sheets of sliced rice paper uphold the tang of nuoc cham and squeeze of lime juice, while complementing the chewiness of the strings of squid and beef jerky. The herbs and julienned green mango harmonize with the peppery linger in nuoc cham, whereas the fried shallots and peanuts add a necessary crunch. It's busy, maybe even a little chaotic. But in this case, the more toppings, the merrier.
Restaurant photo by QuallsBenson