Reconstructing the Lemon Bar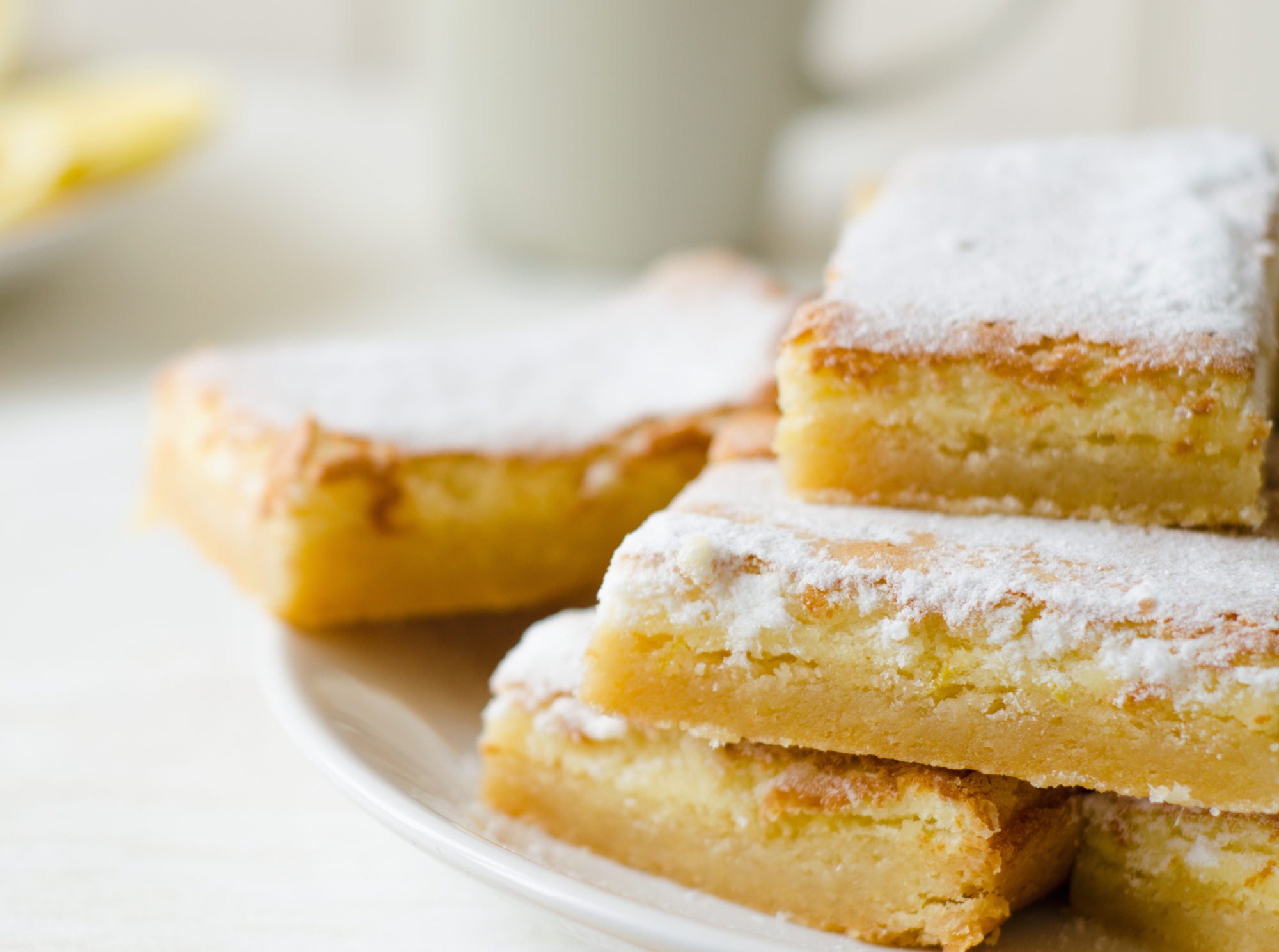 Designing a more delicate, less cloying, lemon bar—based on some of the earliest recipes for the dessert.
Recently I came into a glut of lemons, but instead of saving them for cake or whisky or my occasional attempts at a pre-breakfast lemon water habit, it presented the perfect opportunity to give a treat I've never been that fond of another chance: lemon bars. In my experience, they tend to be these massive, overlysweet, curd-heavy blocks of shortbread—ubiquitous and always a bit disappointing. But I hoped that, by delving into their history, I might uncover a lemon bar that was satisfying without being overwhelming, with a pure, bright, lemon flavor.
I honestly figured the tart treat had been gracing dessert tables for ages given that the two components, shortbread and lemon curd, have been popular for eons. I can easily picture a straight-backed woman in an impractical dress spreading some curd upon a biscuit; bar form is a logical next step. While oldish, references to "bar cookies" don't start showing up until the late 19th century, and the first for a lemon bar found thus far does not appear until the August 27, 1962, edition of the Chicago Daily Tribune in a recipe submitted by Mrs. Eleanore Mickelson for its "Today's $5 Favorite Recipe" column.
The thrifty 1960s version is paltry when compared to modern versions. As opposed to four to six eggs, at least ½ cup lemon juice, and a 9-by-13-inch pan (the norm today), her recipe uses just two eggs and three tablespoons of lemon juice, spread across a 9-by-9-inch pan.
Another recipe, from Betty Crocker's Cooky Book, brought the lemon bar to a cross-country audience. Published in 1963, the Betty Crocker version is nearly identical to Mrs. Mickelson's, the only difference being a lack of flour for the curd in the Betty Crocker version.
After much tinkering and testing with both versions, I landed on a recipe that stays very true to Mrs. Mickelson's but reduces the sugar and adds an additional tablespoon of lemon juice and a lightly packed tablespoon of lemon zest. The finished bars stand a scant 3/4 inch tall, with an equal amount of bright, tart curd and a sturdy yet beautifully toothsome shortbread base.
Traditionally they are served dusted with confectioner's sugar, with which you can never go wrong, but I've become a fan of serving them cold with a dollop of unsweetened whipped cream, which cuts the sweetness even more and makes for a nice contrast to the curd.
I can also confirm they make a brilliant breakfast crumbled up and stirred into plain yogurt, as my new morning habit would attest. Lemon water be damned.