Rethinking the Boring Baguette. Where? Bali.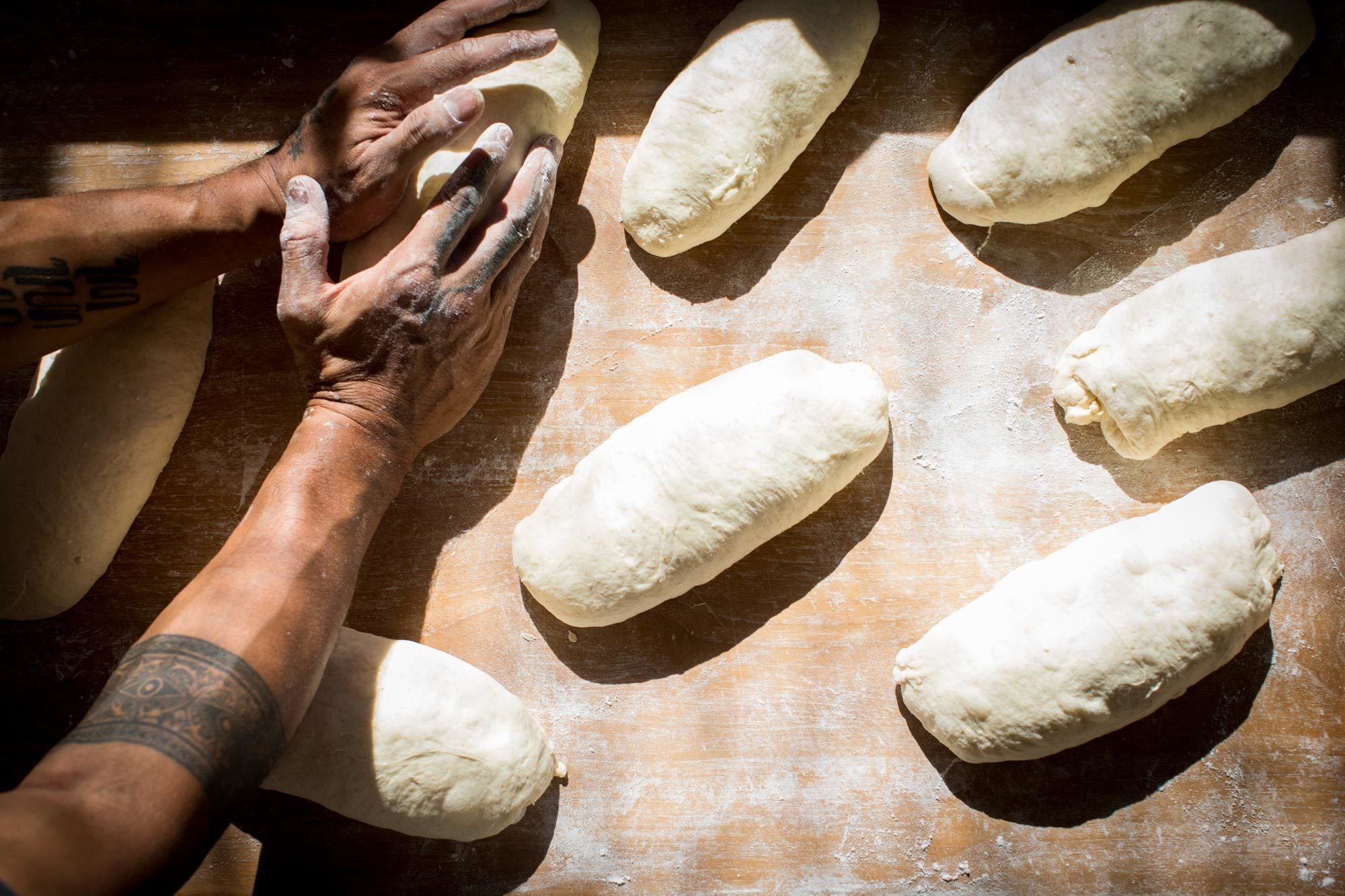 Starter Lab's retooling of the iconic French bread wasn't exactly planned.
Emerson Manibo never really wanted to make a baguette. When he and his partner, Min Siah, opened Starter Lab, a small bakery across from a yoga studio on the edge of an expat surfer neighborhood in Bali, they aimed to keep the focus small. Mostly sourdough, maybe a few dense loaves of Danish rye or rich slabs of focaccia; that was it. The trouble is that, when you do something well—and Emerson bakes bread very well—people start asking for more. Yoga students in harem pants wandered over after their sunrise classes looking for breakfast pastries. Emerson eventually offered them morning buns: dark, sugary spirals of buttery, almost weightless dough. Restaurants throughout the island started calling. Could they get six loaves of this, a dozen loaves of that?
That's how Emerson ended up baking baguettes. The chefs Eelke Plasmeijer and Ray Adriansyah needed a regular supply of them. Their restaurant group—consisting of a handful of locations in Ubud, centered around the well-regarded tasting menu destination Locavore—was opening up a sandwich counter with a banh mi on the menu. Eelke and Ray's kitchens take the typical nomenclature of "local" or "house made" to unusual extremes. The cocktail bar uses homemade liqueur distilled only from Kintamani oranges. The butcher cures charcuterie from the oldest breeds of Balinese black hogs.
It is not by accident that Locavore is the only Indonesian restaurant to have landed on Asia's 50 Best list. In other words, they could make a baguette for their banh mi if they wanted to. Asking Emerson to make one was a kind of compliment. So, it would have been nice if Emerson had actually wanted to. He didn't.
You see, baguettes are boring. Every bakery makes them. Here in Bali, just as in Atlanta or Hanoi or Buenos Aires, or almost any place with enough people and a decent airport, there were already plenty of places to get a fine baguette. Why would the world need another? Emerson wasn't sure that it did. Starter Lab is a small bakery—little more than a stack of deck ovens and a counter—and Emerson devotes his precious rack space mostly to the long-fermenting loaves of sourdough that have become his calling card here. On the other hand, Locavore is not the sort of restaurant you turn down. It wasn't like Emerson was going to say no. He just wanted to make this baguette a little less boring.
This wouldn't be the first time that Emerson did things a little out of order. He was born in the Philippines, raised in New York, and expected by his parents to do something white-collar. He taught English—including a long stint in Jakarta—until he burned out. Min's path was not dissimilar: born in Malaysia, raised in Australia, bouncing around Southeast Asia working in PR for years.
They met on vacation in Bali, introduced by friends. Emerson told her a little about his life: giving up his teaching career, going to culinary school with kids half his age, putting in long hours at the best places that would have him (Per Se, Roberta's, Tartine, Della Fattoria). He wanted to open a bakery, maybe in California, but the idea disappointed his parents. "You don't have the hands to be a baker," his mother had scolded.
Min mostly understood—like him, she was burned out and in Bali, uncertain about the future—but she wanted to know what it was about bread. Why would he change his whole life for that simple thing? He told her what he liked most about bread was the heat.
In the following months, Min was pregnant, Emerson was moving to Bali, and Starter Lab was on its way. It seems even when you don't plan on opening a bakery, sometimes you end up sweating in a tropical kitchen, buying 50-pound sacks of all-purpose flour from a distributor (the only kind available), trying to figure out how to make a not-boring baguette in a deck oven with a busted steam line.
They had a little help. Felix Schroeder, then head of Locavore's test kitchen, sent over a care package of ingredients that he thought might be useful for an experimental baguette. Herbs, acids, salts and seasonings: Emerson had options, but rethinking the baguette isn't so easy. "Boring" can be another word for "classic." It's a long, skinny loaf, neither too crusty nor too soft, mild in flavor and ideal as a vehicle. This simplicity, a blank bread palette, is a big part of what has made baguettes so versatile and loved around the world. Get too far from that—too weird or flavored or tricky—and it just isn't a baguette anymore.
Among several test batches, Emerson noticed one baked with koji salt, a brine inoculated with Aspergillus oryzae. The koji had added an aromatic layer that hadn't been there before. Interesting, he thought, but too bland. In the next batch, he traded koji salt for miso paste made from brown rice, a potent, rich Japanese staple. This was a revelation. The bread had a subtle kiss of fermentation and a mostly aromatic, but slightly umami, touch that complimented the bread's essential sweetness. It wasn't like the kick of a sourdough loaf, that big, funky flavor, but it wasn't a boring baguette, either. A winner was determined. Locavore got the bread they wanted for the banh mi.
Lately, Starter Lab puts out about dozen of these miso baguettes at a time. It isn't much—nowhere near the number of sourdough loaves the bakery produces every day—but it's enough to keep Locavore happy without taking up too much space. Canggu, the little surfer neighborhood they were once on the edge of, is getting bigger. There are more surfers, more hotels, and if you want one of those morning buns, you have to get to Starter Lab before all of the people in yoga pants buy them up. In August, Emerson and Min will open a new location in Singapore, followed by a second location in Bali. The size of the bakery's production facilities, just like the neighborhood, will be greatly expanded. Plans are in the works for a longer menu, maybe toast, maybe sandwiches, maybe even more baguettes.