Restaurants Think Inside the Box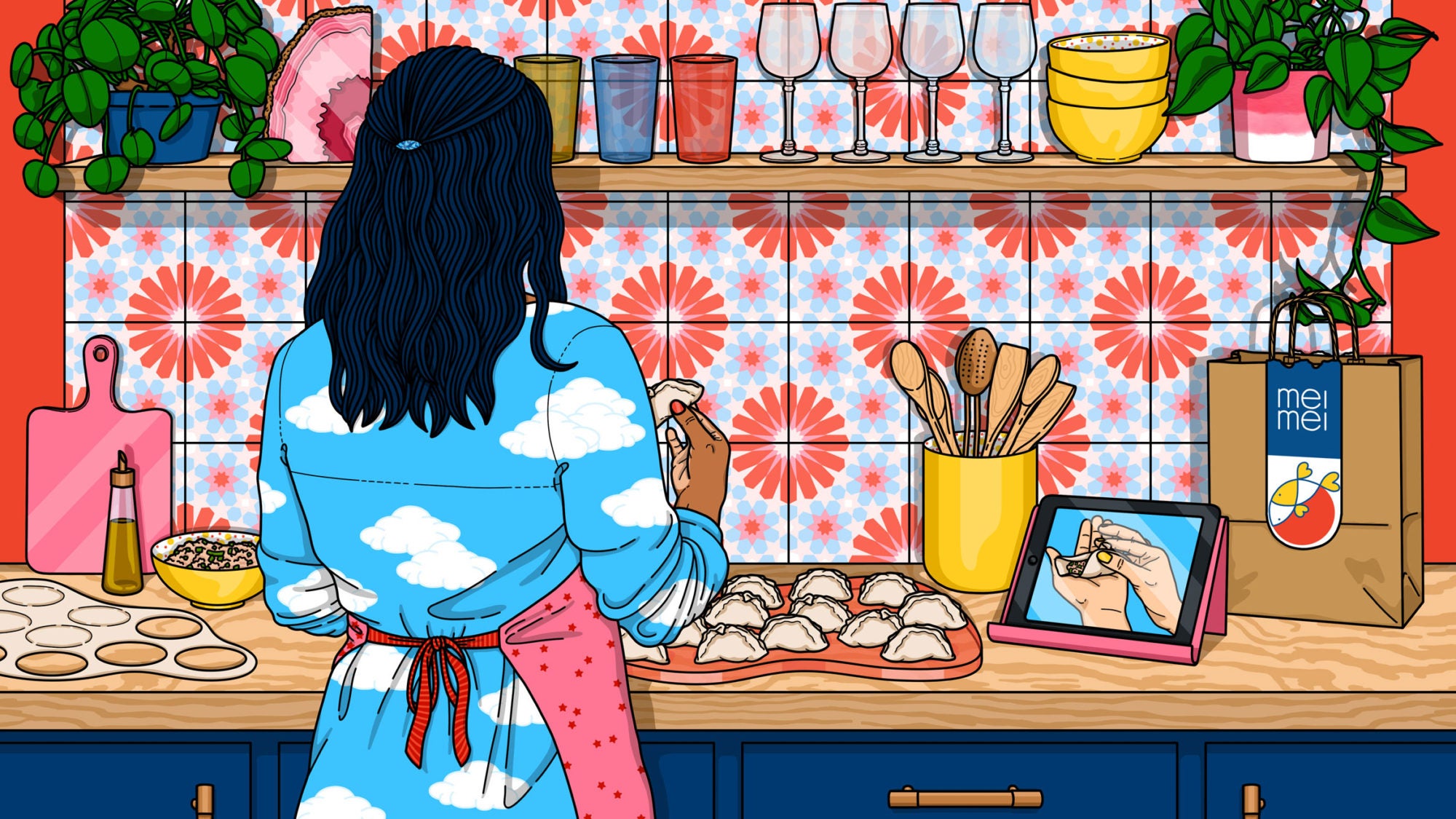 For struggling businesses, turning signature dishes into interactive meal kits is more than just a brand extension—it's about survival.
Sous-vide short rib with seasonal vegetables and romesco. Forty-five-day-dry-aged rib eye seasoned with a custom salt blend. Tacos loaded with bone marrow. There are certain dishes that fall squarely into the category of restaurant food. Too complicated and expensive to ever attempt at home, and too precious for a takeout menu. Until the pandemic. Until now.
That sous-vide short rib can now be delivered to your door, already cooked, the sauce prepared, with a bottled cocktail of mezcal, prickly pear, and agave included—courtesy of the sleek, upscale restaurant Nightbird in San Francisco. The 45-day-dry-aged steak from Cote, the Korean steakhouse in New York, will arrive neatly packaged with a pink envelope containing a bespoke set of chopsticks, napkins, utensils, and precise instructions on how to cook it to a blushing medium rare. The bone marrow tacos from Austin's Comedor come with tiny containers of garnishes and a QR code for a video from chef and co-owner Gabe Erales, explaining how to plate the dish, which directs you to arrange the planks of bone marrow as if you're constructing a log cabin.
Home kitchens and restaurant kitchens often exist a world apart. But with restaurant dining rooms still closed in much of the country, and owners seeking new streams of revenue beyond takeout, many chefs have devised their own version of a meal kit, instructing customers on how to toss their own pizzas, roll their own goi cuon, and grill a rib eye with a chef's fine touch.
Which leads us to the term "meal kit"—a highly loaded phrase bringing to mind tech-industry-born companies like Blue Apron and HelloFresh. A lot of them have been widely criticized for the unsafe conditions at their warehouses, poor environmental practices, and food that—while inviting on the recipe card and in the Super Bowl commercials—doesn't taste all that good.
The meal kits now offered at many restaurants look very different—you might even call them "restaurant adjacent." The ingredients are sourced from the best, and most transparent, farms, dairies, butchers, and fishmongers. The instructions are not just meticulous, but fun and full of voice. The packaging catches the eye like a well-conceived advertisement. And they are getting reviewed in newspapers, just like restaurants would. Writing in The New Yorker, critic Hannah Goldfield said of the chicken pot pie delivered to her fully assembled but with the pastry uncooked, from the Williamsburg brasserie Le Crocodile, "after ninety minutes in the oven, it turned golden and made my kitchen smell like Heaven."
The meal kit, conceptually at least, may be trite, but in the hands of a creative and talented restaurateur who is less burdened with scale and shipping, the future is, at the very least, really interesting. These kits offer more than just meals — they are cooking lessons, interactive experiences, and approximations of the restaurant setting wrapped into a single purchase, varying from around $15 to upward of $160. It's assisted home cooking that is a little more premium—and a lot more exciting—than takeout or Blue Apron.
And they're not just a short-term solution to bridge the revenue gap during the pandemic's hold on the restaurant business. Many owners we spoke with over the past couple weeks see meal kits as a permanent part of their business model—a way to educate and entertain home cooks while broadening the scope of what it means to be a restaurant, all with the goal of diversifying income streams and becoming a more sustainable business.
"I kind of hate meal kits," says Irene Li, owner and cofounder of Mei Mei in Boston, echoing many of the eight or so chefs and restaurant operators I spoke with. They distance the relationship between customers and their food purveyors, she says, and they boil the cooking process down to manipulating a dozen little plastic bags of ingredients, rather than actually teaching people skills.
But after closing dine-in service in her restaurant in March, Li decided to create her version of a meal kit, so customers of her award-winning Chinese-American restaurant could make their favorite restaurant dishes, like the scallion pancake sandwich and dumplings, at home. Focusing on crafting a meal kit made more sense to her than pivoting exclusively to takeout—the former requires less labor, and she can sell, say, five sandwiches in one kit, instead of selling one sandwich at a time with takeout.
Because the kits are more expensive than takeout—$25 for DIY dumplings—Li wanted to ensure the experience felt personal and special.
"It forced our team to go into home-cook mode," she says, as they thought about how best to build the meal kit and how much instruction and actual "cooking" customers had an appetite for. Li ultimately decided on kits with most of the preparation work done, requiring the customer just to heat and assemble. The dumpling kit, for example, comes with premade filling and wrappers, and customers fold the dumplings and boil or panfry them. She created YouTube videos to help people with the more intuitive steps, like knowing when a scallion pancake is browned enough. She has sold more than 250 meal kits as of mid-June, and now she's thinking about ways the restaurant can be even more helpful to the home cook, like starting a texting hotline to answer people's cooking questions in real time.
These kits offer more than just meals—they are cooking lessons, interactive experiences, and approximations of the restaurant setting wrapped into a single purchase.
Other restaurateurs doing meal kits for the first time have faced similar challenges, such as how to create a user-friendly experience that's high-quality enough to justify the often steeper price and make people excited about cooking, or at least putting their dinner together.
Even for a ubiquitous takeout dish like pizza, for Mike Friedman, chef and owner of All-Purpose Pizzeria in Washington, D.C., there was a lot to consider for a $15 meal kit. At first, he packaged everything in a pizza box, but the dough spread out and stuck to the bottom. He settled on placing the dough in an individual container with a little olive oil to prevent it from sticking. Also included in the kits are plastic cups filled with the restaurant's organic Bianco DiNapoli tomato sauce, freshly grated Calabro whole-milk, low-moisture mozzarella, and fresh basil. Like Li, Friedman made a video to help customers shape the pizza at home.
Reyna Duong, the chef and co-owner of Sandwich Hag, a Vietnamese restaurant in Dallas, started selling goi cuon kits inspired by the tradition of family members assembling spring rolls together as a way of socializing. In every order, which costs $45 for 12 rolls, she includes a personalized thank-you note and friendly rolling instructions that stress that "perfection doesn't exist." She packages the bean sprouts in a container with a domed lid, so they don't get smashed, and she separates some ingredients into two containers, in case people don't want to make all the spring rolls at once. "We have gotten a lot of really good feedback," Duong says. She was planning on starting goi cuon classes in April, but she said the kits are an even more accessible version of that.
In this new era of restaurants shifting energy to meal kits, creativity rules the day. At Seven Reasons in D.C., customers are sent a Spotify playlist, featuring artists like Santana and Los Amigos Invisibles, to go along with their dinner. The popular Durham cocktail bar Kingfisher sells DIY cocktail kits that include a beeswax-lined Mason jar for doing gin infusions at home.
With the growth of meal kits, restaurateurs are also realizing that they can sell more than just a dine-in experience. They can sell pantry products, harder-to-find ingredients, and the kind of education that goes beyond what a cookbook can offer. Plenty of places have already been doing this successfully — the Los Angeles café Sqirl's jams have a national cult following, and Momofuku sells bottled condiments and seasoned salts.
When Simon Kim closed Cote due to the pandemic, "We took a deep look at, why do our customers love us?" he recalls. Two big parts of Cote's appeal, he realized, were the quality of the beef, which is dry-aged in-house, and its Korean approach to the American steakhouse. Those elements could still be sold outside of the restaurant context.
Customers who order Cote's steak "care package" for $180 receive four rib eyes, a custom blend of three different salts, banchan including kimchi and pickled cauliflower, ssamjang, and detailed cooking instructions down to the dimensions and material of the pan to use (12 inches, preferably cast iron).
Like with the dine-in restaurant moving to only takeout, meal kits aren't an exact replacement for the revenue lost from in-person service. But many restaurant owners I spoke with say they are a high-margin item that will become part of their strategy to stay afloat amid uncertain projections of when it will truly be safe to eat out again.
Plus, for customers who can afford these meal kits, the response has been fairly positive.
Aba Kwawu, a publicist in Washington, D.C., said she "wasn't blown away" by Blue Apron when she tried it a few times. But she has been more than willing to shell out $250 for a provisions box from the Italian restaurant Masseria, which recently included a rack of pork ribs and ingredients for making Sardinian gnocchetti with fennel sausage at home, along with cooking instructions.
Restaurants "are pouring their heart" and identity into their meal kits, she says. "The quality and the packaging feel very white-glove," and the instructions are easy to follow.
Ultrafine-dining restaurants have also tossed their take on a meal kit into the ring. Adahlia Cole recently purchased a $187 temaki kit from SingleThread, the tasting menu restaurant in Healdsburg, California. It came with servings of salmon and Dungeness crab, plus seaweed, rice, and pickles. It also included a video on how to construct the temaki, along with plating instructions. She said the experience felt just as high-end and special as eating at the restaurant, but with the benefit of being less expensive (a SingleThread tasting menu costs $375) and more convenient.
"There are times when I would love to eat that quality of food and not sit for three hours or get dressed up," she says. The time has certainly arrived.
Restaurants "are pouring their heart" and identity into their meal kits.
While meal kits are new territory for many of these restaurants, for Houston chef and restaurateur Chris Shepherd, they are old hat. Four years ago, he was creating heat-and-serve meal kits for the NFL's Houston Texans. Now, he's partnered with the Texas grocery chain H-E-B to create 500 to 1,000 meal kits a day — everything from Korean braised beef and dumplings to King Ranch chicken — to be sold in stores for $12. He's also selling periodic virtual cooking classes, in which diners receive a kit with appetizers, ingredients, and bottled cocktails, and Shepherd cooks along with them over Zoom from his home kitchen.
"Is it eating dinner at one of our dining rooms?" he says. "No, but can we give them that experience in the food and a little knowledge and maybe even conversations?"
There has long existed this notion that restaurant-quality dining experiences can only happen in a restaurant. But why should that be the case?
During a recent Zoom cooking class, Shepherd and his culinary director, Nick Fine, were clad in aprons, with Lindsey Brown, Shepherd's publicist and fiancée, saddled up to the kitchen island with her laptop and a glass of wine. Twenty-four members of the cooking class were following along with their videos on, learning to cook rib eye from their kitchens. "If we look at you later, and you are basting and you are using this," Shepherd said at one point, holding up a small teaspoon, "throw it away." Later in the video, as Shepherd basted his steak, Brown playfully yelled from across the kitchen, "Still not enough butter!" At the end of the class, participants erupted into cheers and claps.
"I love the idea of bridging the gap between how we cook at the restaurant and how people cook at home," Shepherd says, and he has always felt that meal kits could be a significant part of that.
To put it another way: the future of restaurants very likely lies outside the actual restaurant.