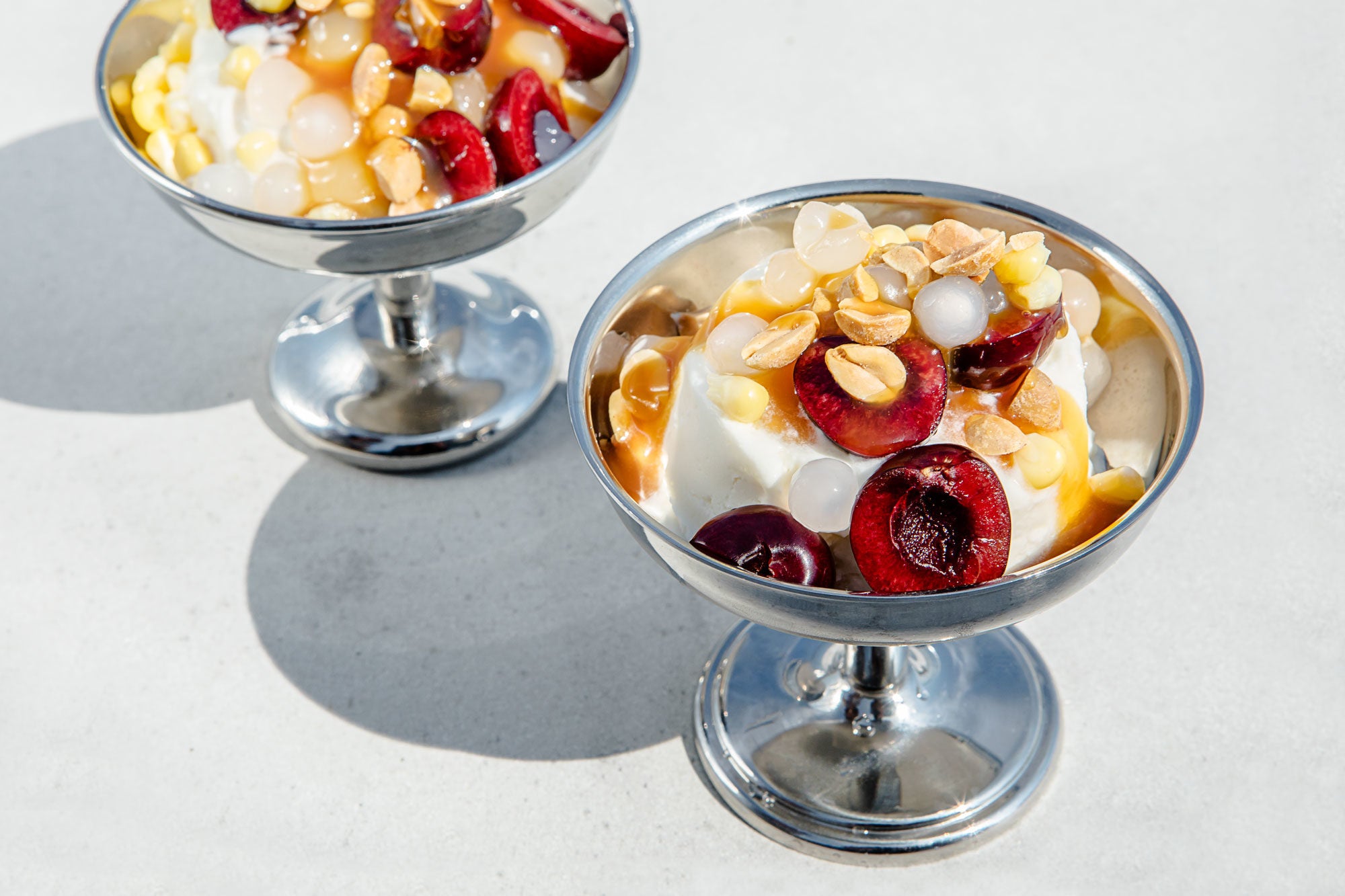 The classic Thai combination of creamy coconut ice cream and salty peanuts has become a sundae lover's muse.
In Thailand, and in many parts of Southeast Asia, the coconut palm grows nearly everywhere, curling around coasts and filling shady groves. Pig-tailed macaques, a nimble-fingered species of monkey, are trained to pluck the heavy drupes; it's said that they work 10 times faster than human harvesters. The fruit—whether young and yellow-green, or older and rusty brown—is used in thousands of products, from rugs and brushes to oil, milk, and cream.
But it's when that rich, full-bodied cream is churned into ice cream that the coconut reaches its full potential. The fruit's nutty flavor, natural fat (which melts at about 20 degrees below human body temperature), and subtle sweetness were born for the frozen dessert.
"Coconut ice cream, ไอศกรีมกะทิ, or itim kati, in Thailand, is not like it is anywhere else," says Dharath "Tot" Hoonchamlong, a recent graduate of NYU's food studies master's program, who grew up in Bangkok. "It's usually very, very creamy and rich, like a custard, though there aren't any eggs in it."
Street vendors, who sell the ice cream out of metal carts, small trucks, and three-wheel bicycles outfitted with metal drums, start with fresh coconut cream—the first pressing of coconut meat—and churn it to order, usually using a hand crank or a paddle, often with a small amount of white or palm sugar and a bit of salt. Sometimes they thin the cream with coconut water or milk, to make it more like a slushie. It's served by the scoop in tourist-friendly, Instagram-ready coconut shells, or, more commonly, scooped into spongy hot dog buns or piled into colorful plastic cups.
Topping options include freshly cut jackfruit and mango, palm sugar syrup, coconut jelly, taro, sticky rice, and sweetened condensed milk. "But peanuts are the most popular garnish," says pastry chef Pichet Ong of DC's Brothers and Sisters and Spoken English, who grew up in Thailand, where he often ate the sweet snack topped with whole, roasted, and salted peanuts after school. A frozen coconut parfait he developed recently for Spoken English is garnished with salted palm sugar caramel, tapioca pearls, toasted peanuts, sweet corn kernels, and fresh cherries.
Fern Kaewtathip, co-chef and co-owner of Luv2Eat Thai Bistro and Noree Thai in Los Angeles, also remembers eating coconut ice cream after school in Phuket. "The ice cream man would ride up in his three-wheel bicycle with a big tub of coconut ice cream in the back. You get to pick your toppings and how you want it served. I liked two scoops in a hot dog bun with peanuts on top," Kaewtathip says. That's also how she's serving it at Luv2Eat this summer.
The lone dessert on the menu at Uncle Boons in New York since the restaurant opened in 2002 is a coconut ice cream sundae—large and unwieldy, and covered in salty candied peanuts and toasted flaked coconut. Because of limited kitchen space, the restaurant sources the ice cream from nearby Il Laboratorio del Gelato rather than making it in-house. "I think a lot of Thai chefs were afraid to put Thai sweets on their menus before," says Ann Redding, the co-owner and co-chef. "But in the last five years, things have changed. People get it now."
The Uncle Boons coconut ice cream sundae is so popular that some people think Redding invented the combination. "Obviously, I don't take credit for it," she says with a laugh. "It's a classic Thai dish. My family grew up eating it. But I'm glad people like it."
They like it so much that when Redding and her partner, Matt Danzer, opened Uncle Boons Sister, an offshoot of their flagship, they had to put a coconut ice cream dessert on the menu. The Rama Cone—"rama" is Thai for "king"—is an ice cream cone coated in coconut oil and chocolate, stuffed with coconut ice cream, and covered with crushed peanuts—an ode to Good Humor's King Cone.
Today, it's not hard to find the sundae in New York. At the sweets emporium Khao Nom in Elmhurst, Queens, a traditional version is served with your choice of topping: sweet corn, saucy jackfruit, caramel, sticky rice, or peanuts. At SkyIce in Brooklyn, the sundae gets topped with coconut chips, lychee, black sticky rice, basil seeds, and, yes, peanuts.
But it's possible to get a feel for the flavor in pint or scoop form, too. Jeni's Splendid Ice Creams, which is based out of Columbus, Ohio (but ships nationally), makes a flavor called Bangkok Peanut that is available for nationwide shipping seasonally, or at scoop shops. It's a blend of salty peanut butter, honey, fresh coconut, and a touch of cayenne pepper.
At Wanderlust Creamery, in Los Angeles, Adrienne Borlongan and Jon-Patrick Lopez make a flavor called "Coconut Sticky Rice and Mango." Made from sweet rice milk, coconut cream, sugar, salt, and sweetened Alphonso mango puree, it's a creamy swirl that would benefit from a sprinkle of salty peanuts. "The texture is completely smooth, and super creamy because of the starch from the rice," Borlongan notes. Sometimes they switch out the mango for a jackfruit puree, but "we'll never take it off the menu," she says with a chuckle. "My customers would kill me!"