Raspberry Vinaigrette Changed the Way We Salad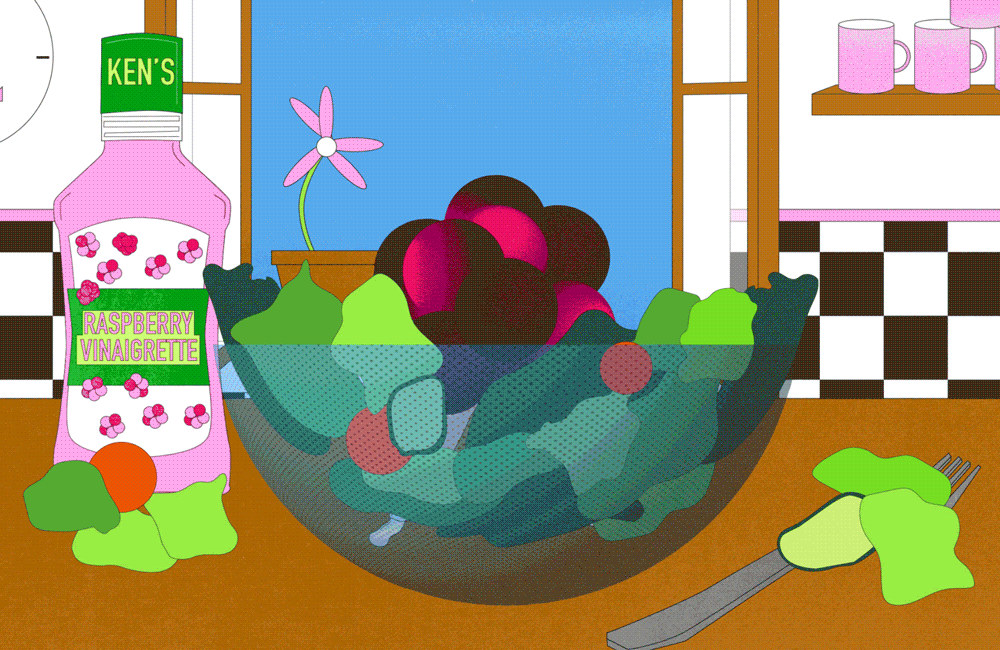 How America's side salads turned fruity and fuchsia.
"Oh, my God, the first time we tasted it, we put it on everything," recalls Suzanne Tracht, chef and owner of Jar Restaurant in Los Angeles, who worked at the Hotel Bel-Air and Campanile some 30 years ago. "It was the best thing since sliced bread."
It was the early 1980s, and the mere prospect of emulsifying oil and vinegar—let alone a fruit-enhanced vinegar—was enthralling for American palates, which had endured a decade of fondue, tomato aspic, and many-layered salads. France had already experienced the rise of nouvelle cuisine—the anti-haute movement popularized by Paul Bocuse, the Troisgros brothers, Roger Vergé, and others—but its influence was only beginning to trickle into the States. American chefs, particularly on the West Coast, were experimenting with lighter, more produce-driven cooking, and diners flocked toward ingredients (mesclun greens! walnut oil!) that signaled sophistication.
Enter raspberry vinaigrette.
"I think of raspberry vinaigrette as one defining taste of California's version of the nouvelle cuisine movement of the early to mid-1980s," says John Birdsall, author of a forthcoming biography of James Beard, of the style of cooking that Alice Waters and her Bay Area compatriots helped popularize. California cuisine, Birdsall says, is a sunnier, lighter, fruitier cousin to French nouvelle cuisine; warm goat cheese salads with sherry-shallot vinaigrette, or grilled figs with raspberry coulis and crème fraîche are peak California style. Raspberry vinaigrette—a mix of oil and raspberry-infused vinegar and/or macerated bits of fresh raspberries—was the perfect embodiment of these ideals, and chef circles quickly adopted it.
Raspberry vinaigrette bore all the hallmarks of California cuisine, but raspberry vinegar itself has deeper French roots. In his 1974 cookbook Simple French Food, Richard Olney includes a method for infusing white wine vinegar with fresh raspberries. Mitchell Davis, chief strategy officer of the James Beard Foundation, recalls talking to a French friend who half joked that, in France in the 1980s, every pan in which a piece of calf's liver was cooked was deglazed with raspberry vinegar. The French chef Jean-Georges Vongerichten, who arrived in New York in 1986 and soon racked up awards with his restaurants JoJo and Vong, embraced the technique of infusing both oils and vinegars with fruits and herbs with fervor. The Chicago Tribune praised him for "putting a new spin on the concept of sauce."
It would take some years before home cooks were comfortable making vinaigrettes at home—bottled dressing was still the status quo—so, for much of the 1980s, raspberry vinaigrette in America remained firmly within the realm of the professional restaurant kitchen, and usually high-end ones at that.
Birdsall recalled a culinary competition in San Francisco in 1980 featuring a salad of fresh crab with pear slices in a puddle of raspberry vinaigrette sprinkled with blue cheese. At the Hotel Bel-Air in Los Angeles, critic Ruth Reichl found sautéed goose liver with blackberry chutney, grilled asparagus, and shiitake mushrooms in raspberry vinaigrette.
"It's great with duck, or a warm salad, or a nice leg of lamb. It helps cut any gaminess and adds just a bit of sweetness," says Tracht. Restaurant menus from the mid-'80s show the vinaigrette splashed with abandon on salad (creamy chicken with basil, endive, and walnuts at Petak's in New York), vegetables (fennel, as served by Giorgio DeLuca of Dean & DeLuca),  seafood (squid, per Huberts in New York), and more.
Eventually, raspberry vinaigrette did trickle down to the masses. Julee Rosso, who, along with Sheila Lukins, coauthored the wildly popular Silver Palate Cookbook in 1982, changed the way many Americans ate, introducing home cooks to things like sun-dried tomatoes, chevre, and, yes, raspberry vinaigrette, the technique for which Rosso picked up from a French boyfriend in the late '70s. "I remember running cooking classes in the '80s, and people were absolutely petrified to make vinaigrettes," Rosso recalls. "Adding the oil a few drops at a time paralyzed people—they didn't understand it, or how to balance flavors and not overdress a salad." In 1985, Rosso and Lukins released a line of prebottled "Salad Splashes"—a purely American actualization of vinaigrettes—for retail sale in thousands of stores across the country. "The idea was, here, just shake this up, and don't be afraid," said Rosso. "They sold very well."
By the early '90s, palate fatigue set in. "I never thought I'd cringe from a raspberry. But it's a strain to encounter raspberry vinaigrette dousing everything from tossed salad to broiled salmon these days," wrote critic Phyllis Richman in a Washington Post Magazine article about salads in 1994. Yet as the dressing became passé to chefs and critics, it became increasingly popular with the masses.
Corporate brands such as Kraft and Newman's Own had, by the late '90s, begun adding packaged raspberry vinaigrettes to their portfolios, often made with raspberry juice concentrate in lieu of raspberry-infused vinegar. Over the years, its popularity has remained relatively consistent. "I wouldn't say it's our top seller, but it's always hovered in the middle of the pack," says Dave Hinkle, a representative at Newman's Own, which launched its version of the dressing in 2002. Lynne Galia, head of communications at Kraft, which introduced raspberry vinaigrette in 1998, confirms its present-day relevance. "While we don't share specific sales data, I can tell you that the raspberry category and Kraft were trending down, but in more recent years we're seeing an uptick in velocity." What's old is, so often, new again (see also: the return of culinary foam, raver fashion, Friends, etc.).
Earlier this year, Kraft introduced Bitten, a line of fruity, creamy dressings (not vinaigrettes) in flavors like blueberry-basil, creamy strawberry, and blackberry balsamic. "Consumers created this product by challenging the norms that fruity dressings could only be vinaigrettes," Galia says. When pressed about how they developed the flavors, she tells me, "Two-thirds [of consumers polled] highlighted that they love fruity flavors but crave the coverage and mouthfeel of creamy dressing on their salads. The call to combine fruity and creamy was too loud to ignore." Galia says that early results are "exceeding expectations. So far, over 1 million bottles have been sold." It's a far cry from the $1 billion ranch dressing industry but evidence, perhaps, of raspberry vinaigrette's lasting influence; Bitten is fruity dressing reconfigured for today's influencers.
What does the emergence of a next-gen fruit dressing mean for the fate of raspberry vinaigrette, a product that contains within its fuchsia emulsion associations both gourmet and cliché? It could make a comeback, though it's never actually gone away. "Before it became a cliché, raspberry vinaigrette was totally delicious and exciting. When things become a cliché, that doesn't mean they're not delicious," says Mitchell Davis. "It's just that for class or snob reasons, they can't be embraced enthusiastically because they aren't distinctive enough."
The truth is that raspberry vinaigrette, however basic it might seem today, is distinctive—it's inextricably linked to a certain time and place in American food culture, the way that grain bowls or bleeding, plant-based burgers are to 2019. Raspberry vinaigrette, at one point, represented the pinnacle of sophistication. So when we eat it, we're consuming more than just the simple, vibrant, red-berry flavor of the thing. We're also eating the time that that food represents and the nostalgia for it. There will always be an appetite for a little fancy, a little fruity. And if you can bottle that up and sell it, why not?