Rasam Is Southern India's Peppery Comfort Food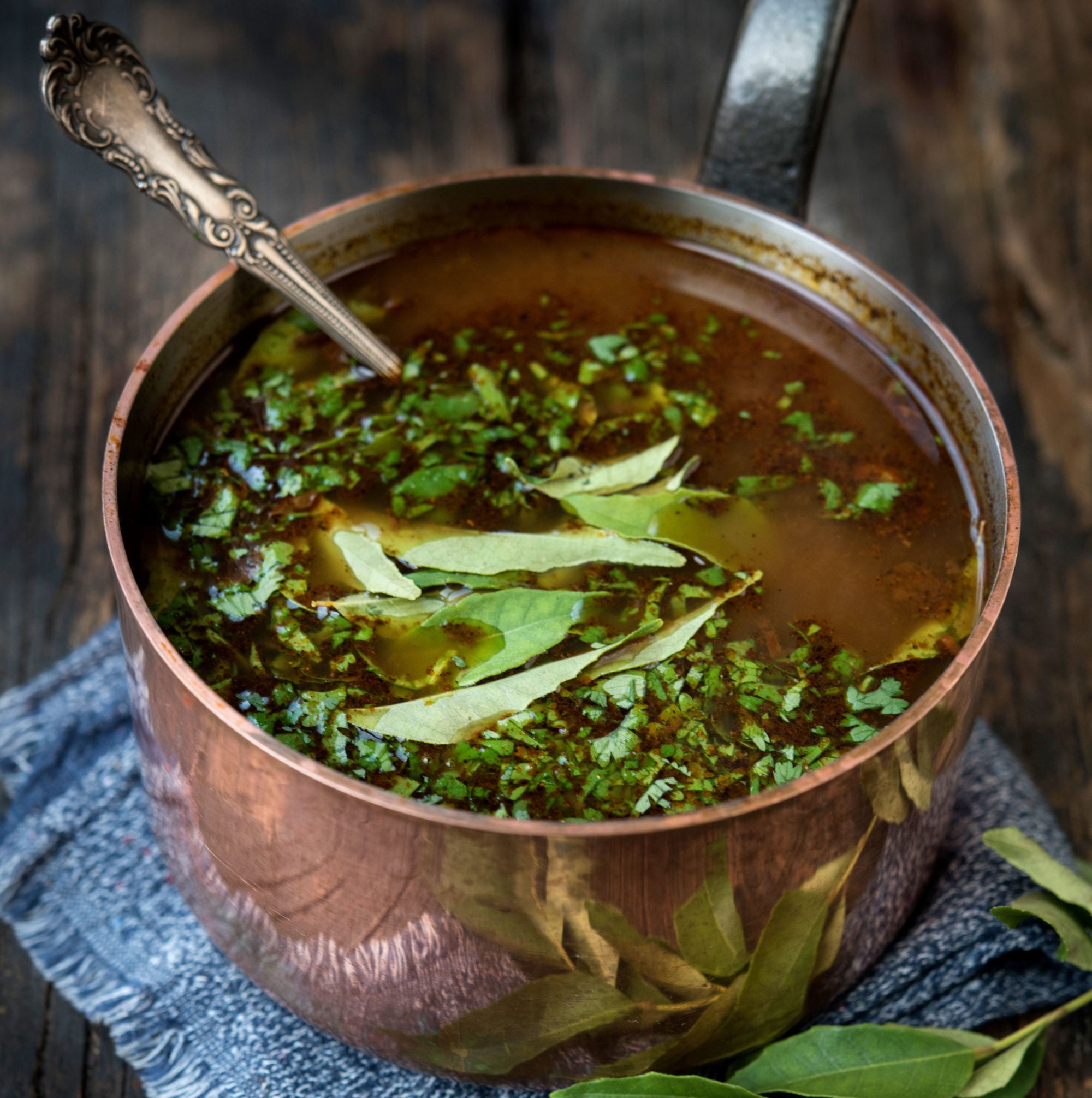 Warmed through with spice and reinforced with lentils, this peppery soup is the backbone of comfort foods in India's southern states.
Truth be told, it wasn't until I moved several thousand miles away from South India that I realized how much I missed rasam. A hot peppery broth infused with a myriad of spices and almost always eaten over rice, it has been a steadfast member of the repertoire of home-cooked lunches and dinners for as long as I can remember and is famously the inspiration for mulligatawny. Before I left Bangalore for New York City, I took the rasam-and-rice combination for granted. But after I moved, and once I realized that the saag paneer from the local takeout spot wasn't going to satiate my need for Indian food, learning how to cobble together a fairly decent Indian meal became a requirement.
If Kitchadi—a blend of lentils, rice and spices—was named north India's comfort food, rasam would hold that honor in the southern states. With a few inexpensive ingredients, it isn't difficult to make, and it can take on a slew of different flavors, like tomato, pineapple, and garlic. As with many home-cooking staples, everyone makes rasam differently, and it never tastes the same. Chef Naren Thimmaiah, who heads the famous south Indian restaurant Karavalli in Bangalore, estimates there are more than 200 regional styles.
But even in its multiplicity, there are a handful of main ingredients that go into the base of a fairly standard rasam: whole peppercorns, red chiles, garlic, and cumin are dry roasted and then sautéed with mustard seeds, coriander, turmeric, and chili powder. Add tomatoes, tamarind pulp, and the water boiled with a lentil called toor dal, and the entire mixture is allowed to simmer for a while until it takes on a deep reddish-brown hue and its spicy aroma turns a bit mild.
It's often called by different names depending on the state—rasam in Tamil Nadu, saaru in Karnataka, chaaru in Andhra Pradesh—but it's an integral part of the meal in all of them, and it's almost always served at traditional lunches after Hindu wedding ceremonies. "In South India, rasam is a vital food," said Chitra Ganapathy, who writes the food blog Chitra's Food Book.
An early description of rasam, according to the late Indian food historian K.T. Achaya, came from Niccolao Manucci, an Italian who came to India in 1654 and spent the next six decades there. "[T]hey sup a concoction which is some water boiled with pepper," Manucci noted. Well-known recipes were likely created decades ago by grandmothers and great-grandmothers before being passed down through generations or shared throughout villages and communities. "You need to respect the subtle changes in each house," Thimmaiah says.
Chef Sankar Chandrasekaran of London's the Cinnamon Club, which once coupled lobster meat with rasam and rice crackers, says his original recipe came from his home in Salem, Tamil Nadu. "Like any good chef, I would say that everything I learned [was] from my mom."
Once you have the foundation, the variations are endless. A cursory search came up with horsegram (a bean used in Ayurvedic medicine) rasam, lemon rasam, and mint rasam. Some varieties are thickened with coconut, others forgo tamarind for a different souring agent, and it's sometimes sweetened with a type of cane sugar called jaggery.
Mulligatawny soup also grew out of rasam. The name is derived from two Tamil words: mulaga meaning pepper and thanni for water. It can be traced back to the early days of the British rule in India in the late 1700s, says Bridget White-Kumar, a cookbook author who focuses on India's colonial culinary roots. The British living in Madras (a city in Tamil Nadu that's now called Chennai) would ask for a soup course, but since Indian cuisine didn't exactly have a soup to call its own, colonial servants turned to rasam. They created a soup using chicken or lamb stock with pepper, she said. Mulligatawny has since evolved into a thick meaty soup that's made with curry powder today and sometimes cream or coconut milk. White-Kumar notes that Anglo-Indians make a dish called "breast bone pepper water" that's somewhere in between a mulligatawny and a rasam.
It's been 10 months since I returned to India. Rasam is back in my life again, and I won't be skipping it anytime soon. For me, as for many home cooks and restaurant chefs who grew up in South India, rasam is a fundamental comfort food. "It is food you grew up eating," Thimmaiah says. "What better food than rasam and rice to make you feel back at home?"