The Queen of Indian Sauces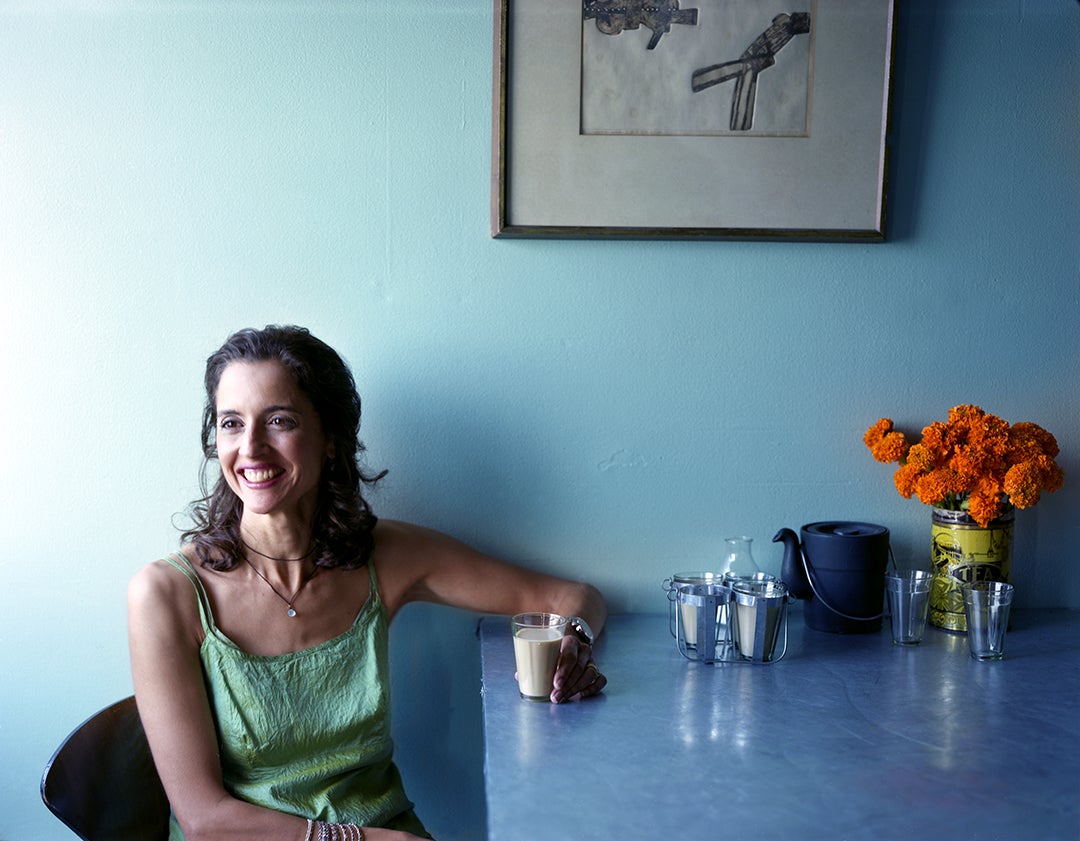 The incredible story of how South Indian food evangelist Maya Kaimal conquered the American supermarket. One jar of tikka masala at a time.
Maya Kaimal didn't set out to become one of America's biggest Indian-food entrepreneurs. She did what many educated professionals with culinary aspirations do. She worked at a prestige food magazine and wrote cookbooks. But then two planes smashed into the Twin Towers, engulfing them in a fiery burst and choking Manhattan with thick, black smoke. After those two pillars of Wall Street capitalism crumbled to the concrete, global markets tumbled, and Kaimal lost her job as photography editor of Saveur, whose offices were located some 50 blocks north.
"I was seeing other friends getting laid off; advertisers were pulling ads," she tells me. "It just seemed like the magazine industry was breaking. I realized I had to figure out a new job for myself."
Kaimal, who has an art degree from Pomona College, says she never had a deep-seated desire to start her own business. "My husband was more of a risk taker than me," she says of journalist Guy Lawson. "He had a bunch of friends who were very entrepreneurial." One of those friends was Andy Arons, founder of Manhattan grocer Gourmet Garage, whom Lawson and Kaimal happened to invite over for dinner while she was testing recipes for her second cookbook. He was immediately taken with her food. "I just remember thinking, This is the most deftly handled Indian food, and there's nothing like that out there," Arons says. He told her that if she put it in jars, he would sell it in his stores.
Today, Maya Kaimal Fine Indian Foods—which includes three refrigerated and six shelf-stable jarred sauces, and five ready-to-eat dals in pourable pouches—is carried in some 7,000 stores nationwide. It is the rare kind of brand that appeals to customers in big-box chains such as Target and Costco and more discerning ones in specialty food stores such as San Francisco's Bi Rite Market and Whole Foods. But the path there wasn't so clear when Kaimal started out. In the pre-turmeric-mad era of the early 2000s, despite the efforts of cookbook legends Julie Sahni and Madhur Jaffrey, many Americans thought of Indian food only in the context of cheaper buffet restaurants.
In the late '90s, a couple of new Indian restaurants opened in New York City that challenged that notion. In 1997, Bombay-born biochemist-turned-chef Floyd Cardoz, who was previously executive sous chef at the acclaimed Lespanisse, teamed up with restaurateur Danny Meyer to open Tabla, which earned three stars from then New York Times restaurant critic Ruth Reichl. Just three years later, Punjab native Avtar Walia, a former warehouse manager for Gucci, opened another fancy Indian restaurant, Tamarind, which also proved a critics' favorite. Still, modern regional Indian cooking hadn't yet been boxed up and distributed to supermarkets.
Born and raised in Boston, Kaimal grew up watching Julia Child's The French Chef on WGBH with her New Englander mother, Lorraine, an ambitious and adventurous cook. On occasion, her physicist father, Chandran, would re-create his mother's South Indian dishes: coconut-milk-laced fish stews and tamarind-tangy lentil soups. Kaimal and her family would also visit Kerala, a lush tropical state on the subcontinent's southwestern coast, where she learned how to cook with her father's sister, Aunty Kamala, on a family compound surrounded by coconut palms and banana trees.
"There was a whole gap between the Indian food that I knew growing up and what Americans thought was Indian," Kaimal recalls. That realization sparked Kaimal's desire to educate and inspired her to write two cookbooks: Curried Flavors: Family Recipes From South India (1996) and Savoring the Spice Coast of India: Fresh Flavors From Kerala (2000). And it carried through to how she envisioned her food line: accessible to Americans but true to her roots.
"Maya came up with this idea for these simmer sauces," says Arons. "You would cook vegetables or chicken and then finish it off with these fresh sauces. They were thick, perfectly balanced between sweetness and savory. And from a seller's perspective, they were also vegan and lasted like 45 days." Kaimal chose fresh sauces to make them as close to homemade as possible, but it was also a strategic decision, along with the bright and vibrant graphic packaging for the line. "In the early 2000s, Indian food was getting shoved in aisles nobody ever went to," she recalls. "I wanted to give it a new context to change up how people think about this cuisine."
By producing refrigerated products, Kaimal's line would be placed along what they call the perimeter of the store, near other high-end products, like imported cheeses, fresh pastas, and salumi. Today, a number of Indian foods, like turmeric, ghee, and coconut oil, have been popularized by the new American obsession with wellness. In a recent piece for Healthy-ish, Khushbu Shah examined the "food colonization" of Indian food by health bloggers who have co-opted Ayurvedic principles and dishes, like khichdi, and transformed them into unrecognizable forms. Kaimal achieved the opposite. She invaded the Eurocentric sections of the grocery store with sophisticated South Indian products.
Kaimal knew that she wanted her first products to represent her South Indian heritage. To start, she chose a thick, rich, and coconut-y stew made with ginger, green chile, and mustard seeds popped in oil, and then vindaloo, the classic tangy-spicy sauce from Goa, flavored with tamarind, chiles, and black pepper. The third flavor sparked a big argument between Kaimal and her husband. He wanted to do a tikka masala—the ubiquitous creamy spiced tomato sauce—arguing that it would be an easy sell, but she didn't want to do something so obvious. "I came to my senses," she recalls with a laugh. "Of course, it's our best-selling one now."
As Arons promised, Gourmet Garage was Kaimal's first customer when she debuted her first three refrigerated sauces—coconut curry, vindaloo, and, of course, tikka masala—in 2003. She also placed them in New York's mega-grocery Fairway and the Indian-leaning specialty food shop Kalustyan's. Her sauces got a mention in the New York Times Food Stuff column. "I remember walking around Fairway and seeing people holding the cut-out section of the Times and asking for it," says Kaimal. Soon, her simmer sauces were in specialty grocers all over Manhattan, followed by New England and then the rest of the country as she made inroads with distributors all over America.
I found some of Kaimal's jars—she now sells shelf-stable ones—at Atkins Farm Country Market in Amherst, Massachusetts, near where my parents live. My father has long maintained that he doesn't like Indian food. But when I served him cubed chicken thighs simmered in extra-spicy Madras curry, flavored with black pepper, coriander, and curry leaves, he inhaled it before I could gloat. I mentioned this to Kaimal, and we talked about how Indian food is represented in some parts of the country and how that correlates to the country's income level. "When people want to pay $10.99 for an all-you-can-eat buffet, you're going to end up with very cheap ingredients, and it doesn't do [Indian food] justice," she says. "I'm sad about that, too, because I hate to criticize a small business—economics are forcing them to just downgrade. They are so squeezed on the margins."
Those cultural forces have started to change recently. At the same time that Kaimal was building up her business, the American grocery store was evolving as the counterculture generation grew older and acquired wealth. The mind-expanding precepts of the '60s, which challenged a Western orientation and looked beyond Europe for how to eat and live, were incorporated into mainstream culture. Yoga, vegetarianism, and previously unfamiliar international foods spread far and wide. Kaimal's products were primed for this moment. Her line had "clean" ingredient lists before the idea existed. And Indian food has a built-in functional standpoint, as well as deeply rooted vegetarian traditions. "Whole Foods and other markets made natural foods exciting," she says. "And they've devoted a lot of their real estate in the store to Indian food."
"In the early 2000s, Indian food was getting shoved in aisles nobody ever went to."
Meanwhile, the Asian Indian population in the U.S. became one of the fastest-growing ethnic groups, growing from 1,678,765 in 2000 to 2,843,391 in 2010, and with that increasing visibility and cultural influence. Chennai-born model Padma Lakshmi started hosting Bravo's hit show Top Chef in 2006, and chef Maneet Chauhan became a regular judge on popular Food Network show Chopped. In 2012, the New York City Michelin Guide awarded stars to two Indian restaurants, Junoon and Tulsi, while other newer spots, like Indian Accent and Adda in New York and Chai Pani in Atlanta, also won critical praise.
And a new generation of young Indian-American food writers, like Shah, Tejal Rao at The New York Times, and Priya Krishna, who writes the Indian-ish column for Bon Appétit, started bringing a more textured understanding of Indian food to mainstream publications. If there were few voices proselytizing for modern Indian food when Kaimal started out, there is now a chorus.
In Kaimal's first year of business, she sold 10,000 cases of products to a handful of New York City stores. Not bad for a new indie brand. Today, she is doing 40 times that number, shipping to disparate locales like Topeka, Kansas, and Lyndon, Kentucky. Tikka masala is still a best-seller. Kaimal has since expanded her line to include more dishes that aren't yet household names in America. There is Jalfrezi sauce, a Bengali classic made with tomato, red peppers, and garam masala now popular in the U.K. And dal makhani, a rich North Indian black lentil stew. Perhaps the best measure of success is in imitation: There are now multiple brands making Indian simmer sauces. "She's been modeled after in consumer goods," says Arons. "She was definitely the first one."
What We Talk About When We Talk About American Food. In this column, Mari Uyehara covers American food at unique cultural moments and historical turns, great and small.