Pupusas, Hot off the Comal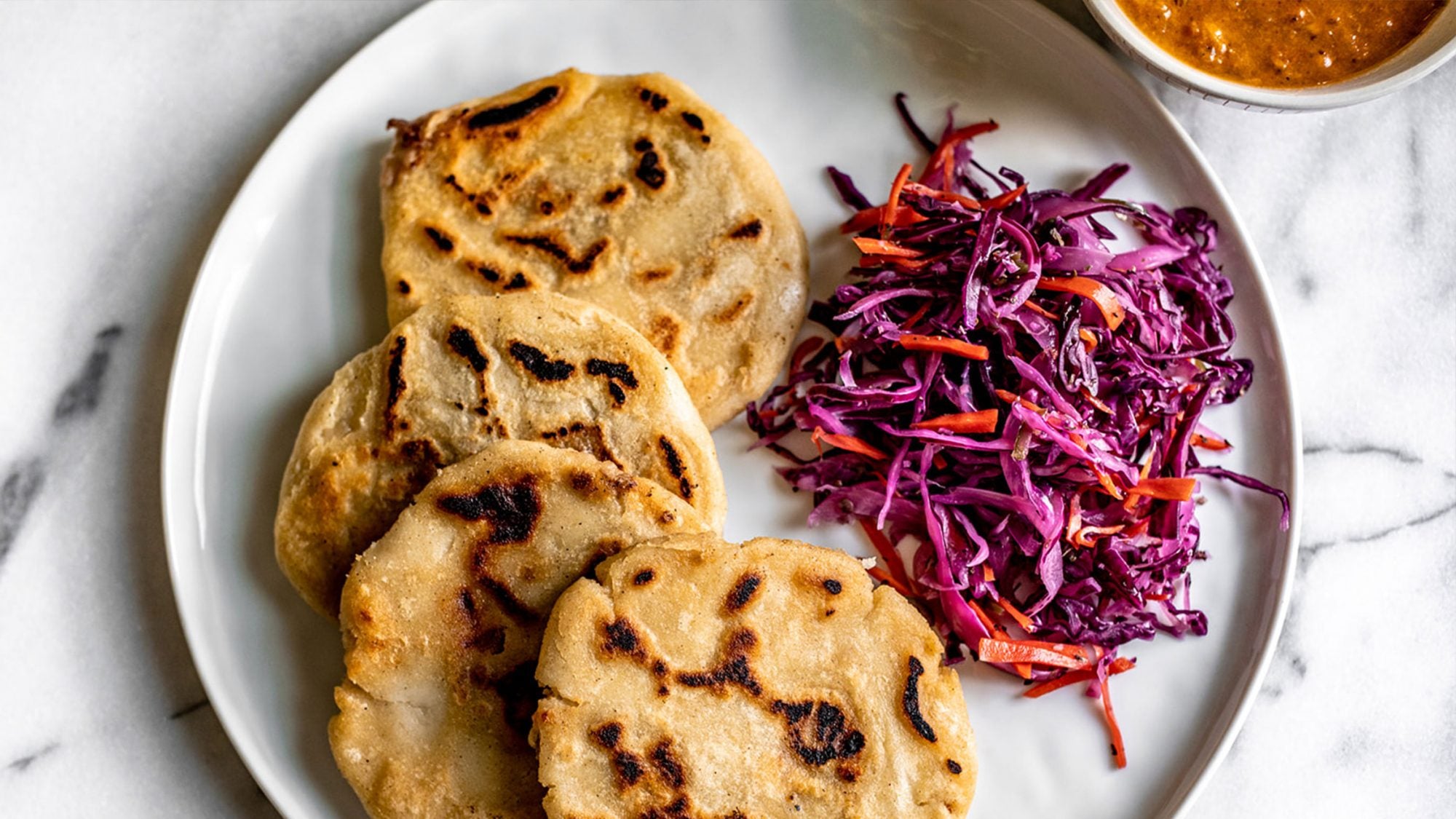 There are many ways to cook with masa, but there's nothing quite like the pupusa's golden crust and molten cheesy filling.
I may not always know how I'll spend the weekends with my sister at our father's apartment in Bushwick, Brooklyn, but one thing is certain: we'll make time to enjoy some pupusas together. For our family, there's a sense of tranquility and innocence in that ritual—our only worry is whether we'll encounter one that doesn't have enough shredded cheese (anything from queso fresco to mozzarella) to for our liking, or one that's filled with way too many refried beans.
Even though my dad never actually cooks the pupusas himself, he always knows exactly where to find them: a humble pupuseria just a train ride away in Ridgewood, Queens. You know it's a good spot when it's not too flashy and it's about the size of a small child's room. Taking that first warm bite into the sharp crust and soft middle with my sister by my side always evokes a feeling of relief. All that matters in the moment is that mouthful of molten cheese . . . and competing to see who can eat the most—a title I often win.
Growing up in Brooklyn and watching fellow churchgoers make pupusas always intrigued me. They looked so deceivingly simple to prepare, each one gracefully rolled and folded into nearly perfectly round discs. Watching pupusas being made so often, I learned that every pupusa dough starts with masa de maíz mixed with water. Rolled into two-inch balls and then flattened into discs with the palms of your hands, they're then filled with a mixture of pork shoulder blended into a paste-like consistency, shredded melting cheese, and sometimes beans (which make it a pupusa revuelta). Grilled on a comal (a smooth griddle commonly used in Central America and Mexico), the starchy ball of dough transforms into a savory golden-crusted pupusa filled with an explosion of salty, rich flavors. It's often accompanied by curtido, a fermented cabbage slaw, which provides a crunchy, acidic contrast to its dense, savory bounds.
Pupusas are the national dish of El Salvador, where my family is originally from—and their history spans many centuries before they made their way to Bushwick. The earliest pupusas can be traced back to the 1500s, among the indigenous Pipil tribe, and they were made with gathered corn, mixed squash, and an abundance of other vegetables native to the great plateaus. Even after Spanish colonization, Salvadorans managed to keep a piece of their food and preserve it—slowly changing the means of cooking a pupusa over the centuries that followed.
From the 1940s to 1960s, people living in El Salvador began immigrating to other parts of Latin America, like Guatemala, Costa Rica, and Honduras. With this rapid burst of immigration came the cultivation of more types of pupusas beyond those filled with vegetables—like camarón, chicharrón, and queso con loroco (a mixture of cheese and a vine flower bud native to Central America)—as well as different shapes, like half-moons. Every variation, though, stayed true to its roots and kept its tasty, fried exterior with flavorful stuffing. Decades later, in the late 1970s and early '80s, when Salvadorans began to flee their country during a gruesome civil war, they brought pupusas with them to places like the United States, Canada, and Mexico. Immigrants soon began building communities, like in my hometown of Brooklyn—preserving a small taste of home alongside other members of the Central American diaspora. When you find a group of people with a similar culture, and people who enjoy the same simple dish, it's an exhilarating feeling.
This summer, I'll be traveling to see my family in El Salvador for the first time in 17 years. After growing up on pupusas from our neighborhood spot and the ones made by the local church members, eating ones that have been stuffed and rolled by my grandmother herself will be a truly jubilant experience. But every pupusa experience is special, whether you're manning the comal and churning them out or just eagerly awaiting your takeout order, because nothing compares to that first bite of melted cheese and hot pork.
In Don't Call It Comfort Food, a TASTE essay series, writers share the recipes (and not-recipes) that define comfort for them. In last month's column, Malik Francis wrote about a smothered steak that spans generations.