What Is Portuguese-American Food?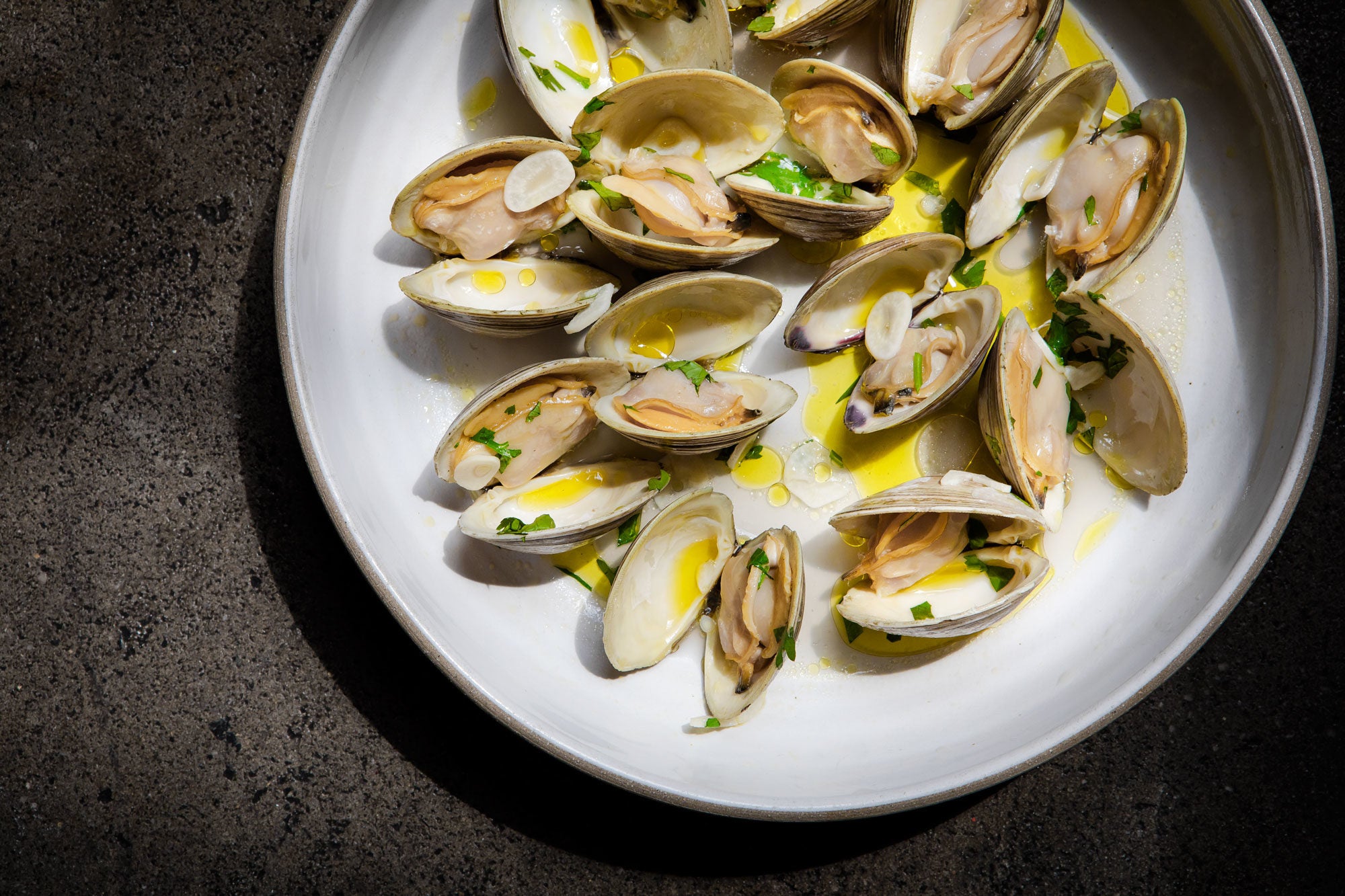 In New England towns like Fall River, Massachusetts, or East Providence, Rhode Island, Portuguese restaurants and markets carve out an identity of '60s and '70s nostalgia.
"You want a taste of Portuguese food? Put an egg on it," said our waitress at Madeira Restaurant in East Providence, Rhode Island. A fried egg to top off a load of fries, or a steak, or a sandwich is requisite at any of the local Portuguese restaurants, and Madeira is no exception. I had come to Madeira for a taste of Portuguese-American food, and there was nary a sardine in sight. Instead, there was bife a casa: steak topped with a slice of rectangular ham and a fried egg, served with Portuguese fries and rice. I opted for steamed vegetables, but my boyfriend went all in and received a heap of yellow-tinted rice alongside his pile of coin-shaped fries. Everything swam in salty brown gravy.
While glossy travel and food magazines have recently had eyes—and editorial calendars—pointing toward the food of Portugal, a sizable population of Portuguese expats have been quietly serving up their own version in New England's coastal towns for more than a hundred years.
"In Portugal, they call these pockets of expats the mercado da saudade, the nostalgia market," says Michael Benevides, a second-generation Portuguese-American and owner of Portugalia Marketplace in Fall River, Massachusetts. "This refers to people who are stuck in a time, in an era, which is a time and era that they knew of Portugal. So if you came to Fall River in the '60s, then you are sort of trapped in a time warp. The time they left is what they think Portugal still is."
So why New England? Between 1961 and 1990, the largest influx of Portuguese immigrants in more than a hundred years came to the United States, and in particular the Northeast, partially due to the large amount of factory and fishing jobs, and partially due to its relative proximity to Portugal compared to the rest of the United States. Portuguese citizens had been coming to New England since the early 1800s, first lured by the whaling industry and then by the industrial boom in the 1870s.
The second wave of immigrants came to flee a harsh political climate. From 1933 to 1974, the country was ruled by the Estado Novo, a dictatorship that controlled the growth of modernization to preserve religious and rural values. It was a hard time, with censorship and university closings, and a 13-year-long guerrilla war in which Portugal tried to maintain control over three of its African colonies (Angola, Guinea-Bissau, and Mozambique) that many Portuguese saw as a waste of resources and men.
Portuguese families located in the rural regions fed themselves by farming their own small plots of land or working in a sort of medieval system of land ownership, with large latifundios owned by few and tilled by impoverished farmhands. In 1973, a time of modernization nearly everywhere else in Western Europe, nearly half the country's agricultural labor force were rural workers who lived hard lives, often in poverty.
As Sandy Batista, the former owner of Tugas Restaurant in Pawtucket, Rhode Island, recalls, "They lived on what they had, and the farmhands would go out and farm, and they needed to eat. So their wives would pack up their lunches with hearty meals."
In coastal New England towns like Fall River, Massachusetts, and East Providence, Rhode Island, the food served in Portuguese restaurants is a time capsule of this period in Portuguese history. You'll find bakeries peddling bolos levedos, and restaurants serving food that "tastes just like what Grandma used to make": steak with ham and a fried egg, pork and littlenecks, disk-shaped Portuguese fries. It's heavy food that comes from a time and era that is long gone, often made with cheap, bulk ingredients that are easily accessible.
For Benevides, this adherence to tradition is preventing New England from fostering the next big Portuguese chef, and he opened his market hoping to change that. Portugalia still provides the products that the mercado da saudade buys—the bulk olive oils, sauces, and wines—but you'll also find products (like trendy tinned sardines or custard cakes from the Azores) from a new generation of Portuguese artisans and food producers. It wasn't easy, though, and he has faced backlash both locally and from vendors in Portugal.
This adherence to tradition is preventing New England from fostering the next big Portuguese chef.
"The people in Portugal look at Portuguese-Americans as people who left pre-revolution, so they haven't experienced what modern-day Portugal is like, and therefore they have a very antiquated view of Portugal, and their food is also representative of that time," he says. "When suppliers from Portugal visit my market, they are surprised. Up until this market became known, they felt that the other local markets were time capsules. They would come here and say, 'Wow, you guys live like people lived in Portugal 50 years ago.'"
But while the Portuguese might look at their expat populations in the United States as antiquated, the food culture is slowly changing. Chefs like George Mendes of Aldea in New York and Abe Conlon of Fat Rice in Chicago are taking the food of their heritage and injecting it with new life.
"I didn't know I'd be revisiting Portuguese food later in my career and launching a restaurant based on those childhood flavors," says Mendes, who grew up in Danbury, Connecticut, home to a large Portuguese community. In 2009, Mendes opened Lupulo, a pub serving homey, traditional Portuguese food in Manhattan, but it shuttered three years later. Today, Aldea is known for its interpretation of duck rice, a hearty, simple Portuguese dish that Mendes has brought into the sphere of fine dining.
But while Portugal might currently remain the place to eat the latest and greatest in Portuguese cuisine, Mendes and Benevides hope that more and more of the younger generation of Portuguese-Americans will feel inspired to take their food and show the United States that you don't have to cross the Atlantic for a taste of grilled sardines and garlicky clams.
"When I started out, I needed to define myself, and the thing that made the most sense to me was the food I grew up eating. That's when I started tinkering around with these Portuguese recipes, interpreting them in my own way. Basically, I was taking rustic Portuguese dishes and refining them."