Poppy Seeds, Off the Bagel and Into the Grinder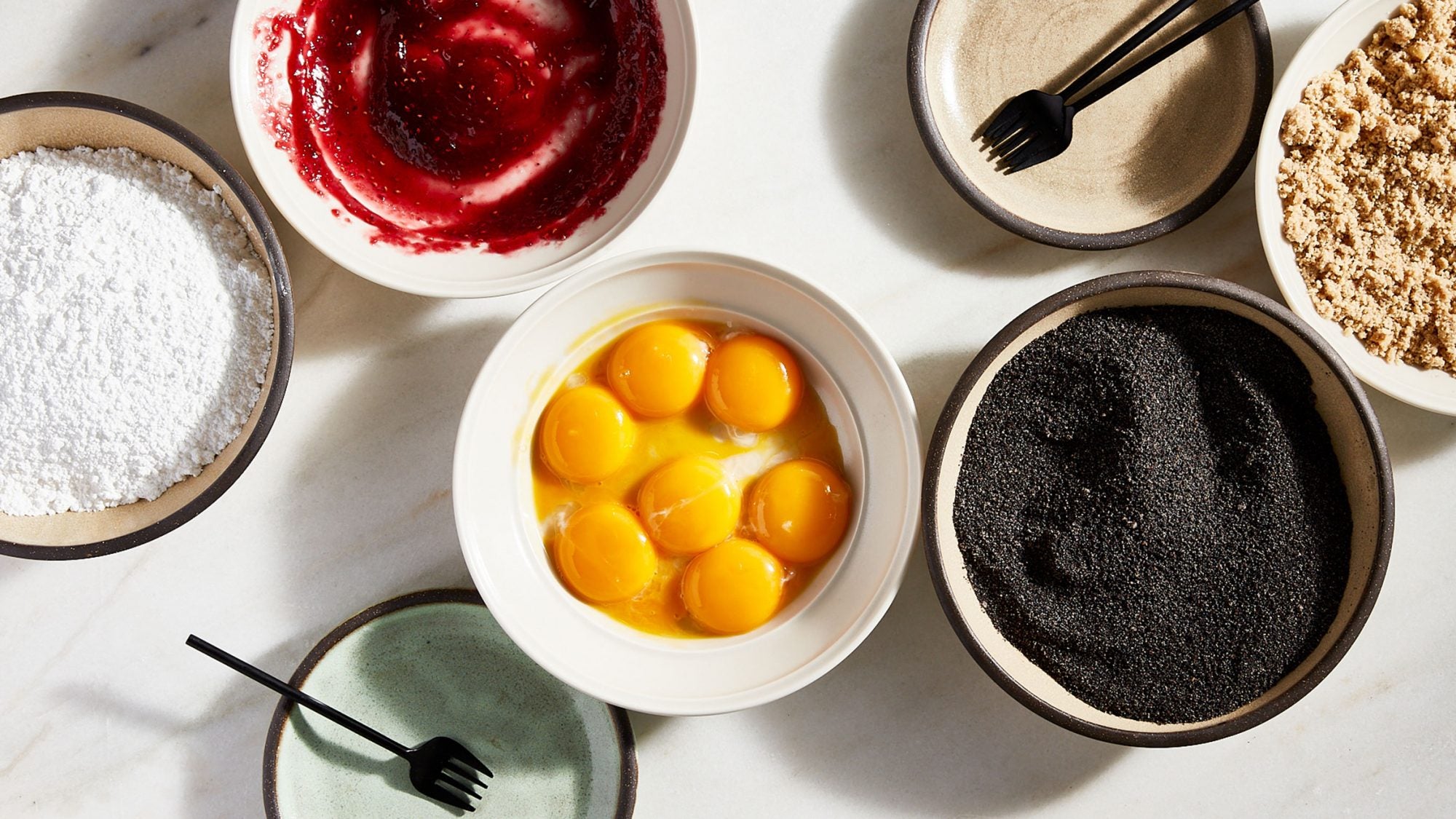 A baker's secret weapon, quality poppy seeds can add a nutty, musky earthiness to breads and cakes.
Like leftover confetti after a party, poppy seeds are often seen as superfluous decoration on Kaiser rolls, bagels, and the frequently pedestrian lemon-scented muffin. Yet there's way more to this story. Despite their baked-goods ubiquity (fun fact: it takes millions of poppy seeds to compose a pound!), these sun-dried specks, harvested from the pods of the poppy flower, are rarely given a chance to show off their true flavor—nutty, fruity, floral, and earthy—both spice and seed in one. Optimistically, a handful of nostalgic bakers are bringing innocuous poppies back to the forefront through careful sourcing and bold recipe choices that are anything but stale.
A profusion of purple and white poppies have covered the fields of Afyonkarahisar for thousands of years—a city in Western Turkey's mountainous countryside whose name includes the word for poppy ("afyon"). "It's been Turkey's center of opium poppy cultivation for millennia," says Ethan Frisch, an ex–pastry chef and the cofounder of Burlap & Barrel, a five-year-old single-origin spice company based in New York City. Though the Turkish government banned the growing of poppies for opium a few decades ago, the country's still a major producer of culinary poppy seeds.
One of the products to arrive from Afyonkarahisar is Burlap & Barrel's blue poppy seeds, which Frisch notes have "hints of dried violet, hazelnut, and plum." He's launching a white poppy seed this month, a variety that's often seen in South Asian cuisine: ground into a powder to thicken sauces, kept whole to add texture to rice dishes, and used both ways to enrich curries. Because of their high fat and protein content, poppy seeds can spoil quickly. Frisch's recommendation for storing them is always the same: "They don't get better with age, so don't store them, use them." This includes sweet and savory applications.
Aside from Turkey, the Czech Republic is one of the top three countries (Spain is the third) for poppy seed production globally—and it also happens to border Slovakia where chef Annamaria Brezna, owner of Dolina, an Eastern-European cafe and bakery in Santa Fe, New Mexico, grew up in. Although there is a long history of using poppy seeds in Czechoslovakian baked goods, Brezna says her signature item, makos dios, a poppy seed walnut cake with raspberry preserves, is actually traditionally Hungarian.
"While looking for good gluten-free options for her bakery, a customer recommended I try this cake at Crixa Cakes in Berkeley, California," says Brezna, who was wowed by how poppy seed–forward it was—without being bitter. She then adapted the recipe for the high-altitude baking in Santa Fe, gently incorporating egg whites for a lighter crumb. With this cake, Brezna doesn't need to use substitute flours or tapioca, as many gluten-free recipes do—the poppy seeds, ground into a flour, create the delicate crumb that gives this cake its airy texture.
Brezna stands by the process of grinding her own poppy seeds—it's the only way to extract the real flavor, which is found in their oil. "Regular grinders don't work," she said, referring to a burr mill's advantage. "You have to press the juices out of the poppy seeds, not just break the seeds." After using her grandmother's grinder for years, Brezna now uses a Mahlkönig espresso grinder, and she worked directly with the company to change the gears in the machine for a finer grind. The result is a truly fragrant and fresh poppy seed—one that's intoxicatingly entrancing.
Poppy seeds find their way into many of Brezna's pastries, as a paste (ground and mixed with sugar and honey) in her cherry strudel, and in makovník, a yeasted bread that's swirled with grated apple and poppy seeds. She buys them through the La Montañita Co-op, which gets their poppy seeds through UNFI—who also supply Whole Foods and other natural grocery stores.
The aroma of the ground poppy seed is profound—smoky and sweet like a freshly rolled cigar—but it also "brings that element of earthiness to baked goods, so you don't feel like you're eating something overwhelmingly sweet; it feels more like an afternoon meal," says Brezna. Dolina makes one makos dios cake per day, and two on weekends, with each cake using about one cup of poppy seeds. All told, Brezna grinds about 15 pounds of poppy seeds every week, which, if you were buying for home use, would cost about $150 through a vendor like nuts.com! "I like to freeze my poppy seeds—they get rancid very quickly if you don't use them right away," Brezna says.
Michelle Polzine opened 20th Century Cafe in San Francisco in 2013, as a shrine to the best baked goods of Vienna, Budapest, and Prague, and she agrees that baking with fresh poppy seeds is best. As she states in her recently published cookbook of the same name, "Most purveyors of poppy seeds have no idea how to store them and will unwittingly sell you stale crap. Good ones should smell musty, like the forest after it rains or time travel." She buys hers from Rainbow Grocery Cooperative in San Francisco's Mission District. "Look for organic seeds from a reputable source that stores them in a refrigerated section," Polzine suggests.
These seeds go into her mohnkuchen, a German version of makos dios, and serve as a filling for flódni as well, a Hungarian multilayered pastry by way of Jewish Budapest—both poppy seed revelations. And then there's her poppy seed ice cream, which, like the mohnkuchen, has no vanilla or lemon zest—it's just pure poppy flavor. "They're really bitter, so you still need acids and salts," but not so much that they mask the poppy seed's true taste. Polzine also uses them in savory applications for a mysterious crunch, or to keep things from sticking, like coating pierogis before frying them in butter, stuffing them inside a knish, or making a poppy seed spaetzle for a chicken paprikash.
Most baking applications call for ground seeds, something Polzine tinkered with for a long time. Mortars and pestles proved futile. "The winner for the best way to grind poppy seeds was a standard blender, like a Vitamix." She's careful to grind them in small batches, so as not to overwork the machine. "You'll know if you grind bad poppy seeds—they smell like Play-Doh," she says. Polzine uses the handle of a spoon to free the seed from the blade (while it's not running), and once fully ground, they should have the texture of moist soil.
Texture is exactly what drew Laurie Ellen Pellicano to poppy seeds at first. "You need so little to make an impact," says Pellicano, the former head pastry chef of San Francisco's Tartine Bakery, now a New York Times recipe developer and TASTE contributor. She calls them "nature's sprinkles," using their bumpy character on the exterior of everything from sugar cookies to cheddar crackers. But there's good reason to feature them as more of the main event, as seen in the many snacks Pellicano sells online (see her shortbread button tin) and her NYT recipe for lemon poppy seed cookies.
Many bakers are used to toasting nuts and sesame seeds before baking them, and poppies are no different. "Since the temperature of most finished doughs doesn't exceed 210ºF," says Pellicano, "I usually toast the seeds first in a 300ºF oven. This way, it gives them more flavor and crunch." She's currently working on a recipe for lemon and orange poppy seed bostock. Ordinarily, the soaked brioche pastry is made with almonds, but Pellicano wants to use it as a platform for highlighting poppy seeds' inherent nuttiness.
"I usually tell folks to consider using them in places where you'd use sesame seeds," Pellicano suggests. Her true hope is that, one day, poppy seeds will become more than just a perfunctory part of an everything bagel spice mix.