The Joys and Extreme Risks of Selling Food on Facebook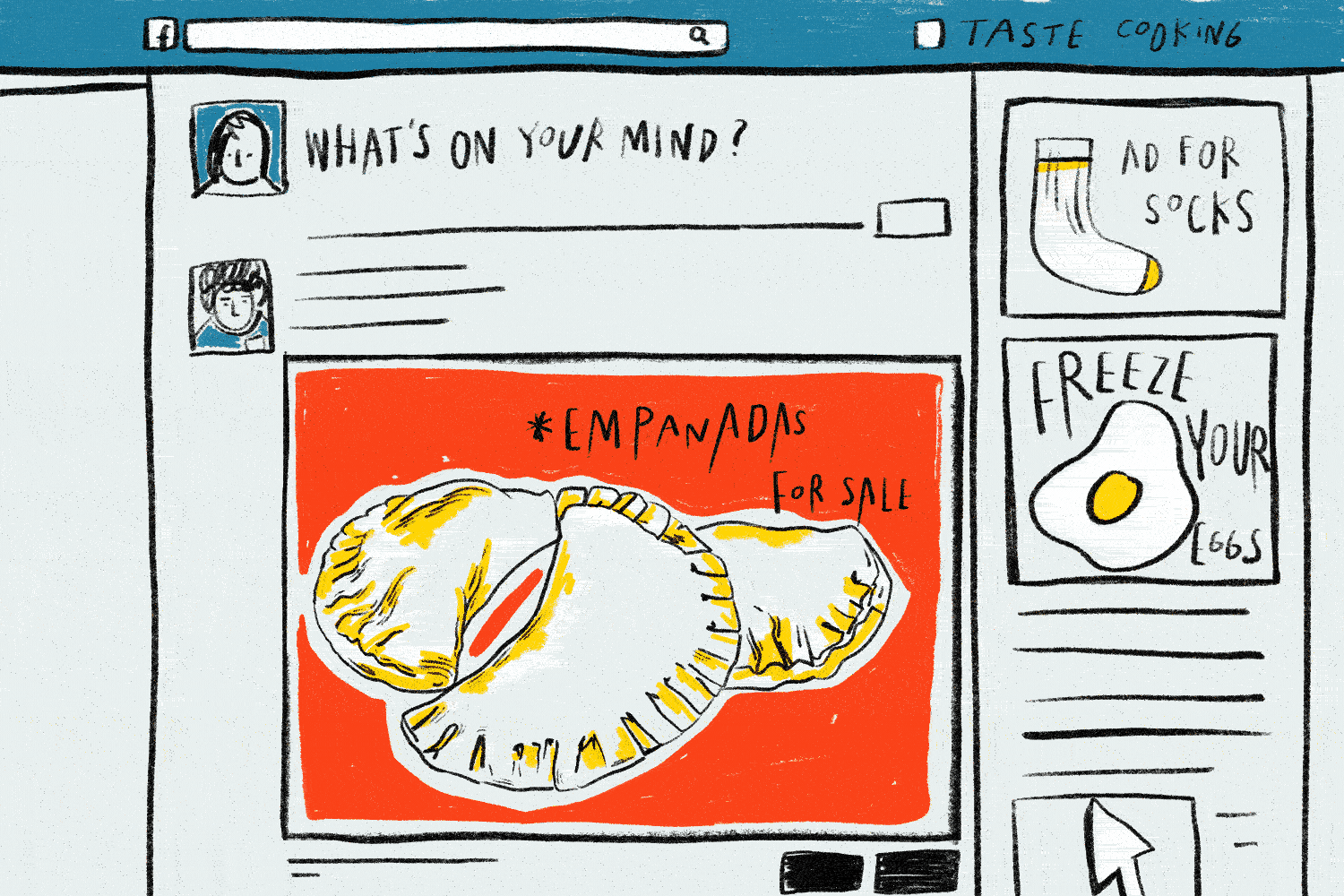 The online food hall is a haven for food sellers who otherwise can't get access to the food-business world—so long as they accept the risks that come with it.
You can mark the seasons by the foods that appear on Facebook Marketplace, a sprawling network of people buying and selling everything from makeup samples to cars. In Seattle, where I live, the days before Fat Tuesday, the forum filled with Polish doughnuts called pączki. In the weeks before Easter, I started seeing capirotada (a Mexican bread pudding) enter the mix. The NFL playoffs brought Seahawks-colored versions of Filipino bibingka (coconut and rice cakes); at Christmas, the site brimmed with tamales.
While Facebook's longstanding purpose is to keep you up to date on your exes, your friends' babies, and watching viral videos of screaming goats, its marketplace has become something of a digital food hall. While there's no official food category baked into the 2.3 billion–user platform, searching for "food" may turn up farmers trying to shed extra eggs, people with an extra kombucha scoby to spare, and even a guy who bought too much bread and milk to prepare for a storm and wants to offload it.
Much like Uber in its early days, the site positions itself simply as a person-to-person network. How the goods are passed from buyer to seller and the money in the opposite direction is completely up to those involved—who usually connect via Facebook Messenger. Facebook offers no help for the actual movement of goods, and few food vendors use its money-transfer app.
But most interestingly, the marketplace feature, which launched in 2016, is an entrepreneurial haven for cooks who are otherwise left out of the food-business world: immigrants, minorities, and women who are their family's sole childcare provider. These groups make up the bulk of the informal food economy, which, according to a poll by the nonprofit advocacy group C.O.O.K. Alliance, is 84 percent women; 48 percent African, Hispanic, or multiracial; and 30 percent immigrants.
But if small food entrepreneurs can thrive on Facebook Marketplace, they do so in a kind of regulatory purgatory. Marketplace vendors mostly operate without business licenses, health-department-inspected kitchens, and tax payments—and thus sell their food in violation of various laws. This is the paradox of Facebook Marketplace: It offers the possibility of success to many who might not otherwise find it—along with the potential of punishment for being successful.
"I don't know what the risk is," Maria says over Facebook Messenger. (She declined to use her real name.) "A fine, maybe?" Maria sells the foods of her native Venezuela, and while she knows it isn't fully legal (she did some research before she launched her business last year), she also isn't sure what would happen if she got caught. Some days she sells sancocho, or beef rib soup; other days it's empanadas, pastelitos (stuffed pastries), or tamale-like hallacas. Maria hasn't had any problems so far and hopes to take her business aboveboard someday. For now, Maria picks a meeting spot, and her customers come to her and bring cash to pay for it. Other cooks offer delivery, and while Facebook offers a payment system, most people on the platform stick to cash and in-person transactions. She admits that she initially had no idea how to start a legal business. But Facebook Marketplace gave her a way to sell without any requirement for capital, English, or an understanding of local government bureaucracy.
"I started because I love to cook," she recalls. It makes her happy to meet customers from diverse cultures and introduce them to her homemade Venezuelan food. And, she adds, cooking "takes away a lot of sadness from seeing my country destroyed and my family still there." While she doesn't have any contact with people who own legal food businesses, she does have a lot of clients and hopes that someday this venture will lead to her own food truck or restaurant.
Maya, another seller, hadn't ever considered selling her tamales as a business but had a hard time finding the foods of her heritage in the exurban area south of Seattle where she lives. "I like to cook traditionally," she says. "I just felt like there were a lot of flavors that were missing." So with the encouragement of her husband and friends, she started cooking for a wider audience. "I wasn't expecting a whole lot," she says. But when 50 people responded to her first post, she realized she was onto something. While she never planned to be a restaurateur, she loves making the tamales, and the results of her online sales—now averaging about 20 dozen a week, at $15 a dozen—have her thinking about what's next.
Tamales, empanadas, lumpia, and the other foods that are popular on the platform all share a major common denominator: They're labor-intensive dishes that are best made at a large scale, making them cost-effective for both the seller and the buyer. The time and ingredient expense required to make a simple dozen samosas is impractical. But at 30 dozen, the scale works for both parties.
But the other major characteristic of foods found on Facebook Marketplace is that they're ones you can't find elsewhere—like tamales in Maya's town of Lacey, Washington, or the only Ghanaian jollof rice in Seattle, or, until recently, Sinaloan sushi in the Pacific Northwest. That Japanese-Mexican cross-cultural hybrid—big rolls with cooked shrimp, meats, and plenty of cream cheese, which are breaded and fried before serving—is common in Ana Reyes's coastal home state of Sinaloa but was all but unheard of in her adopted home of Kent, a small city in the Seattle-Tacoma metropolitan area.
After Reyes taught her mom and sister how to make it, they put up a Facebook post and started selling it, getting up to 50 orders each day, which often translated to upwards of $1,000. "People were getting to know it," Reyes says, and that growing familiarity was helpful in building a case for a brick-and-mortar restaurant, which they subsequently opened in Kent. Today, her restaurant, Sushinola, packs in customers, but it was those first forays through Facebook Marketplace that showed Reyes and her family that there was a local market for their product—and led them to the money that helped them get started.
"Facebook Marketplace will be a place we encourage cooks to experiment, because it doesn't charge fees," says Liz Allen, C.O.O.K. Alliance's legislative counsel. She compares the platform to Airbnb, which takes about a 20 percent fee from its hosts. But the transition from a sublegal Facebook shop to a legal food business can be difficult. Allen worked at the person-to-person food marketplace Josephine, which operated in California and Washington in much the same way that Facebook Marketplace does, but with the kind of resources that cooks might want or need if they want to be a business, like trainings on how to secure microloans and insurance. "When we were operating, some cooks really wanted the support; they wanted to have more help, and they wanted the training," says Allen. "They wanted it to just be more streamlined."
When Josephine closed last year, its team, including Allen, created C.O.O.K. Alliance. The organization focuses on reforming the regulations that were written for industrial food processors, which its website calls "the most significant barrier to the empowered livelihoods of cooks across the U.S." Allen guesses that most producers would only be slapped on the wrist for a first offense for selling home-cooked food on Facebook Marketplace. But she also points to an L.A. Times report showing that Los Angeles County has issued 843 violations since 2016 for selling food from an uninspected kitchen. However, C.O.O.K. Alliance's efforts last year culminated in the passage of a California bill that makes many of these types of small operations legal.
Washington State, where Maya and Maria cook, seems poised to pass a similar bill, and Allen is hopeful that other states will follow—currently, it is legal to sell home-cooked food in just a few states, including Wyoming and North Dakota. In the meantime, home cooks continue to operate in a murky sublegal world, with the tacit understanding that they operate a clean, safe kitchen (Maya, for one, is proud of her food handler's card, which she had from previous work), and that in return for this good-faith effort, customers get to eat food that they couldn't obtain elsewhere.
But it's a world in limbo, one dependent on Facebook's platform and the authorities' willingness to look the other way (Facebook public relations officials did not respond to requests for comment on this story). Still, the genuine thrill and happiness—not to mention financial success—that home cooks seem to have found on a website that more often makes news for being terrible is impressive. Maya hopes for a new business, Reyes has a restaurant, and, says Maria, "I make enough to support 15 family members in Venezuela and help others there who don't have enough to eat." It's a kind of success, that, for her and those like her, seems to outweigh any worries over the legality of the business. "I don't have any problems," she says. "Except that my customers want me to have a place where they can sit and eat!"