A Pita Is Born in New Jersey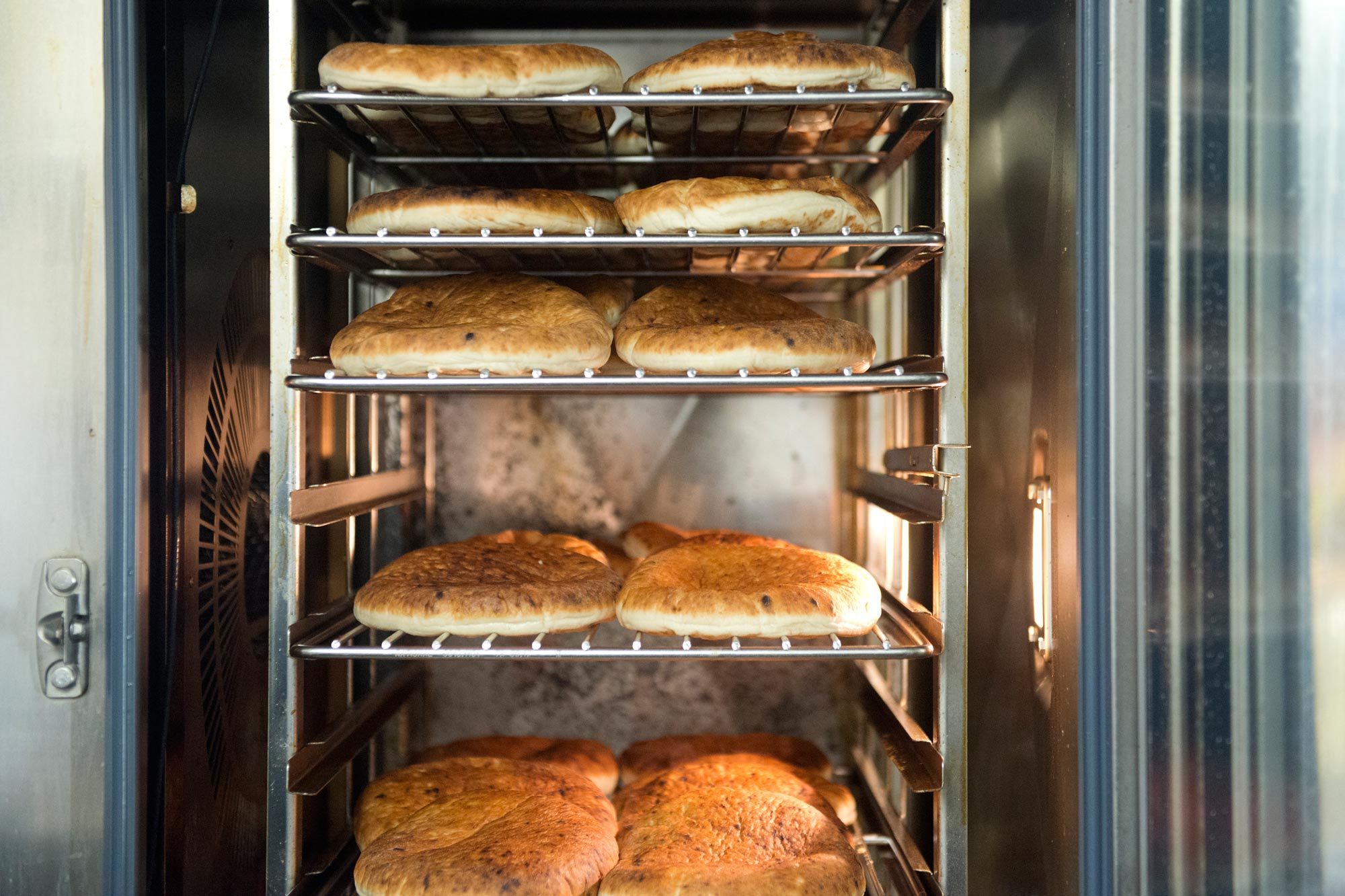 In a former White Castle bun factory in Carteret, New Jersey, thousands of pitas are freshly baked every day to ship to restaurants and Whole Foods around the country.
Written in thick orange chalk on the thin strip of green chalkboard that hangs above Miznon's counter is a proverb of sorts: "Each pita has got her unique birthmark, like you." The restaurant, Israeli chef Eyal Shani's tribute to mashed-up Mediterranean and Middle Eastern street food, located in New York City's Chelsea Market, is best known for its folded cheeseburger and whole roasted baby cauliflower. But the unsung hero behind both of these dishes is a fresh, warm, Angel's Bakery pita—baked almost nonstop in Carteret, New Jersey.
Miznon, a small international chain with locations in Paris and Tel Aviv, sells 1,500 of Angel's pitas daily in Manhattan, and many, many more worldwide (thanks to the original Israeli outposts of the Angel family bakery). On the menu, you might find the likes of an eggplant-heavy ratatouille, a forest of wild mushrooms with scallions and sour cream, even a rib eye minute steak with tahini and tomato salsa, all wedged into a pita. "We believe they produce the best pitas in the world," says Shani. "We make them our own by marrying them with the essences of each city Miznon calls home."
It's that unification that New Jerseyan Adi Angel believes in—and his opinion is a valuable one. He's a fifth-generation pita maker at his family's company. Over the past 90 years in Israel, Angel Bakeries has become famous for shawarma and falafel sabiches, but a few years ago Adi's father, Joe, argued that rather than shipping frozen pitas to satisfy its American audience, they might as well just make them here. The family named the U.S. outfit Angel's Bakery and in 2014 opened shop in an old White Castle bun factory (the trademark blue-and-white tiles and old Gothic font sign are still intact).
The Angels installed a high-heat conveyor belt oven, which can turn out over 100,000 freshly baked pitas daily. Once baked, the pitas cool as they make their way through another conveyor belt system, which weaves overhead throughout the facility before being piled and hand-packed. Those misshapen pieces that don't make the cut are sold as "tier 2" or "niguv," which in Hebrew translates to "wipe." These imperfect pitas—sold to vendors and grocers—are faultless for dipping, and for those who don't care about appearances.
"Unlike bread, which has very hard cell structures, pita is almost like a cloud."
The story of how the Angels began their bakery in Israel was a real cart-before-the-horse situation, as Joe puts it. "In 1927, my grandfather [Salomon] started the business with a donkey and a cart," he recalls. "He was a flour merchant, and when a baker couldn't pay his bills, my grandfather took over an old bakery in Jerusalem, and at one point became the biggest bakery of its kind in the Middle East." Angel Bakeries now controls 30 percent of Israel's bread market.
Joe worked for the family business as a teenager, but after serving his mandatory time in the Israeli army, he decided to go to college at Kansas State University to pursue a degree in grain science. There he learned the intricacies of milling and baking that would later contribute to his pita prowess. In 1981, Joe decided to go out on his own and opened a bakery in New York City called Metro Bakery near City Hall, baking mostly muffins and croissants. When NYC real estate became too expensive, the Angels joined the exodus of food manufacturers leaving the city entirely, and in the spring of 2013, Joe finally began his quest to make the fluffiest flatbread.
For a pita's signature puffed effect—two corresponding pieces of well-baked flatbread fused together at their seams—it needs to be baked at a high temperature, anywhere from 450 to 900 degrees Fahrenheit, in order to turn the water in the dough to steam. That forms a pocket between the layers, which, even when cooled and deflated, remain separated. "Unlike bread, which has very hard cell structures, pita is almost like a cloud," says Joe. His are made with only six all-natural ingredients (flour, water, sugar, yeast, salt, and a proprietary vegan enzyme) and made without the usual oils and liquid sugars that have become the norm for many shelf-stable pitas. Further setting themselves apart from other companies, the Angels sell their pitas frozen, not fresh.
Without preservatives, fresh pitas can last a week—max—but the Angel's pitas will keep for months in the freezer and can be either reheated in a microwave or thawed and transferred to an oven or grill—without ever becoming gummy or dense.
Adi admits to having a deep-freeze freezer at his house that's filled with pitas (his own) and pizzas (Chicago deep dish, mail-ordered from Lou Malnati's). In his family, pita has always been an all-purpose bread.
Adi tells me about the way to pack a pita: Cut an inch-wide slice off one edge and then pry the pocket open. From there, you can stuff it with anything you please, cold or hot; the pita works as a temperature-controlled sleeve. "Our pitas are on the thick end, with a well-defined pocket capable of holding more fillings," says Adi, advising me to ask his dad about the hot-coffee mishap.
"I had a demo at Safeway on the West Coast, and I told them that the pita doesn't leak," recounts Joe. "I poured some water in there, and nothing came out. But almost immediately one of the buyers, who had a hot cup of coffee, poured it right into his pita and burned his hand." Joe didn't make the sale that day, but now Angel's Bakery pitas can be found in the freezer section of many supermarket groceries.