Pistachios Are Quiet Luxury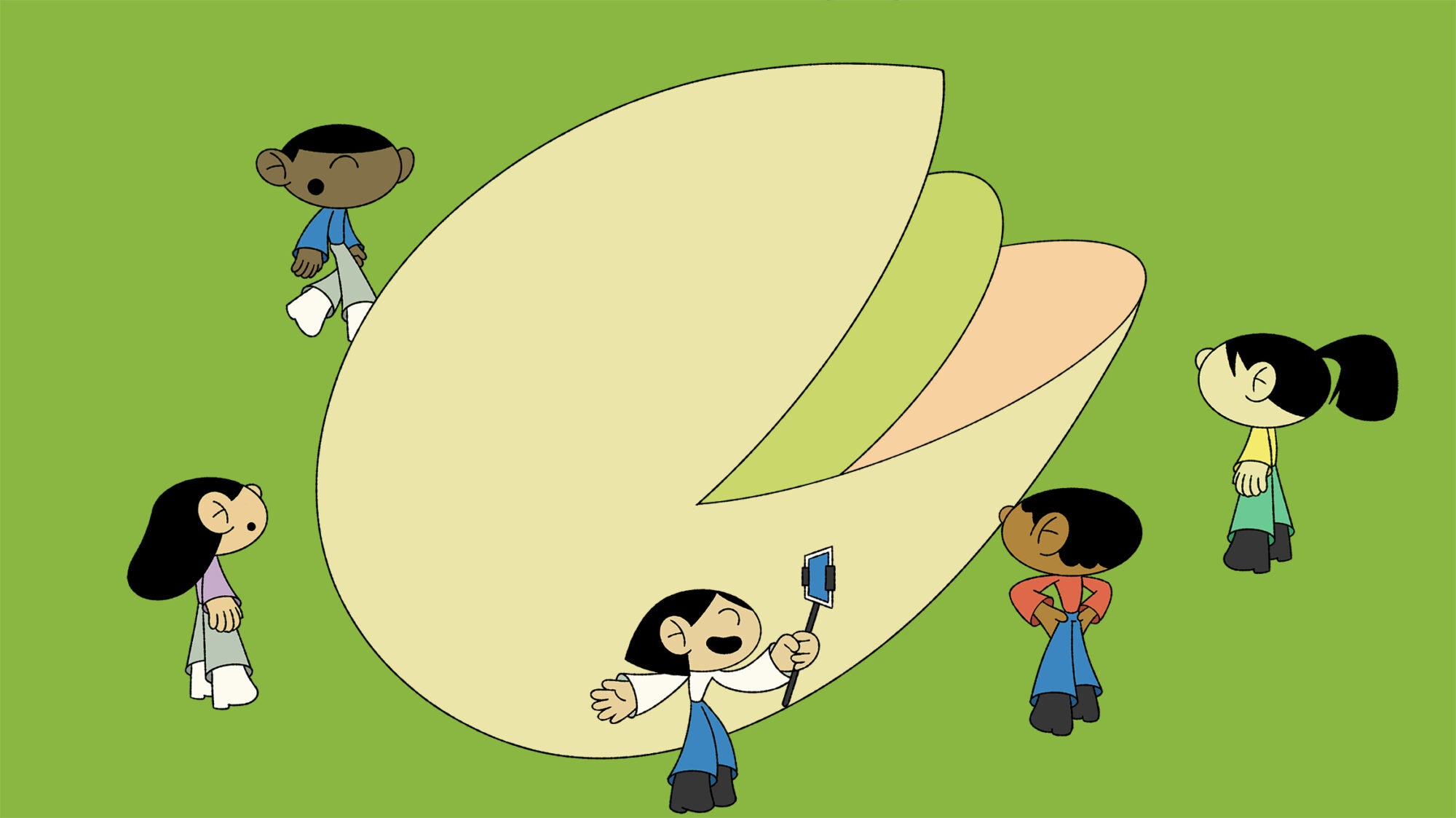 The alluring and expensive nut is more than an ingredient. It's a low-key status symbol.
A writer for Vogue sits down for dinner in Monte Carlo. She's at Le Grill, the Michelin-starred restaurant inside the decadent Hôtel de Paris Monte-Carlo, whose view of the sea is obstructed only by the 745 yachts bobbing in it. The older crowd around her is wearing Brunello Cucinelli or Loro Piana, which, for those who don't know, are sweaters that look like sweaters and loafers that look like loafers. She orders the pistachio soufflé.
It puffs from its fluted dish like an overfed ego, the pallid green of a nauseous sailor. It's the restaurant's signature dessert, available in a variety of flavors, and it costs €30—or $3.75 per bite.
"It was fantastic, amazing," said Elise Taylor, Vogue's current senior living writer and my former colleague from Vanity Fair. "Nutty. Sweet. Not too rich." To her, the dish embodied a theory I had been kicking around that pistachio is "quiet luxury," a subtle status symbol that, to those in the know, conveys class and sophistication, even if she was consuming it at the epicenter of diamond-dripping luxury. "Ordering a €30 soufflé was something that I will probably do only once in my life," she said. "Well, maybe twice. But then I realized that, for so many people sitting around me, this is just their Tuesday."
For the past few years, pistachio has made an ascent on restaurant menus, in cookbooks, on grocery shelves (as "milk" that Taylor wrote a Vogue article about), and in Starbucks, about which I receive a yearly text from my cousin when the chain's magnificent pistachio-brown-butter latte returns mid-winter. Has it helped that the American Pistachio Growers pumped nearly $10 million into promoting the nut in 2022 alone? Probably!
When I ask chefs and cooks why pistachio is so special, they point to its culinary properties—a good alibi.
It's even cracked its way into the world of beauty and fashion, with D.S. & Durga's popular pistachio perfume (too heavy on the vanilla crème for me) and ARQ's sold-out pistachio-toned underwear (snagged those). I love the idea that the color "pistachio," not ho-hum green, is going to convey, Oh, how lovely. And it's not new. Pistachio has been considered a luxury since the early Roman era, and a combination of tricky and slow growing conditions, sanctions on Iran (the country where the nut is primarily grown), and the market forces of supply and demand have kept it that way.
In restaurants and in home cooking, pistachio sends a subtle message as an ingredient: "I'm fancy. We're fancy." Because of its price point, around $18 for a shelled pound, $9 for a carton of Táche pistachio milk, or $22 for a jar of pistachio cream imported from Italy, pistachio is, for most, a special-occasion ingredient. (Look at woeful salted cashews, on sale this week for a mere $9 a pound.) Even if the cook doesn't intend to say, "I'm fancy," it can't be helped. And if food can be a signifier of class, as our clothes and cars can, it can also fall under the "quiet luxury" category, a buzzword that sparkles like a flake of Maldon.
"Anything can be a status symbol," said W. David Marx, author of Status and Culture: How Our Desire for Social Rank Creates Taste, Identity, Art, Fashion, and Constant Change. "It's an arbitrary sign that we attach meaning to, and we can read that sign to be a signifier of social position." Marx, who lives in Tokyo, recently had pistachio on a fancy pizza in Kobe, Japan. In his book, he maps out three requirements for a status symbol to work: First, the thing needs to have an overwhelming association with a specific group that has high status. (In pistachio's case, I'll say that's "sophisticated foodies.") Second, there needs to be a signaling cost—"a barrier for why not everybody can partake in whatever the symbol is." (That's pistachio's price.) And finally, there needs to be an "alibi," a reason people have this thing that isn't only because it's a status marker—in pistachio's case, it's just delicious.
When I ask chefs and cooks why pistachio is so special, they point to its culinary properties—a good alibi. New York City–based chef and restaurateur Fabián von Hauske Valtierra loves the nut. It's a staple at his Lower East Side restaurant Wildair, where it coats Little Gem lettuce leaves on one of New York's most famous salads (in a city where a salad, too, can be a status symbol). Von Hauske isn't thinking about showing off when he uses the nut; he's thinking about color and flavor. "It's super floral, with a bit of nuttiness, and aromatic," he said, while fire sirens screamed in the background of the call. "They don't have that obtrusive flavor of peanut butter."
At Contra, his tasting menu restaurant, he's served a pistachio ice cream with mandarin granita, replicating the flavor of a creamsicle. The thing is, using real pistachios doesn't make foods green but gray. One evening, he wanted to give a batch of pistachio ice cream "spumoni vibes," so he saturated it with green food coloring. "It was interesting to see people's perception of thinking that it was very cheap when, in fact, it was very expensive," he said. They tasted it and looked relieved that "it wasn't that bubblegum pistachio flavor paste." Incognito luxury.
Emily Spurlin, a pastry chef in Chicago, recently made a three-layer dome cake with a dense pistachio flour base, apricot jam, and chamomile buttercream for fun. She posted an illustration of the cake on Instagram, and it sold in ten minutes for $80. The allure of pistachio, to her, has to do with its rarity as well as how it's used—the ripe, in-season apricots that adorned her cake were just as quietly luxurious, because they're in limited supply.
"Pistachios make me think of Italy, or Greece, or places where food is very simple, but it's incredibly intentional," she said. "And to me, having access to the best ingredients is a luxury, unfortunately." Other examples of quiet luxury ingredients, per the folks I talked to, included figs, saffron, Ethiopian naturally processed coffee, and peppery olive oil hand-harvested under the autumn Tuscan sun.
When she encounters pistachio on a menu, Food & Wine restaurant editor Khushbu Shah has a similar thought: "It's an investment," she said. "Especially if it's real pistachios and not just an extract, I'm like, 'The people here really care about their ingredients.'"
On recent scouting travels for the magazine, Shah had a pistachio horchata that "changed my life," she said, but it's usually "unadulterated pistachios"—the actual nuts—that convey a refined feeling, not the flavor, aka pistachio pudding mix. And that goes along with what Status and Culture author Marx told me. When a status symbol is available to all, that's when it loses its sparkle, said Marx, "…and then macadamia nuts show up…" He pointed to when Starbucks was new, it represented the hautest of hot coffee—until third wave coffee and 10-minute pour-overs showed up. I doubt an expensive, bright green Sicilian pistachio, however, is going especially mainstream anytime soon.
Even if pistachio is the color of money, it doesn't have such an ostentatious presence. Like wealth, it whispers.
So if pistachio is quiet luxury, what then is extremely loud food luxury? Vogue's Taylor said the lobster Cobb salad at Duryea's Montauk, which costs $97, is "posted everywhere in my feed," and that "I know people are ordering them to put them on Instagram to show a fancy and elevated life."
Shah said that grotesque layerings, like caviar on lobster on Wagyu steak, topped with gold leaf, are "bombastic luxury. It doesn't have any meaning." Others: Tagging a hard-to-get-into restaurant or a cool bagel spot with a long line on Instagram is a flex, "anything with truffle is a move," and "the Champagne-fried-chicken-caviar thing is a status symbol." Even if pistachio is the color of money, it doesn't have such an ostentatious presence. Like wealth, it whispers.
Meanwhile, the $7 pistachio-stracciatella gelato with sweet summer corn at Superiority Burger just popped into my Instagram feed, a quiet little luxury for those in the know in New York, who've queued up before the restaurant even opens. I've never wanted anything more. And if I'm lucky, I'll have it once, maybe twice, in this lifetime.