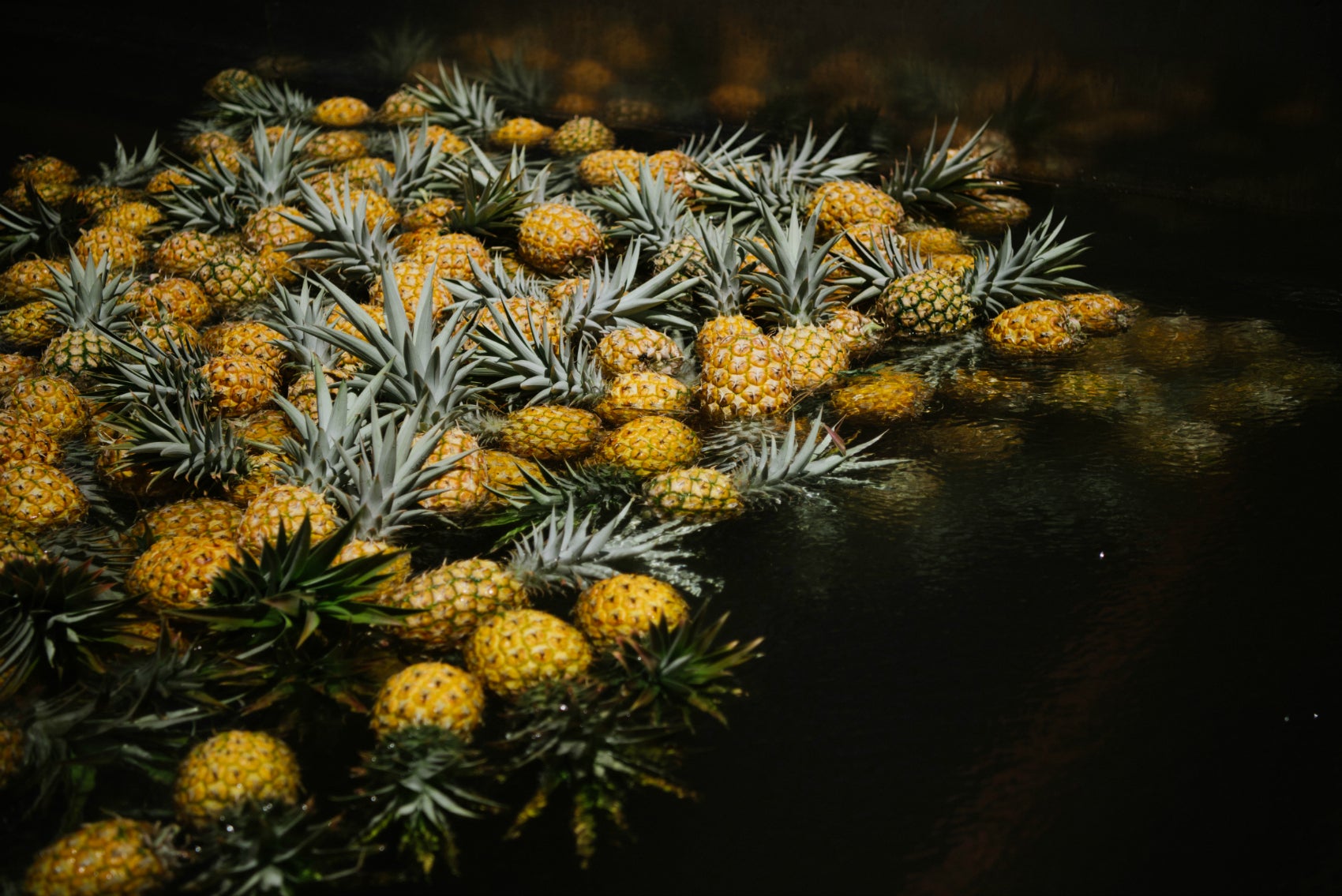 While Americans import most of our pineapples from other countries, it's rare to eat pineapple straight off a plant in the tropical sun.
A porcine awakening: The flesh of this pig is so tender that it falls apart as soon as I touch it with my fork. An entire pig, wrapped in banana leaves and then cooked in its own fat and juices for several hours in an underground oven called an imu, sits before me on a platter. Next to the shredded pork lays an array of freshly diced chunks of pineapple— golden sweet and mildly acidic—a heavenly combination of savory, salty, and sweet. In the end, the pineapple may have been the best part of this dinner at the luau (a traditional Hawaiian feast).
Earlier this summer I took a trip to the island of Maui in Hawaii. Maui is one of the state's eight islands and is home to the Haleakalā volcano as well as the scenic Hana road that runs for miles next to the bright blue ocean. Because of its geographical location—wedged between the mainland of the United States and Asia—and multicultural history, Hawaii has a unique culture. You will find Polynesian and Asian influences and even traces of the Portuguese (see: malasadas). Hawaii's tropical weather makes it perfect to grow fruit like lilikoi (passionfruit), pineapples, guavas, and even coffee.
Since we import most of our pineapples from other countries (mostly Latin America and the Phillipines and Thailand), it's rare to eat pineapple straight off a plant in the tropical sun. Which is why a visit to a farm is worth seeking out. Pineapples are a curious plant with a curious history. Pineapple plants can be grown by drying and planting the tops in soil, but they unfortunately take a long time to flower with that method. But if you live in a region where pineapples are grown, try and get your hands on the suckers (little plantlets that grow between the leaves of the plant) or slips (these are the tiny plants that grow at the base of the fruit next to the stalk)—they grow much faster and will also flower sooner. A plant with South American origins, pineapples eventually made their way to Hawaii (how they arrived on the islands remains a mystery), and the climate and soil provided the perfect conditions for growth.
I was visiting the Maui Gold Pineapple Company, where visitors can tour the farms and also visit the distillery. Here pineapples are grown in fertile red earth, a reminder of the island's volcanic activity. Growing pineapples require a little bit of patience, and it normally takes two years to form a ripe fruit. The Maui Gold pineapples grown here were obtained through cross-pollination experiments that took place over a period of more than 50 years to create a variety that is lower in acidity than gold pineapple varieties, with a higher sugar content that makes it sweeter.
While most home cooks are familiar with pineapple's use as a snacking fruit and in cocktails, pineapples are also used to prepare alcohol. The juice is extracted and then subjected to fermentation, from which vodka, gin, and even wine are prepared and sold commercially. Within the cells of the pineapple is an enzyme called bromelain, which acts as a natural tenderizer when applied to meats. However, this enzyme loses its activity upon exposure to heat, and canned pineapple cannot be used to tenderize meat, so make sure you use fresh or frozen fruit. In addition, meat tenderizers work on the surface they are applied to; in order to get the full effect, I recommend injecting the cut of meat with the juice so it is exposed to the enzyme from within.
Of course, as I learned at the luau, pineapple doesn't always need to be used as a tenderizer with meat—it can be the perfect side! When grilled well, the sugars in the fruit char and leave behind a combination of sweetness with hints of smoky yet mild bitter notes that complement the flavors of the slowly baked yet tender and juicy kalua pork. And better yet, you can do this without an imu or a grill to make this at home.