Philadelphia's Secret Underground Mushroom Farm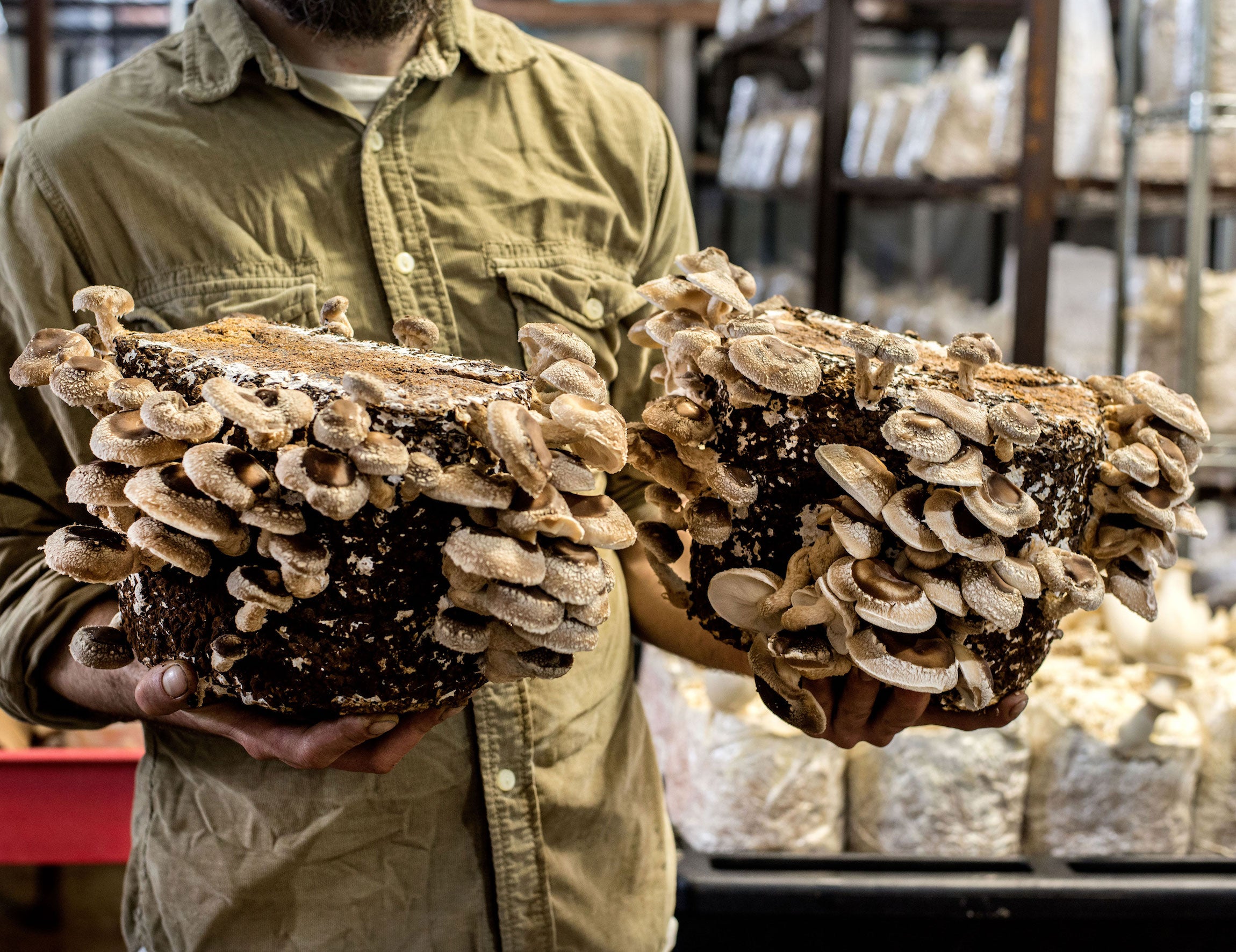 The basement farm in North Philadelphia grows mushrooms for many of the city's top restaurants.
At the intersection of Erie and D Street in an isolated and industrial section of North Philadelphia sits a nondescript warehouse. In the basement of the warehouse lives Mycopolitan—a thriving urban, subterranean mushroom farm. Although the nearby town of Kennett Square, about 40 miles west of Philadelphia, is known as the Mushroom Capital of the United States, Mycopolitan is the only mushroom farm located within the city of Philadelphia. And Philadelphian mushroom lovers like me are lucky to have them.
When I met up recently with the Mycopolitan crew at their underground farm, they were winding down their third season (they grow from September to May, as the summer heat is not conducive to mushroom growing). Notwithstanding, they were cool enough to allow me to see their secret operation and answer a few questions.
Mycopolitan was founded by friends Tyler Case, Brian Versek, and Dan Howling in 2014. Case and Versek met while working at a nonprofit company that researches empirically based treatments for substance abuse. Tyler had long been into wild identification and foraging of plants and mushrooms and was constantly imploring friends like Versek to join him on forays into the woods. Once Versek got into it, he had to admit, "Fungi are endlessly fascinating."
Versek began spending most of his free time reading about fungi, identifying mushrooms, and generally reading about everything mushroom-related he could get his hands on. Like many current gourmet mushroom farmers today, he was also greatly inspired by the work of preeminent mycologist Paul Stamets, whose 2005 book Mycelium Running married perspectives of environmental understanding and healing with practices of cultivation. From there it was a few years of experimentation, trying to grow some of the mushrooms they'd find in the wild in their home basements, to the chagrin of many roommates.  
The farm's beginning in spring 2014 was humble, launching with 13 metal and 14 wooden shelves, a lab, a sterilizer, and a packing station. The warehouse setting was ideal for the farm, because it allowed them to control the humidity, temperature, light, and microbial growth. Unlike most types of farming, mushroom farming requires a sterile environment. The process involves inoculating a planting medium (straw, cardboard, wood chips, logs) with mushroom spawn, and protecting the fungus from other microorganisms. 
There were many challenges at first, but the biggest hurdle was translating a hobbyist's knowledge of mushrooms into a real business. "Even if you're awesome at growing on a smaller scale, there are a lot of unknowns in scaling up production to be able to serve restaurants and markets," Versek says.
It took the founders some time to find a rhythm in balancing their ability to produce with the needs of their burgeoning customers. Sometimes they'd have too many mushrooms for customers, and sometimes not enough. Luckily, they were embraced by a number of talented chefs and restaurants along the way that saw value in what they were doing and provided the support they needed to keep going.
Today, Mycopolitan grows several varieties of mushrooms, including king trumpet, pom pom, nameko, pioppino, and shiitake, and sells its mushrooms predominantly to local restaurants (Kensington Quarters, Vetri, Russet, and Aldine, to name a few) and through their CSA farm-share. Their mushrooms are available to the public at a few local markets, like Di Bruno Brothers and Weaver's Way Co-op.
In the future, they're aiming to reach more retail markets with their mushrooms and value-added products such as medicinal mushroom extracts. "We're really excited about a few projects we're working on collaboratively with urban plant and veggie growers to add an element of outdoor mushroom production to their systems," says Versek. "Of course, we hope to just keep doing what we're doing—sustainably growing delicious, nutrient-dense gourmet mushrooms in the heart of an urban environment and creating a few more jobs in the meantime."
As far as what to do with Mycopolitan's delicious mushrooms, well, the possibilities are limited solely by your imagination. When I asked Versek if he had a favorite mushroom variety and preparation, he responded with confidence: "It's like asking a parent to choose a favorite child, but the chefs at Tired Hands recently perfected a pom pom mushroom 'lobster roll' that was out of control. They nailed it—the seafood-y texture of the mushroom and their homemade mayo on a buttery brioche kind of delivered on a culinary wish for me."
Versek eats king trumpet (mushrooms) in pretty much everything. "It's insanely versatile, but I enjoy it most when the meaty stalks are scored and seared or grilled, which goes equally well with a butter and white wine reduction or a BBQ-style glaze. But most of the time it's a simple sauté with butter and salt."
While a simple mushroom sauté or an assortment of mushrooms roasted in the oven with fresh herbs might be my favorite ways to enjoy these earthy delights, you also can't go wrong with a mushroom ragu cooked in mushroom (porcini) stock, poured over a bowl of polenta or mixed into some pasta. Any variety of mushroom works well for the ragu, but for me, the more variety the merrier.