Pesto Isn't Just Ligurian, It's Italian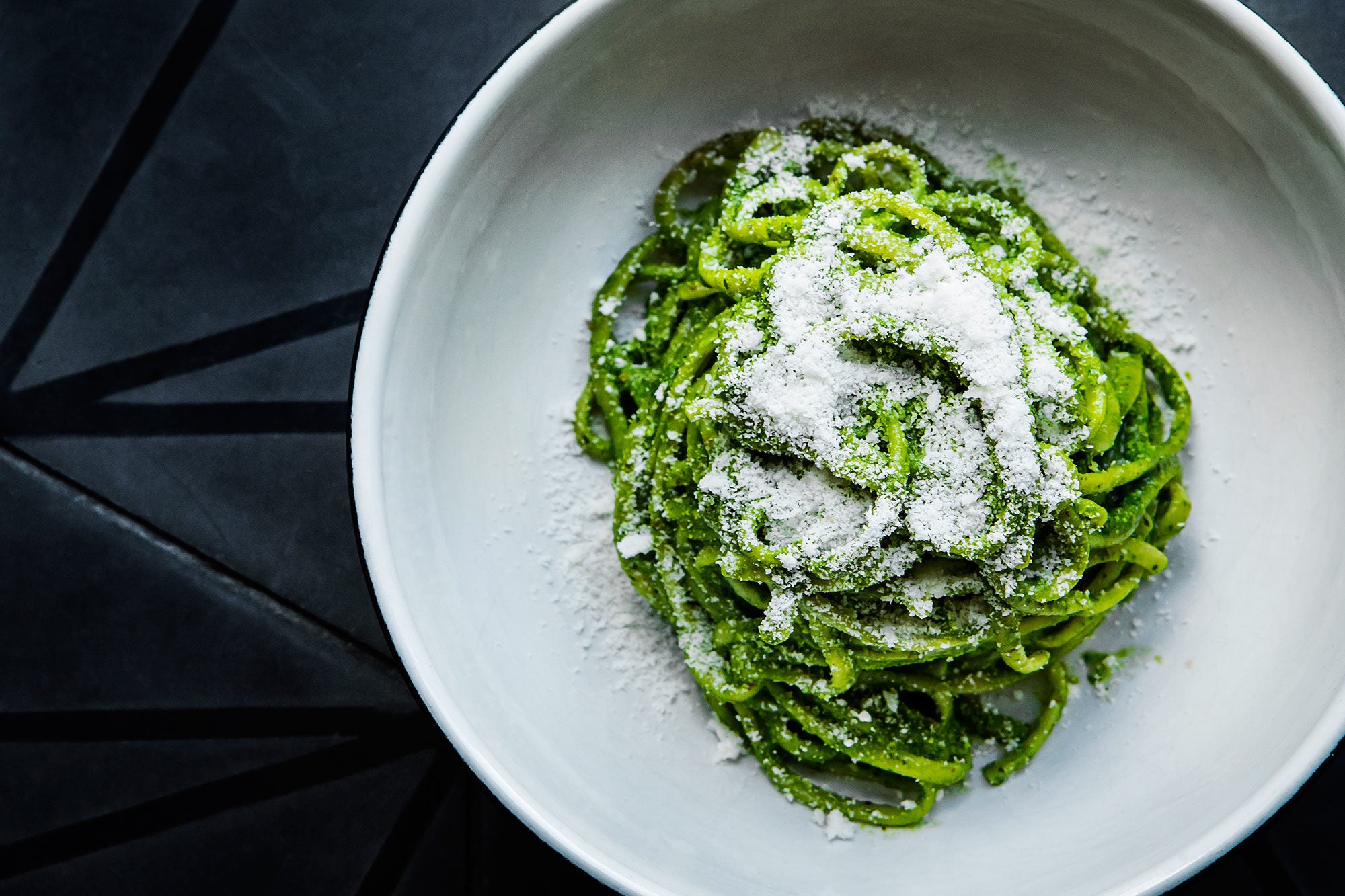 From the Dolomites to Sicily, there are as many styles and shades of pesto as there are regions in Italy.
I love pesto the way I love driving a red Fiat 500 around Florence and bingeing on Luca Guadagnino films: unapologetically and with full knowledge of how deeply I'm buying into the cliché. But my affection isn't just for one type of pesto; it's for the multiplicity of styles the word represents in Italy—from its spiritual home in Genoa all the way up to the Dolomites and down south to Sicily.
To be sure, done right, pesto genovese is irrefutably divine. The recipe is a simple one featuring only basil, pine nuts, olive oil, aged cheese, garlic, and salt, all crushed in a mortar with a pestle. The simplicity ends there, however, as the strictest interpretation of pesto genovese requires that the basil be grown in the area of Pra' and picked young, that the oil be the delicate Ligurian kind from Taggiasca olives, that the pine nuts be Mediterranean (not Asian or, god forbid, American), and that the cheese be a combination of pecorino from Sardinia and Parmigiano-Reggiano, aged 30 or more months. The final pesto achieved is substantially different from what you might get at the store—not only because of the quality and specificity of the ingredients, but also, and more important, because the preparation is of the moment and meant to be consumed as soon as possible.
While a lot of energy has gone into reclaiming this "true" pesto, there are many other worthy pestos out there, all with their own historic value and deeply regional identities. The organized effort to protect and promote a certain representation of pesto—according to a Genovese tradition—has helped to raise the profile of that particular style, with much to be gained for anyone invested in those products and that region. Like so many other protected designations of origin in Italy, the claim for the authenticity, purity, and tradition of one iteration has arbitrarily led to the denigration of other variants.
Yet pesto has proliferated around the Italian peninsula since at least as far back as imperial Rome—and it can be found everywhere from the Aeolian Islands scattered around Sicily (pesto eoliano, with tomatoes, basil, garlic, pistachios or almonds, and capers) to the Dolomites at the border with Austria (pesto trentino, with wild parsley, egg yolks, and vinegar).
A variety of herb-and-olive-oil smash-ups appear in texts ranging from early pseudo-Virgilian poetry to Ovid's Fasti, and Columella describes a forerunner of the modern Genovese version that specifically uses pine nuts in the first-century farming treatise De Re Rustica. The great Italian cookbooks of the Middle Ages and the Renaissance similarly showcase a variety of salse pestate, some that are more strictly in the realm of agliate (garlic-based or garlic-forward sauces prepared in the same style with a mortar and pestle), and others that straddle the space between the fresh herbaceous blend that pesto calls to mind today and less familiar mixtures featuring dried fruit and vinegar.
Taken in a long view, these more ancient iterations set the stage for the development of a rainbow of pestos, connecting the preparation to an elite culinary context but not necessarily tying it to one region or an immutable set of ingredients.
Today, even in Liguria, you can easily encounter a pesto modified from the canonized recipe, possibly with marjoram or parsley in place of basil—or with a Dutch-style cheese that actually predates the popularization of Parmigiano in the region. In central Italy, in places like Tuscany and Umbria, fava beans or mint might make an appearance, or the expensive and rare pine nut might be replaced by the more ubiquitous walnut. In Sicily, where the rich cuisine of the Arabic Muslim world planted seeds that would continue to bear fruit long after the caliphate fell, pesto is typically made with the pistachios or almonds brought there from central Asia, in the trapanese style, blended with garlic and ripe tomatoes.
Sailing west to hit the coast of Sardinia, you'll find pesto alla carlofortina on San Pietro Island, where in the eighteenth century a Genovese community settled after fleeing the Tunisian island of Tabarka. Adding fresh tuna, onions, and cherry tomatoes to the usual basil, pine nuts, garlic, Parmigiano, and olive oil, this Tunisian-Genovese-Sardinian pesto marries influences from all three places and is distinctly delicious, even as it gives the lie to any pretense of purity in pesto.
Like pesto genovese, with its insistence on ingredients that represent the very best of the Ligurian coast, recipes for pestos from other Italian regions reflect the movements of people and ideas, an appreciation for locally sourced ingredients, and the balancing of practical solutions against taste. There isn't a single perfect pesto, and true pesto can exist in infinite forms, as long as it remains fresh and honest.