The Parker House Roll Abides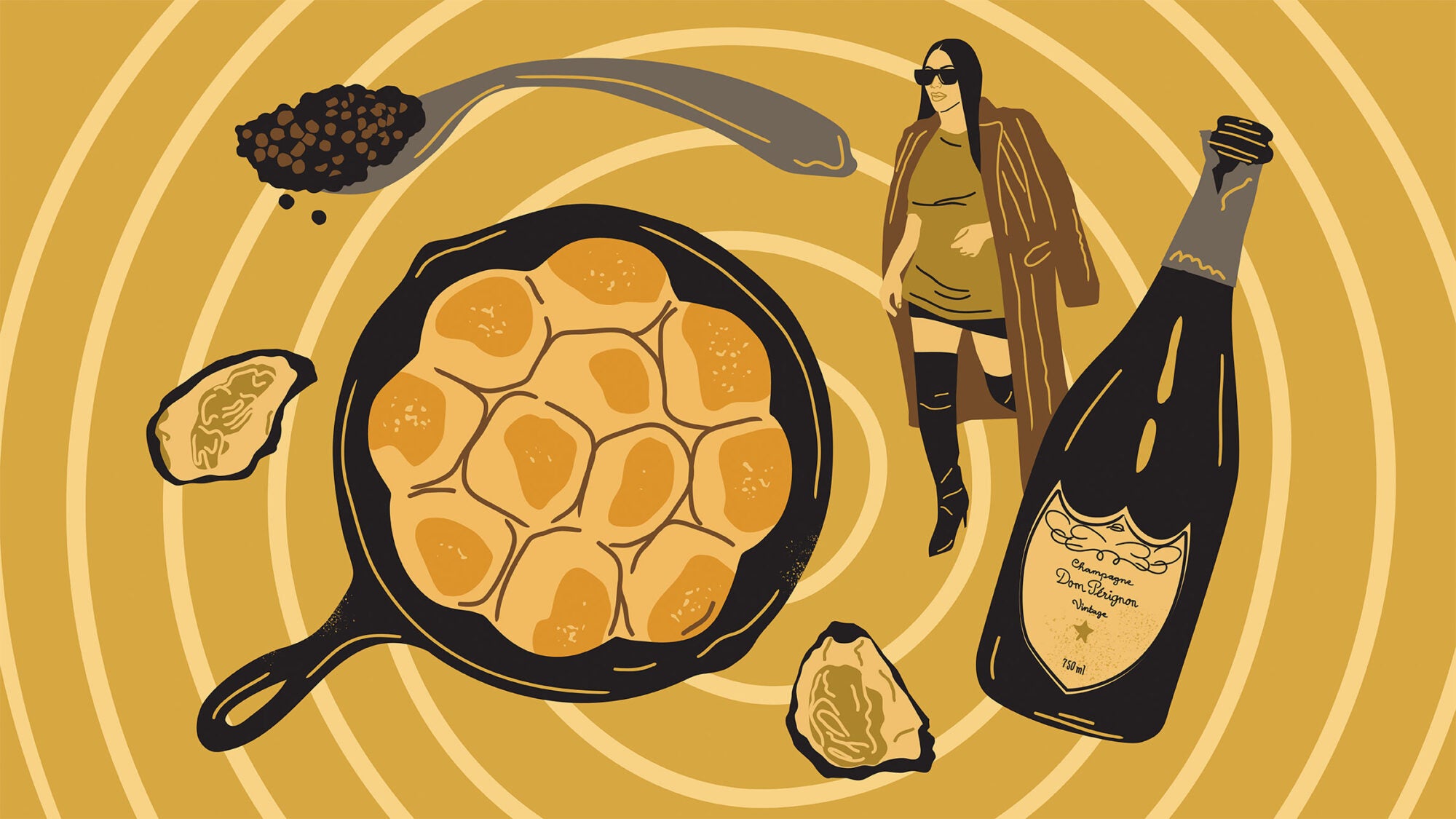 How a humble member of the American dinner table came to rub elbows with the rich and famous.
At Per Se, Thomas Keller's fine-dining temple in Manhattan, it arrives after the amuse-bouche, after the oysters with caviar, but before the sashimi and foie gras courses. It is the Parker House roll, a dairy-laden soft bread roll roughly the size of a clenched fist, and they couldn't take it off the menu if they tried. Across town at TAK Room—Keller's newest restaurant, at Hudson Yards—they serve a version of the roll with clarified butter, "perfectly spherical," according to chef de cuisine Jarrod Huth, in a style "reminiscent of chef Keller's childhood."
Today we're seeing the roll more and more alongside luxury items, landing on modern, risk-taking menus as a sign of comfort and sophistication. The roll was created at the Parker House Hotel in Boston, along with the Boston cream pie, sometime around the end of the Civil War, then codified for a national audience in Fannie Farmer's landmark The Boston Cooking-School Cook Book. At its foundation, it's a recipe that's seen little deviation, to the point that it's entered into the public consciousness, a kind of Creative Commons for the kitchen: room-temperature butter, sugar, yeast, salt, warm milk, and white flour, rolled out with a pin and then cut into small pieces and baked together in a cluster, often in a cast-iron skillet.
Some versions contain barley syrup or molasses for additional sweetness and color. After baking, brush the tops generously with melted or clarified butter, then serve with more butter and a pinch of salt (or, if you're Per Se, a bicoastal salt degustation).
This is deeply elemental national identity cooking, as American as jazz or Morse code, but today oftentimes riding shotgun with luxury. Its revival says volumes about what we want from fine dining in 2020, and the ability of a single item—a little buttery, freshly baked roll—to signify comfort and familiarity alongside challenging, boundary-pushing culinary experiences that many are willing to pay a premium for.
The rolls' reliable formula softens some of the coldness (both literal and figurative) that often characterizes today's fine dining. At Angler in San Francisco, chef Joshua Skenes has offered his in a little bake-dish cluster alongside green seaweed butter and a small service of caviar. At Jaguar Sun in Miami, Will Thompson and Carey Hynes's cocktail bar that doubles as a kind of tropical supper club, the rolls appear alongside yuzu-dressed oysters and a bottle of Philipponnat Brut as the regular house special, and on the main menu next to the rum and Lapsang tea punch and the strawberry foie gras dessert course.
Thompson is originally from Boston; Hynes cooked at Per Se, where the Parker House roll was already entrenched on the menu. "They are popular," says Hynes, who serves his with honey butter. "I was, and am, shocked at how popular they are. When I first nailed down the recipe, I costed it out and thought that $4 was a fair price based on the [food] cost, but I was worried that people would have an issue paying that much. That worry has thankfully proven to be unfounded."
This is deeply elemental national identity cooking, as American as jazz or Morse code, but today oftentimes riding shotgun with luxury.
In my home city of Portland, Oregon, there are divine Parker House rolls at Imperial, chef Vitaly Paley's hotel restaurant located in the heart of downtown. Here, the roll is served as a single bun, alongside whipped butter and Jacobsen's sea salt, which is harvested on the Oregon coast. It appears on the menu not under appetizers or breads, but simply as one of the house favorites, meaning there's no wrong time to order one. They are $2 and, in my opinion, are best ordered immediately upon sitting down, alongside a martini, offering the maximum contrast of bracing cool spirits with the warm, buttery roll. "The Parker House roll is the most popular item across all our menus," Paley says. "We make around 800 rolls weekly, year-round. Just this Thanksgiving Day, we baked 600 and sold them all."
I suppose this might sound like teetering toward throwback, upper-crust regressivism—oysters and butter rolls and supper clubs to which my shtetl Jewish great-grandfather would never have been invited. But instead, I think there's an argument for the Parker House roll as an egalitarian foodstuff, a recipe of the people, even among all the luxury. James Beard himself called it "as much of a tradition in the United States as any bread," before going on to opine that "some versions are exceedingly good and some are absolutely dreadful because they skimp on good ingredients."
They are typically the least expensive item on the dining room menu, and often also the most popular. And who among us can resist a nice, warm Parker House roll? Why even try?