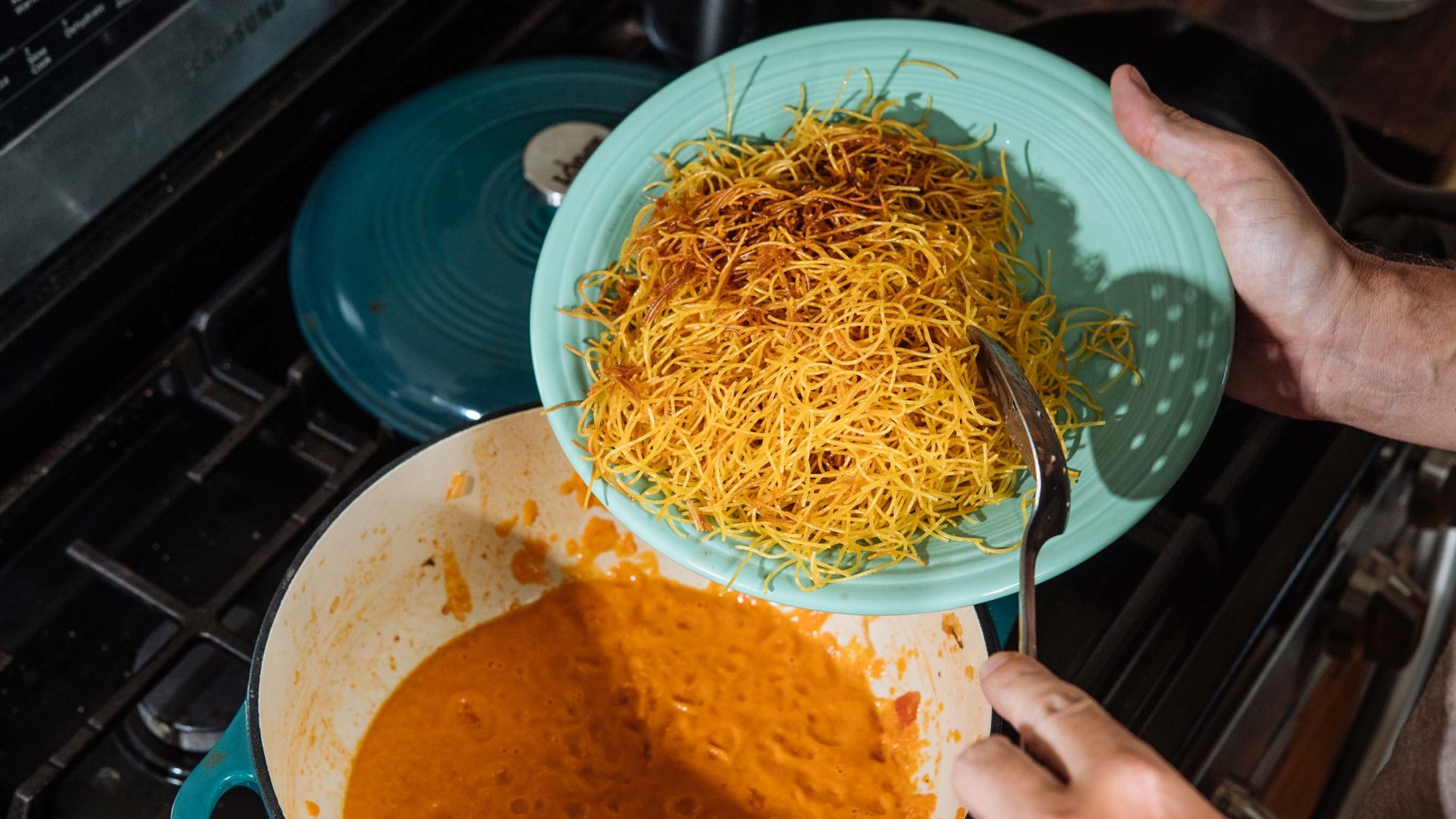 Mexican sopa seca de fideo turns everything you know about pasta on its head.
I see people pining for cacio e pepe at a Roman trattoria. I hear people saying over FaceTime how they would trade their firstborn for a bowl of wonton noodle soup in Hong Kong. Me, I also want to travel, and I want to eat those dishes. More than those, though, the noodles I require are Mexican sopa de fideo.
In Mexico City and its environs, sopa de fideo is a widespread restaurant preparation, served as a middle course during lunch. "Fideo" is Spanish for noodle or pasta, and "sopa" is, yes, soup. Sometimes sopa de fideo is precisely what you might imagine: a brothy soup upraising twigs of thin pasta. The iconic version of sopa de fideo, the one I chase, insists the pasta shards be fried in hot oil, then simmered in a thin tomato sauce seasoned with onion and garlic. The preparation is a little bit pilaf, a lotta bit risotto, and as invigorating as it is consoling.
This version of sopa de fideo is part of a school of dishes known as "sopa seca," aka dry soup, which includes rice, both plain and flavored with tomato. I know. "Dry soup" is an oxymoron. The Diccionario Enciclopédico de la Gastronomía Mexicana explains: "se llama sopa seca porque se sirve después de la sopa aguada o líquida." Literal translation: "It's called sopa seca because it's served after soups with lots of broth." Egoistic translation: "Do not overthink. Make at home, because you are not traveling to Ciudad de México anytime soon."
I cook pasta all the time. I had never thought to cook sopa seca de fideo, also known as "fideo seco" or simply "fideo." Perhaps because the memories of versions I have eaten in Mexico, including the pristine fideo at the homey Raíz Cocina Contemporánea in San Pedro Cholula, are mesmeric. (Yes, the same Cholula as the hot sauce brand common in the United States; no, that Cholula is not made in this Cholula, a historic town in the state of Puebla.) Or maybe I have never made fideo seco because every recipe serves at least four people, and though I love fideo seco, I only have one stomach and one dog. Still, desire and immobility are potent bedfellows. So, the other week, I hybridized a few recipes from books in my home, including Marilyn Tausend and Ricardo Muñoz Zurita's La Cocina Mexicana, Pati Jinich's Pati's Mexican Table, and Thomas Schnetz and Dona Savitsky's Doña Tomás.
I took the oregano from one cookbook; the chipotle en adobo addition from another; the one-pan sauce-making from another. One recipe says to cook the tomato sauce first; another says to fry the fideo to start. I learned that there is no hard-and-fast rule around sopa seca de fideo, provided you follow the foundational blueprint. Use the thinnest noodles possible. Most Mexican markets sell packages of fideo, in sizes ranging from 10 to 12 ounces. Often, the noodles are packed in coils. You could substitute angel hair pasta. Either way, you want to break the dry noodles into bite-size pieces. Shut your eyes now, Italian cooks: You then fry those pasta shards in neutral oil until toasted and golden brown like poplar in fall.
The sauce begins with chopped white onions and garlic, cooked in oil until soft. Add Mexican oregano and tomatoes, either fresh or canned, and cook until they begin to collapse. I add a lone chipotle en adobo at this stage. Into a blender the sauce goes, where it is whirred until quite smooth. Then return the sauce to your pot and add the roasty, toasty fideo. Much like risotto, you cook the fideo in tomato sauce, adding broth or water in heavy glugs, until the fideo is lithe. You want your noodles full-bore tender. We are far past al dente here, people.
I have seen sopa seca de fideo garnished in incalculably different ways. Some kind of cheese, like queso fresco or Cotija, and, say, a streaming dairy, like crema or yogurt, is wise. At Raíz in Cholula, blobs of avocado puree ring the fideo pile, as do tiles of shaved radish. Crunch, richness, sharpness: contrast, whatever that looks like to you, is the goal.
Who knows when I will next board a plane bound south from where I live? Until then, the only Mexico-related movement that's certain will be at my kitchen table in New Orleans, with one fork traveling from a tangle of fideo to my open maw.