Palestinian Cooks Plant Their Flag in America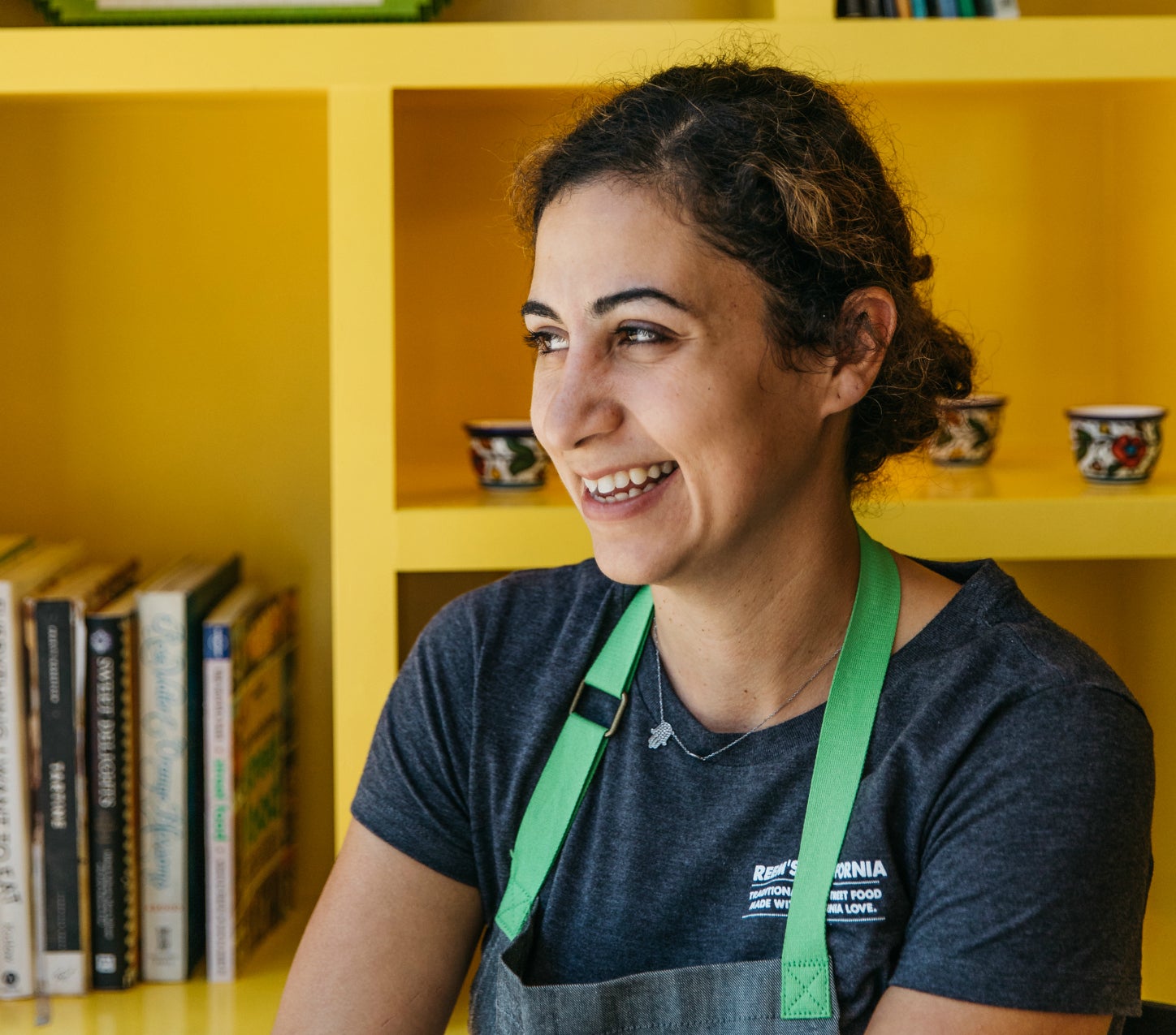 For Palestinian cooks in America, food is a way of tracing identity through a messy past.
"It's not a political manifesto," Reem Kassis says firmly. "It's a cookbook."
Kassis, who lives in Philadelphia, is the author of The Palestinian Table, a vibrant and nuanced catalog of the recipes, family traditions, and cultural and historical currents that informed both her upbringing in Jerusalem and her education as a Palestinian cook. Published last fall, it was the newest entry in a small but growing category of cookbooks that have sought to accomplish something that is still more or less unheard of in this country: to view Palestine through its cooking traditions rather than its conflict. "It's my family's story, but also the story of every Palestinian family," Kassis says. "I wanted to give the world a different narrative."
That narrative is part of a larger story of how Middle Eastern food is viewed in America. Whether you want to credit the Yotam Ottolenghi industrial complex, the New York Times Food section's appreciation of sesame, or the outcropping of restaurants from Portland to Boston that have taught many Americans how to say "za'atar," if not spell it, what is broadly termed Middle Eastern food has enjoyed something of a renaissance here during the last few years.
But even as our understanding of the region's cuisines has started to expand beyond the falafel-hummus-shawarma axis, the story of Palestinian food remains largely overlooked in this country and in many places around the world—if its existence is even acknowledged. Part of that is due to the grinding political conflict that makes even a conversation about hummus—or, more specifically, who can claim historical ownership of it—impossibly loaded. As a result, when many Palestinian refugees opened restaurants in cities like Detroit, New York, and Los Angeles, they made them catchall Middle Eastern rather than precisely Palestinian, again thanks to politics; as Reem Assil (pictured above), the owner of Reem's California, an Arab bakery in Oakland, explains, trying to reclaim certain foods as specifically Palestinian brings an "inevitable pushback because of the context of what's happening with Palestine."
But there's also the complexity of Palestinian food itself: It is a cuisine rooted in a very specific land, but also one of displacement and adaptation. As such, it rejects easy categorization.
"There are three kinds of Palestinians," Assil proclaims. "There are the folks who were able to survive not being exiled and live within Israeli borders; they have a very specific kind of cuisine. There are Palestinians who live in the occupied territories, the West Bank and Gaza, which is where my family is from. That's a very specific kind of cuisine affected by the occupation and the fact [the people] can't move within the borders. And then there's the diaspora, which I feel like I'm part of: the Palestinians who consider themselves in exile and have had to adapt their food because they can't return to Palestine."
Assil recalls that her own grandmother, who was originally from the port town of Jaffa, was forcibly relocated to Gaza and then, during the war in 1967, forced to move to Beirut. "So when I think of Palestinian cuisine," she says, "it's a hodgepodge of stories from Gaza and a melding of Lebanese cuisine."
At her own restaurant, which she opened last May, one of Assil's best-selling dishes is the Pali Cali; it's her version of musakhan, which is widely regarded as the national dish of Palestine: chicken baked with turmeric, sumac, aromatic spices, and caramelized onions and served over taboon bread, a large flatbread. "It's a very communal dish," says Assil. "In the modern-day U.S., what that means is we roll it up in a tortilla or bread and eat it like a sandwich. We adapt it, but it's still very Palestinian."
Another factor complicating Palestinian food is national borders: Palestine is part of a region of the eastern Mediterranean historically referred to as the Levant that, under the Ottoman Empire, was a single entity that included Palestine, Lebanon, and Syria. "So at the time," says Kassis, a variation in preparation technique could be "the same difference you might have between two neighbors who cook the same dish. When borders and states come up, the nuances become more obvious, but like any food, it's a function of geography and landscape.
"If you want to look at Palestinian food, can I tell you exactly how it's different from Lebanese and Syrian food?" Kassis asks. "No, I can't. But I can point to specific dishes that Palestinians tend to make that other countries do not."
Kassis points to specialties like maqluba, an upside-down rice, vegetable, and meat dish most commonly served in central Palestine that gets flipped just before serving, and maftoul, a sort of Palestinian couscous made from bulgur wheat, as quintessentially Palestinian. Azhar Hashem, the Palestinian-Jordanian owner of Tawla, an Eastern Mediterranean restaurant in San Francisco, points to ingredients like za'atar (a type of wild thyme traditionally foraged in the mountains), fenugreek, citrus, nabulsi and akkawi cheeses (white brined cow's milk cheeses), and olive oil as staples of the Palestinian diet. "I cannot speak enough about olive oil," Hashem says. "For a long time, while we were living in Jordan, my aunts and uncles in Palestine would every year ship us gallons of olive oil that come from the land; they have very strong and specific flavor profiles."
This past November, Assil traveled to New York to collaborate with the Palestinian-American chef-artist Amanny Ahmad on the Asymmetrical Table, a series of four-course dinners designed to showcase the breadth of Palestinian cuisine. There was sayadiyah, a turmeric-tinged whitefish dish representative of the seafood-heavy cuisine of Gaza, which borders the Mediterranean and Egypt; pickled vegetables popular in the West Bank, an area distinguished in part by its more abundant vegetation; a Gazan eggplant-lentil-pomegranate stew called ruminiyah; malfouf, a stuffed cabbage roll; and freekeh, a smoked green cracked wheat traditionally used for stuffing chicken and to thicken soups eaten during Ramadan.
The dinners were sold out; the customers, Assil recalls, were "Americans from all walks of life who didn't know much about Palestine or its cuisine but wanted to learn." But while her desire to educate them was driven by her pride in her country's food, she acknowledges that the dinners were also a response to the Israeli government's gastro-diplomacy program, which celebrates what Assil calls "quote-unquote Israeli cuisine."
The growing popularity of Israeli food—or what is marketed to Americans as Israeli food—in this country is a thorn in the side of many Palestinian cooks. You could argue that it doesn't matter who created hummus or falafel; in Jerusalem, their blockbuster ode to the city's crazy-quilt culinary heritage, Yotam Ottolenghi, an Israeli, and Sami Tamimi, a Palestinian, write that arguments about provenance and who came first "are futile because it doesn't really matter…food is a basic, hedonistic pleasure, a sensual instinct we all share and revel in." But to some, this question of who gets credit for a dish touches upon deeper existential concerns.
"You have people who say there's no such thing as Palestinians, so food is a way to assert our identity and say, 'No, we've been here for centuries,'" Kassis says. "When Israel says, 'No, the food is Israeli,' it's a stab. It adds salt. Now you want to take our food away and say, 'It's ours.' That's why it's political. It's the lack of recognition, not who created it."
And getting recognition for their cuisine means that Palestinian cooks and restaurant owners frequently have to engage in conversations that shift the focus away from the food they want to celebrate.
When Assil was preparing to open Reem's, she accepted that these conversations were as ingrained in the restaurant's identity as the Lebanese man'oushe (flatbread) and traditional Arabic pastries that form the heart of her menu. "I made that intentional choice to be a pioneer, and to do it in a way that's positive for Arabs and Palestinians," she recalls of her opening mission. "Our food is our oral history. We're keeping that alive in the diaspora because a lot of us might not be able to return to our homeland."
While Assil tries to keep the conversation around her food positive, she doesn't "shy away," she says, "from saying where these foods really come from and maybe respectfully challenging people." That hasn't always been easy; often, it has been emotionally draining. "But my earliest memories are of being afraid to say I'm Palestinian," says Assil, who grew up in Boston. "My food is finally my way of saying I'm Palestinian."
At Tawla, Hashem has had to engage in similarly complex conversations. Although her restaurant's mission "is to create a conversation," she prefers to give people insight into the Eastern Mediterranean "through a food lens that is not charged by politics," she says. "We try to ground Tawla in a food heritage versus what's going on in the land right now. It's a very hard line to walk, mainly because that's what people know. So you almost want to start where they know and walk them away from it."
What Hashem cares about most is giving her customers a great meal, but if those customers want to learn more about the food they're eating, she's happy to provide more information about the ingredients she uses and why she uses them. Instead of war or conflict, she'd much rather talk to you about all of the problems she and her chef, Joseph Magidow, encountered when they decided to serve musakhan at Tawla: Initially, they didn't want to serve it with bread as part of an already bread-heavy menu, but because the dish is traditionally prepared with very little variation, their freedom to reinterpret it was limited—change, Hashem says, "is almost unacceptable." So they called the dish "sumac chicken," but as it evolved, Hashem thought, "Screw it, we make it with the bread." And now, she says, her musakhan "tastes exactly like it would in someone's house, so I feel comfortable calling it that."
It's a story with a happy ending that lives within a much larger, frequently unhappy story. And in telling it, Hashem hopes to create a deeper, richer narrative about a country and a region that are so frequently misunderstood. "Food is amazing; food is honest," she says. "Call it what you want. It's just food. It's sustenance."