Orzotto: When Mac & Cheese Marries Risotto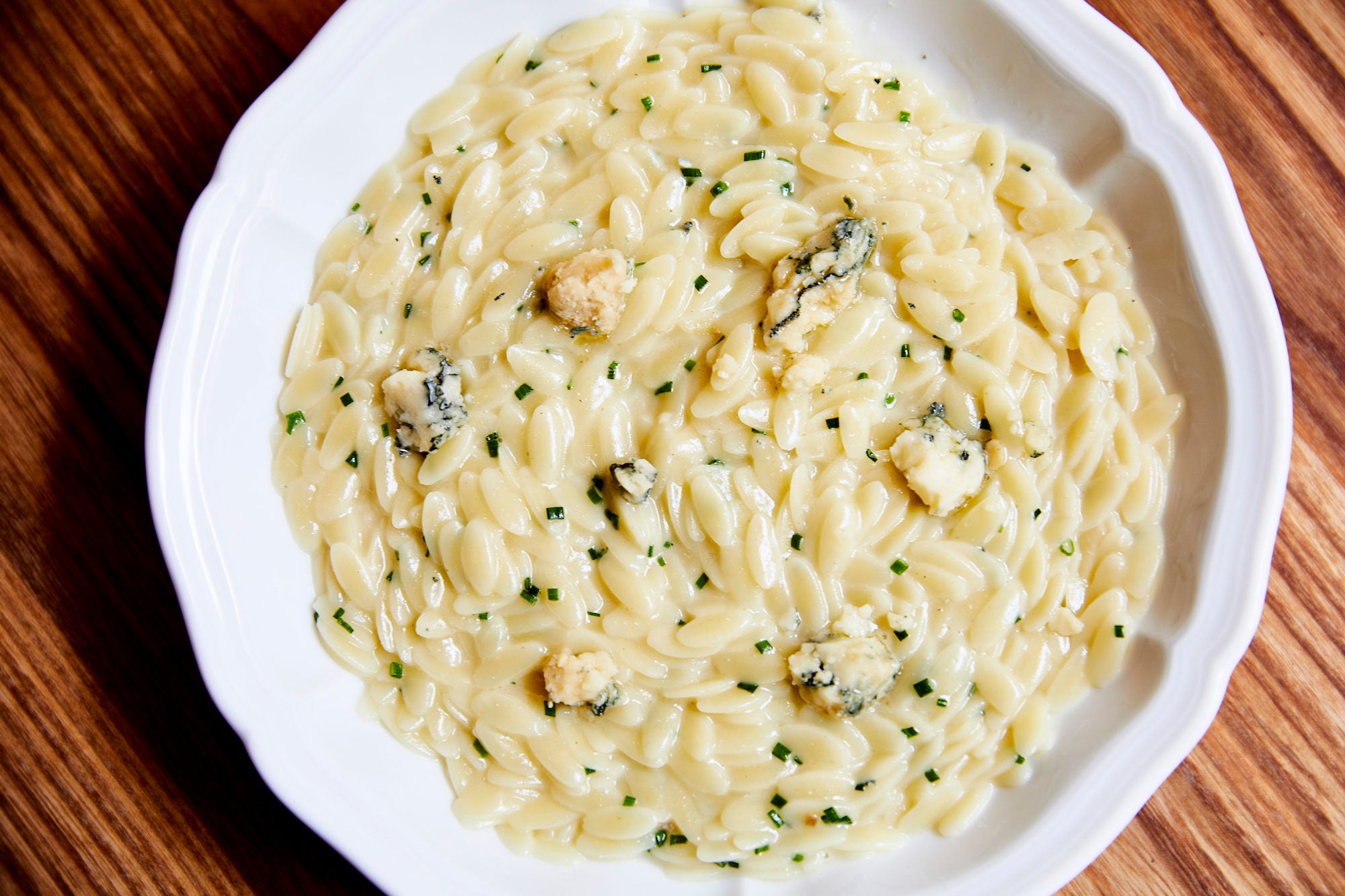 This silky, starchy orzo, studded with mellow blue cheese, is a crash course in a pasta cooking technique that may sound a little familiar.
Blue cheese is rarely considered comfort food. Its creaminess is often offset by a sharp tang and intense funk. From time to time, a properly chilled martini might lead me down the road toward a Maytag-dressed iceberg wedge or Roquefort melting on a well-crusted steak. But I'd never really had a deep craving for the stuff—or anything close to an obsession—until I dipped a spoon into the Fourme d'Ambert "orzotto" at the restaurant Verjus in San Francisco.
Here, hiding among the wine bar's plates of plump sausages and anchovies curled around olives, was the smoothest blue cheese lullaby I'd ever tasted. Made with little more than pasta, chicken or vegetable stock, a little butter, a little cheese, and a handful of chives stirred in just before serving, each velvety bite showed the mellow side of an often-shouty cheese family.
Orzotto is what it sounds like: orzo cooked (mostly) like risotto. The pasta sips up stock bit by bit, shedding some of its starch into a sauce that's remarkably silky without being laden with cream or béchamel. The method preserves both the bright top notes and mushroom-y baseline of Fourme d'Ambert—a French cow's milk blue cheese that's softly tart and earthy. The result feels like it's been stolen from some sort of precocious children's menu: mac and cheese meets risotto in the key of blue. I had to learn how to make it at home.
"What we do at Verjus is very French," says chef de cuisine David Meyer. "But it's also a little bit tongue-in-cheek." He thinks of it less as a variation on mac and cheese and more of "a playful take on risotto."
Pasta risottata (that is, pasta cooked in the style of risotto) isn't anything new. In 2002, chef Alain Ducasse wrote in The New York Times that he learned about using this method to cook strozzapreti pasta from olive farmers in Liguria. The technique got a bit of a bump when Clotilde Dusoulier wrote about it on her popular Chocolate and Zucchini blog in 2006. In 2009, Mark Bittman wrote in the New York Times that he first witnessed the low-liquid technique in Rome in the mid-1970s but believes it's "as old as pasta itself." And while it's not a method you see every day, you could consider Martha Stewart Living's 2013 viral one-pan pasta recipe—where all the ingredients for a spaghetti dish, including the full dram of liquid to be absorbed, are cooked together in a single skillet—as a natural evolution of the pasta risottata idea.
At Verjus, Meyer first blanches the orzo for a few minutes in boiling water to get the cooking started: "You want the pasta to hydrate all at once and very evenly," he explains. Stirring the drained, still-crunchy pasta, he says, with small additions of hot stock and letting each one absorb helps pull some of the starch from the pasta "to provide a kind of creaminess and voluptuous texture that mimics risotto." Using vegetable stock makes the dish accessible for vegetarians, and Meyer says you could even add back in starchy pasta-blanching water instead, but chicken stock is the most flavorful option. "The stock is one of the things that makes it as good it is," Meyer says with a grin.
Cooked until tender and slick but not heavy, the final dish can highlight any of your favorite mellow-ish blues. Meyer describes the Fourme d'Ambert version as piquant and savory, especially as each bite lingers on your tongue. You can ramp things up a bit with a crumbly Stilton or firm, sweet Gorgonzola, as long as it isn't extremely ripe. Cheeses that are too funky, he warns, can fall out of balance when you heat them, and you're not looking for an oozing option: "Most of the creaminess really can and should come from the starchiness of the pasta."
You'll need to trust your taste buds as you go: If the cheese you choose is especially salty, you may want to season more lightly. Orzo sizes vary across brands—if yours is on the smaller size, it will cook faster and absorb less stock. If your stove top burner is robust, the cooking may happen more rapidly. Your cues are in the pasta: It should be removed from the water when it's just starting to yield but the center is still firm. Then don't drown the pasta in stock: Add just a bit at a time, stirring until it's nearly absorbed before adding more. How much cheese and butter you want is up to you—it's your comfort we're seeking, after all.