One Sambal Is Never Enough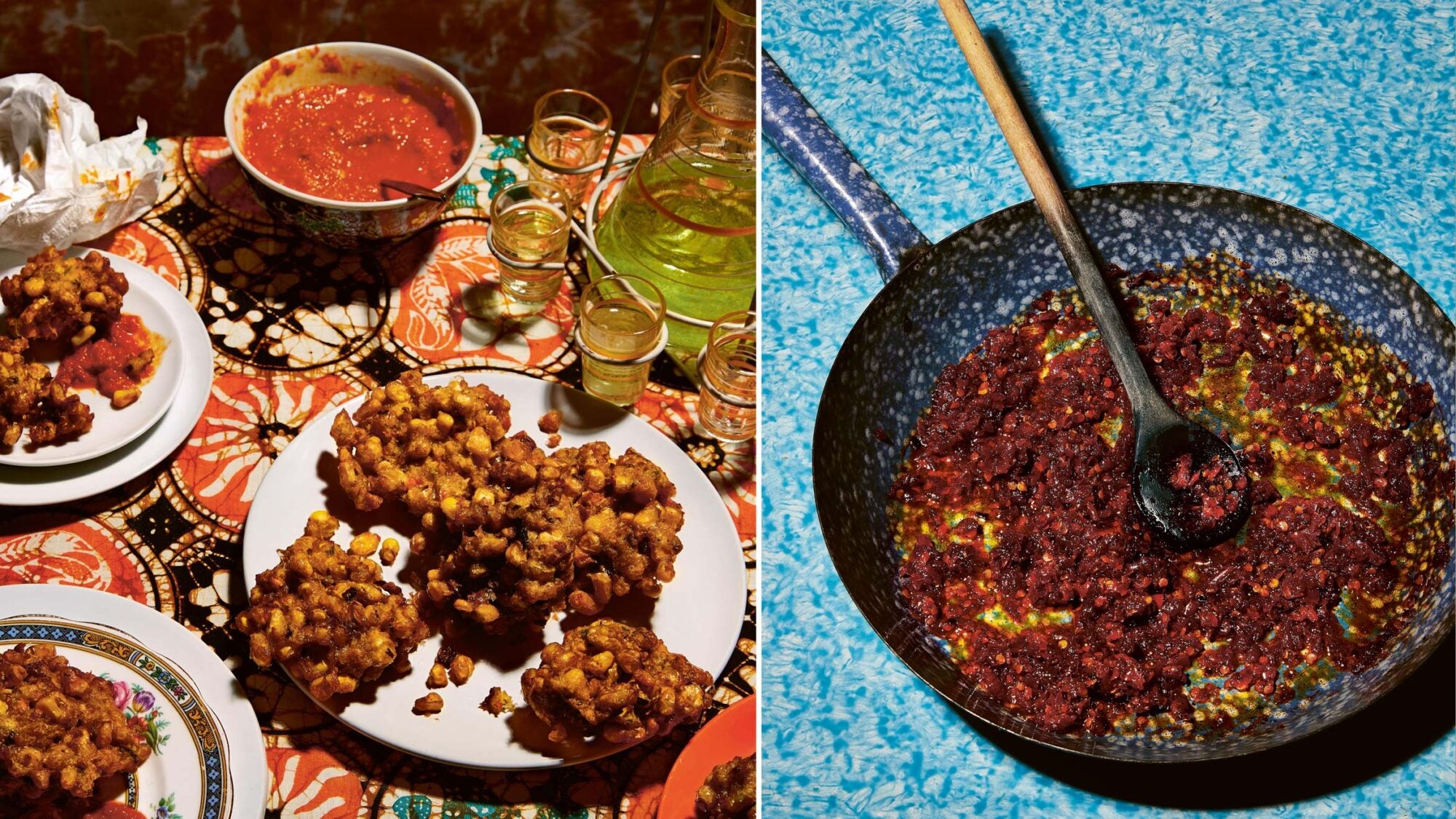 In a new cookbook, Lara Lee tells the story of Indonesian cooking, from its rainbow of spicy condiments to its pandan-scented sweets.
"For an Indonesian, no meal is complete without sambal," writes Lara Lee in the introduction of her new book, Coconut & Sambal. The sweeping book contains ten different variations on the spicy and dynamic condiment, of which there are hundreds of iterations and family recipes across the island nation of nearly 270 million people. There's the fiery green sambal hijau padang, which combines green chiles, anchovies, and lime juice. There's the copper-colored sambal kacang, which is creamy with blended peanuts and made fruity with tamarind paste. And there's the sambal matah, which brings together matchsticks of fresh ginger with rounds of banana shallot and lemongrass.
These sambals were the cornerstones of the food Lee grew up eating with her family in Sydney, Australia, and as an adult, on trips to visit her father's hometown of Kupang, Timor. The book brings together faithful re-creations of family recipes with techniques learned under tutelage from local restaurateurs, food writers, and home cooks. It regards the food of Indonesia through a wide lens of scholarship, reverence, and deep affection for the craft and care that goes into every dish.
After using the book's guidance to proudly make my first batch of soto ayam, a rich chicken noodle soup full of ginger, cinnamon, star anise, and fresh turmeric, I talked to Lee about some of the challenges in representing a whole country's cuisine in one book when there are hundreds of possible divergent ways to cook each dish.
You grew up in Sydney, Australia, but you live in London now. Is there an Indonesian food scene in London?
Yes, I grew up in Sydney, where there's a large Indonesian community and around 40 or 50 Indonesian restaurants and specialist food shops. When I look back, I took for granted that I could buy Indonesian kue (cakes) or eat rendang and sambal whenever I wanted. Moving to London, I discovered the Indonesian community is smaller; there are less than 10,000 Indonesians living in the UK, so a bustling food scene hasn't developed yet. There are a handful of street food vendors, caterers, and restaurants operating across the country.
How did you land on coconut and sambal for the two key ingredients to call out in the title? Were there any close thirds that felt fundamental to writing about Indonesian food?
Indonesian food is diverse, and the cuisine changes as you move across its 17,500 islands, from the flavor characteristics to the produce and culinary influences, depending on who traded or migrated in the area. Coconut and sambal unite the cuisine because, no matter where I traveled, on every table, there was sambal (a hot chile condiment eaten with every bite of food) and coconut, which produced coconut milk, coconut water, grated coconut for sweets and salads, coconut flesh for shaved ice drinks, the coconut shell for utensils, the coconut husks for adding fragrance to cooking fires, and so on. You'll also find large helpings of rice (Indonesians say that if they have not eaten rice, they have not eaten) and kerupuk, a savory cracker that adds crunch and texture to a meal, which stimulates the appetite.
When I think of sambal, I usually think of the red and green jars of Huy Fong sambal oelek that are at every grocery store in New York. But I think I counted ten different sambal recipes in the book. What characteristics unite this category of condiments, and how many sambals do you generally have on hand at any given time?
The key aspect to any sambal is the sultry level of heat it provides, and every sambal must contain chiles. It aims to complement a meal rather than overpower it. The simplest of sambal recipes is made using just boiled chiles, salt, and a splash of oil and vinegar, which is ground into a paste called sambal ulek, like the ones you have seen in New York ("oelek" is the Dutch spelling of the same word). More complex varieties, like sambal luat from Timor, where my father is from, are fermented for days to produce a deep and robust flavor. I have eaten sambal with nearly every meal for as long as I can remember, so I keep a stash in both my fridge and freezer at all times. Most Indonesians will serve at least one or two sambals with a meal, and it's good to have a point of difference between the two, perhaps a raw, sliced lemongrass and citrusy sambal like Balinese sambal matah and an umami-laden cooked green chile sambal with fried anchovies like sambal hijau from Padang in Sumatra.
What were the most difficult snacks or dishes to re-create for the book? Cooking from your home, were there any particular ingredients that were really hard to track down?
There are quite a few dishes in the book that my grandmother used to make, and it was very important to me to honor her recipes and re-create them as she made them. One is a fiddly snack called a kroket. It has a spiced lamb mince filling, which is wrapped in mashed potato, breaded, and then fried, with a little bird's eye chili poking out of it. It's a lot of effort and dirty dishes, but it is oh-so-worth-it because it is so sensory to eat, with the heat of chile, the crunch of the fried crumb, and all those textures and layers of flavors going on inside; I love it. I wanted to include the Balinese pork dish called babi guling in the book, but it was impossible to stay true to the authentic dish, because the original is a marinated baby pig, roasted over the burning branches from a coffee tree, that is turned by hand on rotisserie for five hours. I decided to adapt the recipe, creating a crispy pork belly roast that has a never-fail crackling and a Balinese spice paste that is turned into a sauce. I tested it nine times before I was happy with it, and it is to die for.
Because Indonesian food is not very well known, I wanted the book to be accessible so that anyone could pick it up and cook from it, no matter where they lived. I worked very hard on creating substitutes for hard-to-find ingredients, like macadamia nuts for candlenuts, fish sauce for terasi (fermented shrimp paste), and ginger for galangal, or to be able to make your own kecap manis (fermented sweet soy sauce) at home. I listed both the original and the substitute in my recipes, to ensure that any home cook can capture the spirit of Indonesian cooking in their kitchen.
You write about the fact that soto ayam, a chicken broth full of vermicelli noodles, is one of the five national dishes in Indonesia. Of all of the regional variations that exist out there, how did you land on the version that's in the book?
There are hundreds of variations of soto, and I feature a couple in my book—it is such a warming and comforting dish! The soto ayam recipe I featured was one I learned from an incredible home cook community in Surabaya in East Java. I met with a group of six women who proudly taught me their family recipes, each sharing a signature dish of the region. This one was taught to me by Ibu Ley Hoen, an exceptional home cook who I met with many times, as her food was just so delicious. The recipe you see in the book is adapted from her soto ayam, and it has now become a staple in my home.
For a reader out there who's never eaten or cooked Indonesian food before, what dish would you tell them to start with?
I grew up eating nasi goreng, and what is wonderful about it is that it was born out of a no-waste philosophy in Indonesia of using up leftover rice. It's fragrant with ginger, garlic, and shallots, and it has this wonderful balance of the sweet and savory umami of kecap manis and the sharpness of light soy. There's both a vegetarian nasi goreng and a chicken nasi goreng in my book, both served with a frilly fried egg on top and kerupuk crackers (or prawn crackers) on the side, with the egg yolk oozing into the grains of aromatic rice. It is heavenly to eat and easy to rustle up, and it works as a midweek meal or a celebratory treat on the weekend.
This interview has been condensed and edited for clarity. 
FOUR EXCITING RECIPES FROM COCONUT & SAMBAL:
Sambal Bawank
This recipe turns a small pile of caramelized shallots, garlic, and chiles into a condiment with a serious savory punch.
Gado-Gado Salad with Peanut Sauce
This classic Indonesian salad brings together tofu, boiled eggs, and fresh vegetables with a slightly sweet peanut sauce. 
Spiced Corn Fritters
These crunchy, fried fritters are flavored with cumin and coriander, and they're even better dipped in a spicy sambal.
Chicken Nasi Goreng
Galangal and white pepper give this fried rice a touch of heat, while kecap manis and fish sauce keep it sweet and savory.
MORE BOOKS TO BUY, READ, AND COOK FROM:
Last week, we talked to Jason Wang, the restaurateur (and now cookbook author) behind Xi'an Famous Foods.
The Best American Food Writing 2020 is now out, edited by J. Kenji López-Alt and full of stories we loved from the past year, from writers like Korsha Wilson, Cynthia R. Greenlee, José Ralat—and there's even a TASTE story from Joshua David Stein.
We learned so many new pasta shapes while reading and cooking through Pasta Grannies.
And while we're on the subject of pasta, it's always lasagna season.
Once you see a picture of Erin Jeanne McDowell's peanut butter cream pie with raspberry meringue, it will be pretty hard to resist buying a copy of her new book, The Book on Pie.
In her latest cookbook, East, Meera Sodha takes on vegan cooking.