Olive Oil Is the Cake Cheat Code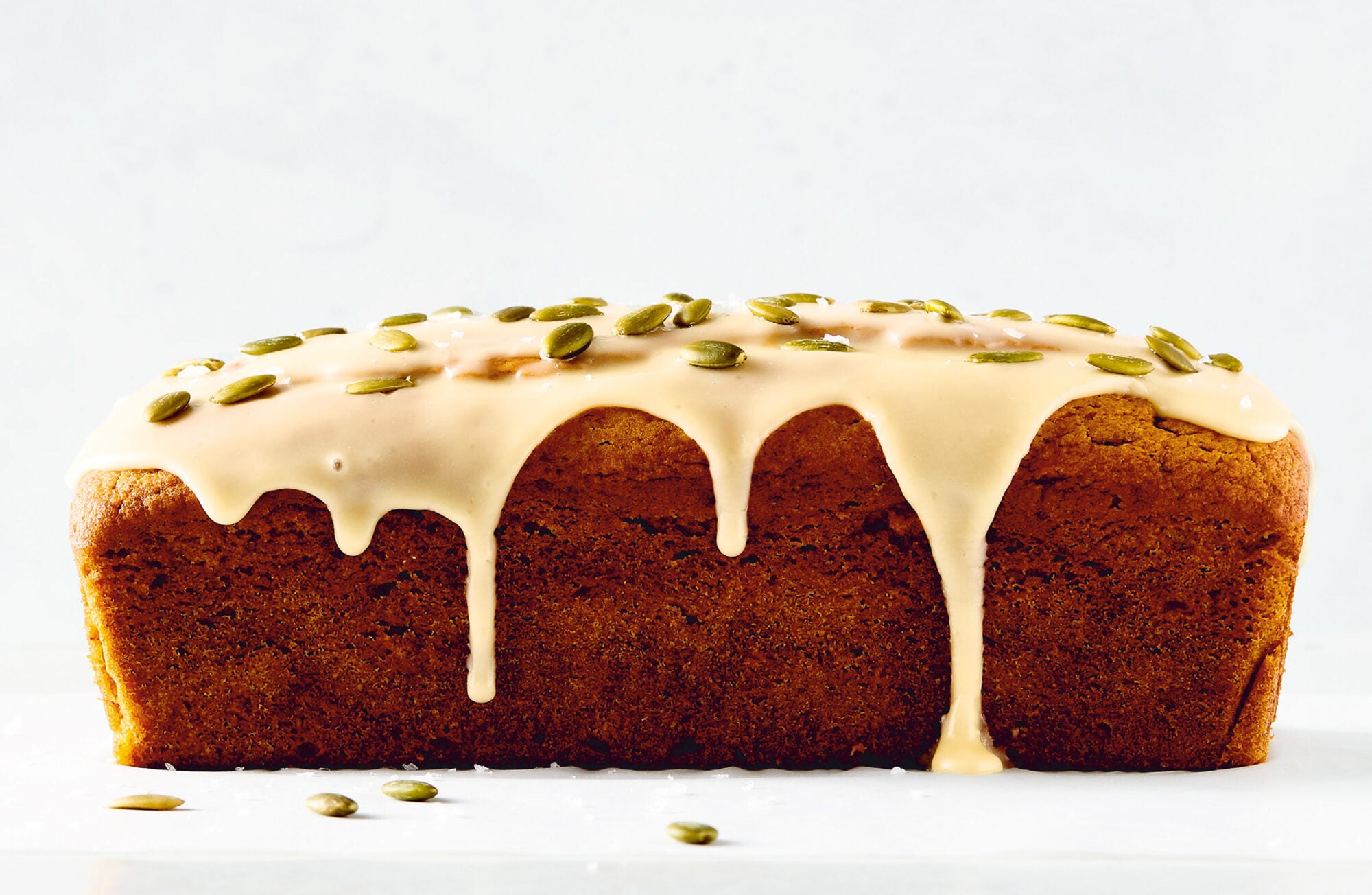 TikTok creators and pastry chefs alike are drizzling the golden good stuff to keep cakes moist for days.
Whether I'm scanning the dessert menu after a hefty plate of cacio e pepe or choosing which pastry to pair with my midday coffee order, olive oil cake always seems to be at the top of the list. It's no surprise that these sunny and rich cakes are taking over my Instagram and TikTok feeds, too: Olive oil cakes are a baker's low-effort, high-reward dream, and everyone from pastry chefs to home bakers wants a lush cake that stays moist on the countertop for days.
"Even bakeries add oil to their self-proclaimed butter-based cakes to get them as moist as possible for many days after they're purchased," says pastry chef Pichet Ong, whose inventive desserts won acclaim at spots like P*ong in New York City and Brothers and Sisters in Washington, DC. Oils, in their fatty glory, remain liquid at room temperature, preserving moistness for days. Butter contains 20% less fat than standard cooking oils and turns solid at room temperature, resulting in a considerably drier crumb unless it's fresh out of the oven. This erosion of moistness can be hidden in a syrup-soaked or frosted cake, but if you're baking a simple, single-layer cake, olive oil imparts plush moisture and nuanced savory flavor, no soaks or frostings required. 
Olive oil cakes likely originate in the Mediterranean, where bakers enlisted their beloved local olives to impart fat instead of costlier butter. But using olive oil as a cheat code experienced a renaissance during the baking-rich era of early pandemic lockdowns, when Brooklyn-based baker Yossy Arefi did us all a favor and released Snacking Cakes, a bible on nailing the art of short and sweet cake baking. From a pumpkin olive oil recipe to a chocolate almond olive oil number, Arefi heralded olive oil as a baking shortcut when dessert people needed it most. But if the state of my TikTok feed is any indication, olive oil cakes have only grown in popularity since then.  
Olive oiling your cake recipes isn't as simple as replacing a butter-based recipe with equal amounts of EVOO. Engineering the perfect olive oil cake requires more olive oil than you might expect—a full 9-inch round cake needs anywhere from ¾ to 1 cup of the good stuff—as well as a sturdy emulsion. Simply mixing olive oil into your wet ingredients will result in a greasy mouthfeel and a dense crumb. To avoid that mess, a good olive oil cake recipe calls for first emulsifying whole eggs and sugars into a cohesive base by creaming them with an electric mixer before slowly streaming in olive oil to promote further aeration without the batter splitting. "This blend of proteins and fats is what creates a uniform crumb and fluffiness in olive oil cakes," Ong explains. After the olive oil is completely emulsified, it's time to add your other liquids, whether it's orange juice for a bit of tang or, like Ong, dairy for even more richness.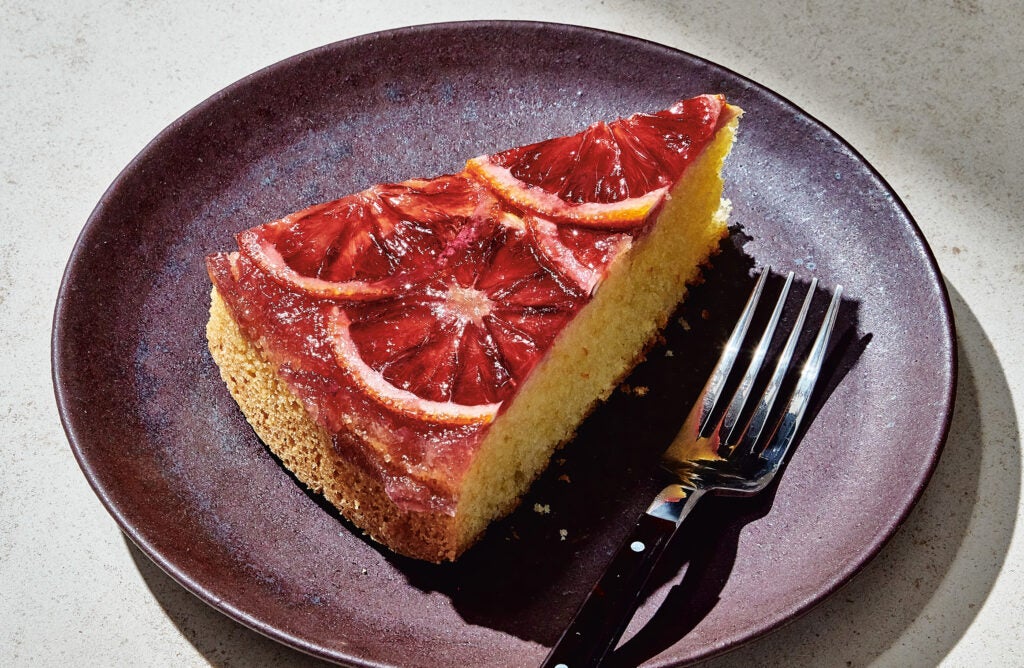 And on the note of "good" olive oil, I have some suggestions. Personal taste will determine how grassy or pungent you'd like to go. When I'm making olive oil cake for a crowd of folks with varying levels of olive oil appreciation, I use Kirkland Signature Organic Extra Virgin Olive Oil to bring a mild pepperiness that distinguishes it from a neutral oil but won't overwhelm someone's palate. But for a more adventurous crowd, a specialty olive oil like Brightland's ALIVE adds a deeply grassy, olive-forward flavor. 
Unlike showier desserts, olive oil cake requires no tiering or embellishing to captivate anyone in its midst. Its complex, savory flavor and striking yellow tones inherently exude elegance, much like a sophisticated bare slice of a chocolate torte. These minimal desserts may only require a pillowy spoonful of whipped cream to seal the aesthetic deal, but that doesn't mean you need to stop there. Just look at the viral cover star of Claire Saffitz's best-selling cookbook Dessert Person: a moist olive oil cake, blanketed with shingled, caramelized blood orange slices. 
Citrus is the most common counterpart for olive oil cakes, but I'm waiting for any excuse for a dinner party to serve a ricotta olive oil cake with roasted grapes. Instead of the aforementioned addition of yogurt or sour cream, I'd substitute ricotta cheese into the wet ingredients and broil a vine or two of concord grapes in the oven to serve with each slice. Chocolate lovers can look to baker extraordinaire and cookbook author Melissa Clark, who complements olive oil's intense savory notes with bitter cocoa. Her recipe from In the Kitchen with a Good Appetite recalibrates an olive oil cake's ingredient proportions by decreasing the amount of flour to balance the cocoa powder, which is dissolved in a flavorful hot liquid like coffee or wine. 
You don't need to be a cookbook author to embrace olive oil's baking potential. A good drizzle of peppery, high-quality oil can help even true amateur bakers dream outside the figurative flavor box, balancing sweetness without overcomplicating the process. A bonus: It guarantees a remarkably perfect crumb. If you're seeking out a riffable cake recipe that will taste even better the next day, your best bet is to begin with a cup of olive oil in hand. 
Two cake recipes to make with olive oil: