Of Course Ohio's Best Chicken Sandwich Adds Potato Chips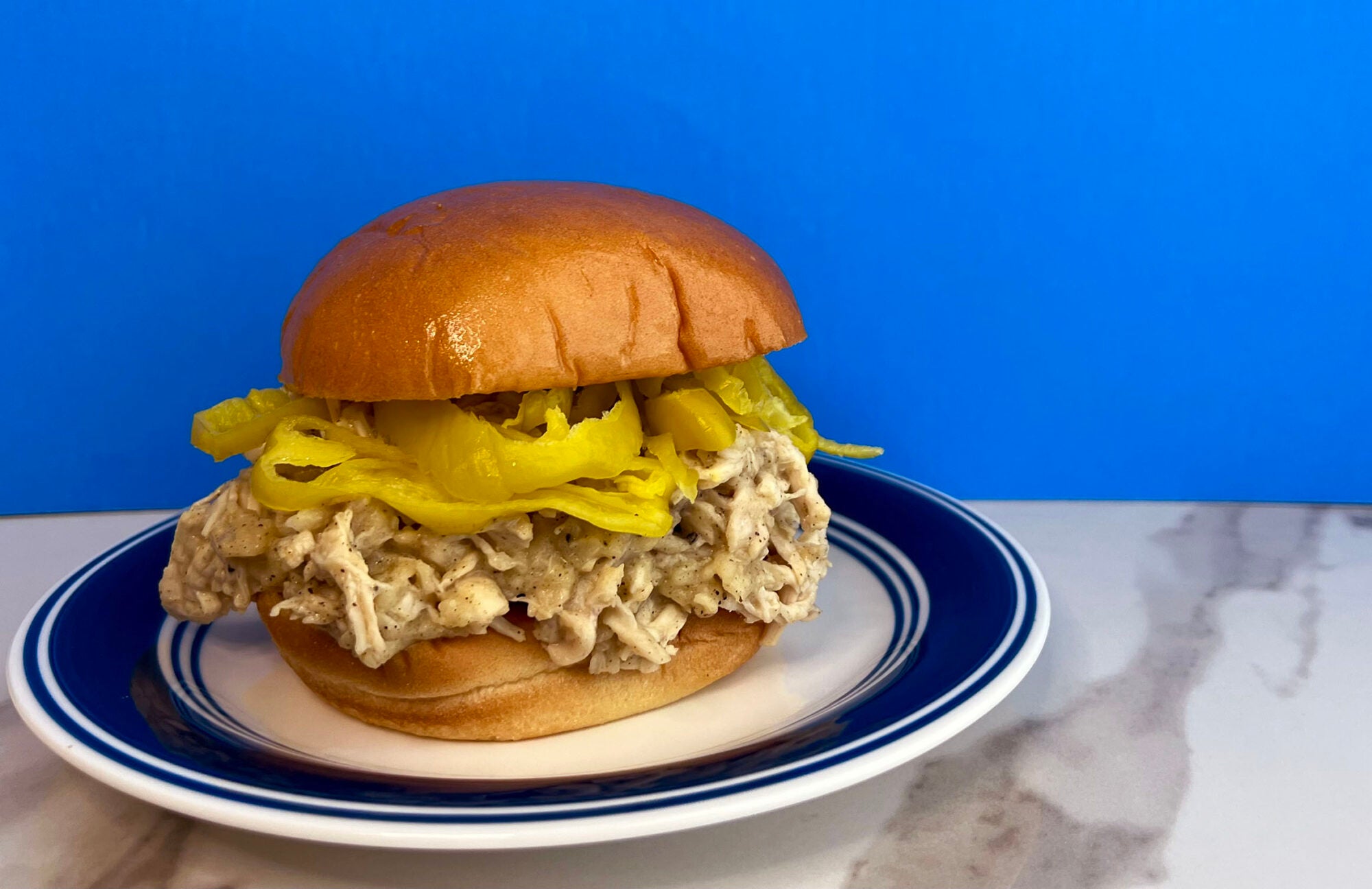 Crack open the crock pot to slow-simmer the Buckeye state's beloved shredded sandwich
What do a swim meet concession stand, a roadside ice cream stand shaped like a pink soft serve cone, and a church potluck table have in common? They're some of the many places you'll be able to find a great shredded chicken sandwich in Ohio, one with potato chips baked right into the creamy, chicken soup–based sauce. 
The first time I tried my home state's iconic shredded chicken sandwich was at a winter swim meet. I was in grade school and in need of comfort in this wet, stressful situation. Someone's mom spooned the warm chicken out of a Crockpot and onto a soft bun. The meat was pulled like pork, and the cream of chicken soup–based sauce was thick like a casserole's, thanks to the addition of starchy potato chips that break down in the slow cooker. I gulped down the sandwich in big, creamy, rich bites, hoping I'd digest it before I had to swim the butterfly. 
I ate this sandwich other times, mostly at sporting events, and I've always remembered it as simply satisfying. To me, it seemed ubiquitous, as obvious a choice for a concession stand item as a hot dog. It turns out that the shredded chicken sandwich I grew up with is not widely served. In fact, it's a specifically Ohio thing. It's so hard to find outside the state that two Ohio expats, who became even more obsessed with the sandwich after they moved, created a whole website dedicated to the sandwich, with recipes from fellow devotees and a list of places to find the sandwich—if you're so lucky to live in or be traveling through Ohio. 
The one I fell in love with contained shredded chicken, potato chips, chicken broth, cream of chicken soup, and dried herbs, all melded together over a few hours in the slow cooker. The cream of chicken soup—a beloved Midwestern mix-in for dishes like green bean casserole and chicken tetrazzini—bathes the shredded chicken in just enough sauce for it to be creamy and coated, but not so much that it runs or collects. Crushed-up potato chips soften, almost disintegrating while imparting salt and starch. I'm not always a fan of spice mixes, but a poultry seasoning that includes dried herbs like marjoram, sage, and rosemary takes the dish from good to great. 
While I couldn't find the exact moment that this recipe appeared on the scene, I do know that Canton, Ohio–based Woody's Root Beer Stand, a drive-in that's been serving food for 75 years, has been making a wildly popular version of it since at least 1979. Canned cream of chicken soup has been around since the late 1940s. Based on the kind of recipes my born-and-bred Ohioan grandmother traded with her friends when she was a young mother—salads with boxed Jell-O, cheese balls that rely on packaged cream cheese, Texas sheet cake made from Betty Crocker boxed mix—my guess is that it was created in the early '60s. It quickly made its way into concession stands and potlucks because it was easy, delicious, and included packaged, pantry-friendly staples. 
Whatever its genesis, it's taken on many variations over the years. Some folks add crackers like Ritz and saltines instead of potato chips. Some recipes call for a roux made of flour and water to thicken things, forgoing the canned soup. A few skip shredding their own chicken and call for canned (Sweet Sue is a favorite). Some add no spices at all, just salt and pepper.
Like any good homemade dish, family recipes are guarded fiercely, especially when they're the backbone of a business. The kid working at Ro's Custard Creations in North Canton told me that their recipe is "a secret family recipe kind of thing." One of the owners of Woody's, Jen McCrae, could only tell me that their recipe contained "shredded chicken and cream of chicken soup." I get it. In such a simple sandwich, there's very little you can give away without revealing all your secrets. 
My own take on this iconic recipe keeps the hallmarks of the dish—savory, creamy, salty—but has a few twists. I like to boil chicken breasts in chicken broth instead of water to keep them as juicy as possible. That cooking liquid is then used in the filling, doubling up on the chicken-y flavor. Ruffles potato chips are a must, as they're thick enough to stand up to a few hours of cooking without completely disintegrating, but thin enough to soften. Always use a pillowy potato bun. And finally, in a very nontraditional move, I like to heap banana peppers, pepperoncini, or pickled jalapeños on top for a briny, spicy kick. 
Despite growing up in the home of the Pro Football Hall of Fame, I'm not a big football fan. But I am a fan of football food, so I'll be making these sandwiches all fall while my boyfriend's watching the game. Since I'm no longer spending my Saturdays swimming relay races in central Ohio, it's time to make my own opportunities to get my chicken sandwich fix.