Nu-Metal Cuisine: Korn Koffee and Hot Dog Flavored Water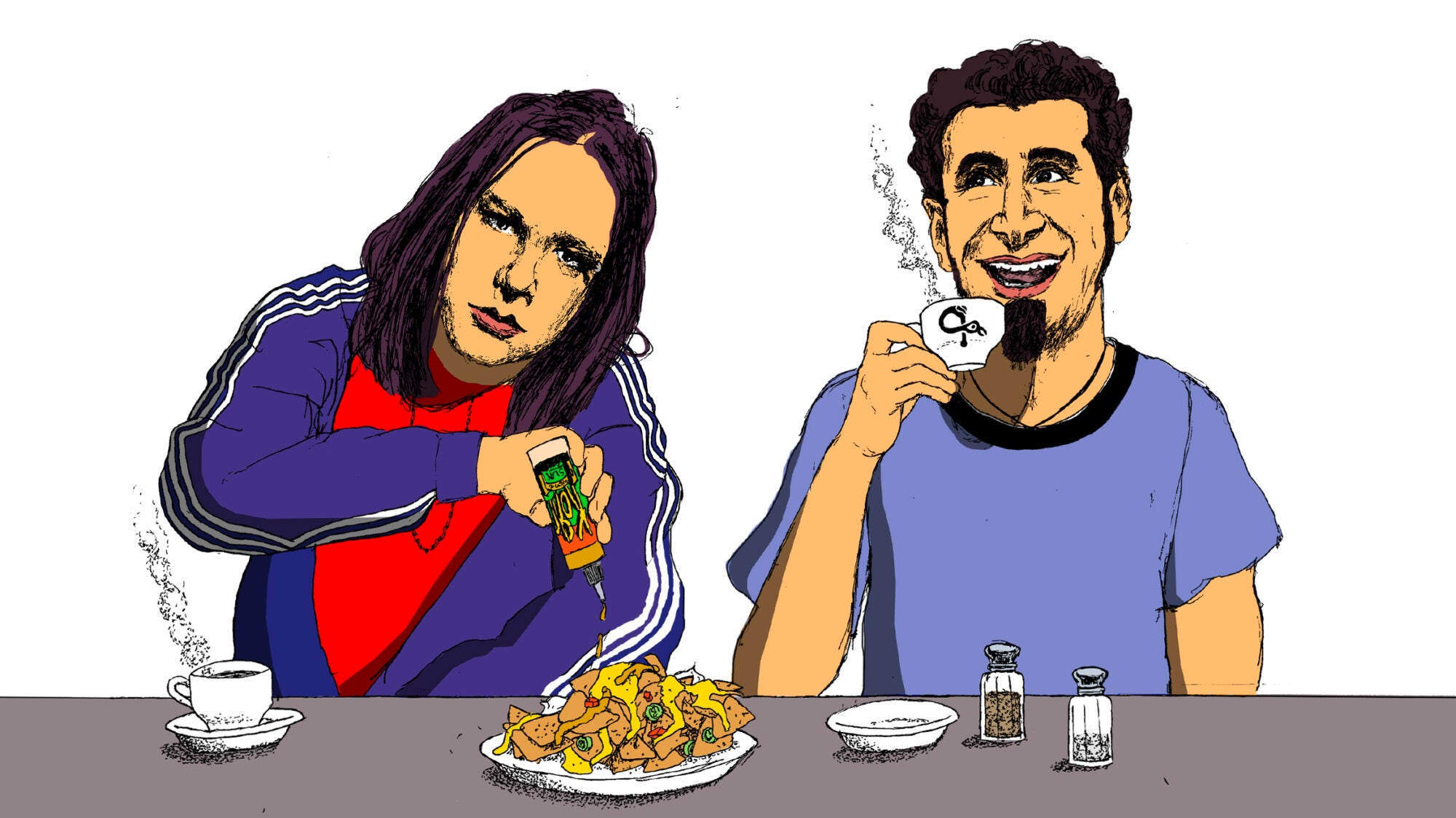 An exploration through the hot sauces and light roasts of Linkin Park, Disturbed, and System of a Down.
November 22, 2005. I leapt off the school bus and opened the front door of my childhood home in Harleysville, Pennsylvania, to see my older sister standing next to our family boom box, having recently returned from a trip to FYE.
"Ellie, you have to hear this one song," she said as I giddily ran over to her. The song queued up was "Vicinity of Obscenity," the ninth track of System of a Down's fifth studio album, Hypnotize. It's a collage for the ears that merges smooth funk, Zappa-esque silliness, and loud, grating riffs that my mom calls "headache music." I was in love.
The endless refrain—"Banana banana banana banana terracotta, banana terracotta terracotta pie, BANANA BANANA BANANA BANANA TERRACOTTA, BANANA TERRACOTTA TERRACOTTA PIE"—blared through our living room in front man Serj Tankian's spiritual vocals, which move between cloyingly gentle falsetto and an inflection I can only describe as "evil clown voice."
"Beat the meat, treat the feet, to the sweet, milky seat." I was smitten—and I was hungry.
Was this album appropriate for a sixth grader? Should a sixth grader be listening to and loving a song called "Violent Pornography"? Probably not, but much like the adult jokes in a Disney movie, I didn't know what the songs meant.
Over the years, my sister and I laughed about many nu-metal references to food. There was Limp Bizkit's 2000 flop Chocolate Starfish and the Hot Dog Flavored Water, which included more euphemisms I was not privy to as a youngster. There was "Chop Suey!," of course. There was obviously Korn—who were hardly seasonal (they released their fourteenth studio album in 2022). I didn't understand it at the time, but part of my early—one might say "premature"—fandom for SOAD came from their gastronomic tendencies. As a child, many of their songs felt one step away from singing "On Top of Spaghetti" or Raffi's certified gold "Bananaphone."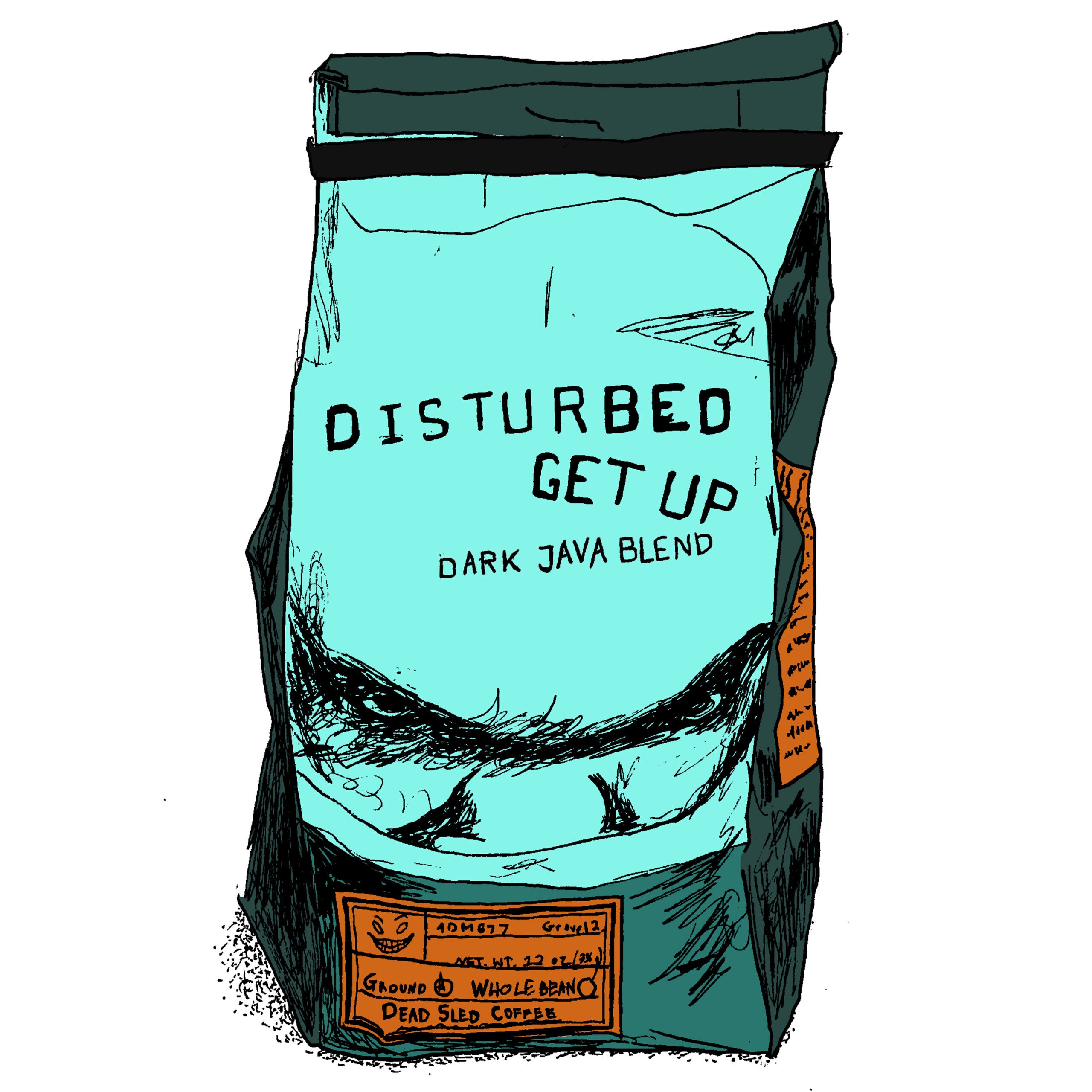 I recently attended the inaugural Sick New World festival in Las Vegas, a sold-out culmination of nu-metal stalwarts like SOAD, Korn, and Deftones, along with more recent, equally loud acts like Death Grips and 100 gecs. The people-watching was supreme. I saw delicate necklace charms shaped like the Hot Topic logo and so many mushrooms on T-shirts—and probably people on mushrooms. At this sweaty mecca, I experienced the culinary/nu-metal Venn diagram, which previously existed only in my head, in its full IRL glory.
Browsing the venue map before the festival, I saw an activation called Freak on a Leash that was labeled as a pet care brand designed by Jonathan Davis. Holy shit. I saw yet another activation called Korn Koffee that had a line 50 people long all day for drinks like the "Coming Undone," a gold-dust-flecked Tahitian Vanilla Rose Latte (What looks so strong, so delicate…). It wasn't until I ordered a chicken finger basket (living my best sixth-grade life) that I realized Korn has also collaborated with HEATONIST on a hot sauce infused with, you guessed it, roasted corn. Within the Las Vegas festival grounds that day was the intersection of all my loves. I went home and ordered everything immediately. I fantasized about throwing a nu-metal dinner party, complete with Korn hot chicken wings and Korn espresso chocolate cake (okay, maybe it would be more of a Korn dinner party).
The thriving business empire of a nu-metal band was intriguing and also surprising to me. Historically, nu metal is not the most marketable genre, nor is it the most widely accepted. Since its breakout into the mainstream in the early 2000s, the music has been criticized and shunned by the metal community at large (and nearly every rock critic). Trent Reznor once said that the genre seemed "really insincere." That said, you can get a Korn shirt at Urban Outfitters today—which, to me, is a telltale sign of a full cyclical reappreciation—but Twitter still treats the genre as both a nostalgia bomb and a punching bag.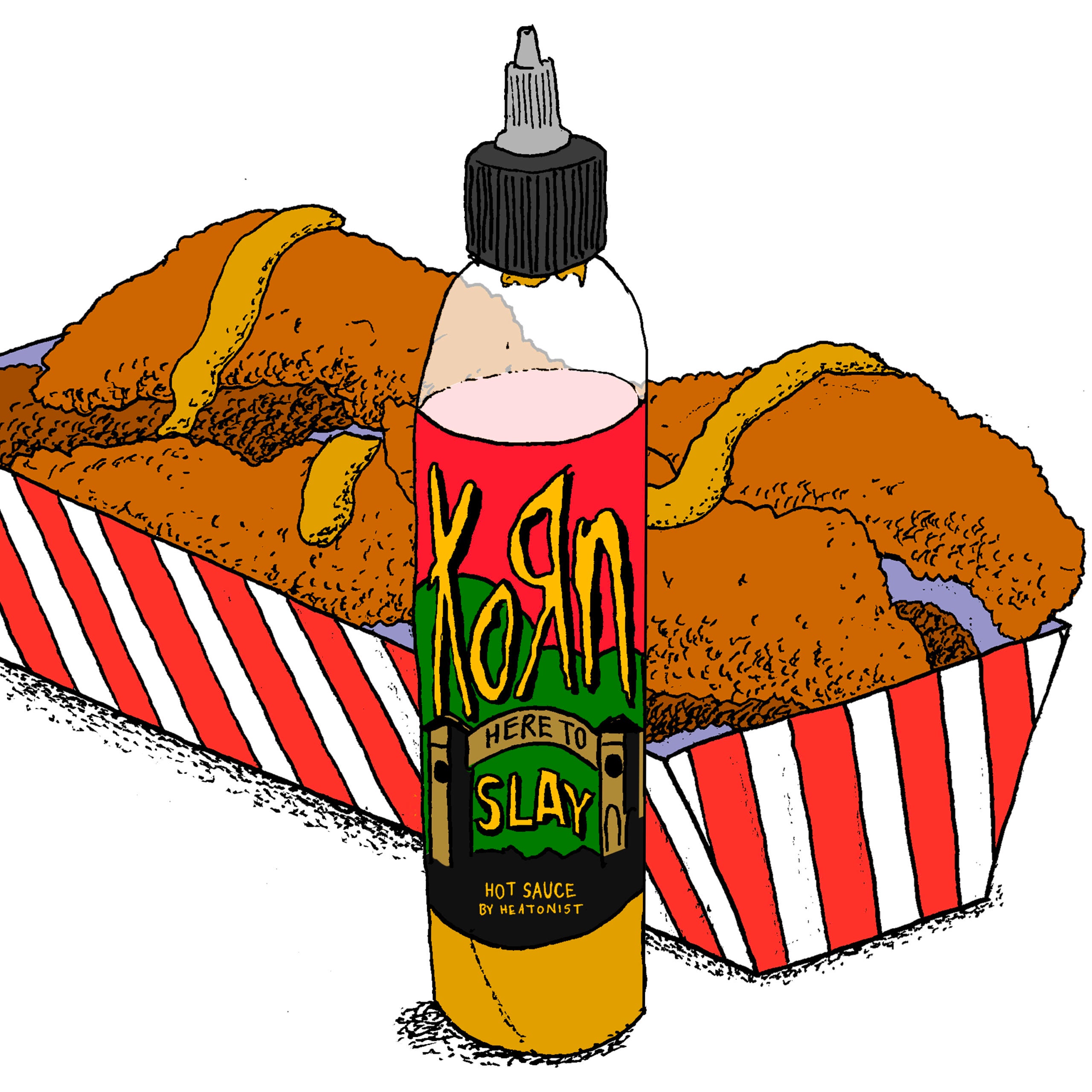 Yet the joy of the genre isn't just in being part of a club that you undeniably love despite all the hate, but also in the fact that nu metal is inherently political, and its relationship to food reflects that. Many of System of a Down's food-related lyrics that I sang along with as a child are condemning advertising culture, for example: "What a splendid pie, pizza-pizza pie. Every minute, every second, buy, buy, buy, buy, buy." 
After returning from the Nevada desert, I sat in my Brooklyn apartment and wondered, "What are the definitive foods of nu metal?" Juggalos have Faygo; emo kids have Monster Energy; straight-edge punks have Liquid Death. Korn had the corn sauce and Kappuccino, but there had to be more. I googled "nu metal food collaborations." I secretly hoped to see a long-forgotten Papa Roach–Papa Johns special pie, or maybe an Applebee's Puddle of Muddslide. The actual results were more thoughtful and esoteric.
In 2017, Linkin Park debuted a full custom menu at Plan Check Kitchen + Bar in Los Angeles featuring "The Heavy," a grilled cheese sandwich with gochujang pork belly named after their lead single at the time. A year later, SOAD lead singer Serj Tankian and coffee brewer Ara Ajounian launched ԳAVAT Coffee ("cup" in Armenian). They make real Armenian coffee, called soorj, of which Tankian drinks several cups a day (how else is he supposed to do this?). Not unrelated, Tankian once appeared on an episode of Anthony Bourdain: Parts Unknown to talk about Armenian culture and cuisine. The band Disturbed also released a coffee in collaboration with New York's Dead Sled Coffee in 2021. (Dead Sled has made coffees with many metal and horror influences, including Rob Zombie and Elvira.)
I went to work and started adding items to my cart. And as my metallic-tinged, goth-colored products arrived, it was time for me to sample these nu-metal concoctions and answer some hard questions. Would Disturb's brew get me down with a sickness? Would Serj's coffee wake me up, grab a brush and put a little makeup, hide the scars to fade away the shake-up? Does any of this make sense? I try to answer these questions here:
Korn x HEATONIST "Here to Slay" Hot Sauce – 9/10
I eat a lot of hot sauce. I'm by no means an expert, but my countertop usually holds four bottles of hot sauce that I rotate through and drizzle on pizza, eggs, burritos, and anything savory. In the cabinet above, I have five other hot sauces that I sometimes dip into. I'm proud to say the Korn sauce, yellowish in hue from all the corn, has made it into my countertop rotation. It's vinegary, a little sweet, nice and pungent. The hot sauce keeps hardening in the nozzle tip and I have to explode it every time I want to use some (maybe more of a "me problem"), but that's the only flaw, in my book.
Disturbed x Dead Sled Coffee "Get Up: Dark Java Blend" coffee – 8/10
The coffee is dark and dense upon opening the bag, and it smells like waking up at 6 a.m. and actually loving it, watching birds in the yard, et cetera. I made it in a French press and topped it off with a little oat milk. It tasted chocolaty and had a beautiful bloom. I wished I had a piece of cake or biscotti to pair with it. It was also very strong. I had this coffee at 1 p.m., and I could hear my heart beating in my ears. I will say that it put a kind of chalky blanket on my tongue that reminded me of Folgers, but I like Folgers! I am not above Folgers.
Serj Tankian's ԳAVAT Medium Roast coffee – 10/10
I didn't buy the special pot you're supposed to buy to make this coffee. I just used a regular pot, but even my regular-pot version was really good—like the best cup of bodega coffee you can imagine. I didn't put milk or sugar in it, and I didn't have to. It was more sweet than bitter, and even stronger than the Disturbed coffee. I made it at 7 p.m. and felt fucking psycho. Soorj is a little thick because the grounds don't get filtered out but instead settle in the bottom of the cup. You can read them like tea leaves.
Korn Koffee – ???/10
My Korn Koffee never arrived. I emailed the Korn store to ask when it might ship and was told that their warehouse is experiencing a high volume of orders and they do NOT have an estimate of when my order would ship. I couldn't be mad. I was ecstatic that people are investing in Korn.
Overall, I loved my sampling from the nu-metal mercantile. While the entrepreneurship of a nu-metal band was somewhat surprising to me, the genre's invasion into food was not. Food is a long-established punk's game, and to me, nu metal is nestled right between Bad Brains and Dead Kennedys. What is more punk than talk-rapping about prison reform?
Their lyrics and visuals may be pissed off and morbid—any suburban mom's nightmare—and the pants are just . . . extremely baggy. But the nu-metal community is a loving, familial one. At the end of their Sick New World set, System of a Down's bassist brought his young kids out on stage. Rage Against the Machine guitarist Tom Morello and Serj Tankian go to protests together. Every mention of Linkin Park online is met with an outpouring of RIPs for the late Chester Bennington, the band's lead vocalist, who died in 2017.
Needless to say ("Needles" to say?), I have found both family and food in nu metal. Nu metal is cathartic, like therapy. I cackled while making the Disturbed coffee. I hope to see more nu-metal foods in the future, even if I have to google "nu metal foods" to find them.