Notes From a Noodle Empire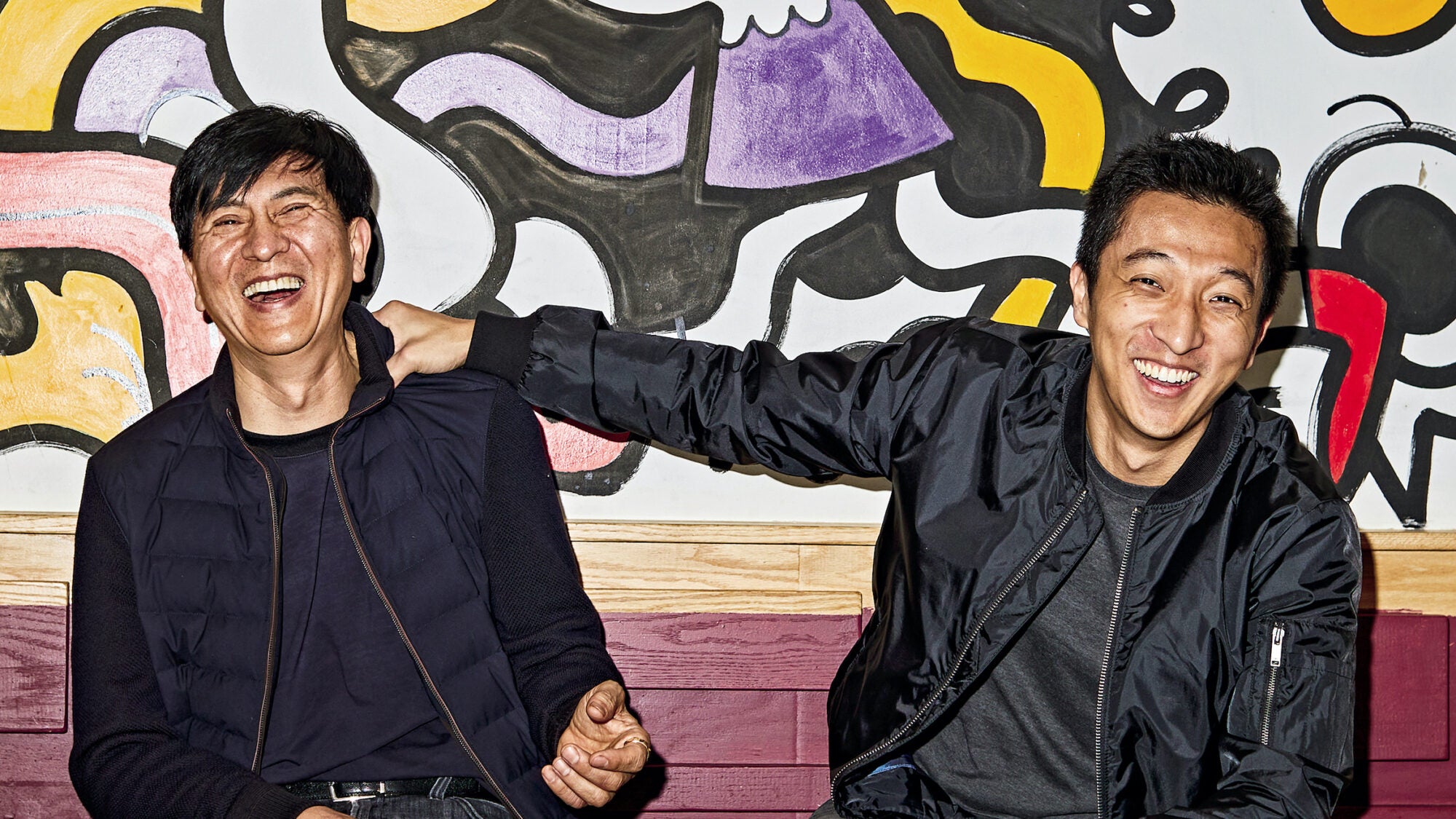 The family story behind the hand-pulled noodles that started in Xi'an and stretched across New York City.
For Jason Wang, the story of Xi'an Famous Foods began well before 2005, the moment his father, David Shi, began pulling sour liang pi (cold-skin noodles) and stewing meat for rou jia mou (Chinese "hamburgers") to sell out of a 200-square-foot basement food stall in Flushing, Queens. The path to the New York restaurant empire's now legendary spicy cumin lamb and hand-pulled noodles can be traced back to their family's hometown of Xi'an in northwestern China, and to the subsequent suburbs and Chinatowns the family settled in after immigrating to America.
Wang's new cookbook, Xi'an Famous Foods, written with journalist Jessica Chou, includes recipes for those menu mainstays, and pays equal respect to homestyle dishes like egg and tomato or "red braised" spareribs with soy sauce, cinnamon, and Sichuan peppercorns. Each chapter reflects dishes from a different era of Wang's life—who stepped in to help his father in 2010—from the assimilation foods his mom created with unfamiliar American ingredients throughout his childhood to the sweat-inducing spoonfuls of chile oil and cumin-laced meats that bring back memories of their hometown.
"Every flavor, every spice, is meant to be accentuated, to pack a punch. There's nothing subtle about our food," he explains in the book. And, if you've ever ordered the N1 Spicy Cumin Lamb Hand-Ripped Noodles at Xi'an Famous Foods, you know exactly what he means. In addition to the small snapshot of Xi'an that makes it onto the menus of the ten locations of X'ian Famous Foods across Brooklyn, Manhattan, and Queens, Wang shares more regional recipes that illustrate the cuisine's nuances—from steamed spinach and corn cakes with a tangy vinegar dipping sauce to intricate "pretzels," which are actually swirls of lightly seasoned folded dough deep-fried in oil. 
We recently chatted with us about his favorite homestyle recipes that aren't served at Xi'an Famous Foods, how the business is surviving since the pandemic, and his loyal allegiance, in a world full of really good chile oils, to his family's particular mixture of deeply roasted red chiles infused with fragrant star anise, cloves, and bay leaves. 
When you first set out to write this book, did you envision it as strictly Xi'an Famous Foods recipes? How did you decide to incorporate other recipes from your upbringing and surroundings?
I think we've known ever since the idea of writing a cookbook came up that we have to present not only dishes we serve in our stores (which is just a small representation of dishes in Xi'an), but that we will showcase more from Xi'an. As we started developing the stories and flow of the book, though, we started realizing that a lot of recipes, even if they aren't strictly from Xi'an, are relevant to the XFF story. 
And since the recipes go beyond XFF dishes—what do you think is the most underrated recipe in the book?
Brussels Sprouts with Shrimp Sauce, an adaptation of Chinese dishes that would usually be served with greens such as baby bok choy, was really about using ingredients available to us as new immigrants to the United States from China. It came about as an experiment of sorts, and the origin story of this recipe is not a flattering one (my first memory of it was waking up from an afternoon nap due to a stench from the kitchen), but once you actually make this dish, it's quite tasty! 
I love how the book has the ability to transport the reader to Xi'an in some chapters, but also the bustling Chinatowns of New York in others. Did that trip to Xi'an feel any different when you were traveling for the book?
The trip to Xi'an, to document the food, history, culture, and life there, felt like bridge-building and world-shrinking. All of a sudden, a place that's always felt so distant after moving to the United States has just become so close. Our writer, Jessica, and our photographer, Jenny, both traveled along, and they stepped into places that I remember from my childhood, and the idea that they are taking this and putting it on paper and in photos . . . It felt like we were building a bridge for those in the United States to experience what things are like in my mind, and it felt like I became closer to my hometown. 
You write on the topic of authenticity in the book and give your own take—that regional food is constantly evolving and can simultaneously be a reflection of traditional elements combined with other flavors you crave. Would you say you've taken the same stance since the early days of XFF, or has it been a culmination of your experiences over time?
I would say my position on authenticity has always been the same, but probably just more defined in my mind over the years. Over the years, I've been asked questions and had time to consider what it really means to have authentic food. I wouldn't say I'm ready to just throw out the core profile of a cuisine (Xi'an cuisine, for example, is all about spicy, sour, and fragrance). I'd still call out things as not authentic if there's not enough understanding of the core profile of the cuisine or the introduction of tastes or methods that conflict with that core profile. I think, though, if a new way or a new ingredient is introduced to a dish, it can still be authentic, as long as the taste is respecting that core profile. For example, our Liang Pi "Cold-Skin Noodles" are usually served with cilantro in our stores. It's not served that way in Xi'an. But it's still authentic, because it's how our family enjoys it, and the adding of that one ingredient does not conflict with the core profile of the cuisine.
The pandemic has forced restaurants to get creative—and XFF is shipping noodle kits nationwide. It must have been exciting to reach a larger audience. What's that been like?
We are lucky because we are in a rather unique position to pivot. Pre-COVID times, we already were set up to distribute food and sauces prepared at our central kitchen to our stores to get cooked and served. Because of this, we were able to quickly tweak our central kitchen to be shipping directly to consumers in the form of meal kits. I think when many are stuck at home, either eating the same takeout in their area or cooking the same few recipes, the prospect of being able to receive a noodle-pulling kit with all the ingredients necessary to make a dish exactly like one served in our stores is very attractive. It has been very well received, and it's been great seeing people all over the country of all demographics sharing their noodle pulling!
How has reopening been going across your restaurants?
The reopening has been tough on us, as it has been for everyone. In NYC, the pressure is especially high, because many people left the crowded city and have not been back, but in the meantime, rent is still exorbitantly high, among other costs of running a business. I think everyone's trying hard, just like us, but it's a battle of attrition that we cannot win in the long run, and hopefully we can have another wave of relief and/or a vaccine soon.
I'm sure you're loyal to the XFF chile oil, but I'm curious, what's your favorite brand of store-bought chile oil?
Absolutely—I always have it around my kitchen. In fact, it's the only chile oil I've used, ever since I was a child. While I do not use any other chile oil, there are times when Tabasco or sriracha comes in handy, because they offer a different seasoned taste that works well with some dishes (whereas our chile oil is typically not seasoned). It's nice to have a change in taste now and then!
This interview has been condensed and edited for clarity.
FOUR EXCITING RECIPES FROM XI'AN FAMOUS FOODS
Hot Oil–Seared Biang-Biang Noodles
A home cook–friendly take on the street food classic, complete with a sweet-and-sour noodle sauce. 
XFF Chili Oil
Deep, fiery, and earthy—this sauce is as good on your hand-pulled noodles as it is on your morning eggs. 
Spicy Cumin Lamb
The classic combination of cumin and lamb is intensely aromatic, spicy, and flavorful. 
Brussels Sprouts With Shrimp Sauce
A homestyle riff on bok choy with an umami-laden sauce. 
MORE BOOKS TO BUY, READ, AND COOK FROM
Last week, we talked to Kelly Fields of New Orleans' Willa Jean on her new book, The Good Book of Southern Baking, and the many biscuit recipes inside. 
Darin and Greg Bresnitz, the hosts behind the podcast Snacky Tunes, explore the connections between chefs and music in their new book filled with recipes, playlists, and more. 
For a refresher on the season's best cookbooks, we spoke with critic Paula Forbes on what's new and exciting this fall. (That includes Xi'an Famous Foods!) 
Yossy Arefi's latest cookbook, Snacking Cakes, is the low-key, low-fuss baking book we could all use right now. 
Coconut and Sambal is chef Lara Lee's love letter to her Indonesian roots—from fluffy pandan sponge cake to slow-cooked beef rendang. 
If you're looking to commit to a cooking project, consider going the dim sum route. The Nom Wah Cookbook can help with that.