How the Budino Craze Swept Across America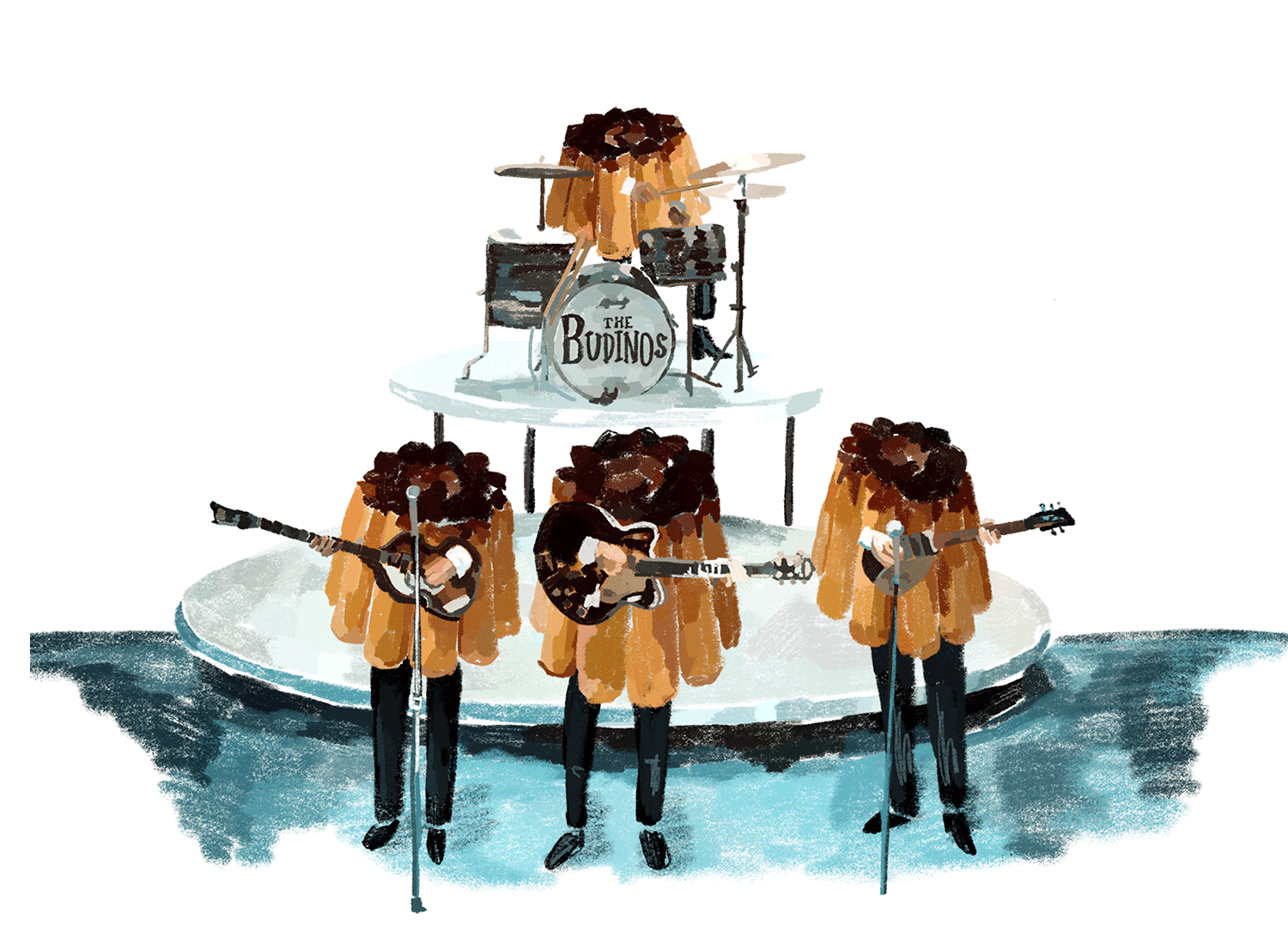 A closer look at the high-margin, much-loved dessert that underpromises and overdelivers. Time after time.    
In the 1970s, American kids fell hard for pudding. In its glossy-topped, packaged form, it was the ultimate lunch box and after-school staple.
A decade or so later, American chefs fell even harder for the creamy dessert—but they weren't calling it pudding. They were referring to it by its Italian name: budino.
"Budino" is in fact the source of the English word "pudding"—which can encapsulate sweet or savory preparations, like sponge cake (treacle pudding) or blood sausage (black pudding). According to The Encyclopedia of Jewish Food by the late food historian Gil Marks, the dish started in Italy as a type of medieval sausage but soon morphed into a custard, due to the arrival of Sephardic exiles from the Iberian peninsula (and by extension, Iberian cuisine) in the country in the 16th century. The basic formula involves milk, egg, flavoring, and—the key ingredient—a thickening agent (often cornstarch).
There are references to budino in American publications as far back as 1963, when a Van Nuys Valley News article mentioned a budino course at a dinner for the Wine and Food Society of the San Fernando Valley. As for budino served in restaurants, an early adopter was the now-shuttered Italian establishment Angeli Caffe, in Los Angeles, which opened in 1984.
At that time, says the restaurant's chef and co-owner, Evan Kleiman—who now hosts KCRW's weekly food and culture program Good Food—Italian restaurants in Los Angeles were starting to shift from red-sauce joints to trattoria-like places that emphasized more rustic cuisine. In trying to find lighter Italian desserts for the menu, she realized that, as she understood Italian cooking, "There's not really a tradition to have dessert after a meal—you usually have a bowl of fruit," she says. "And then the more baked Italian pastries are much sweeter and usually eaten in the morning or for afternoon tea."
Then, she thought, What about budino, a sweet she had tried in Milan? "Puddings are comforting, and my kitchen was extremely small," she recalls. Budino was easy to make in big batches and store in the walk-in for service. She could serve it in the same glasses that she used for wine.
The chocolate amaretto budino she came up with was a hit, especially with kids, who were already primed on pudding. "Pudding was definitely in the zeitgeist," Kleiman remembers. "So to go to a restaurant and realize you could order this thing called budino that was really just pudding—who wouldn't want that?"
The dessert slowly started trickling onto other restaurant menus in the '90s—Coco Marina in New York served a version with brown sugar and maple, and Acquarello in San Francisco did a take with Parmesan. But it didn't quite enter the mainstream until the opening of Nancy Silverton's Pizzeria Mozza in 2007, when pastry chef Dahlia Narvaez served a budino flavored with the taste of American nostalgia: butterscotch.
It was never supposed to be the chief dessert offering at Pizzeria Mozza, Narvaez recalls. She had made butterscotch pudding at her previous job at a restaurant called Jar, and one of Silverton's friends suggested she add it to the menu under the name "budino" for the opening of Pizzeria Mozza while the pastry department was still getting up and running. "Once we started developing crostatas and panna cottas, I said, 'Let's take it off the menu,' but it was the first thing people were asking for," Narvaez laughs. "People started going crazy for it. I had never seen this before."
Budino soon became a cult item on menus across the country. It was the ideal dessert from a chef's perspective: simple enough for a prep cook to make in about 10 minutes, requiring no plating, and instantly popular among diners.
"It brings you back to your childhood," theorizes Marcie Turney, a Philadelphia chef and restaurateur whose Mediterranean restaurant, Barbuzzo, is well known for its salted caramel budino. "It feels comforting."
Many places, like Barbuzzo, took direct inspiration from Mozza. There was also the Italian spot Nostrana, in Portland, where a dish was added to the menu called "Pizzeria Mozza's butterscotch budino," a direct nod to Narvaez's creation.
Others changed up the flavoring. New York's Locanda Verde opened in 2009, and that fall pastry chef Karen DeMasco put a maple budino on the menu with the idea, like Narvaez, of melding an Italian dessert with an American flavor. The dish was a top seller, according to chef and co-owner Andrew Carmellini, and in 2009, then New York Times restaurant critic Sam Sifton selected the dessert as one of his favorite dishes of the year. "Serve it to friends exactly as if you were serving overstrong cocktails or recreational drugs," he wrote. "Taxonomically speaking, they are all of a piece."
Turney came up with the salted caramel budino for Barbuzzo mainly because "it was something my garde-manger could do when those dessert tickets came in without taking up a lot of space," she says.
To her surprise, "it was the highest sold item on our menu," Turney recalls. "We have a double refrigerator, and the whole right side was just filled with sheet pan racks" of budino. During Center City District Restaurant Week, when Barbuzzo offers a set menu with a choice of dessert, "we will do 200 covers, and 200 will pick budino," she says, adding with a chuckle, "I'm just glad the most popular dessert is the one that is easiest to produce."
It's also a cash cow. Budino typically is relatively high margin: Turney reveals it costs about 80 cents to produce and is sold at the restaurant for $9. You do the math.
She also now sells the budino in to-go packs and has tested various budino variations, like a dessert taco filled with budino, and a budino-stuffed croissant-muffin hybrid (Turney said she once sold 1,000 of the latter in less than 45 minutes).
In the end, budino is the ultimate study in dessert that underpromises and overdelivers. Sure, it's a pudding that looks relatively unremarkable. But a good budino tastes like well-whipped air and luxury. The servings are individual, so sharing is not only not required, but not possible (and most chefs note that guests will order one budino per person, not one per table). There are no unnecessary, Instagram-friendly adornments like sprinkles or edible glitter. The flavor is pure and unadulterated, like good-quality butter.
And when my baseline is a Jell-O pudding cup, the true beauty of budino is that it will almost always exceed expectations.