It's Not Just Salad, It's Salatim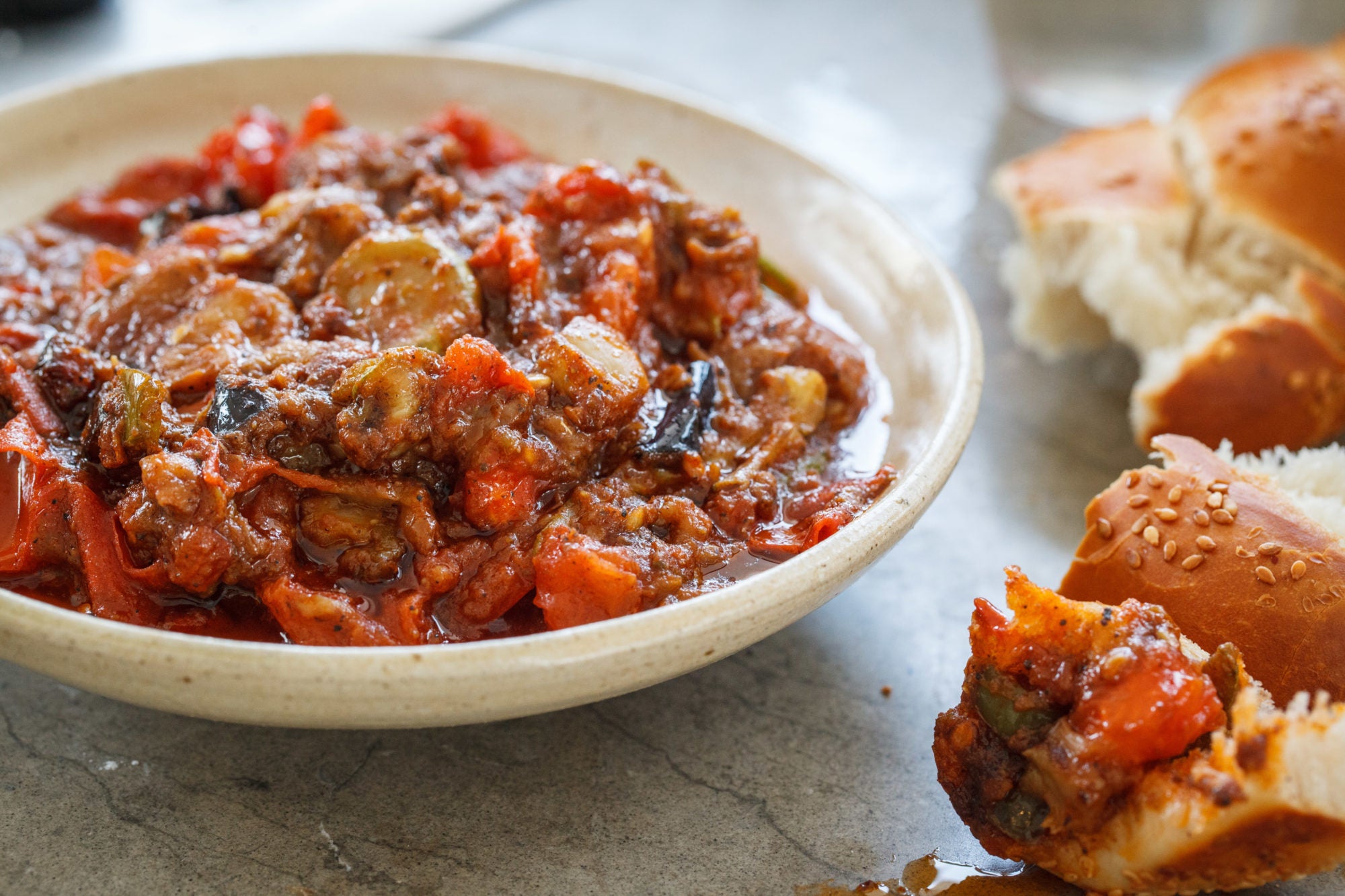 Meaning "salad" and served at most meals, salatim are Israel's connective tissue.
When it comes to eating and cooking in Israel, I've learned that satisfaction is a dish best served cold. This is most true for salatim, a catchall term for an endless variety of spreads, dips, slaws, and salads that are the preferred opening salvo to many a meal. That is, if they don't end up being the meal all by themselves.
Before I moved to Tel Aviv, the chance of hungry visitors dropping by my Manhattan apartment were slim to none; hell, even "spontaneous" stop-ins needed be scheduled three days in advance by calendar invite. But now that I live steps from my adopted city's main outdoor fruit-and-vegetable bazaar, the Carmel Market, we've started to leave the door unlocked—people actually do drop in. And they're always hungry.
It's especially true on Fridays, when just about the whole city converges at the shuk and a steady stream of friends huff it up to our fourth-floor walkup seeking a cocktail, a schmooze on our balcony, and—of course—a snack.
That's when salatim really prove their mettle, allowing me to serve up a spread of instant hospitality without killing my Friday vibe. Why? Because they're pretty much always made in advance. In five minutes flat, after pulling sundry containers from my fridge, plating them and garnishing them with olive oil and herbs, I can be feeding people an interesting collection that might include Moroccan matbucha—its roasted peppers and tomatoes glistening like jewels—and Ashkenazi chopped liver (Sephardim are also really into it, too!). There could be cooked or raw carrots that combine some acid and spice and salt, or an Israeli salad of chopped tomatoes and cucumbers—with lemony juices, pooled at the bottom of the plate, that usually end up tipping into a mouth like the last dregs of a bowl of chicken soup.
And that's just the beginning. Like the many different ethnic groups and religions that live here in close quarters, salatim can initially seem like strange bedfellows that in other circumstances might not mix—but manage to support one another beautifully on a crowded tabletop.
It happens both at home and at grill restaurants like Itzik Hagadol, where an onslaught of up to 25 salatim can appear in an instant, the exact number depending on the waiter's assessment of your ability to clean plates while still leaving room for the skewers and steaks ahead. And unlike in the States, there's no hip server in a leather-tipped apron reminding you that the "plates are recommended for sharing." (How do you say duh in Hebrew?)
"Salatim are the ultimate way to show that there's nothing lacking on your table," Amit Aaronsohn, a Tel Aviv–based food writer and fan of Itzik Hagadol's selection, tells me. "They project abundance."
So I keep my home fridge stocked with a rotating selection, some inspired by the day's market haul, others based on ideas I've cribbed from restaurant favorites. My favorites at Itzik Hagadol these days are the cinnamon-laced eggplant studded with green pepper and tomatoes that remind me of the stuffed aubergines I've had in Turkey, and a dead-simple, three-ingredient carrot salad that's as refreshing as they come.
At Habasta, our regular neighborhood joint where you can see the shuk's market stalls from tables set on the cobblestone streets, the salatim are just as satisfying, if a bit more modern. Masabacha, typically a dip of warm chickpeas, is reinterpreted as a mash of cooked Jerusalem artichokes and almonds topped with minty, lemony, intentionally overcooked green beans.
"A meal here is a communal experience," says Elon Amir, Habasta's chef, who as a child would sit down to at least seven salads made by his Moroccan mother in the southern city of Beersheva. "Many people order a bottle of wine and a few small starters, and then they just keep adding, and before you know it they've made it a meal of it," he says.
I can hardly think of anything better.