Not All Heroes Wear Butter Capes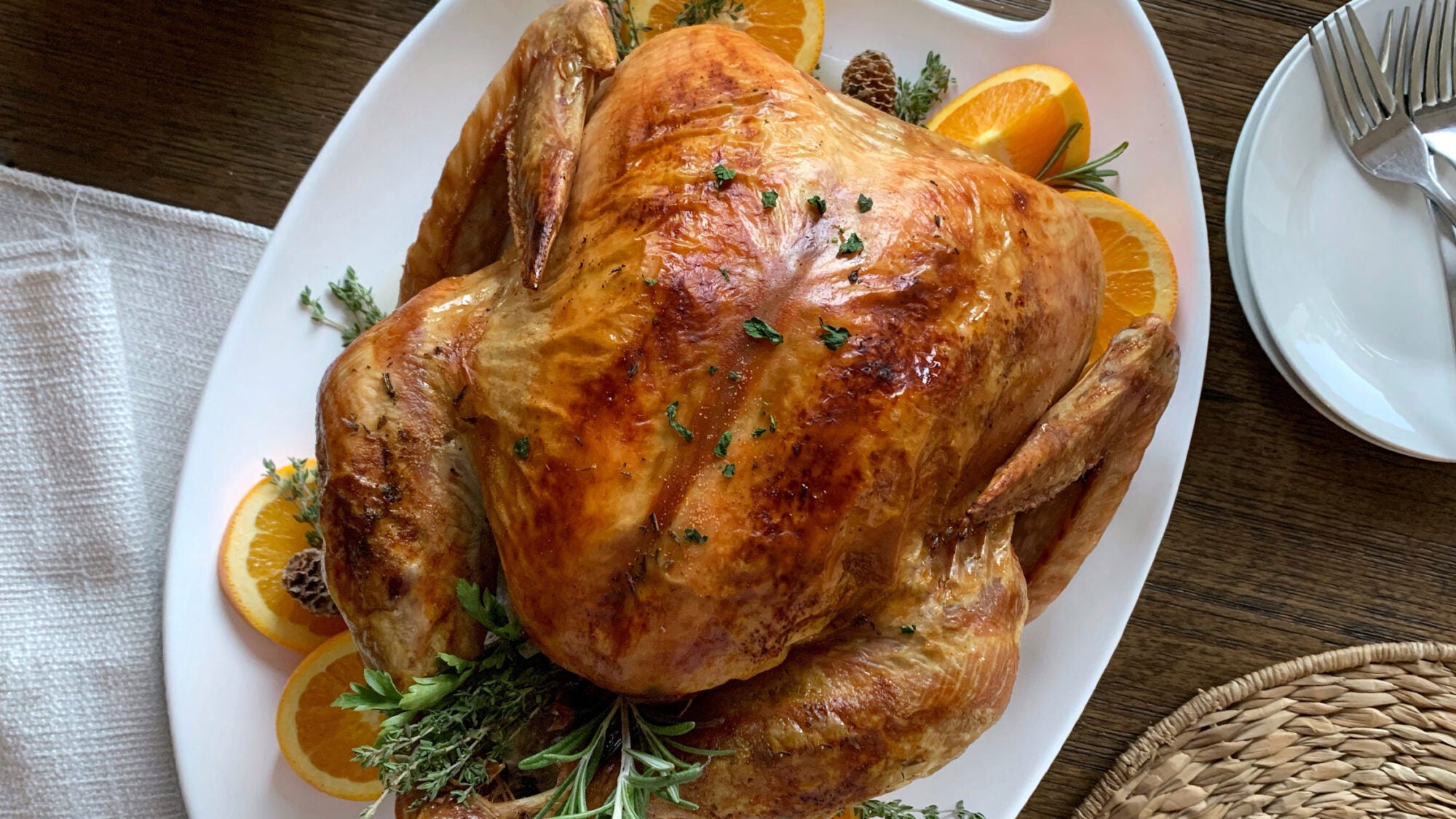 This year, let a butter-soaked piece of cheesecloth do all the turkey-basting work.
For many North Americans, the glistening, golden, magazine-cover-worthy turkey is synonymous with Thanksgiving. So synonymous that, for professional food stylists like me, creating a perfect turkey is not just a holiday task but rather a year-round ordeal.
It tends to strike at the height of summer, when the sun shines late into the balmy evenings, as brands are creating their holiday content (commercials, still photos, social media assets) and the last thing on the grocery store butcher's mind is having four or five appropriately sized whole turkeys in stock—to help prevent a food stylist from losing her job if she can't get them to the photo studio. One April, I cooked a total of ten birds in the 220-square-foot apartment I lived in at the time, all in the name of recipe development I had agreed to do.
Suffice it to say, I have roasted a lot of turkeys, and in my quest for the perfect recipe—both in terms of flavor and aesthetics—there are few things I haven't tried. I've tested countless brining and basting techniques, along with a vast range of oven temperatures. And a couple years back, I happened across an unexpected method that produced a turkey so perfect, I've relied on it ever since. The trick is a dish-towel-size piece of butter-saturated cheesecloth, draped over the bird before it goes into the oven.
The technique may seem counterintuitive—covering up the skin that you want to get as crispy and brown as possible. But as the turkey roasts, the butter is drawn from the cloth into the meat, adding flavor and eliminating the need for the annoying need to constantly baste. To ensure that highly sought-after crispy exterior, you'll remove the cloth and increase the oven temperature 15 minutes before the bird is ready, resulting in golden-brown perfection.
Not only does this method reliably turn out a celebration-worthy bird every time, it's also stunningly simple to execute, requiring no fancy brining or continuous basting. After seasoning the turkey and filling the cavity with fresh aromatics, you'll drench a large cheesecloth (which is easy to find in any standard grocery store) in a stick of melted butter, then drape it over your turkey. Once you place the turkey in the oven, the butter cape will do its work, leaving you free to focus on side dishes and arriving guests.
In the world of food styling, any item selected as the most beautiful to be featured in the final photograph is called the "hero." While your Thanksgiving turkey may not be destined to grace the cover of a magazine, rest assured that if you make a butter cape roasted turkey this year, your holiday bird will be nothing less than heroic.