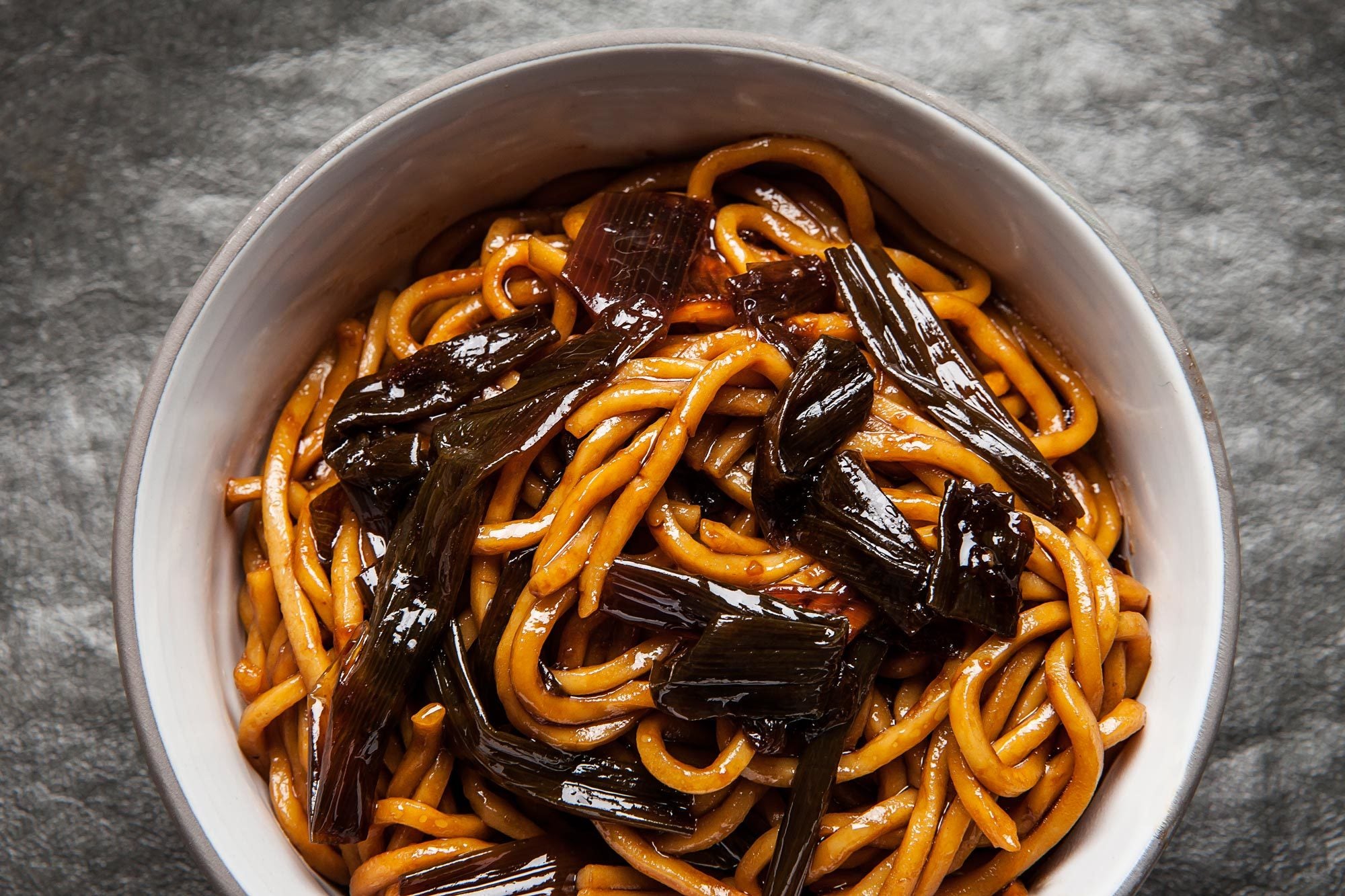 Cook down your scallions like caramelized onions. Your noodles will thank you.
In the same way that some reach for an extra scoop of grated Parmesan to take the edge off, I do so with extra oniony and garlicky toppings: crispy fried shallots shaken on rice noodles, punchy ginger-scallion sauce slathered over pristine poached chicken, and a fist of raw minced scallions topping basic fried rice.
This is all probably why I'm so drawn to cong you mian, an intensely savory and aromatic scallion noodle dish served all over Shanghai. The dish utilizes a common Chinese home-cooking technique in which a big pile (sometimes as much as four cups) of chopped inch-long pieces of scallions are cooked low and very slow in neutral oil, until the stalks soften into deep brown, caramelized, mellow goodness. Made from a trio of ordinary and near ubiquitous ingredients—scallion, soy sauce, and sugar—it's an uncomplicated, but nonetheless extraordinary, combination. When tossed with fresh noodles, the slickened, allium-amplified oil darkens the pale and floured noodles into a deeper, glistening brown, while the actual scallions get mixed throughout for an extra oniony kick.
On its own, without noodles, a container of scallion-infused oil can be as versatile as herby salsa verdes and pestos to enhance everything from gently poached salmon to a warm bed of rice or savory bowl of congee. Making a large batch at once—four bunches of scallions—and preserving all of the oil used yields plenty of leftovers, leaving you with a mason jar full of charred alliums swimming in flavored oil.
But the nature of this noodle dish—plentiful, affordable (often less than $7 for the scallions and noodles), and minimal—stands on its own without much interference. While blades of verdant scallions simmer away in a pool of oil over a stovetop, their potency eases up, while also infusing their surroundings with warm, oniony savoriness, almost like confiting garlic. Like any kind of confiting or caramelizing, it's a waiting game—cooked about 30 to 40 minutes over an extremely low heat in a pan—but also entirely worth the wait. Once fully cooked down into soft, tanned stalks, the unadulterated scallion oil gets spiked with soy sauce for brash saltiness, then sugar to lightly sweeten it before being slicked around thin, chewy noodles.
While a few slices of roast pork or steamed fish on the side wouldn't hurt, it's not necessary for the noodles to be dressed up with much else—which is ultimately this recipe's biggest draw. Plus, there are no scallions left behind, as this recipe makes use of the whole bunch, and then some, so they don't end up withered and unused at the back of your fridge.