There Is No Salsa in Yunnan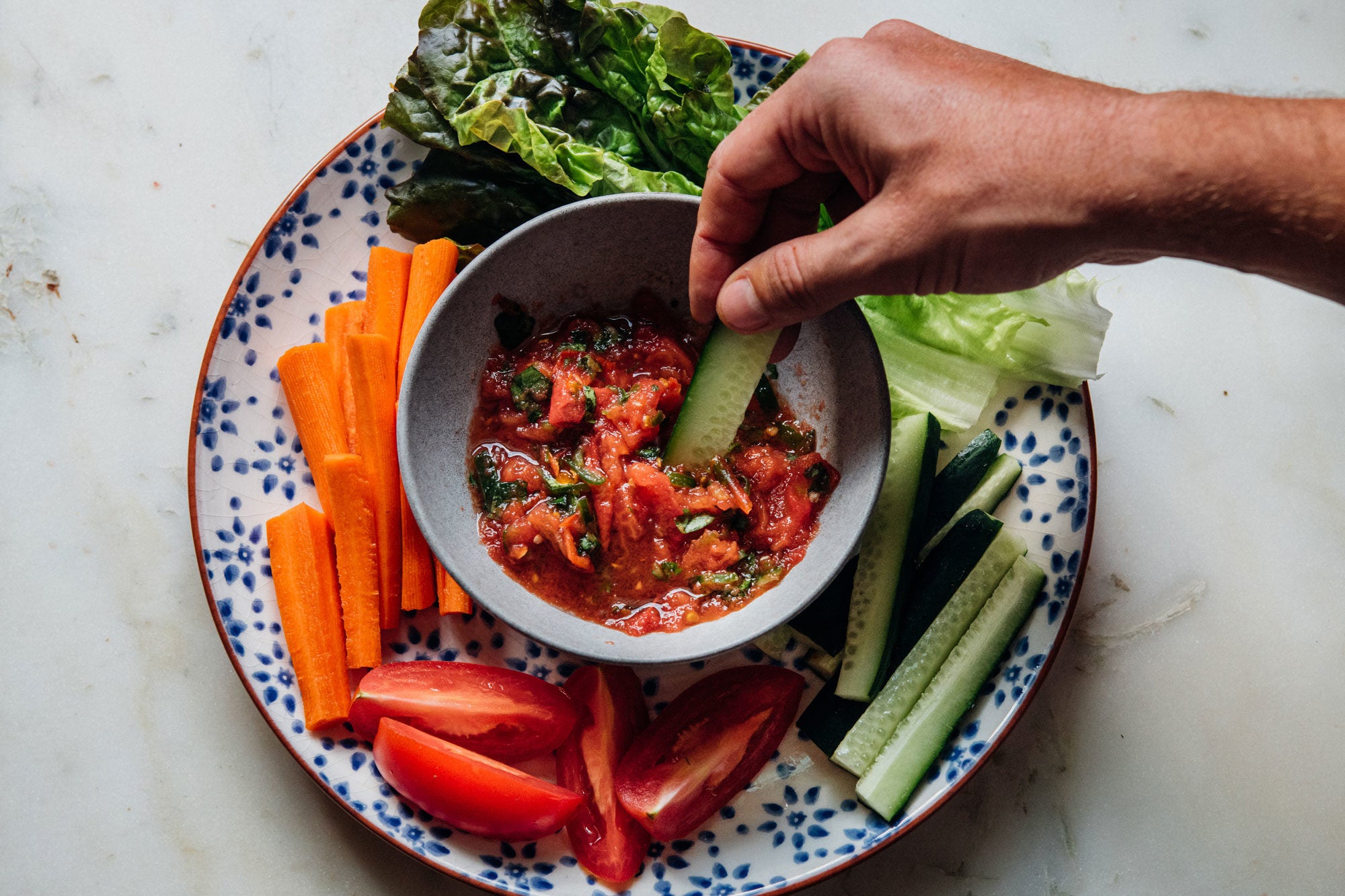 Southwestern China has its own way with charred tomatoes, cilantro, and chile.
The moment I spotted the recipe for "Raw Vegetables With Charred Tomato–Chile Sauce" in Cooking South of the Clouds, a masterful exploration of the food of Yunnan in southwestern China published in 2018, I had one immediate thought: Chinese crudités!
The book's author, Georgia Freedman, notes that the spicy, herby dip is often served in its home province with tender bamboo shoots, astringent banana hearts, and fresh herbs. She adds that sliced cucumber and carrot batons would be prime substitutes for cooks in England or the United States, the primary audience for Clouds. Chinese crudités!
The technique is simple. You skewer whole tomatoes and grill them until their skin mottles with char and fissures. You then pound the giving orbs with green chiles, cilantro, salt, and sawtooth herb. The latter, known as ci qin in Mandarin, chadon beni in the English-speaking Caribbean, and culantro across the Spanish-speaking one, acts like hopped-up cilantro. Same pungent green earthiness, but cubed. Chinese salsa served like Chinese crudités!
My words began to ring like ill-tuned notes pealing from a belfry. Yes, raw produce encircling a saucer of dip is called "crudités" in much of the United States. Yes, blistered tomatoes squashed with chiles and herbs are a ubiquitous manifestation of salsa in Montana and Louisiana. The analogue between this Yunnanese sauce and crudités with salsa is accurate; the centering is not.
My culinary points of reference are singularly that: mine. Me, a white man in New Orleans. A cook in Xishuangbanna, the autonomous prefecture at the southern edge of Yunnan province where this tomato-chile dip is a staple in both homes and restaurants, does not know crudités. Or salsa. To them, this versatile, kicky dip is simply fanqie nan mi, and you eat it with your meals. You do that because fanqie nan mi has the exact plucky glare you want near your pineapple rice and stir-fried beef with mint.
I expunge the "crudités." I rescind the "salsa." I pound grilled tomatoes into an herby, spicy pulp. I serve the result with intact red-leaf lettuce, whispers of spearmint, half-moons of cucumber and carrot chunks, alongside a meal of Viet-style grilled chicken fresh from the grill on a wilting New Orleans summer evening. It is a dip, fanqie nan mi, and it is sufficient.
A Kitchen in New Orleans. Many years of eating, cooking, and writing about food have left Scott Hocker with many stories to tell. In this occasional column, he re-creates a dish tied to a distant, or sometimes recent, food memory.