New York City's Taiwanese-Food Boom (It's About Time)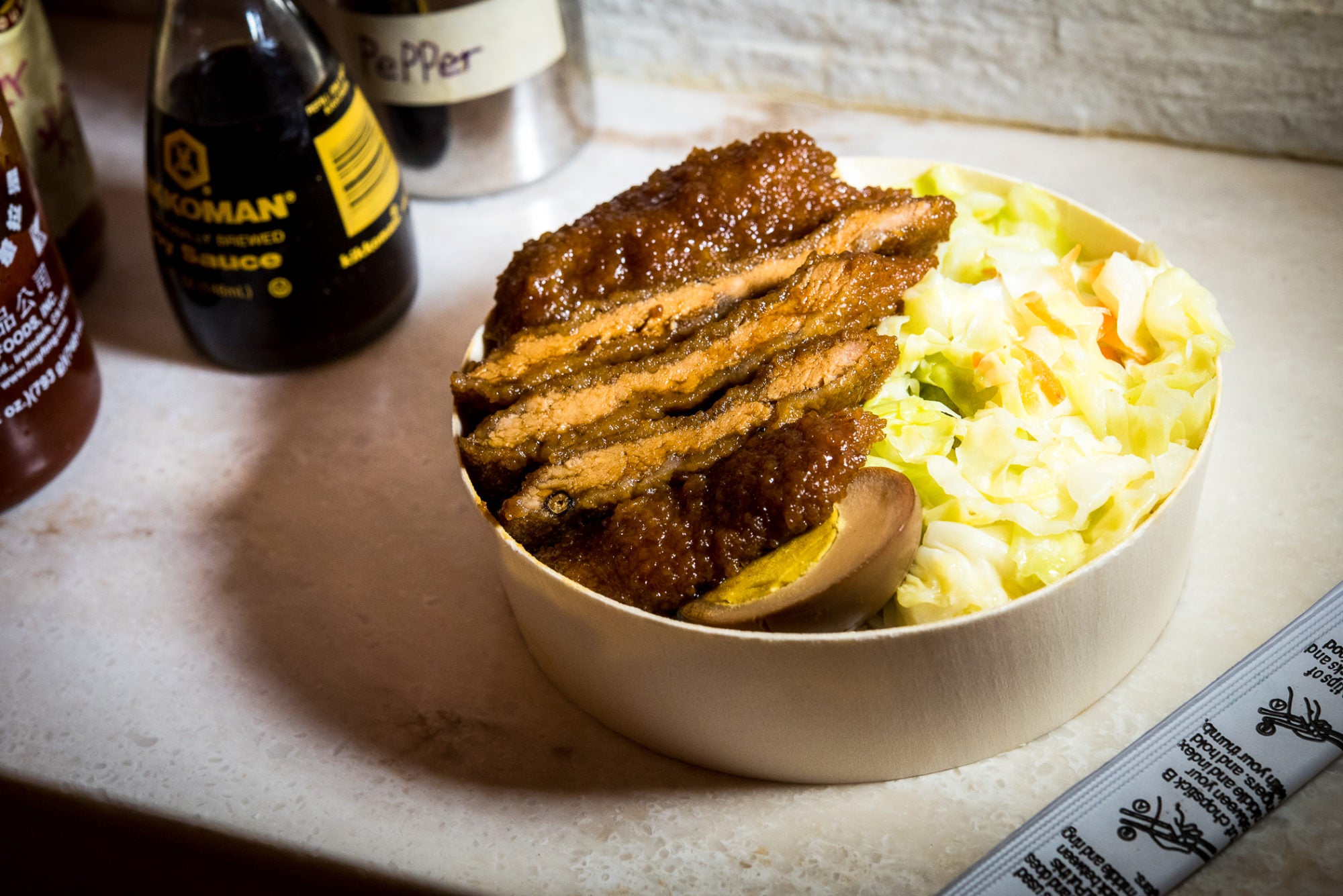 Once "too esoteric" and obscure to sell on its own, Taiwanese food now stands proudly in the spotlight.
One evening this past spring, I met up with my friend Stephen for dinner in the East Village. A light rain had left the streets damp, but the night was warm, especially considering the way winter had been lingering, so we didn't mind standing on line outside the restaurant we'd decided to try. When we spoke to a host, however, the wait seemed astronomical: more than an hour to get two of the mere 10 seats. We put our names down and wandered off to grab a drink.
Now, long waits for tiny New York restaurants are not exactly new. But in my 20 years of living and eating in this city, I'd never seen such a line for this type of restaurant—that is, a Taiwanese restaurant. This was Ho Foods, which specializes in beef noodle soup, the broth flavored with soy sauce and star anise, the noodles uniformly chewy whether you order them thick or thin, the brisket and tendon lush and lovely. As Taiwanese specialties go, it's an accessible one, but the excitement I felt emanating from my fellow diners was new and surprising.
And it was not the first time in recent months that the food of Taiwan—a leaf-shaped, democratic island of 23 million that is constantly trying to differentiate itself from China, which considers Taiwan a "renegade province"—had broken through. A year earlier, Bon Appétit had devoted a glorious multipage story to the food of Win Son, a Bushwick, Brooklyn, restaurant featuring modernized but recognizable takes on Taiwanese classics like oyster omelets and stir-fried clams with basil.
In February, Eater gave the restaurant two stars, the headline declaring, "Win Son Delivers One of NYC's Most Thrilling Meals." New York Times Hungry City columnist Ligaya Mishan has reviewed at least three Taiwanese restaurants in the past year or so. And New York magazine, which has heaped praise on the Taiwanese tea room Té Company, in February decided Taiwanese food had grown big enough to merit a guide to finding 10 iconic dishes.
Tempted to call it trendy? Don't. "Looking at it as trendy is a terrible white way of patronizing the cuisine before spitting it out and forgetting about it in six months when something else is 'trendy,'" says Eddie Huang, whose Baohaus, which opened in 2009, was arguably the first of the city's modern Taiwanese restaurants.
Instead, it feels like a revolution—one that I, as a longtime observer and fan (partly because my wife, Jean, grew up in Taipei and we make regular trips back), find both gratifying and bewildering. Gratifying, obviously, because it means I have more access to the dishes I love and can try my favorites (like fly's head or stinky tofu) in new variations, not only at the mentioned NYC restaurants but at Mimi Cheng's, which rose to prominence with good, fresh dumplings and now has two locations: Taiwan Bear House, which sells the kind of hearty bento lunch boxes you find at train stations all over Taiwan, and Zai Lai, which does homestyle rice and noodle dishes for the lunch crowd in Columbus Circle. More is better!
Gratifying, too, because maybe now when people—friends, readers, editors—ask me, "What is Taiwanese cuisine, anyway?" I can stop struggling to pin down a one-sentence definition.
"Oh, man, I've been working on that for years," said Richard Ho, the chef and owner of Ho Foods, when I asked for his. Then he paused for several seconds.
Fine, here's another shot: Taiwanese food is a blend of cuisines, thanks to waves of immigration to this mountainous, leaf-shaped island over several hundred years. The people who arrived from China's coastal Fujian province starting in the 17th century get credit for bringing everything from noodles to fish balls.
The Japanese, who colonized Taiwan from 1895 until World War II ended in 1945, left their mark with sushi, tempura, and izakaya-style fare. The end of the Chinese Civil War in 1949 brought as many as 2 million refugees (and their cooking styles) from all over the mainland—Shanghai, Sichuan, Shandong, and even some places that don't start with "S."
And let's not forget the aboriginal peoples who've been on the island for thousands of years, mastering the use of its flora (bamboo shoots in a dozen varieties, mountain vegetables rarely seen elsewhere) and fauna (from wild boar to obscure shellfish). Taiwanese cuisine is like a dozen in one—which does not make it easy selling it to a public that often confused.
Does that help? Maybe we should just say Taiwanese food is noodles and buns and dumplings; it's pigs and fish and greens; it's garlic and chiles and black vinegar and peanuts and cilantro; it's crispy-crunchy deep-fried chicken and it's chewy, bouncy tapioca balls and it's goopy, briny oyster omelets. It's all-you-can-eat Sichuan-style hotpot with friends at midnight, and it's soy milk and flaky shao bing pastries for breakfast (even when breakfast is at 1 a.m. and you were just eating hotpot with friends). It's shaved ice topped with mango chunks, mango sauce, and mango pudding, and it's shaved ice topped with boiled peanuts and Green Giant creamed corn straight from the can. It's a lot of snacks (known as xiao chi, or small bites), but it's not only snacks. It's all the things you like, OK?
Which is why it's so perplexing that only now are Taiwanese restaurants becoming a trend here. (Sorry, Eddie!) I've been eating Taiwanese food, both in the United States and in Taiwan, for decades, and I've found it accessible and all-encompassing. So why wouldn't you, up until this point, have opened a Taiwanese restaurant here?
That's not to say that there never were Taiwanese restaurants in New York. Taiwanese immigrants (and Taiwanese-Americans) have been living in the New York area since the 1960s, and Taiwanese chefs were responsible in part for the 1970s boom in Hunan restaurants here. (One invented General Tso's chicken!) For a long time, Flushing, Queens, was the epicenter of New York's Taiwanese community, and up through the 1990s it was known as Little Taipei, according to Myra Lu of the Taipei Economic and Cultural Office, Taiwan's de facto diplomatic representation.
"Even then," she noted, "there were only about a dozen Taiwanese restaurants."
And those that existed often didn't play up their Taiwaneseness. In Manhattan's Chinatown, a handful of small restaurants serving pai gu fan—a fried pork chop atop rice, with stir-fried or simmered cabbage, braised ground pork, pickled mustard greens, and often a soy sauce egg—have soldiered on without really capitalizing on the origins of the dish. From the outside, there was nothing to mark restaurants like Hua Ji, May Wah, or Excellent Pork Chop House as Taiwanese; unless you just knew, you wouldn't know.
"To some degree, [Taiwanese restaurateurs] don't think people will care about Taiwanese street food," said my friend Andrew Yang, a partner in Mission Chinese Food. "My parents were in the restaurant business [in New Jersey]," he said, "and Taiwanese food was too esoteric."
That's a fair call. Almost every Taiwanese person I know (including my wife, Jean) has had to explain, at one time or another, that Taiwan is not Thailand, for example. Taiwan's complex geopolitical situation doesn't make things any simpler. Also, there just aren't that many Taiwanese here: Less than half a million Americans identify as members of the Taiwanese diaspora, according to 2010 numbers, with about half of them living in California (where areas like the San Gabriel Valley outside greater Los Angeles are jammed with Taiwanese restaurants both old-school and newfangled). Just under 14,000 were in New York City—although that number was up 149 percent from 2000, and shifting to Manhattan from Queens, so the figure may be much higher now. Still, compare that with the foreign-born mainland Chinese population of the city—353,000 in 2013—and it's easy to understand why competing with, say, Shanghai soup dumplings or Xi'an noodles has been a battle no one wants to fight.
Except that now, it seems, it's a battle restaurateurs are fighting. Even Excellent Pork Chop House changed its name to Taiwan Pork Chop House in 2014. So what happened?
"My mom recently told me it's because of me!" said Cathy Erway, whose cookbook, The Food of Taiwan, was published in 2015. She was joking, but there was truth in it, too: Erway is part of a younger generation, mostly born in the 1980s, "who, unlike their parents, didn't have qualms about branding themselves as Taiwanese and in fact saw that as a point of pride—hence also calling themselves Taiwanese-American."
Their paths to becoming chefs and restaurateurs, however, were not straightforward, mostly because the previous generation—their immigrant parents—expected them to embark on white-collar careers. One owner of Taiwan Bear House worked at a hedge fund, another as an engineer; Zai Lai owner Edward Huang went to law school "like a good Chinese boy" (as did Eddie Huang); Andrew Yang was a design and architecture journalist, then general manager of a lighting company.
"Our parents tried to convince us not to do it for a year," said Hannah Cheng, who worked on the trading floor at J.P. Morgan before opening Mimi Cheng's with her sister, Marian, who was in corporate wholesale at Burberry. "All parents want an easier life for their children, and going into the restaurant business is not the definition of an easy life."
The longer a family has been here, the more this entrepreneurialism makes sense. "It gets easier as, you know, the economic situation of the family gets better," said Josh Ku, a co-owner of Win Son, which is opening a Taiwanese breakfast joint across the street from its main location. A second generation that goes into the white-collar world may have third-generation children who don't feel they need to become professionals like their parents.
None of this is groundbreaking sociology: Immigrants arrive, work hard, and expect their kids to do better, minus the struggle; successive generations have more options, including the option to do what was once considered manual labor but now comes with higher social status.
It's a neat model, and yet it doesn't fully explain who gets to open modern restaurants that catch a certain kind of mainstream-media attention and who doesn't. And it doesn't explain why one cuisine catches on while another stumbles.
Thai restaurants, for example, seem to have had an easier time becoming mainstream. In brownstone Brooklyn, you find dozens of cutesy places with cookie-cutter menus; in the East Village, restaurants specialize in the fiery papaya salads and ground-meat larbs of regional Isaan cuisine; we even have upscale, ambitious spots like Uncle Boons, whose chic, 1970s-throwback decor makes it feel like a fun, awesome New York hangout that just happens to serve creative dishes like pork-jowl curry or raw scallops with basil seeds and chiles. The ubiquity and variety is impressive!
Yet there are half as many Thais as Taiwanese in New York, and they're somewhat more newly arrived. Another example: As far as I'm able to determine, New York has relatively few immigrants from China's Sichuan province. Yet Sichuan restaurants have been hot (ha ha) for well over a decade, in versions both down-home and star-worthy. There are probably even fewer immigrants here from Shaanxi province, yet Xi'an Famous Foods—named for the provincial capital—is a bona fide phenomenon, endorsed and promoted by Anthony Bourdain and Andrew Zimmern, with rumored plans to go national. What do they have that Taiwanese food doesn't?
"I feel like that hasn't happened because there aren't flavors that really just kind of grab you," Yang said. A dish like lu rou fan—ground pork stewed with five-spice powder and soy sauce and served in scant spoonfuls over rice—may be homey, delicious, and satisfying to those who know it, but it's also subtle. (Not to mention hard to Instagram.) Unlike Sichuan with its málà spice or Cantonese with dim sum, Yang said, Taiwan is "a secondary culture within Chinese culture. So the same way that Xinjiang food hasn't caught on or Dongbei food hasn't caught on or Singaporean food hasn't caught on, it's all part of it. Not every culture needs to catch on."
Except that maybe when none of us were looking, it caught.
Before Richard Ho opened Ho Foods, he figured he'd have to educate everyone about the cuisine he grew up with in California's San Gabriel Valley. Instead, he said, "what we realized is that people were very opinionated about Taiwanese food already. They would already know when they come in: 'This is what I'm supposed to be able to order. I should be able to get ban jin, ban rou—half meat, half tendon. I should have all-you-can-eat suan cai.'"
And, Ho notes, those people have been in New York for a long, long while, waiting and waiting—as Stephen and I were on that warm night—for the chance to order right.