The Warden of New York Red Sauce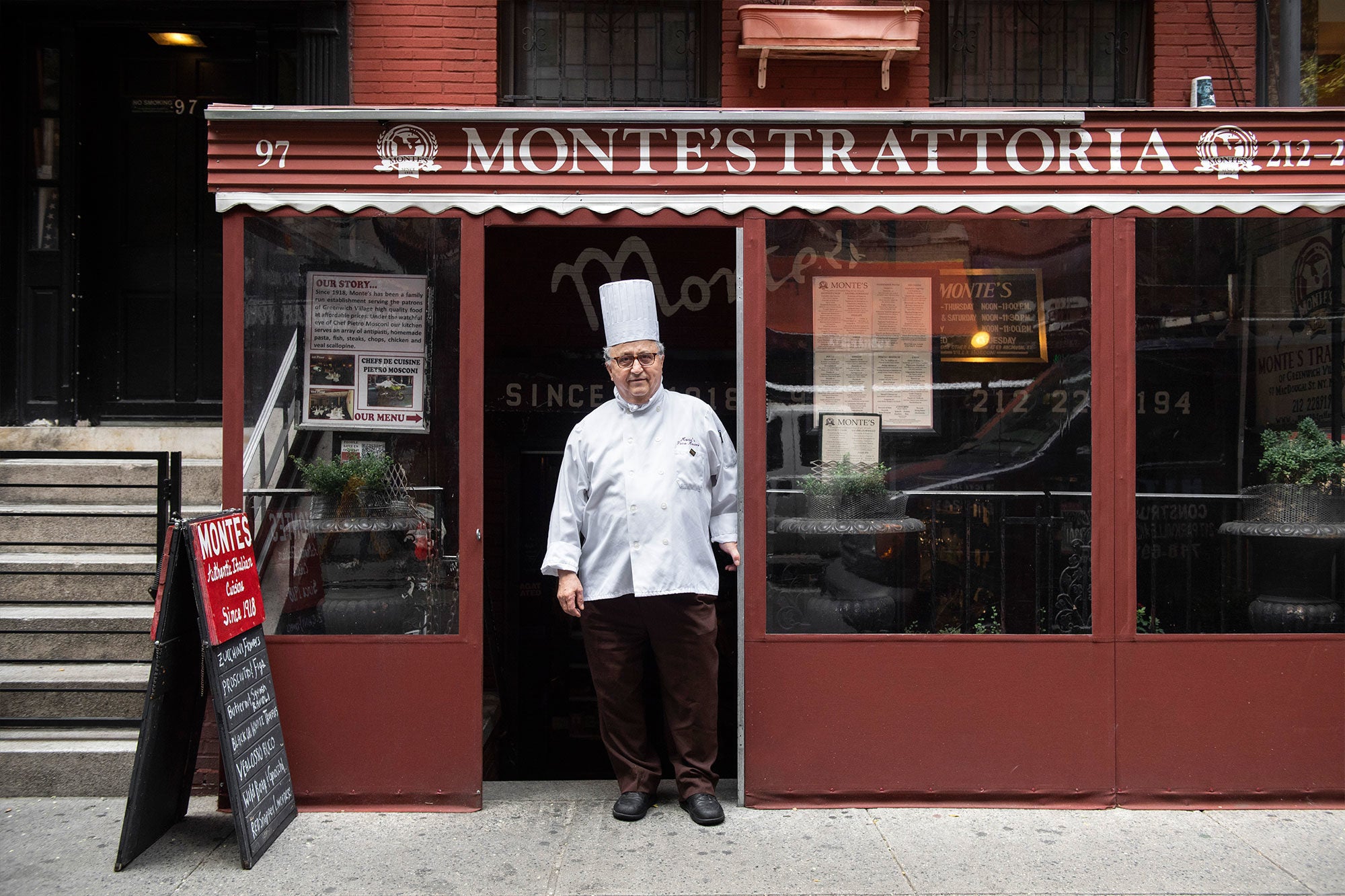 Pietro Mosconi has been making veal saltimbocca with cheap knives and good olive oil at Monte's Trattoria since 1983.
Pietro Mosconi is wearing a corsage of basil that pokes out from the pocket of his white chef jacket. It's a few minutes after 1 p.m. at an empty Monte's Trattoria in New York's Greenwich Village, and the owner and chef has set up shop at one of the small front tables, where he is methodically working a pastry wheel around the corners of a panel of dough.
"Buongiorno, Leeeza," he greets me in a heavy Italian accent that hints at his Emilia-Romagna roots without looking up. "You're just in time to help me."
Before I can take off my sweater, Mosconi leads me to another front table where an Imperia brand steel pasta roller that looks like it weighs 200 pounds has been set. "They don't make them like this anymore," Mosconi says, tapping on the machine with pride. "You know how old this is?" Without waiting for me to throw out my best guess, he emits a combination whistle and breath, one of many he'll share on this afternoon that I will come to realize can be roughly translated as "forget about it."
Mosconi inserts a brick of misshapen dough into the top of the machine and prompts me to slowly turn its rotating arm. I do, and it spits out slick sheets of dough that will be used to make tonight's fresh ravioli and tortelloni ("You're a natural," he insists, though I'm struggling to get through one turn). He uses a steel ladle to fill a pastry bag with meat, cheese, and rice from a giant bowl on one table, pivots, and deposits the filling into perfectly uniform dough pockets at the adjacent table. It's pretty clear there's only one natural in the room.
This forget-about-it-it's-so-old pasta machine. That basil boutonniere. And the fact that Mosconi leads a solo pasta-making expedition each afternoon are all just a few of the reasons why Monte's Trattoria has been a neighborhood fixture for nearly 40 years—while so many other old-school Italian joints are becoming as rare as corner candy shops.
New York is not a city known for being kind to its restaurants and chefs. Blame high rents that only the great-great-grandchildren of steel magnates could comfortably afford. Blame new investments in gentrifying blocks that pull customers away from other neighborhoods. Point fingers at customers' ever-evolving appetites, and the more fanciful expectations they have of Italian cuisine that are driven by influencer culture and sites like Instagram that place a premium on appearance—before taste. Whatever the culprit, Mosconi refuses to go out like that.
Mosconi has been working in NYC kitchens since he immigrated to the United States from Italy in 1966. At first, he and his family opened Greenwich Village restaurant Villa Mosconi in 1976. Mosconi, now 70, then embarked on a second venture in 1983, purchasing Monte's Trattoria with family, but taking over as the sole manager of the MacDougal Street business, which had been serving customers since 1918. It's the kind of quaint subterranean dining room you descend into on a cold night and feel immediately warm and at home, surrounded by framed photos of Italian celebrities and seasoned waitstaff sporting classic black-and-white attire. Mosconi has seen Greenwich Village restaurants and patrons come and go, but Monte's has stayed in the game. He doesn't have an elaborate chef's kitchen in his Queens home (don't even get him started on expensive marble islands). He isn't above getting his hands dirty with flour and sauce, and his Instagram page is as likely to show accidental photos of his socks as it is images of his mouthwatering meals.
Mosconi put me to work, fed me ravioli with meat sauce and Montepulciano d'Abruzzo, and set me straight on why owning property and shelling out for saffron leads to more successful years in the restaurant business than keeping up with the celebrity chefs and trends of the moment.
What was the Italian restaurant scene like in New York City when you were starting out?
There were so many more old-fashioned Italian restaurants back then—and don't let anyone tell you they got better. If you ask me, it went the other way. There were a few on every street: the San Remo Cafe, Rocco, Massimo al Ponte Vecchio, Volare, Le Figaro Café, Minetta Tavern, Da Silvano. They were making pasta with tomato sauce, veal, fish.
Back then, we were all in the kitchen. Today, it's almost impossible to find an Italian in the kitchen. I think we're in trouble. Too many chefs these days want to become celebrities. They don't want to be in the kitchen.
How did you make yourself stand out from the many other Italian restaurants back then?
I worked from early in the morning until late at night. I didn't want to go back to working for somebody else, and my mind was set to make it in this country. I started right away making fresh pasta. I'd go to the fish market early in the morning to get the best fish. I wasn't stingy when it came to portions. My lawyer told me, "Go see all these other restaurants; they charge more and give less." I saw everyone, and I made my entrées the most reasonably priced on the block. I was about building something. 
Who were your customers when you first started at Monte's Trattoria in 1983?
A good percentage was Wall Street. They would come after work—waiters knew who got a martini and would have it ready for them—and they appreciated that my prices weren't high. Back then we would serve a plate of pasta with tomato sauce for $8 and a chicken dish for $12—a lot of other places charged more, and it costs double that today. There were printing businesses in the area back then, and a lot of those workers came to eat here. Years ago, we had so many customers come from New Jersey. And you know, throughout my career in New York, I've cooked for Frank Sinatra, Sophia Loren, Mayor Ed Koch, Giuliani, Anthony Quinn.
Fast-forward to 2019. Who are your customers now?
Because of the high tolls, you get fewer people from New Jersey now. A big percentage of my customers are tourists. But you know, I don't know what's going to happen. Different neighborhoods in New York get popular, and things change. Right now, they're pushing so much Hudson Yards and the High Line. They have restaurants there with celebrity chefs, and they can charge a lot of money. Every time they do something like that, they take people away from the Village.
What would you say is the biggest change in how customers approach Italian food today? And what are their expectations for Italian cuisine?
People are now watching their weight in a way that never happened in the past. They don't order alfredo sauce. They ask if you have gluten-free pasta, and I don't want to see people walk out—you have to have it.
What are some of the dishes that were popular in the early '80s, and how have tastes changed?
Pasta with clams was huge back then. So was fettuccine alfredo, striped bass, swordfish, tuna—and veal. Veal was so popular: stuffed veal chops, veal scallopini, veal parmigiana. The most popular dishes I serve today are chicken scarpariello, fish like broiled salmon and fillet of sole, and stuffed pasta like tortelloni and ravioli.
There are people who now prefer more modern Italian restaurants, but I'm not the type to make food look like un fiore [a flower]. I like my mother's cooking, my grandmother's cooking. I don't like just a couple of ravioli—I like a nice portion of ravioli.
Many restaurants in the Village have come and gone over the years—for example, Da Silvano, which enjoyed a celebrity clientele, closed in 2016. Why do you think it is so difficult for restaurants to stay successful over the years?
At my first restaurant, Villa Mosconi, my siblings and I put a little of our money into that one restaurant and we made money together, a little something for everyone, like my father wanted. When my lawyer told me that Monte's was available for sale in 1983, my interest was not just the restaurant. My father was in World War II and taught me about not wasting money. We bought the entire building back then, with seven apartments. In those days, you didn't get so much for the rent. But if I hadn't bought the building, I would be on the street.
In 1983, when I came to this block, it was a little easier to run a business. The rent was so cheap. Okay, we didn't make the kind of money they do now, but it was more feasible to run a smaller business back then. We kept the restaurant business and real estate business separate. To last so many years, you have to get up in the morning, have a good breakfast, take your car to work without worrying about traffic, and go to bed at night without worrying about going to work. It helps to own real estate and to own the place where you put in so many hours to create your vision, because you never know what's going to happen. In a place like New York, the rents go up all of the time. You also can't lose your energy, and you have to update your restaurant from time to time. Customers can see if you lose your vision.
Your daughter, Joanne Mosconi Piano, wrote your first cookbook, The Chef of Greenwich Village, which is out next month. Why write this book now?
My mom had all these beautiful recipes but never wrote them down. The Italians are not the best organizers. If I never put it on paper, it's just me who knows the recipes.
Chefs are notoriously secretive about their recipes. What was it like for Joanne to try and wrangle recipes from you?
Oh, Madonna mia! She would follow me and ask me questions while I work. But I appreciate my daughter and her husband, John, for taking an interest in me, and I was open to it. But no matter what's in a cookbook, every recipe for every person comes out different.