New York City Lives for the Tuna Melt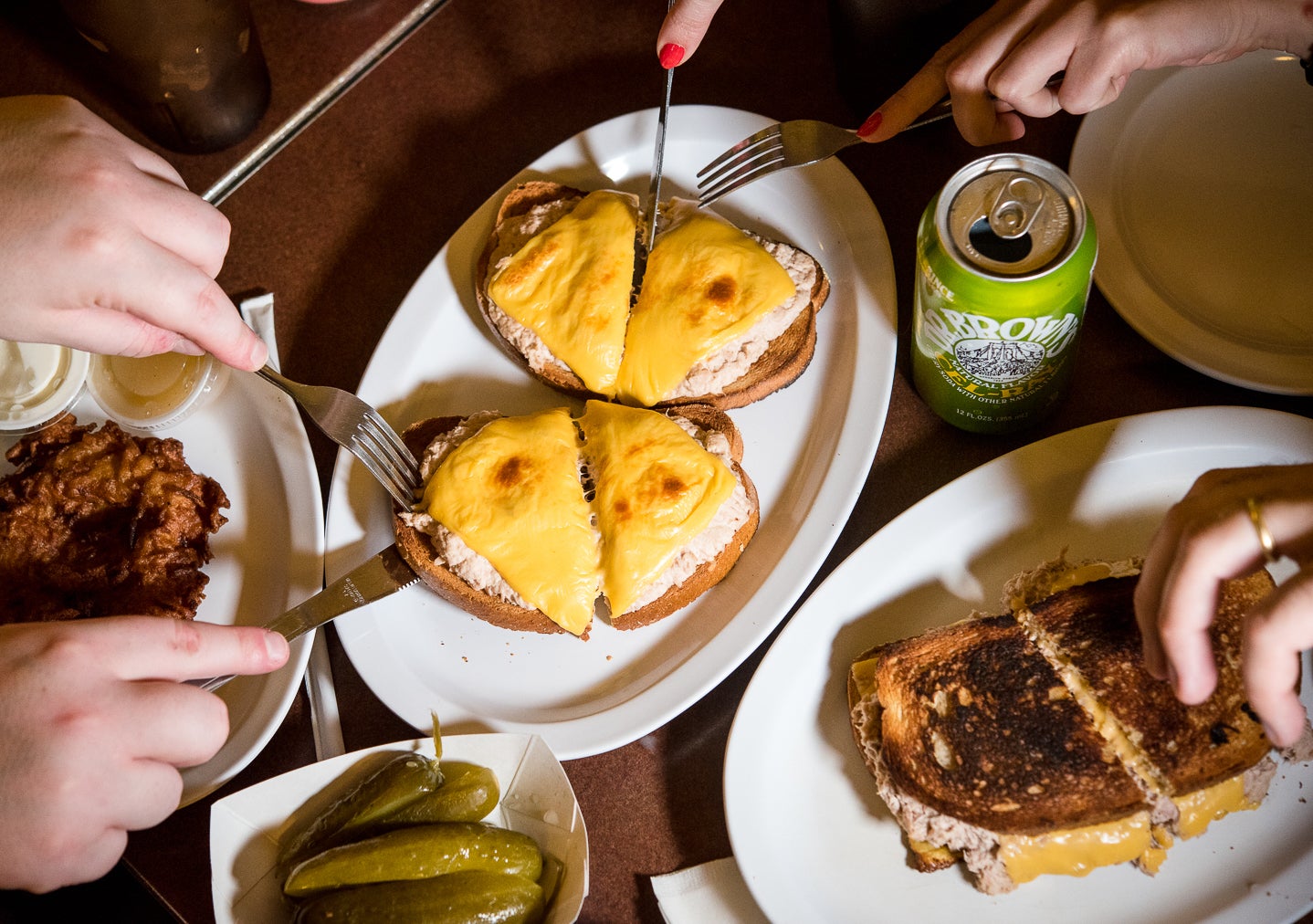 Tuna melts are one of the most incredibly un-incredible staples of NYC diners and delis. So why would you spend a whole day eating them?
In New York, you can walk down the same block a thousand times without ever noticing a faded sign hanging above a door to a diner that's been there for 90 years. You can live here for 10 years and feel certain you know where the best borscht is and who makes the best blintzes, not realizing there are dozens of borschts and blintzes you've never even tried. You can have a hundred conversations with the same person, but it's not until you spend a day walking all across lower Manhattan with them on a hunt for tuna melts that you hear their favorite hot-dog-related Nora Ephron quote, or about the time they interviewed Joey Ramone as a teenager for the high school newspaper, or the time they saw a teenaged Peter Dinklage play a punk show at CBGB's.
When I think about the tuna melts I've consumed in my lifetime, I would estimate that about 90 percent of them were consumed during childhood, as a result of my parents being out of ideas, out of groceries, or both. When there was no broccoli to boil or chicken to roast, there was almost always a can of Bumble Bee tuna in the cupboard and a few slices of stale rye bread in the drawer.
The tuna melt is an incredibly un-incredible food. Most toe the line between serviceable and forgettable. But they can be great when the bread is toasted on the outside and remains soft within, the tuna salad is creamy and substantial, and the cheese is invitingly melted. It's an easy sandwich to pull off, but a difficult sandwich to make outstanding—the perfect innocuous food through which to survey a city's lunch counters.
This is how it came to be on a breezy Saturday in October, that I met up for a daylong tuna melt crawl with three of the most enthusiastic melt-eaters I know: food writer Max Falkowitz, PUNCH editor Jason Diamond, and divorce lawyer Tom Kretchmar. We wanted to find out who in the city had the best melt, but we also wanted to know, like explorers during the Age of Discovery, the vast scope of the city's options.
After a few false starts (it turns out that the wonderful, picturesque Classic Coffee Shop is closed on weekends and Shopsin's is not crazy about four people crowding into their space to order one sandwich), we began with a warmup round at Kossar's. The tiny tile-covered bakery and deli has been selling its famous warm bialys straight from the oven on Grand Street since the 1930s, and we wondered hungrily if they would make us a tuna melt on one of them.
Sure enough, out came a foil takeout container with two rotund medallions: small bialy halves, heaped with tuna and each blanketed with a waxy square of orange cheddar cheese clinging across the top. We cut the melts sloppily in halves with a plastic knife and had our first sweet taste of the day.
The bialy was tender and chewy—a perfect thin but substantial base for a great melt. But the melt itself left much to be desired. "I definitely think they should toast and melt the cheese more," said Jason.
Jason bought a box of Kossar's black-and-white cookies, and we established a key ground rule for the crawl: At every stop, we had to order one wildcard item in addition to the tuna melt, both to keep things interesting and to learn a little bit more about each of the spots we would be visiting.
We made it about 30 seconds out the door of Kossar's before giving in to the alluring aroma of salt, vinegar, garlic, and dill whipping out the door of The Pickle Guys down the block. We didn't want to fill our stomachs too much before reaching the summit of our own Melt Mountain, but what is a pickle if not a salty palate cleanser? We grabbed a few pickled Brussels sprouts and rollmops for the road.
We strolled up Essex Street to the East Village, spilling pickle juice and trading stories about all of the best and worst bars we passed along the way, and landed at Odessa, across the street from Tompkins Square Park. The diner could pass for just about any other nondescript American diner—just tinged with a Ukrainian sensibility. A group of face-tattooed skater kids sat down for breakfast. An old woman ate a bowl of soup alone. We ordered an assortment of beers and seltzers and coffees and two tuna melts.
Out came generous ovals of rye bread, toasted with butter on the bottoms, spread with a well-seasoned, celery-studded tuna, and covered in decidedly melted squares of cheddar cheese. They were precisely what we had all imagined and hoped for when we set out on our quest. Max described them as his "Platonic ideal of the tuna melt."
Following our wildcard rule, we ordered some blintzes to break up the fishy rhythm, and they came out golden and toasty and full of fluffy white farmer's cheese.
Now that our appetites were building some momentum, we walked west to Second Avenue and miraculously found an open table at the pint-sized, 80-year-old B&H Dairy. We had heard whispers that the kosher diner makes a melt with whitefish salad, and we wanted to see for ourselves.
None of us were prepared for what was about to emerge from the griddle. There were two sweet, rich, butter-toasted slices of B&H's house-baked challah sandwiching a slice of melted cheddar and a layer of their flaky, smoky whitefish salad, which contained a cautious amount of mayo and what Max described as a "heroic amount of celery."
"It reminded me of something you'd get in some high-end hipster sandwich shop that'd make you hate everyone, except here it was abundant and joyful and perfect," he continued.
After rounding out our rich meal with a few bowls of borscht and an order of matzo brei, we took our salty delirium on the road for one last hurrah, walking northwest into Chelsea to Eisenberg's—a classic New York sandwich shop from the 1920s. The chalk sign on the sidewalk beckoned to "TRY OUR TUNA MELT." Was it mocking us? Were we hallucinating?
We sat down hazily and ordered some Cel-Rays and malted milkshakes and wearily asked for one each of the open-faced tuna melt and the closed-face tuna melt. OK, and a latke.
It may have been that we had each eaten a lot of tuna by this point, but the melts at Eisenberg's felt like a pale imitation of the melts we had eaten earlier at Odessa. The same core components were there (crunchy rye, creamy tuna salad, and melted cheese), but here they were missing some of the magic.
We ordered another round of sodas and pickles and polished off the latke, each of us badly in need of a shower and a nap.