A New Wave for African Ingredients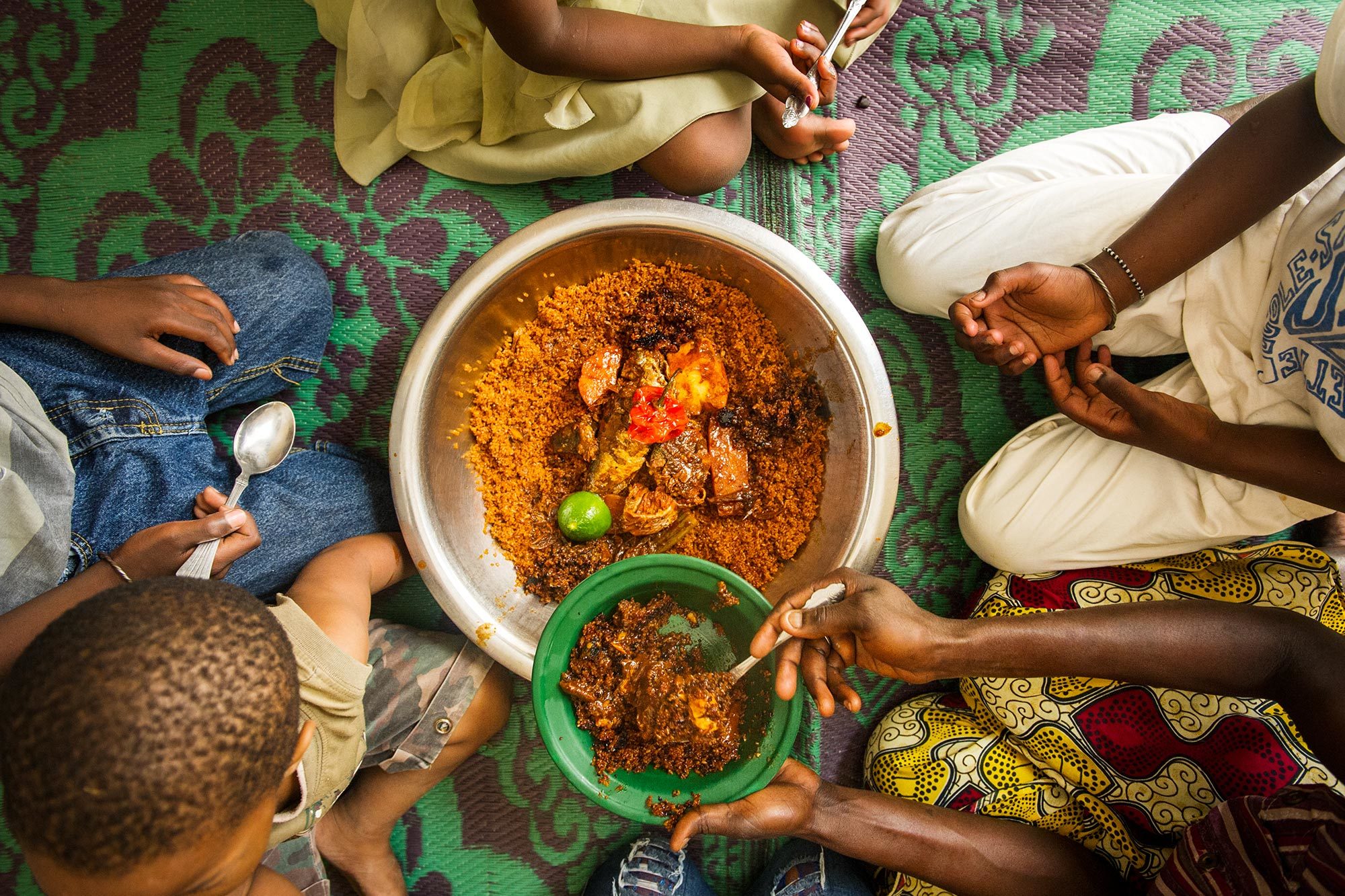 With a wide selection of grains, sauces, marinades, and juices, an energized generation of black entrepreneurs are bringing sub-Saharan products to the mainstream.
In 2015, Toyin Kolawole saw a bag of cauliflower rice in a supermarket and had the same thought as a lot of us: Well, that's neat—and probably kinda bland. Then she had another thought: This stuff is perfect for cooking Nigerian food at home.
"You have riced cauliflower, and everyone is cooking in Instant Pots," she says over the phone from her office in Illinois. "But how are you going to sauce it up?"
With a background in private equity and packaged good exports, Kolawole was used to reading the tea leaves of consumer trends, and she picked up on something corporate food giants have only now started to figure out: A lot of Americans are curious about African food these days but need a blueprint to help them cook it at home.
In February 2016, she founded Iya Foods, a company that makes jarred simmer sauces styled after jollof rice recipes, West African spice mixes, and gluten-free African flours like plantain and cassava. Her biggest account isn't Whole Foods or Trader Joe's. It's Walmart. You can find Iya products in 1,300 stores.
Kolawole is part of a new generation of black entrepreneurs bringing African specialty foods to the mainstream American market. Some are selling grains with a 5,000-year pedigree. Others are bottling boutique sauces, marinades, and juices, built on traditional recipes but optimized for Instagram.
As little as a decade ago, buying specialty ingredients from Sub-Saharan Africa—such as the smoky, fishy seasoning paste shito, elastic fufu flour, and tangy baobab powder—all but required a visit to small specialty markets that rarely saw customers outside of their core communities. In 2019, at a time when black chefs like Kwame Onwuachi and Eric Adjepong are bringing pan-African recipes to the Top Chef–watching masses, you can get ready-to-eat egusi soup delivered to your door.
I pay close attention to these developments because (disclosure time) I do some work in the online grocery business. That includes a consulting relationship with a global ingredient company called Snuk Foods, where I'm involved with content marketing and product strategy, including an in-progress African ingredient section of the site. Like everyone else in the industry, I read trade publications heralding "unexplored African cuisine" (oy vey) as "the next big thing" and follow with interest the moves of major American distributors that are building African supply chains.
We've seen similar mainstreaming moments time and again, such as the sushi craze of the 1980s that propelled Japanese cuisine to nearly General Tso levels of popularity. Or the subsequent embrace of Mexican and Indian cooking as Something to Take Seriously, which has rippled out from scrappy blogs celebrating taco trucks and dosa shops to Food Network specials to multibillion-dollar salsa and chai industries.
Nate Harceg was the Walmart buyer whom Kolawole won over with her sales pitch. Though he left the company last November, at the time, he was responsible for finding international foods and healthy lifestyle products for 4,500 stores across the country. "It wasn't on my radar to put African food on the shelf," he recalls of their meeting in Iya's early days. "There weren't reports that African food was going crazy on the Walmart scale."
Still, the price on Iya's spicy tomato-based sauces was right, and they hit a nifty balance of "advanced" for the Walmart customer "without being polarizing," Harceg recalls. Walmart customers, he insists, are curious shoppers. Japan's iconic Pocky sticks are a big hit, and for a time some stores could barely keep toasted seaweed snacks in stock. "I think African will probably get there," he says. "Twenty years ago, if you told someone you were going to China, they'd say, 'Gosh, what's that like?' and now it's whatever. But Africa is sexy now because it's different."
It doesn't happen on a conscious level, but as grocery buyers' tastes evolve, so do the tastes of the shoppers they buy for. "As buyers, we're looking for things that people don't even know they want," he explains. "But it's a chicken-and-egg thing. Somebody like Walmart or Kroger has to take the lead for people to notice something's working."
So it's not surprising that the voracious trend machine of consumer capitalism has cast its gaze toward Africa's fertile cuisines, which bristle with spice, abound in gluten-free carbs, and frequently put vegetables at the center of the plate. However, as consumers, it's worth thinking critically about why this is happening now and who stands to benefit from the cash grab.
"I think African food is in the same space now as Indian food 20 years ago," says Hawa Hassan, the founder of Basbaas Foods in New York. "But with that comes exploitation. When people are in a position to capitalize on markets that aren't as tapped into, they go fast and far really quickly."
Basbaas makes America's only packaged Somali condiments: a tangy coconut-chile sauce that could make the driest chicken breast fly, and a smoky-sweet tamarind-date chutney often used to enliven rice pilaf. Hassan left a lucrative modeling career to start the business in 2015, in part to form a deeper connection to her family and her native Somalia; at the age of seven, a refugee sponsorship slot opened for her in Seattle, requiring her to leave both behind.
With a remarkable product and compelling story, she's landed loving press mentions in the likes of Vogue, Forbes, and The Cut, and her sauces are currently distributed in seven Whole Foods and 10 Dean & Deluca stores. But coming into the food industry as an outsider has given her a keen perspective on how the big fish play the game. She described a recurring scene at a recent packaged food trade show: "I saw a bunch of white men who had been put in a position to exploit global flavors, and I think Africa is the next avenue for them," she says of the scene at the industry event. "When they read in a magazine that berbere is the next trending spice, they race to make things with berbere in it, all while not understanding the cuisines of those regions. Are they going to be responsible for telling our stories?"
If you want to see what those guys are reading about berbere, here's how a Unilever blog post puts it: "one of the fastest growing African flavors on menus. From Ethiopia and Eretria [sic] comes this intriguing chili and spice blend, featuring a range of exotic spices such as ginger, cardamom, garlic, nutmeg and others." Not inaccurate, per se, but hardly a rigorous definition, and while the post goes on to describe chef Marcus Samuelsson's applications of the spice mix at his New York City restaurant Red Rooster, there's bupkis about berbere's role in traditional Ethiopian and Eritrean cooking.
Hassan considers herself fortunate; her modeling life gave her access to a healthy network that's helped grow her business, and Basbaas doesn't rely on outside investors. That's allowed her to move slowly and deliberately while telling a story of her own. "I didn't enjoy the narrative that was being shared with me about where I came from," she says. Now she's a de facto ambassador for East African cuisines, and instead of seeking a buyer like Heinz to validate her work, large companies are knocking on her door so she can lend an air of authenticity to their efforts. "I know what my products should taste like, and that's priceless. If these businesses don't, maybe they're not the ones that should be making those foods."
Magbè Savané, the founder of Makomas in Massachusetts, expresses a similar desire to control her own narrative. Originally from Côte d'Ivoire, where she grew up helping out with her mom's drink business, Savané now makes bottled juices and teas with classic West African ingredients like moringa leaf, hibiscus, and baobab fruit, which she describes for the uninitiated as tasting like a "citrusy peach." When she started looking for ingredients in 2016, it would have been easy for her to buy imported pulps and powders, but Savané felt strongly about securing her own supply chain. "I grew up making and drinking these ingredients and know exactly what I'm looking for," she says. "It's not like a Western person going there trying to find something."
Makomas is actually two legal entities: a for-profit beverage company and a nonprofit foundation that established and supports a coop of 350 women farmers in rural Burkina Faso. Consistent demand and equitable compensation for their harvests from outside buyers like Savané saves farmers the miles of walking to the nearest markets, where they might not have any luck making a sale, which in turn relieves them of having to choose between raising children at home and earning their own income. On Instagram, Savané blends this messaging with aspirational yoga pics and feel-good lifestyle content aimed at the healthy-living crowd; the photos of young African faces are upbeat and energizing, without a trace of poverty porn.
"I saw a bunch of white men who had been put in a position to exploit global flavors, and I think Africa is the next avenue for them."
For Pierre Thiam, a Senegalese chef and founder of the fonio company Yolélé Foods, that subtlety is important: speaking openly about Africa's development needs without making a charity case. "American history with Africa has always been a difficult one, and the media's portrayal of Africa wasn't always under the best light," he says, with the diplomatic expertise you'd expect of someone who's catered for former UN secretary-general Ban Ki-Moon. He also notes the challenge goes both ways: "African food companies have struggled to meet a certain standard of branding and processing necessary for the American market."
Like Makomas, Yolélé, which launched in 2017, predominantly works with small coops and women farmers and processors, creating a new American market for an ancient African grain that tastes a little like whole wheat couscous but is gluten-free, grown organically, and high in protein. America's growing fascination with superfoods has been a boon for African companies like Thiam's and Savané's. Mass acceptance of turmeric and spirulina paved the way for moringa and baobab; newfound love of quinoa has laid the groundwork for fonio. "We wanted to tell this story of a grain that's been around for 5,000 years," Thiam says, "but also how good it is for you, and how easy it is to cook."
He was less diplomatic about who should be telling that story, and how.
"It's disheartening to see farmers in Ghana and Côte d'Ivoire selling crops like cocoa for a miserable price, and then you look at the people who are making the money from those products and they look nothing like the people growing them. As Yolélé has grown its African operations, we've been conscious to work with Africans on the ground, who are the majority stakeholders. It should be Africans owning that story and benefiting from it."
The New African Pantry
A far-from-comprehensive cheat sheet to ingredients worth snagging, all available to order online.
Iya Foods: Mild and spicy West African–inspired simmer sauces and spice blends, plus gluten-free cassava, plantain, and honey bean flours for DIY fufu or waffles.
Basbaas Foods: Small-batch complex condiments to spread on everything.
Makomas: Bottled juices and teas made with West African fruits and few to no added sugars, plus dried-fruit powders perfect for smoothies.
Yolélé Foods: Gluten-free fonio, and keep an eye out for fonio-based chips next year.
Egunsi Foods: Ready-to-eat soups and sauces in flavors like ground nut and egusi, aka hearty, vegetal melon seed.
EssieSpice: Potent pastes, marinades, and dry rubs incorporating tamarind, mango, and Scotch bonnet.
Nafi's Hot Pepper Condiments: Spicy spreads, bottled hot sauces, and one-pot simmer sauces with Senegalese combinations like peanut-tomato and coconut-yam curry.