It's Never Too Late to Make Your First Hotdish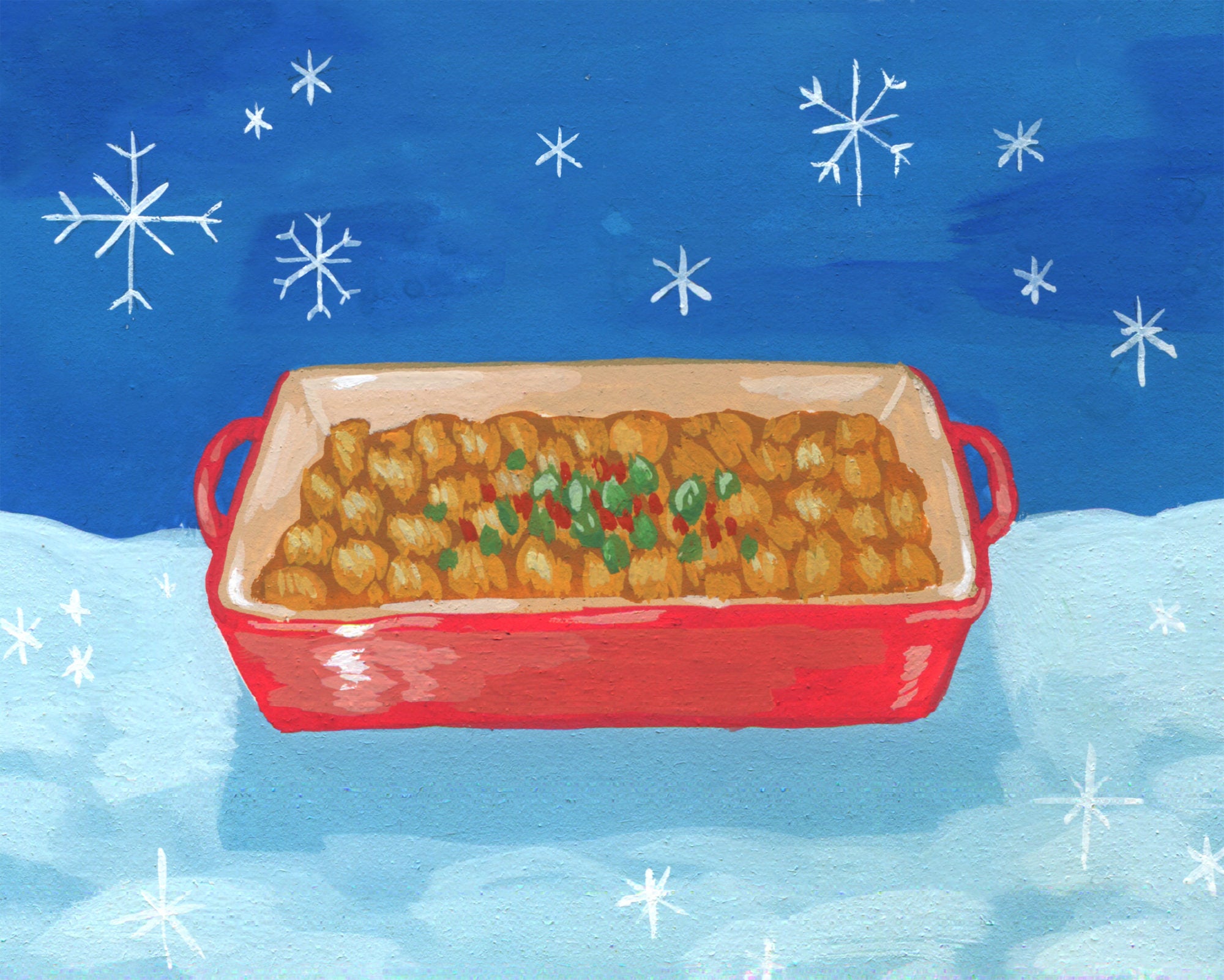 Like Prince and endless winter, hotdish is Minnesotan to the core. And like the best comfort foods, it welcomes all newcomers.
I'm a 43-year-old born-and-raised Minnesotan, and I just made my first hotdish. It felt—and tasted—amazing.
As any Minnesotan will tell you, hotdish (which is always spelled as one word) is hands-down our state dish. Sure, it's got some competition with lake walleye, sweet corn, and wild rice. But here's the thing: Those things can be ingredients for a hotdish!
And they are. Oh, gosh, are they ever.
Right around now you may be asking what, exactly, hotdish is. A righteous hotdish can be many things. To some people, it's a casserole, following a basic protein-to-starch-to-vegetable ratio, divided roughly into thirds. "Vegetable" is the most loosely approximated category, consisting of a can of green beans or corn, though creamed corn is even better. Hotdish may as well be the reason creamed corn was invented. Where meat is concerned, ground beef requires the least fuss, but we wouldn't turn up our noses at the remainder of last night's baked chicken or pot roast ending up in the pan. Starch, meanwhile, is essential—a crowning layer of chow mein noodles, crushed-up potato chips, mashed potatoes, or if you really want to get a Minnesotan excited: Tater Tots.
Minnesotans, by the way, are used to explaining hotdish to those not yet fortunate enough to know its splendors. "Everyone always asks: What's the difference between a hotdish and a casserole?" says Amy Thielen, a chef, cookbook author, and Midwestern food expert. "My favorite comment about hotdish comes from my friend Bruce Engebretsen, who said, 'Casserole is the dish. Hotdish is what goes inside of the dish.' That nails it. Growing up, I heard the word 'casserole,' but always in regard to the vessel. But when it came to what we ate, the word we used was always 'hotdish.'"
One other important thing to know about hotdish: the backdrop of a Minnesota winter is a prerequisite for it. In case you have never had the displeasure of experiencing one, here are a few fun facts:
Winter typically begins, unofficially, right around November 1. The infamous Halloween blizzard of 1991 notwithstanding (28 inches of snow in 24 hours), we can usually get through October 31 without the aid of snow boots, but you can be reasonably assured that costumes will likely be covered by ski jackets. What are you, sweetie? A witch, or a pumpkin?
And then the world will go dark and cold right through the end of March. Each year we like to believe that April will bring some ravishing awakening, but instead, it snows. Prince, our most famous prodigal son, wrote a song entitled "Sometimes It Snows in April." He misfired on the "sometimes."
Naturally, the ground is frozen solid during these six or so months. And naturally, we still have to eat. But for roughly 180 consecutive days, we are a people with limited access to fresh green things—or the sensation of sunshine on our shoulders. The result of this is a particular mindset: Hunker, preserve, economize, stretch, repurpose. The obvious product of this mindset—and the abstemious growing season? Hotdish.
Like booya (another dish we like to claim as our own; it can basically be described as an enormous cauldron of soup), the origins of hotdish are murky, but the dish likely was the result of some Depression-era resourcefulness. The term was first used in a 1930 Minnesota cookbook published by the Grace Lutheran Ladies Aid. The recipe included hamburger meat, onions, celery, canned peas, canned tomato soup, and "Creamettes," also known as macaroni. The Creamette pasta brand, in case you're wondering, was created in Minneapolis in 1912 (it's not just wild rice around here).
But I prefer to think that, like snow, hotdish has just always been here. Some of my earliest memories include peering up at the holiday table groaning with casserole dishes, topped with French's French Fried Onions or chow mein noodles. Both are classic Minnesota hotdish garnishes, but to call them garnishes lends a too-twee note to hotdish. More of a top coat, the onions, noodles, and, for that matter, Tater Tots provide much-needed textural contrast to the meat, starch, vegetable matter, and binder that lie underneath.
It's relatively easy to make it to age 43 without having made a hotdish because any holiday table is likely to already have not only one, but probably three. When I was growing up, hotdish was the domain of grown-up ladies who made sure that a gotdish was always there the way the tablecloth is there. Ubiquitous and essential. Which is why Minnesotans, typically a reserved lot, howled as a united front in 2014 when The New York Times published an entry for something called "Grape Salad" in their "United States of Thanksgiving," a big, important, interactive state-by-state homage to the great American holiday meal.
Perhaps The New York Times was like me and couldn't see the forest for the trees. Hotdish is so very pervasive, it can almost be easy to miss.
When I went to make my first, very overdue hotdish, I came by it honestly: with leftovers. One of the keys to Hotdish's purity is a desire—no, a need—to resurrect yesterday's supper. Minnesotans regard people who claim not to like leftovers the way you might regard an uninvited clown at a kid's birthday party. With suspicion.
I didn't use just any leftovers for my first Hotdish, but the last of the late-summer sweet corn, sautéed with butter; best-ever, in-season mashed potatoes; and a brick of ground beef, because who doesn't have a brick of ground beef laying around? (If you don't, you should totally start to make a practice of it. Casual weekday dinner is almost always imminent when you do.)
Because hotdish, in its truest spirit, does not ask for an overly formulaic treatment, it is with some degree of reluctance that I put forth a recipe for it. But here goes. And seriously: Go buy that brick of ground beef.