For Nadine Levy Redzepi, Noma Is a Family Business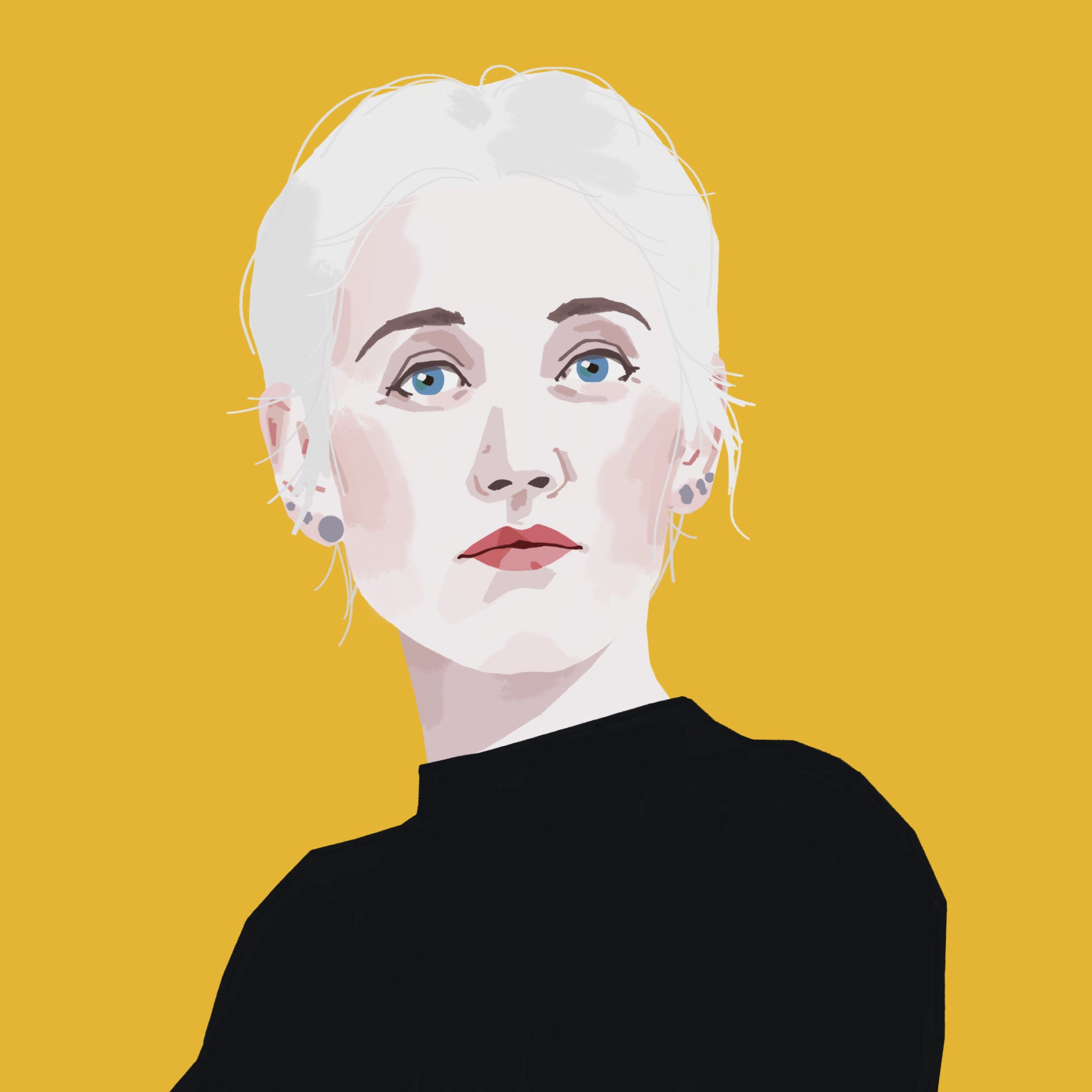 In a new cookbook, Nadine Levy Redzepi writes about what she and her husband cook for their family when they have downtime from running the world's most famous restaurant.
Nadine Levy Redzepi rarely gets what most people think of as downtime. To her, it means that chaotic, golden hour when the members of her household—her three young daughters, her husband, and her mother—convene in the kitchen to sort groceries, chop, crack, mix, stir, chatter, and cook. So it follows that her new cookbook, Downtime: Deliciousness at Home, is as much about savoring the work as it is about what arrives on the table afterward.
Levy is married to the chef René Redzepi; their family business is the world-famous Copenhagen restaurant Noma. Ostensibly, Downtime is a cookbook about what Levy Redzepi's husband eats—and by extension what great chefs eat—and many will buy her book for this reason. On that count, they won't be disappointed: Downtime does include reflections on what life is like when you're married to a chef. There are recipes for what René cooked on their first date ("Seal the Deal" pasta, a simple penne with tomato and beurre blanc), what Levy made that won his heart (chicken livers with chiles), and what René prefers after a long day on the line (something light, vegetarian, and often involving a runny egg, like kale and mushroom "carbonara").
But the story underlying most of the book is about another kind of marriage: the one that comes from joining a lifelong love of cooking to the love you discover when you start a family.
Long before she married the guy she met in the elevator when she worked as a server at Noma, Levy was a girl in a small town in northern Denmark cooking for herself on lonely afternoons. After her parents' divorce, her mother, Bente, had relocated the family from Portugal to start over. Their mother's long hours required the children to cook for themselves; learning to make porridge and scrambled eggs early on was a necessity. Having deduced the basics, Levy eventually took first her mother's recipes and later those of TV chefs as inspiration for multicourse projects. Food became her fascination and comfort.
These days, Levy is, in kitchen-speak, a tournant of sorts, filling in as needed at outcroppings of the Noma empire, including the MAD food symposium, but devoting most of her days to managing home life. Barring extenuating circumstances (like the time the family moved to Tokyo for one of Noma's residencies and she had only a kettle and a bathroom sink to cook with), Levy cooks twice a day for her family, and her writing makes it clear that in this necessary chore she finds the sort of thorough satisfaction that is perhaps felt most deeply by a nurturing parent who is also an ambitious cook.
"Of course, I love cooking for René, because he spends all his time cooking for others," Levy said recently in New York, where she was promoting her book. But, she added, make no mistake: On the many nights her husband can't be home, "we don't just eat pasta and tomato sauce."
As such, Levy's recipes are for ambitious home cooks; they're exacting and at times demanding, but also readily adaptable for days when time is short. There are various ways to serve eggs for dinner and advice on how a roasted chicken and its subsequent incarnations can feed a family for several days. Not only does roasting fill the house with a delicious aroma, Levy writes, but it also creates time for helping with homework. Try pan frying because it's delicious, she advises—and more importantly, it puts food on the table in less than 30 minutes.
Levy also writes about accommodating her children's demands, and in doing so, she illustrates how heeding the clientele's preferences has pushed many a cook to creative heights: When Arwen, her eldest daughter, asked for lasagna to feed her playgroup of nine-year-olds, Levy amped up the standard recipe with sausage and eight garlic cloves. When her six-year-old daughter, Genta, requested macarons for her birthday, she got a fantastically oversize pink macaron layer cake.
Although Levy keeps her children's dietary restrictions in mind, "they don't get to decide everything," she admitted; one question she always asks herself is "How do I make this interesting to me?" It's a confession not often spoken aloud by home cooks, perhaps because cooking has historically been viewed as a duty women owe to others, not necessarily to themselves.
But Levy is an unapologetically unburdened and joyful cook. She never connected with what she described as "a subconscious rebellion against getting stuck in the kitchen like their grandmothers" among her friends outside the food world; to her, cooking has always been a fundamental life skill, not a political statement.
That being said, Levy does include techniques from prominent chefs who also happen to be female. Rosio Sanchez, a former pastry chef at WD-50 and Noma who went on to open the Copenhagen restaurants Hija de Sanchez and Sanchez, offers a recipe for lemon pound cake, which in the book is stripped down to serve as a foundation for any sort of cake. Levy also includes a foolproof technique for poaching eggs in plastic wrap, made famous by Juan Mari Arzak at the eponymous San Sebastián restaurant now carried on by his daughter Elena.
This worldliness is reflected in Levy's own kitchen, where she uses her downtime to teach her three girls where their roots began and may grow.  She and her husband talk about food as a way of experiencing the world, not in terms of what kind of cooking is more valid or rewarding. When the children visit Noma, they're required to try at least a dozen new things, the idea being that tasting delicious and unusual things will help them be curious.
As a result, Levy said, Arwen has begun imagining new flavor combinations, adding chamomile tea to roasted steak and learning to cook her own version of ribollita, a Tuscan bean stew. Genta bakes bread. The children chop vegetables next to their mother—three-year-old Ro included (although, Levy admitted, "I'm right behind her biting my fingernails, pretending everything's fine").
Most of these stories didn't make the pages of the cookbook, perhaps because mothers have fed their babies since the beginning of time. But Levy's way offers an important lesson for everyone who enters a kitchen, both at home and in restaurants, where cooking is typically reduced to a masochistic exercise complete with slavish hours and brutish hierarchies. As Downtime demonstrates, the most difficult challenge of cooking is ultimately not sourcing the right ingredients or learning to balance flavor. It is learning how to nourish yourself while feeding everyone else.
Photographs by Ditte Isager