Mutual Aid Is on the Move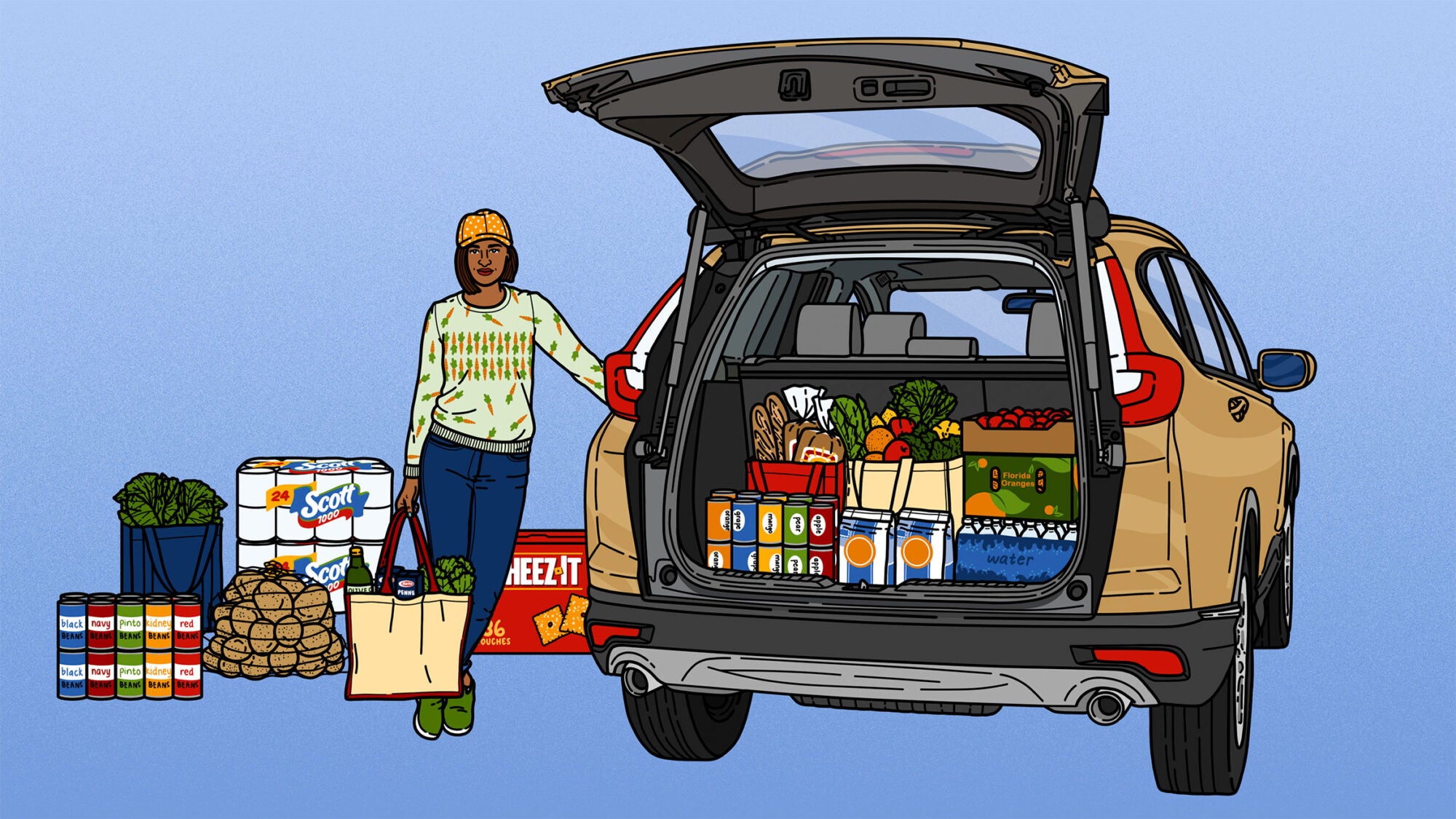 While neighbors helping neighbors is nothing new, the pandemic has mobilized extraordinary networks of free grocery and meal delivery services.
"I think it was profoundly important to everybody to create a system that we would be okay using ourselves," says Sarah Thankam Mathews, founder of mutual aid network Bed-Stuy Strong, which has been distributing groceries and essential supplies to 19,000 residents within the central Brooklyn neighborhood since its founding in March 2020. Mutual aid—a form of political action that's been rising since the pandemic hit hard in spring—presents a symbiotic solution that fosters support among a network of participants. It serves as a stark alternative to the hierarchical relationship between donors and recipients that is inherent to many forms of charity, and it's not exclusively dedicated to fighting hunger. At its core, mutual aid depends on reciprocal efforts for a collective benefit. That form of exchange has always been around, whether or not it's been formally named—from community bail funds to communal financial safety nets in the form of susus. 
Checking in on your community is hardly a pandemic-specific practice, but it's more relevant than ever during a time that uniquely presents health risks, economic hardship, and social isolation all at once. Mutual aid creates opportunities for individuals to fill in the gaps created (and amplified) by insufficient government policy or the limitations of the nonprofits that's saddled with red tape. It can be as simple as neighbors stopping by one another's apartments with the occasional bag of groceries or a hot meal.
Mathews recalls the early days of Bed-Stuy Strong, which started out modestly as a 60-person Slack group back in March. After flyering around the neighborhood, the group's numbers grew to 150 within a day, then 250 the next, reaching 1,000 within a week's time. Today, the network has more than 4,000 Bedford-Stuyvesant residents who power the process of procuring food and supplies, delivering grocery bags to households, donating funds, and more. "The thought that kept going through my mind was: There's not going to be an adequate response from the state, and we need to get organized online and geographically," Mathews says. "I pictured it like a honeycomb of different neighborhood mutual aid groups dotting the city, which is actually, strangely, what happened." 
Through other mutual aid initiatives across the country, community fridges started popping up on corners from Los Angeles to Chicago to New York City. Mutual aid found itself popular in pandemic parlance—with graphic primers circulating on Instagram, tool kits explaining how to start your own network, and thousands of hyperlocal groups compiled in online directories. A community fridge works simply as an open door to give and take groceries, entirely maintained by a decentralized network of volunteers.
"It's the understanding that who is making a [grocery] kit versus who is getting a kit—is the same people."
"The fridges are for everyone and accessible to everyone, because we believe that everyone has a right to have equal and ongoing access to the food and supplies they need, especially during this pandemic," says Kira Morrison, a volunteer with Los Angeles Community Fridges. These refrigerators are constantly replenished, with stockage updates coordinated through Slack, so a fridge could go from being stocked with heads of lettuce and leafy greens one morning to being replenished with gallons of milk and cucumbers the next. 
"It's not a one-sided process," says Imani Henry, lead organizer of Equality for Flatbush, a Brooklyn-based organization focused on police accountability and housing rights. "It's the understanding that who is making a [grocery] kit versus who is getting a kit—is the same people. Just because you're on the phone doing [grocery] orders doesn't mean the same person taking those orders may not also be someone receiving food." In March, the group introduced #BrooklynShowsLove, a mutual aid project supplying groceries and distributing funds. Within three months, deliveries totaled 771 groceries kits throughout 27 neighborhoods. As the initiative grew, and donations reached six-figure sums, it allowed them to open a dedicated food distribution space in October, which now accommodates up to 100 deliveries per week. 
Often, these networks are dedicated to supporting local businesses as much as they are to supporting households in need of food. Bed-Stuy Strong partners with Brooklyn Packers, a Black-led, worker-owned food cooperative, to source and pack grocery orders, which keeps the money they spend within the community rather than directing it toward national grocery franchises. When Trinh Banh cofounded Good Good Eatz, mutual aid was equally passionate about saving the mom-and-pop shops of Oakland's Chinatown as it was about feeding the local elderly Asian community members with food from those same restaurants—like meals of braised pork with bok choy, potstickers, and carrots prepared by Japanese restaurant Sobo Ramen and grilled pork banh mi from Cam Anh Deli. "It's very circular, and it keeps somehow evolving in a way where new people and partners find ways to fit," says Banh. 
Rooted in this understanding of community is the idea of food sovereignty—the autonomy to have healthy, culturally appropriate, and sustainably sourced meals freely and affordably available. "We didn't just choose the menu in a vacuum. It's based on trying to accommodate all of our community as best we can on what would be better for Creole-speaking folks, or what would culturally feel good for Haitian folks or Bangladeshi folks," Henry notes, adding that there's a sense of dignity you get when you can choose from culturally specific options such as several different types of beans, lentils, and rice. "What's a grandma in Chinatown going to do with a block of cheese?" adds Banh. "Give her a block of tofu, and she'll be happier—the cheese would go to waste otherwise." 
Henry describes the contents of the #BrooklynShowsLove grocery kits as "staples, but also joyful things," adding, "That's where the love comes in." Alongside a grocery list of staples to choose from, like loaves of bread, canned beans, and meats, you'll find Cheez-Its, tea biscuits, Capri Sun juice packets, mango juice, and cheddar bay biscuits—a small gesture toward diversity in food choice beyond the basics can serve as emotional nourishment, too. 
A larger theme of these mutual aid networks emphasizes solidarity over charity, which distinguishes them from more mainstream food banks, NGOs, and nonprofits. Starting in June, The People's Bodega mobilized in the literal sense—by providing free PPE, hydration, and hot meals at various protests and voting sites across Los Angeles and New York out of their car trunks—while Fuel the People feeds protestors in New York and Washington, DC, with food sourced from BIPOC-owned restaurants. "It's also rooted in this hope that in doing this, the people engaging in it feel equipped to work together to change political conditions, too," Mathews adds. She emphasizes how these networks are composed of ordinary people, privy to the survival needs that have to be met—without judgment or criticism. 
"We're not providing services," says Henry. "We're taking care of our people. We're taking care of ourselves. We're taking care of our community. We have each other's back." 
Ways to Support a Mutual Aid Network
Donate to mutual aid networks mentioned above:

Bed-Stuy Strong

,

#BrooklynShowsLove

,

GoodGoodEatz

,

The People's Bodega

,

Fuel the People

—or a network

within your own communities.

If your neighborhood doesn't have a mutual aid network yet, you can look into

starting your own

. 

Volunteer your time in-person or remotely. In addition to distribution, shopping, assembly, and delivery, you can offer help with tasks like fundraising, administrative work, graphic design, and phone-tree calling from home. 

Stay up to date with mutual aid networks' most urgent needs via social media to act when you can, and share them with others.