Mung Beans, Milk, and Sugar Is a Revelation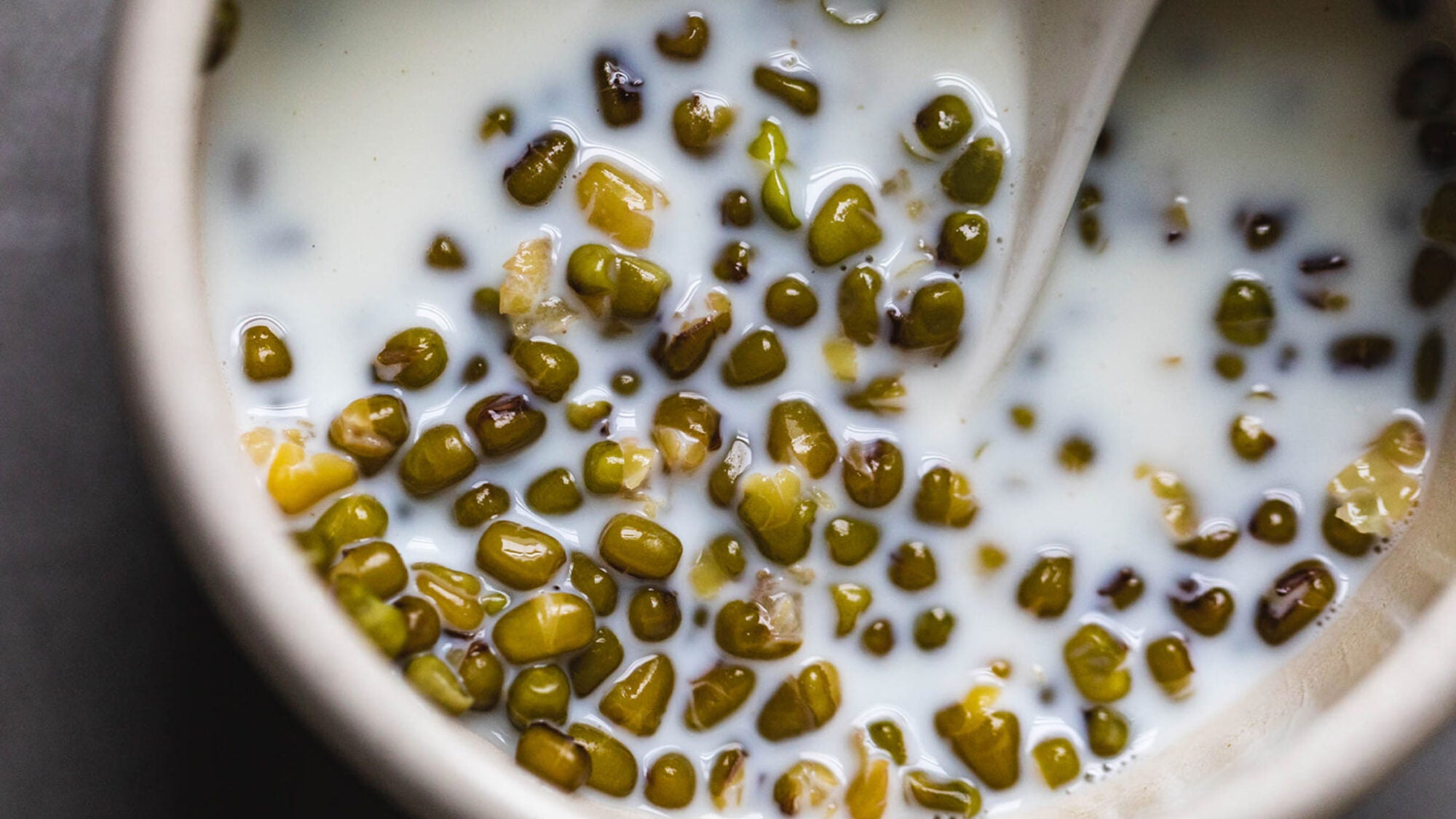 The combination brings back after-school memories of comfort in a mug.
While some people wax nostalgic about the hot chocolate or freshly baked cookies they ate as an afternoon snack as a kid, my memories go straight to warm, sugary cups of mung beans. It's a recipe my mother brought with her to the dusty roads of Fresno, California, from her childhood home of Mariveles, a fishing town on the tip of the Philippines' Bataan Peninsula. While my brothers and I grew up catching dragonflies and wrestling our rowboat from the tangles of water lilies, my mother would tell us stories of growing up in the rainforest, showing us photos of her smiling on rocks slick from waterfalls or clutching a guitar under the shade of palm trees.
When she came to the United States and settled in Fresno in the early '90s, my stepdad, who is Puerto Rican, handled the day-to-day task of feeding four ravenous children: breakfast (bought in pillow-size bags of off-brand Cocoa Puffs), lunch (PB&J and potato chips), and dinner (a rotation of spaghetti Bolognese, shrimp ceviche, and shredded chicken tortas that I never tired of). Both he and my mother were doctors, and my mother, in particular, seemed allergic to sitting still for more than ten minutes—her white coat was always within arm's reach.
On the rare occasion that she did cook, they were recipes from her hometown by the sea: sharp-smelling dishes requiring only a handful of ingredients and brimming with vegetables. Sometimes, when she had leftover mung beans from making monggo guisado (glorious creamy, garlicky Filipino mung bean stew with shrimp and spinach), she would use the leftover beans to make us a dessert she ate as a kid: mung beans dusted with sugar and served, brothy, in a cup.
After boiling the hard, pebbly beans until they bloomed open in a large pot and draining them, she would swirl them in a coffee mug filled with milk and sugar. The soft beans were like sponges that soaked up the sweet milk. I would savor each bite, feeling the sugary grit that hadn't quite dissolved between my teeth. During the summer, she would add cubed ice to offer relief from the hot Central Valley summers. She told me once that in the Philippines, when her family could afford it, she even doused the beans in condensed milk and poured them over ice cream.
While I ate cupfuls of this stuff in one sitting, my mother would sit at the kitchen table with me. Sometimes we would eat as she flipped through paperwork and I reread The Adventures of Sherlock Holmes. Often, I would listen to her talk about work, people we knew, and her stories from Mariveles that always felt like something out of a storybook.
These days, I make the recipe over my own stove, waiting for the beans to break open and bloom to a tenderness just like she does. I save a large tub of the cooked beans in my fridge to eat throughout the week, reaching for cupfuls whenever I miss home, Fresno, and those kitchen table conversations.
 RECIPE: Sugary Mung Beans
In Don't Call It Comfort Food, a TASTE essay series, writers share the recipes (and not-recipes) that define comfort for them. In last month's column, Rahanna Bisseret Martinez wrote about the cool, refreshing hibiscus drink that spans continents and centuries.