From MTV VJ to Vegan YouTuber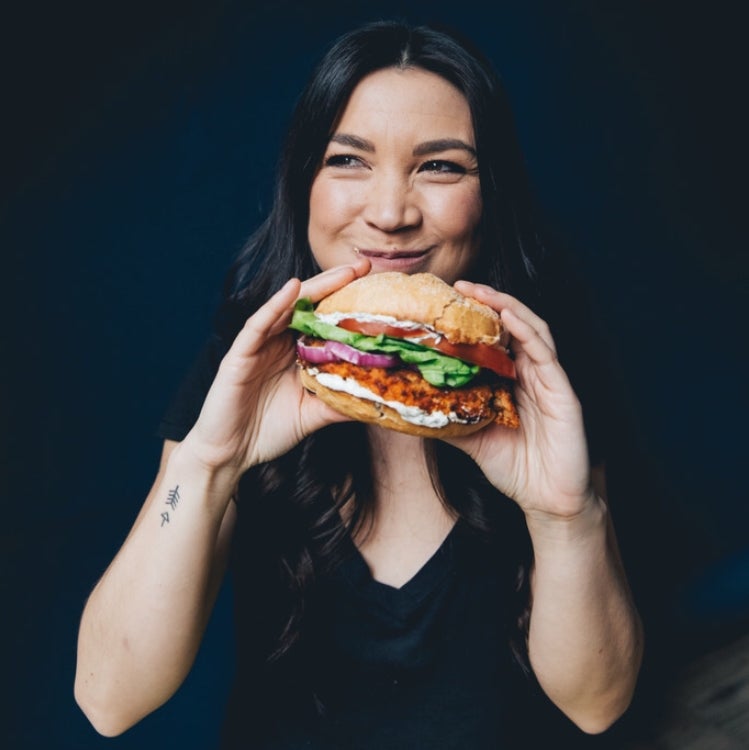 Popular YouTuber Lauren Toyota brings comfort food touches, and a party vibe, to plant-based home cooking.
For Lauren Toyota, the Canadian blogger and former MTV VJ behind the popular Hot for Food YouTube channel, veganism is about stretching the plant-based diet to its creamiest, crispiest, maximalist ideal.
Toyota has been cooking vegan for nearly a decade, so it's only natural that she has decided to write a cookbook. Featuring 101 recipes that cover a range of comfort food staples gone vegan—think Buffalo-style crispy cauliflower, oyster mushroom poboy—Hot for Food: Vegan Comfort Classics is the result of nearly 10 years of the author's research, and cravings. The book is filled almost exclusively with foods that traditionally contain meat or dairy—you'll find only one "bowl" recipe (a deconstructed banh mi)—and plant-based versions of bacon mac and cheese, Philly cheesesteaks, and chicken pot pie (the latter in an interesting soup form).
Meeting with Toyota at a test kitchen in her hometown of Toronto, in between filming three episodes for her Vegan It series for Canadian magazine Chatelaine, I found her on set joking around with her crew and congratulating everyone on a smooth day of shooting. As we found a quiet spot to settle down for lunch (plates of the lasagna and cheesecake she had just made in front of the camera), Toyota spoke of how her struggle with finding a variety of vegan dishes in restaurants led her to create Hot for Food.
"It was all raw and chewy and too healthy!" she told me of her early impressions. "Vegan food just wasn't comforting." Pivoting into veganism after being an admitted "sort of vegetarian," she missed the hearty and rib-sticking cooking of her previous culinary life. But instead of complaining, she took matters into her own hands. "The only time I was having fun eating was when I was making it myself," she recalls of her early DIY comfort dishes. She decided to cook more and more at home, eventually rolling the cameras as she went and creating the Hot for Food blog in 2010, and transferring her energies to a YouTube channel in 2014.
It took years for Hot for Food to become Toyota's singular focus. While most YouTubers and influencers attempt (and usually fail) to make the jump from online fame to television fame, Toyota worked backward. For ten years, she worked as a television host in Vancouver and Toronto for popular channels Much Music and MTV Canada—interviewing the likes of Justin Bieber (she touches his hair) and Graduation-era Kanye West (Kanye in his prime)—while blogging and eventually video blogging on the side between 2010 and 2014. While working full time as a television personality, she grew her audience through Instagram. Often traveling and showcasing her favorite vegan spots around the world, her goal was to show how easy it is to become vegan. "I could just snap what I was eating at a restaurant without writing. Instagram gave me the momentum to keep Hot for Food going."
Being a familiar face on Canadian television, it'd be easy to assume her fan base followed her as she began blogging, but her mostly teenage audience didn't exactly follow her to WordPress, where she began. "I know for a fact the way I built up social on Hot for Food, those were all organic new audiences. They weren't watching me on television," she says of her starting Hot for Food. That she would easily find a new audience should have been a no-brainer. Toyota's videos eschew popular but grating YouTuber affectations (you won't hear the ubiquitous and gratuitous "HEY, GUYS!!"), and in person and on camera her presence shows how genuinely happy she is to be making a living off her passion.
After amassing a huge following, she left television in 2014 to pursue Hot for Food full time, though never assuming her passion would ever turn into a book. In fact, in the intro of Vegan Comfort Classics, Toyota writes that she was against the idea of ever writing a book in the first place. Explaining how she naturally wants to do the opposite of whatever the trend of the moment is, she didn't think there was much space for her to write a book. "I didn't want to do one because I thought everyone with an Instagram following had a cookbook," she recalls. Soon she realized that wasn't necessarily a bad thing, but rather the next natural step for Hot for Food.
To Toyota, despite there being many vegan comfort-food bloggers and vegan comfort-food books, each has their own style. "What I put into a vegan cookbook is different than what you would put into a vegan cookbook." If creating Hot for Food has taught Toyota anything, it's that there's room for everyone—especially when it comes to promoting a vegan lifestyle.
Only Vegan Comfort Classics isn't a book that was written with vegans in mind. "I don't think about vegans when I'm creating things; I think about people who aren't vegan." In fact, Toyota often jokes that she's trying to trick us all into becoming vegan. Having just eaten the lasagna and a slice of blueberry cheesecake she prepared for her shoot, it makes sense. The lasagna was rich and jam-packed with peppers, managing somehow to be saucy, creamy, and perfectly cooked without falling apart or having the grainy texture that's common in plant-based cheeses. Following with the baked blueberry cheesecake featured in her book, I was shocked to find out the crust featured only four ingredients (rolled oats, brown sugar, sea salt, and vegan butter). It was almost impossible to tell that her food had no animal products.
Rather than beating nonvegans over the head with a sense of moral superiority, her approach is gentle and encouraging. "I think the way I do it is in a subtle and approachable way that's more fun and enticing," she tells me. With Vegan Comfort Classics, one of her goals is simply to teach nonvegans how to slowly change what they believe are pantry staples. "I think people can start making these swaps in their pantries whether or not they're vegan, and slowly get used to using them," she says of some of her more frequently used items, like nutritional yeast.
Toyota sees her book less as a comprehensive vegan bible and more as an inviting entry point into veganism. "It's more of a transitional book if you're not a vegan; it's more about how to eat less meat." Once nonvegans start making the switch from animal-based products to plant-based, "you could eat from my book every day," Toyota promises.
When creating the recipes for her book, she explains how she began seeing her table of contents like a wish list of dishes she had wanted to eat, and dishes that hadn't yet made it to her channel. Going back to how she views eating food as an emotionally nourishing experience, she explains her inspiration for most of her recipes.
"I have a lot of stories and memories related to food I've eaten," she says. "I didn't think of it at the time, but it all plays into what I created here." To Toyota, that means eating and re-creating flavors and textures from even before she committed to being vegan. "I want to eat mac and cheese out of a pot. That's what I did when I was younger. I want to be taken back to that moment."