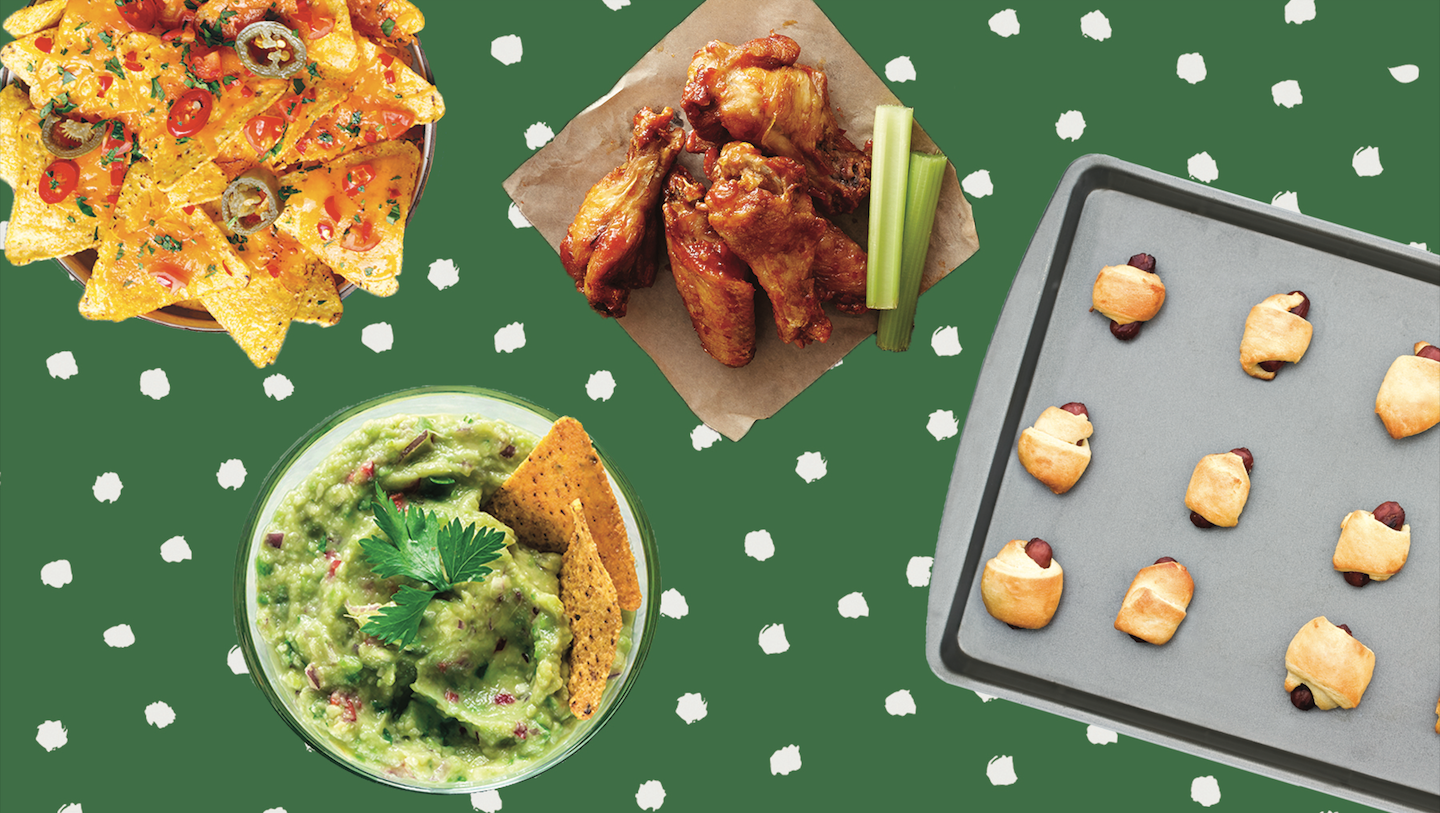 When you're an expat in China, Super Bowl snacks mean barbecue-pork-flavored potato chips, cases of Qingdao, and a lot of improvisation. 
When my Monday 6 a.m. alarm went off, I knew a tiring day was ahead of me. The sun had just risen, and a new semester at NYU had just begun. But I didn't have an 8 a.m. Mandarin lecture to attend or an accounting problem set to finish—it was Super Bowl Sunday in Shanghai, and I had a long day of football (also, junk food bingeing and day drinking) ahead of me.
I was 19, and this was my first Super Bowl party—albeit thousands of miles away from where the game itself was happening at the University of Phoenix Stadium, and 15 time zones ahead. Barely 7 a.m. and still groggy, as U.S. spectators for the game between the New England Patriots and Seattle Seahawks settled into their second or third Michelob Lights, I ordered a coffee, which the bartender quickly turned into an Irish coffee.
During my first year of college, my classmates had reasoned that the Super Bowl was practically an American holiday, which justified us skipping our Monday classes, just like we would with Thanksgiving. Turkey Day eventually became a school holiday, but we didn't get as much leniency with the Super Bowl. We had to fake sick, sending our professors emails about a sudden bout of food poisoning or the flu. And then off we'd go to Boxing Cat Brewery, an expat bar that was streaming the game.
Well known for its wild Halloween parties, this place was a watering hole for American expats in Shanghai. It was always a dependable spot for hoppy IPAs and 14 percent ABV imperial porters on tap, with a menu of American classics like burgers, mac n' cheese, and gumbo.
Having never been at a bar this early, I was seeing it in a different light—quite literally. The game was projected onto huge screens in a lounge area made to look like Central Perk in Friends, and they rolled out a special breakfast buffet for the occasion. With the flash of a neon pink bracelet purchased upon arrival, bottomless mimosas flowed at the bar.
At the buffet, I loaded my plate with hash browns, breakfast sausages, and fries. Heavy stuff. The food was nothing special—it sat out in chafing dishes, where crispy fried bits turned limp and eggs turned a little rubbery. But who was I to judge the food? Everyone was here to watch the game, and it got the job done when it came to American breakfasts. I was longing for a platter of sunny-side up eggs, buttered toast, bacon, sausage, and potato hash back at my local diner, and this was the closest thing I'd get for now.
Once we had an apartment of our own, we skipped out on the early morning trip to Boxing Cat and hosted our own Super Bowl viewing party, complete with a big-screen TV and plenty of couch space. Classic Super Bowl foods like guacamole, saucy Buffalo wings with blue cheese dressing, and giant sub trays were expensive imported foods, so we had to improvise a little. Sure, we could have ordered Italian B.M.T.s from Subway, but those were measly in comparison to the six-foot-long subs stuffed with every deli meat possible.
The coffee table was littered with the closest approximations we could find: barbecue-pork-flavored Lay's, shou zhua bing with bacon and egg, and plenty of Qingdao and Suntory beer in place of Heineken and Budweiser. We made chicken wings in a wok, had small batches of nachos coming out of our tiny toaster oven, and ordered egg McMuffins and hash browns to our door to make up for the rest of the food our pantry supply couldn't accommodate.
When you're far from home, you have to make do with what you have. And that didn't apply to just the food. The commercial breaks faded to black, since streaming sites wouldn't allow it. Our glitchy VPN lagged by several minutes, so we'd have to check the ESPN app to see which team was leading in real time. And when we found an unofficial streaming site that finally worked, it cut out during the last 60 seconds of the game, so we scrambled to find a YouTube clip of the Patriots' game-winning touchdown before it got taken down.
At some point, I'll probably go to a "real" Super Bowl party now that I'm back Stateside, where there will be a proper cable channel. But now that I'm back in the land of flowing seven-layer dip and submarine sandwich platters shaped to mimic football stadiums, I find myself craving the yearly ritual of a 7 a.m. mimosa and a makeshift shou zhua bing breakfast sandwich.