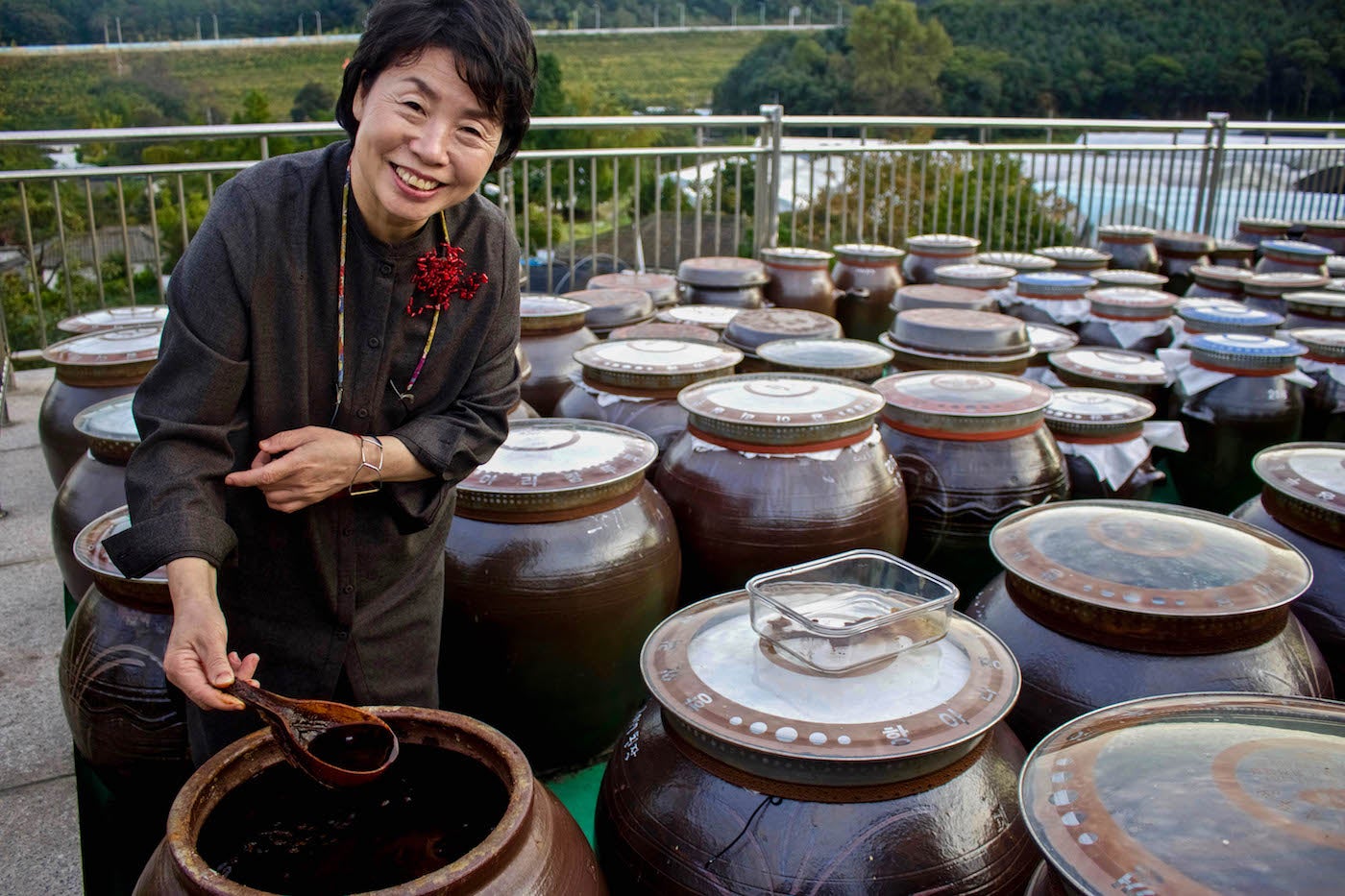 In Korea, the home kitchen revolves around a set of three ancient fermented sauces called jangs. One woman is using science to uphold traditions. 
When I first heard of Jong-sook Park, I was eating lunch with Jinmo Jang, the former chef of AN&D Dining, at Mingles, a sleek one-Michelin-starred modern Korean restaurant in Seoul's posh Cheongdam-dong district. Over rare sojus and gem-like morsels of reimagined Korean foods, Jang and the chef of Mingles, Mingoo Kang, recounted how they found their many "gurus," whom they had sought out over the years and around the country to teach them about Korea's ancient cooking traditions.
One now-famous guru specialized in temple cuisine; another was making classical kimchi, the kind that is white and glassy, not a storm of chile, like modern-day versions. All were women, all a generation or two older than these young male chefs. But the one Jang talked about most excitedly was Jong-sook Park and her "100-year-old sauces"—known as jangs. While trained in surasang, Korean royal court cuisine, she is a food researcher and a consultant to large corporations, like Shinsegae, a department store chain that was spun off from Samsung, to help them make premium products for the masses. Jangs, as any fan of Korean food knows, form the foundation of the country's cooking, their fermented flavors imbuing a dish with its unmistakable Korean-ness.
There is ganjang (soy sauce), doenjang (fermented bean paste), and gochujang (fermented chile paste), which punch up the country's home-style stews (jjigaes), braises (jjims), and grilled-meat marinades. At Mingles, the jangs are worked into intricate, stylized dishes with premium meats, like lamb chops and beef tenderloin, as well as the signature dessert "jang trio" of doenjang crème brulee with lush vanilla ice cream, puffed rice dusted with gochujang powder, and soy-sauce-tinged pecans. Somehow Kang integrated the sauces' funky flavors into a sweeter, sophisticated context without any challenging haute-cuisine weirdness—the dessert had all the craveability of a Snickers bar. It was clear that the culinary throughline from Korea's monarchical glory to the war-torn era to trend-setting modern times was these fermented sauces. I had to meet this master of the jangs.
I arrived mid-afternoon at Jong-sook Park's culinary laboratory and garden in Seongnam, a countryside town 20 kilometers south of Seoul. She emerged out of a white three-story house, surrounded by dark green tufts of shrubs and spindly herbs, dressed in a dark gray tunic pinned with a brilliant red-beaded brooch and her short, coiffed black hair tucked behind her ears. My friend and translator for the day, Hye Young Lee, who had moved to Seoul two years ago, was following behind her. She grasped both of my hands and looked at my face, beaming like a favorite aunt. "Please call me Mrs. Park," she said and then turned to the plants behind her.
On Mrs. Park's roof, and all around her laboratory yard, were a couple hundred large onggi, the dark brown earthenware pots used to make jangs. But sauce wasn't her main concern right then. Before I could say much, Mrs. Park had twisted the purple flower off a plant and placed it into my hand. It was sweet and bright. She darted around her front yard, picking nips of buds and leaves for Hye and I to taste: sawtooth coriander, dandelion, Korean mint, and Szechuan peppercorns.
It was an impromptu lesson on Korean food. The sesame leaves here she coated in sticky rice powder and then fried. The red beans her husband favored over there were mixed with rice for a simple slightly sweet and nutty dish called patbap. What I had mistaken for the decorative shrubbery you'd find in front of any suburban home was the living extension of her culinary laboratory.
The actual lab inside looked more like an exhibition kitchen, with plump orange persimmons ripening by the tall windows, an expansive kitchen island, and shelves stacked with traditional dishware, copper pots, and the squat, carved wooden tables once used for eating when Koreans only dined sitting on the floor. As Mrs. Park set about making some yuzu tea, I noticed a Korean edition of J. Kenji López-Alt's cookbook, The Food Lab: Better Home Cooking Through Science, on a shelf.
While Mrs. Park is now fielding the attention of local and international chefs—Eric Ripert and Blanca chef Carlo Mirarchi both visited her on trips to Korea—she had come to a culinary career a little later in life, almost by accident. Thirty-five years ago, she had been running a coffee shop across from a medical school when an administrator there asked her to run the medical cafeteria as well. She decided then that if she was going to cook for a living, she was going to learn from the best, and she started taking cooking classes with Hye-seong Hwang and her daughter Bok-ryeo Han, both researchers of Korean royal court cuisine, the highly formalized style of cooking and eating that calls for blue-and-white ceramics and five meals that set a day's rhythm. Hwang herself had learned how to cook at the side of Hui-sun Han, a female palace chef in the Joseon Dynasty court, the last, and longest, of Korea's imperial dynasties. Korean court cuisine had once been dying out, but this line of women, including Mrs. Park, were now keeping it alive.
After drinking a saffron-hued tea made with a yuzu stuffed with chestnut, stone-ear mushroom, and jujube (the red Korean date), Mrs. Park took us up to the roof as the sun began setting behind the mountains and the ginkgo trees caught the last of the golden light. There a couple hundred dark brown and black onggi sat on wooden slats, split between two levels: the top roof we were on and a wide balcony below. The onggi, which were about two or three feet tall, had different decorative tops rimmed in red or orange rings, sometimes trimmed with white dots, and each painted with the year they were made on the side.
Mrs. Park gave us a taste of her grandmother's soy sauce, the 100-year-old version the chef Jinmo Jang had told me about, which she had been adding to over the years, so that new sauce replenished the old one, but still retained some of its long-fermented complexity. It was salty, its flavors prismatic, but somehow you could taste the soy flavor more clearly, as if its complexity and aged mellowness paradoxically revealed more of its simple essence. She opened one pot and with a capacious spoon, lifted up the dark liquid and let it fall back into the pot, twinkling in the rapidly diminishing light. "It's cold," Mrs. Park said, coaxing us back indoors.
By now it was dark outside, and the air crisp; any warmth from the afternoon had evaporated along with the sunlight over the mountains. Back downstairs in the lab, Mrs. Park began heating up a ginger-soy concentrate made last year that resembled a molasses-like slurry. "In Korea, there is a saying: 'Good taste is by hand,'" she told us, referring to son-mot, the Korean principle of cooking by hand without recipes, as we sipped the hot, viscous beverage. It had the spiced complexity of a Mexican mole; you could smell its sweet aroma from a foot away. "I don't believe that," she added. Her faith was in the scientific method.
If I had thought I was coming to visit the keeper of Korea's old ways, it turned out that Mrs. Park, armed with her centuries-old sauce and the mentoring of palace cooks, was forging a new way forward. In her laboratory kitchen, she calculated ratios of salt to water from the best, traditional recipes so that large-scale companies or home cooks armed with recipes from her classes could reproduce Korean food that tasted as it should.
She had worked with Shinsegae for a year to make a kimchi that tasted right and not like some banal commercialized version of the real thing, codifying how the cabbage was cut and how much gochugaru (dried pepper flakes) was added, the stages of drying, boiling, and fermenting measured by levels of their various chemical compounds. She and Shinsegae had also developed a new ordering system so that customers could order the kimchi through its food delivery system to arrive freshly made.
Before war beset Korea, families made their own jangs over generations, and many lost them in the bombings, so in postwar Korea, large corporations moved in to fill the gap with less nuanced, hastily made jangs. Mrs. Park wanted to improve on these readily available jangs and had also been at work on a gochujang project to achieve the same end as her kimchi—a reproducible Korean sauce guided by scientific measures, like temperatures, ratios, and sodium levels, that "didn't sacrifice good taste."
Mrs. Park brought out a tray of sauces and oils, along with a pile of small wooden spoons, for Hye and I to taste. There were two rich, velvety gochujangs, one made with sticky rice powder and the other with barley powder, as well as an 11-year-old soy sauce, rounded out with chicken stock and fish sauce. There were also a light and peppery perilla oil and a wild sesame oil that tasted purer and fresher than any regular old sesame oil I'd ever had. Tasting them made me think I had previously underestimated the delicacy of Korean food.
"Some people think that the old traditions are best, but I think that's dangerous," she said, as she packed up bottles of each beautiful artisanal sauce and oil for us. They had been made, not merely by hand, but with the ratios she had perfected over the years. And then with a smile, this keeper of the 100-year-old sauces looked at me as if to impress the point and said, "'Innovation' is my favorite word."