In Mexico City, Pozole for Every Mood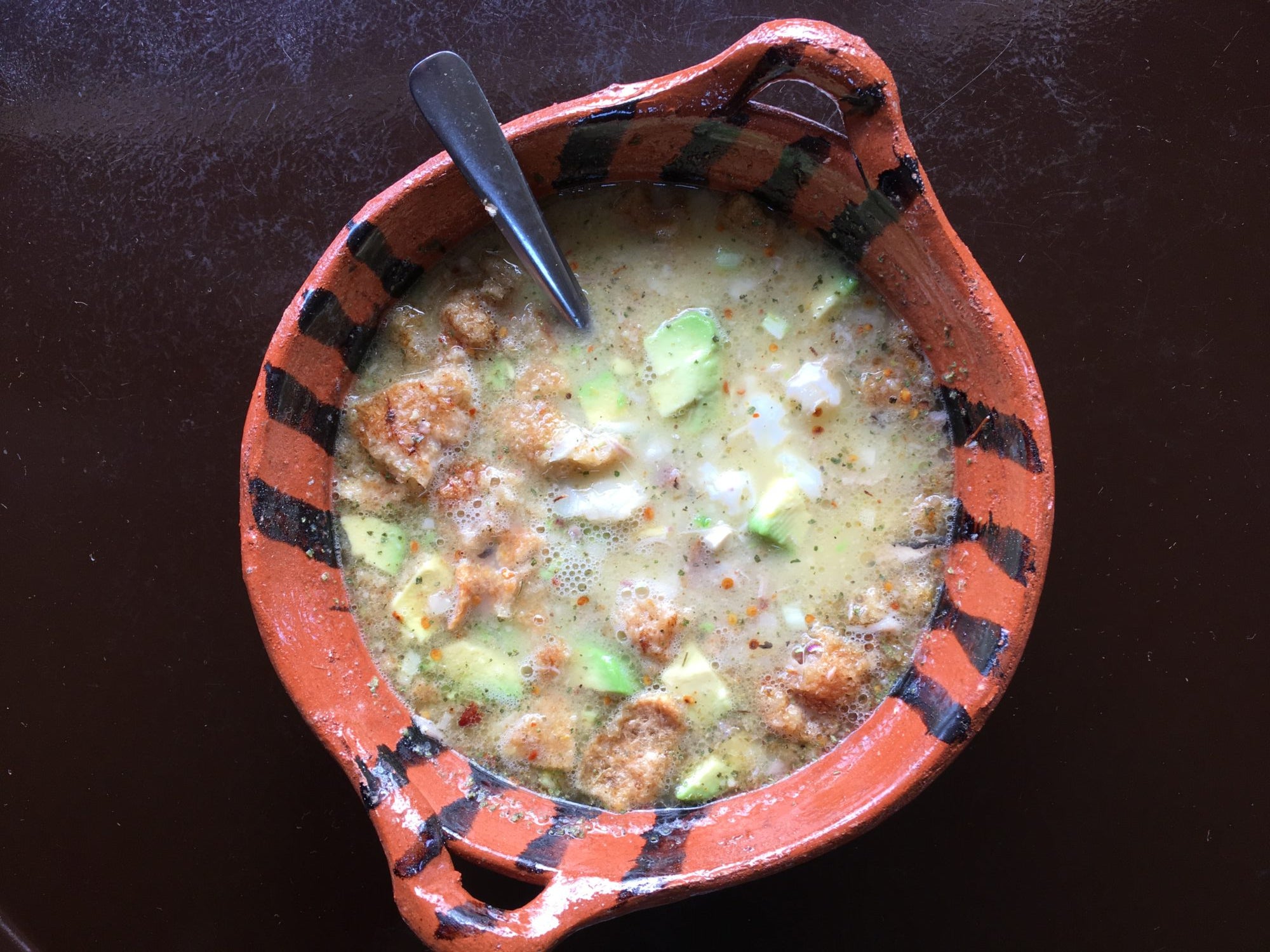 On the hunt for the worthiest pozole in Distrito Federal.
Attend a party virtually anywhere in Mexico and you're likely to be treated to a bowl of pozole, a comforting stew of hominy and pork served at every type of Mexican celebration since recorded history was, well, a thing. So when I recently moved into a new apartment in the Centro Histórico district of Mexico City and wanted to treat myself to a special meal with a friend, pozole was the obvious choice.
There are countless regional variations of pozole, the most celebrated being pozole rojo, from the western state of Jalisco, seasoned with mild, faintly smoky guajillo or ancho chiles. Pozole verde, another take, can get its color and verve from fresh herbs, like the distant oregano cousin epazote, or pepitas (Mexican pumpkin seeds, which have a pretty greenish hue), or both. Pozole blanco is the stew pared down to its essence; it obtains complexity mostly from its garnishes—which, regardless of pozole type, tend to be the fundamental trinity of chopped raw white onion, dried oregano, and lime juice.
Among such abundance, then, where to find the worthiest pozole in Mexico City? I called on Margot Castañeda de la Cruz, the food editor of Chilango, a magazine about Mexico City culture. She responded without hesitation, saying, "That's easy. El Pozole de Moctezuma. It's nearly 70 years old." The establishment, she warned, was not exactly in a designer-boutique neighborhood.
When our taxi pulled up in front of a stucco apartment building with no visible indication of a restaurant within, my dining companion and I exchanged a look. Uncertainly, I pressed a doorbell whose placard read simply Pozole, and after a pause we were buzzed into the foyer of the building. In the absence of a better idea, we climbed the stairs to the second floor. We were, I supposed, either on our way to the restaurant or to Señor Pozole's apartment .
Seated in a dining room that was clearly a converted domicile, we ordered pozole blanco. With what toppings, the waitress asked us. Well, what she did recommend? "The works," she proclaimed with confidence. The works it is, we agreed. A glance at the menu as she disappeared into the tiny kitchen disclosed that this entailed the usual condiments and garnishes plus a Dada-esque list of items including raw egg, tinned sardines, fried pork rinds, radishes, avocado, fresh chile, and…mezcal?
Soon two steaming earthenware bowls were set before us. Into each the waitress cracked an egg, stirring them in slowly so as not to cause them to stiffen and scramble. At once the pozole thickened ever so slightly and turned a beautiful golden color. Then a cavalcade of onion, oregano, dried pequin chile, chopped fresh serrano chiles, and lime juice—plus half an avocado apiece. As she mashed in the sardines, I wondered if we'd been overambitious, but it was too late; here came the fried pork rinds, crumbled directly on top. At last she stood back expectantly.
And the mezcal?
"Try this first," she said with a smile.
Even the friend I was with, a lifelong resident of Mexico City, pronounced it the best she'd ever eaten. Fortified by the avocado and egg, brightened by lime and fresh chile, with the sardines adding the subtlest oceanic whiff, it was pure, nourishing, and extraordinarily satisfying.
Then a small quantity of mezcal was mixed in, and our reactions monitored. The faint touch of alcohol somehow both receded into, and lifted up, the rich landscape of surprisingly harmonious flavors. An odd yet marvelous addition—but where did this tradition originate? Intrigued, we inquired after the owner, and soon Jerónimo Alvarez Gerduño, a friendly man in his 40s, was sitting at our table.
El Pozole de Moctezuma was once his great-grandmother's residence, he explained. Pozole blanco being not just a family favorite but also bearing ties to her genealogical lineage—it's the pozole of choice in Chilpancingo, Guerrero, where she came from—she'd tried her hand at selling it in her apartment and soon had a hit on her hands. The mezcal, Gerduño confided, had been his own innovation. What had made him think of it? "It seemed," he said, considering, "like the right thing to do."
Over a round of mezcal minus the pozole, we toasted the fact that even in a tradition with roots that date back to antiquity, every so often a wonderful little flourish can still come along and make it even better.