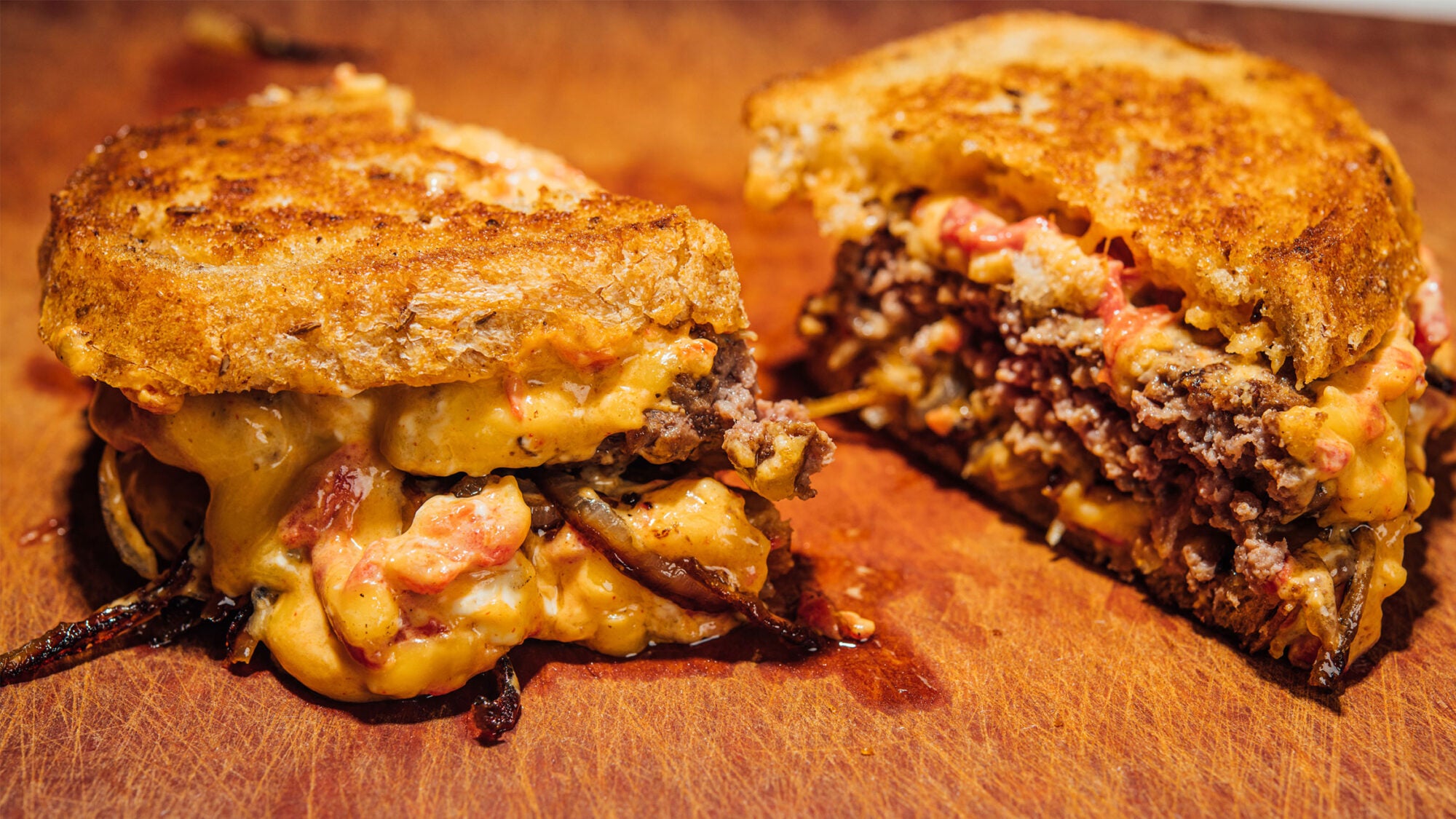 The greasy spoon and diner fixture gets a fresh new look with a whole lot of pimento cheese.
Maybe it's because of its association with midnight diner runs and late-breaking dinner plans, but I spent most of my life thinking that the patty melt was just a slightly crustier, slightly less glamorous version of a hamburger. The sandwich traditionally consists of a thin ground beef patty, griddled and topped with a heap of caramelized onions and a couple slices of cheddar or American cheese, finished off between two slices of rye bread like a grilled cheese sandwich.
The patty melt that changed my mind was at MeMe's Diner, in Brooklyn's Prospect Heights. The melt, which has been name-dropped by pretty much every review of the restaurant from Eater to The New Yorker, is served on slices of toasted marbled rye with a grainy, mustardy sauce, a tangle of caramelized onions, and lots of American cheese (melted onto both pieces of bread for good measure).
Although the blueprint for the patty melt is widely thought to have been invented in the 1950s at William "Tiny" Naylor's drive-in restaurants in Los Angeles, it has an honorary home in classic New York diners like Odessa, Shopsin's, and Kellogg's Diner. As a new wave of hip diners opens up in New York and the Hudson Valley, channeling the divey charm of their workaday predecessors, the sandwich is enjoying a second coming—laced with nostalgia and sharp cheddar.
For Mike Cioffi, who grew up in Brooklyn, it was a go-to order on the menu of 24-hour spots like the Del Rio Diner in Bensonhurst that he frequented as a high schooler. "Mine was always with cheddar and onions, and the toastier the bread, the better," he says. "But that would always be a late-night, after-partying snack."
In 2011, when Cioffi bought a 1964 roadside dinner in the Hudson Valley and began transforming it into the upstate destination now known as the Phoenicia Diner, he wanted to build a menu that was threaded through with local ingredients and flavors (smoked trout from the Catskills, tomato juice from Migliorelli Farms), but that also recalled some of the classic plates he remembers ordering as a teenager in Brooklyn. The patty melt was a no-brainer, especially as a dish that was easy for a roadside diner's minimal kitchen setup to prep and execute.
"You're not really cooking them to temperature like a thicker burger, so you can kind of nail them every time," Cioffi explains of the melt's uniform consistency and near-universal appeal. One of his chefs, Chris Bradley, suggested giving the sandwich a Southern accent with a thick layer of pimento cheese on each slice of bread, and soon the pimento cheese patty melt became a staple of the menu.
In an era when we're often sold on the idea of burger purism—patties that rely on little more than the character of the dry-aged beef blend and some precise cooking—it can be freeing to eat a thin, charred patty that's been positively doused in sweet onions and cheese. It's a sandwich for people whose favorite part of a cheeseburger is the cheese—not a carefully calibrated Pat LaFrieda blend.
"It can't have enough cheese on it," Cioffi instructs, adding that the ideal meat-to-cheese ratio is about 50-50. And when it comes to the seeded rye, "The toastier the better."