Melissa Clark's Most French Pantry Advice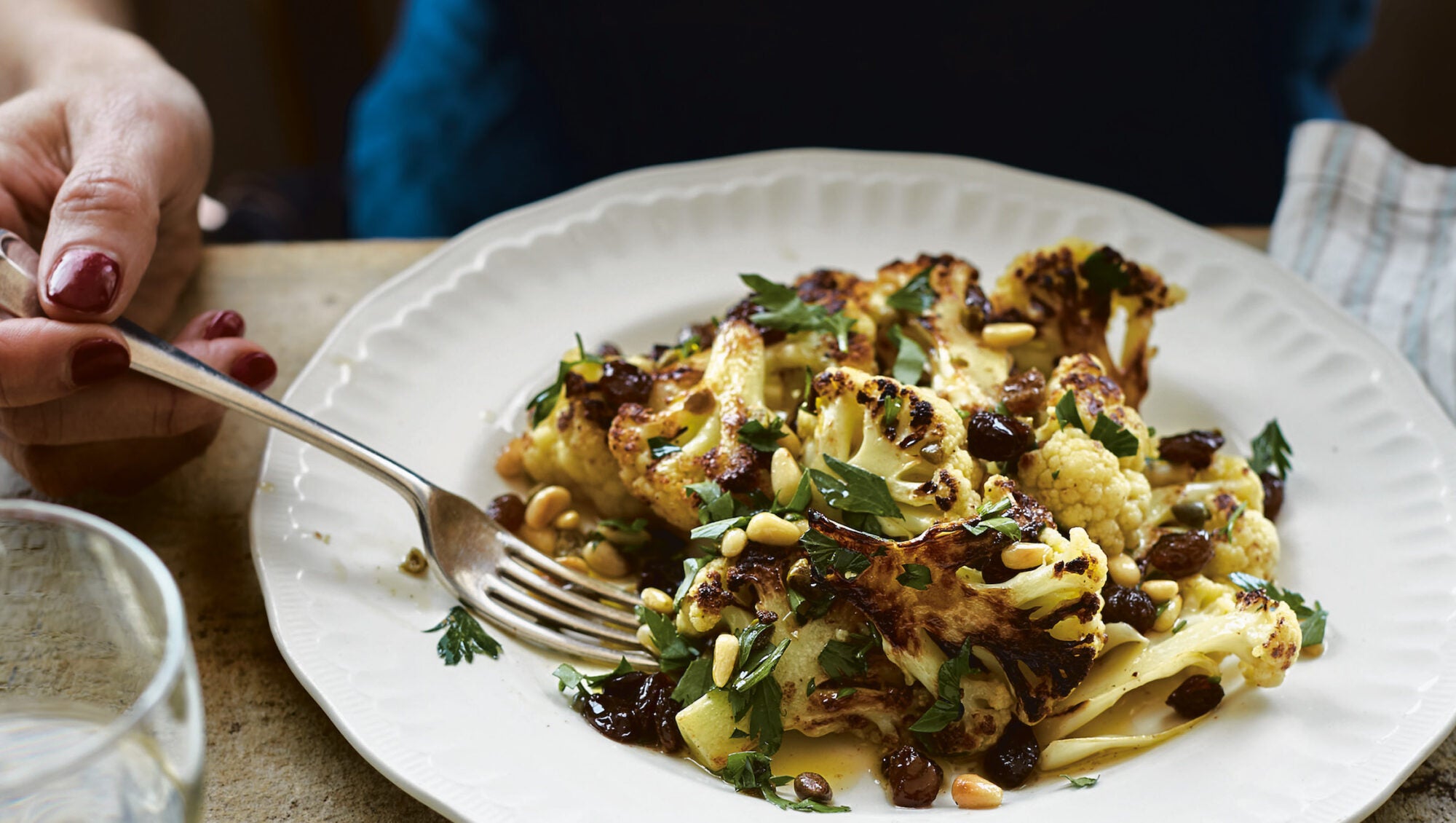 A new cookbook by Melissa Clark channels rustic French simplicity.
Maybe you've been following Melissa Clark's inventive pantry cooking over at the New York Times these past few weeks (the scallion trick is a serious game changer), or maybe you've been cooking through some of her classic recipes, like the mega-popular sheet pan harissa chicken. Either way, there's a good chance that Clark's presence has been felt in your recent home cooking. She might just be one of the most influential home cooks of our generation.
Her latest book, Dinner in French, was written long before shelter-in-place orders started to change the shape of our daily working, shopping, and eating habits. But as we learned very recently from the book, the French are an extremely resourceful lot when it comes to making something amazing out of a jar of capers, or turning a couple eggs into a rich, nourishing lunch, or turning a small stack of lumpy potatoes into something elegant. We caught up with Clark to talk about some of these tricks, and how they can work well for all of this home cooking under duress.
First of all, it's been quite a few weeks. How are you doing, and what have you been cooking?
We are all fine here in Brooklyn. I've started a series for the NYT using pantry ingredients to help readers figure out what to do with all those beans and cans of tuna they bought. So I've been making recipes from that, including pasta with tuna and anchovies, and skillet chili. I've also been eating a lot of sardine sandwiches. But I do that anyway.
You've written a little bit for the Times about pantry ingredients that can really come to the rescue right now. And reading Dinner in French, I'm realizing how much French cooking relies on pantry ingredients. Tell me a little bit about the French pantry.
It's pretty close to what we have in the US, with the addition of things like capers and anchovies, which can add a lot of flavor. But beans, pasta, lemons, garlic, and bread crumbs all loom large. Also, the French are more likely to have a wider variety of cheeses on hand in the fridge, which I love to use in fromage fort, a dish that combines the ends of all the cheeses in your fridge with white wine, garlic, and herbs. It's an excellent spread.
Your book has a whole chapter about eggs, which is pretty helpful at a time like this. Any favorite techniques from the book that you really hope people will try?
Now is the time to nail learning how to make jammy eggs! The almost hard-cooked ones with creamy, gelled yolks that are never dry. I love these served French style, dolloped with aioli or mayonnaise (and, if you've got eggs, you could also learn how to make homemade mayo, which is really easy with a blender). Also, omelets are great for working-from-home lunches. I have a recipe for one that's filled with garlicky tahini (another pantry staple). It's creamy and rich and so easy.

I sort of associate French cooking with almost daily trips to the market for fresh ingredients. As people scale back on their shopping trips, what are a few fruits or vegetables to stock up on that will go a long way with these recipes?
Agreed, the French live by their daily trips to the market for the freshest food. Sadly, now isn't the time for daily market runs. But there are long-keeping veggies that last for weeks in the fridge. Radishes, fennel, celery, and carrots are great examples. You can smear any of them with an olive tapenade and feel very French. I'm also a huge cabbage fan, and that's great to have to sauté with garlic, jalapeños, and Gruyère, like I do in my book, or to eat raw with vinaigrette.
Last question: Why is this book perfect for these imperfect times?
The photos will transport you to the French countryside, where we shot it. And we all need a little escape, at least sometimes. The recipes are deeply satisfying and not what you've seen before. There are plenty of pantry-friendly ones to choose from. Plus, if you have any kind of citrus and a bottle of booze (Campari, Aperol, Chartreuse, or Cointreau), the Campari cake is a fantastic pantry recipe that you can mix in a bowl and that will sweeten your day. It freezes well, too.
Also check out Melissa making her rustic buckwheat apple ginger cake on the @ClarksonPotter Instagram page.
4 EXCITING RECIPES FROM DINNER IN FRENCH:
Roasted Cauliflower with Brown Butter, Capers, and Raisins
Hearty cauliflower gets a sweet, nutty, briny pick-me-up from a few staples you probably have lying around somewhere in the refrigerator.
Classic Salade Niçoise
This take on the salad relies on only a few pieces of fresh produce (some small potatoes, haricots verts, and tomatoes, if you have them) for a rich, salty, one-dish meal.
Sardine and Tomato Toasts
If you have a small treasury of these canned fish somewhere in your home, you probably already know that the key to great sardine toast is a bit of acidity, a bit of sweetness, and a bit of allium spice.
Lamb Shank Cassoulet
This take on the rich French stew swaps out the duck confit for a combination of lamb shank and sausage.
MORE COOKBOOKS WE THINK YOU'LL LIKE
We love Joe Yonan's Cool Beans, about everyone's favorite legume, and last week, we chatted with Joe and shared a few cool recipes.
In addition to a whole career in Hollywood, some cool activism, and addiction counseling, Danny Trejo is pretty good at this whole taco-making business. Check out his upcoming book, Trejo's Tacos.
In Tin Can Magic, Jessica Dennison shows us the transformative power of cans of coconut milk, tomatoes, anchovies, and even lentils in everyday cooking.
Alexander Smalls might be the only person we know who has a Grammy, a Tony, and a James Beard Award, and his new book, Meals, Music, and Muses, tells the story of how music and food interweave throughout Southern culture.
At just 21 years old, Victoria James became the country's youngest sommelier at a Michelin-starred restaurant. Wine Girl is her candid memoir.
And let's not forget Priya Krishna's Indian-ish, which we could now call a modern classic. She joined us on the TASTE Podcast last summer.
Each week, we talk to an author of a new or upcoming cookbook we love. Subscribe to our newsletter to get these previews (plus excerpted recipes) in your inbox.