Meet the No-Meat Mapo Tofu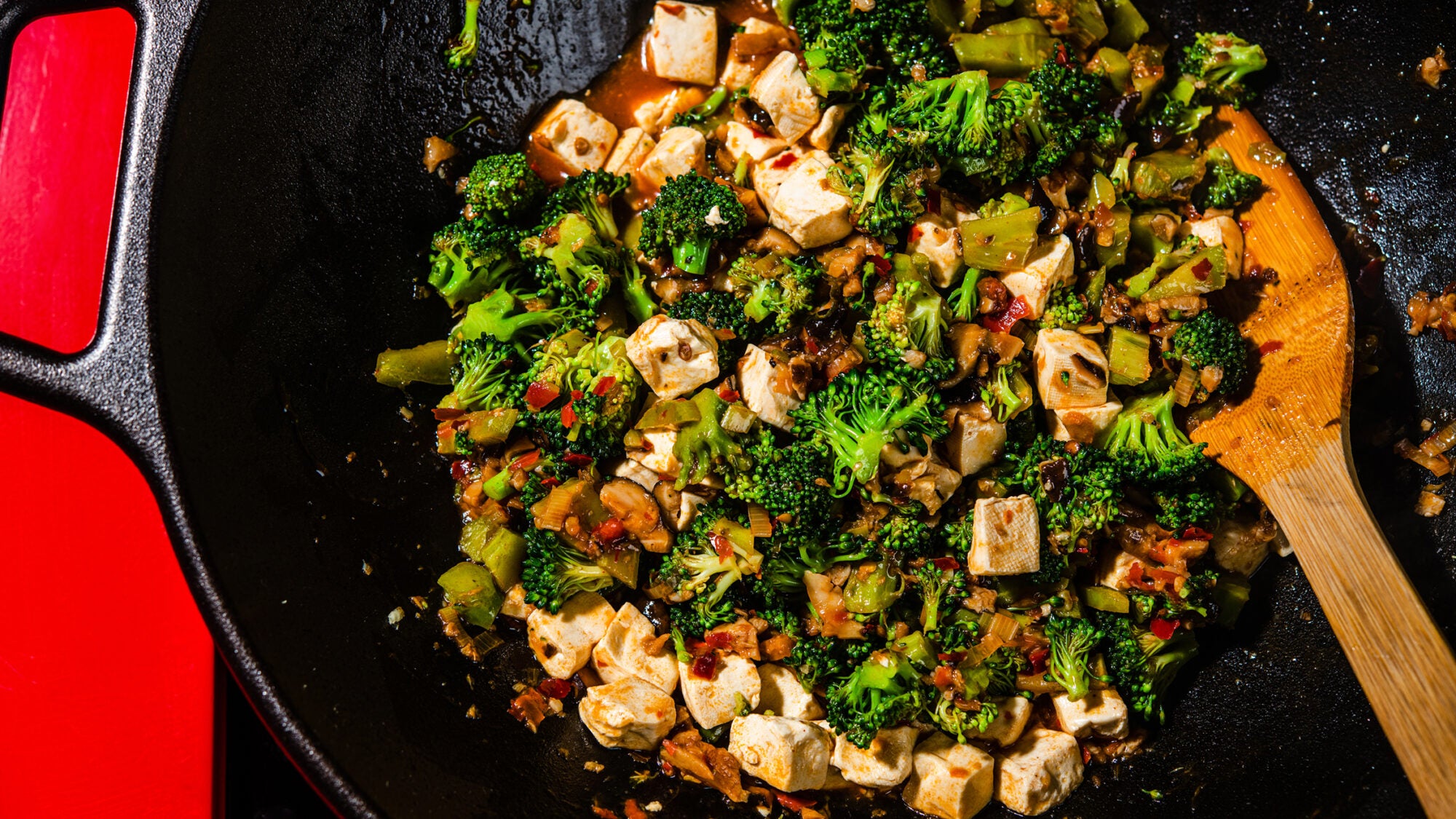 A reason to believe in the power of broccoli.
A good mapo tofu combines a fiery, numbing tangle of Sichuan peppercorns and electric-orange chile oil with the pillowy reprieve of silken tofu. Pork almost always peeks its head into the frame, but more as an accent than as the star of the show. Little, chewy bits of the stir-fried ground pork collapse into the folds of the tofu and soak up extra flavor and spice. When it's really doing its job right, the meat infuses the mixture with savory richness and offers textural contrast to that yielding tofu. But what if we told you there was a way make mapo meatless, without sacrifice or consolation?
This is where a $1.50 head of unfussy grocery store broccoli comes into the picture. Have you ever noticed how florets of broccoli crumble as you run a sharp knife through them? And how they become tender, and a bit wrinkly, as they cook, creating ample room for fat and grainy bits of peppercorns to soak in? The green brassica may sound like an unlikely meat substitute, but these florets and tender stalks are the key to this alternative mapo tofu. Better yet, you can build flavor in a big pot of mapo tofu by making a quick à-la-minute stock from blanching broccoli and simmering shiitake mushrooms in the same pot of water. Once you've reduced that stock with some Shaoxing wine, cornstarch, and aromatics, it becomes a concentrated sauce that's thick enough to coat each cube of tofu.
This silky gravy gets a double dose of umami from doubanjiang (if you don't have a jar in your refrigerator, buy one now—it will make all of your soups and stews a thousand percent better) and some Bragg liquid aminos (a liquid seasoning made from fermented soy beans). Fire up your rice cooker with some fluffy, short-grain white rice while the whole thing bubbles away, and you'll have a full meal ready to go, with one last drizzle of chile oil and a scattering of scallion greens.