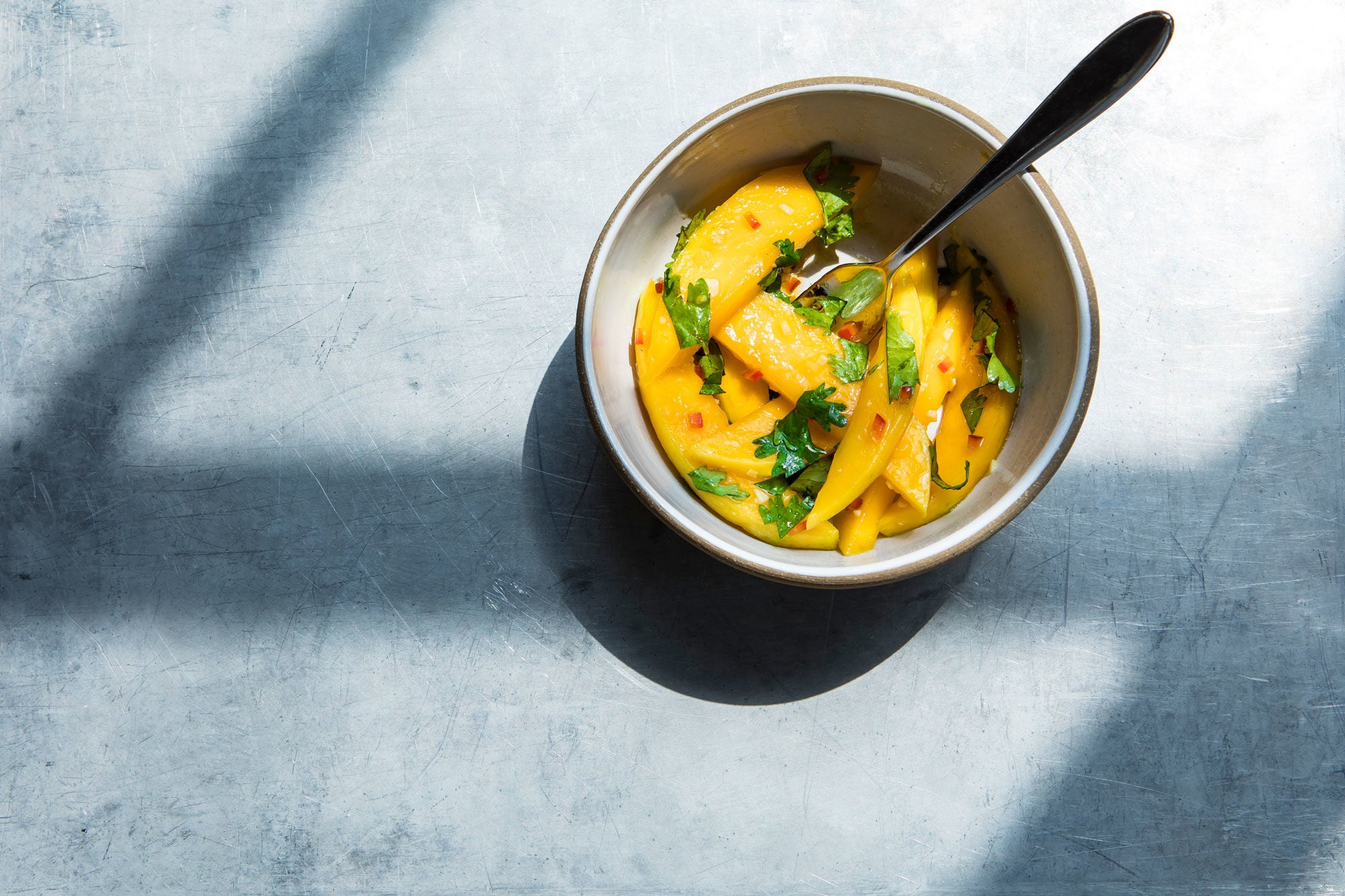 This Trinidadian snack with lime juice, garlic, culantro, and chile is here for you this summer.
To taste mango chow is to experience the playful side of Trinidad and Tobago. It's the original finger food, and it can be purchased from roadside vendors, beach snack bars, and school cafeterias. Sold in little plastic hand-knotted bags for around $10 TTD (about $1.50 USD), mango chow is an indispensable part of the social landscape of the islands. The snack is made with green (or slightly underripe) mangoes cut into pointy fingers, minced garlic, salt, seeded Scotch bonnet peppers, freshly squeezed lime juice, and culantro—a member of the coriander family.
The acidity of the citrus naturally tames the sweetness of the mango, while the aromatic nature of the garlic leans into the robust, grassy notes of the culantro. Culantro has a similar character to cilantro, but the leaves (which look a bit like dandelion greens) are heartier, and the taste is more pungent. The flavor cools down the assertive tingle of heat from the Scotch bonnet.
In Trinidad and Tobago, mango chow is both an effortless back-pocket snack and a national treasure that highlights the country's unique multiculturalism. And it's representative of the islands' trademark flavor combinations: bracing heat, lively citrus, and meaty fresh fruit.
As a child growing up in South Trinidad, the foodways of Africans, East Indians, English, Spanish, Chinese, French, Syrians, and Portuguese melded and became a part of our day-to-day lives. Curried mango, for instance—an Indian vegan side that resounds with the warm, fragrant spices of the subcontinent, like madras curry, saffron, and roasted cumin—is made with boiled green mangoes and culantro. On the island, no one knows which came first: the mango chow or the curry mango. In each preparation, green mango is both the star and the blank slate, simultaneously celebrating and conveying Trinidad and Tobago's rich diversity.
It is the spirit of invention that mango chow best embodies and one that still, decades later, has me rapt. At home in Raleigh, North Carolina, I make mango chow on a weekly basis for my husband and our two young children, especially during the balmy summer months. It's the snack food of choice for our pint-size eaters (I nix the Scotch bonnet).
When the workweek is particularly grueling, I heap spoonfuls of brilliant yellow mango chow—speckled with green and red—over grilled mahi-mahi for a 10-minute dinner that is nostalgic and restorative. The snack is a feat of enterprise: taking mangoes that aren't yet at their peak and tossing them with aromatics to produce something truly satisfying and refreshing.