The Man, the Van, the Slow Cooker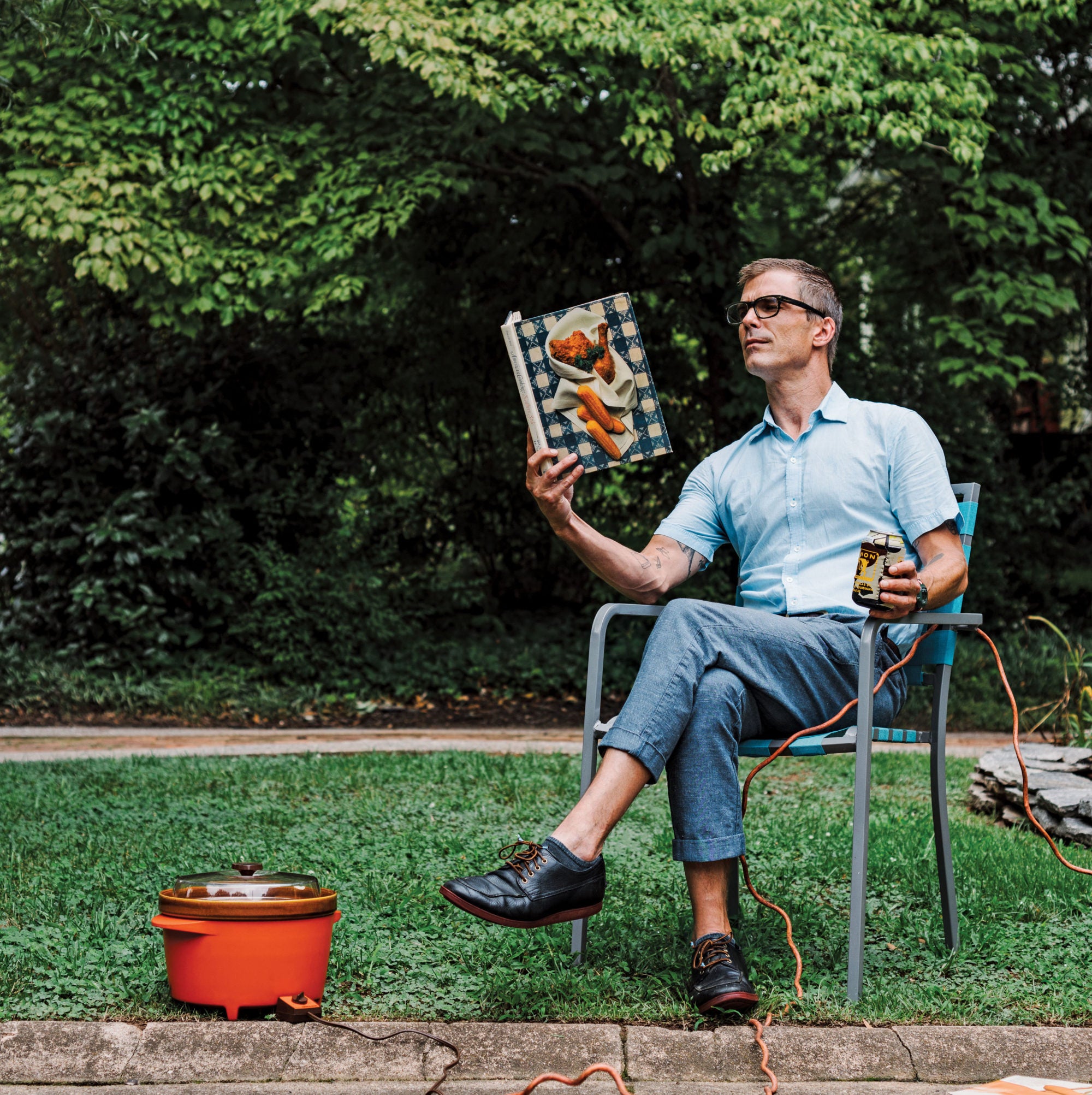 For his latest book tour, Hugh Acheson decided to pack his life into an Airstream and drive across the country, preaching the gospel of the slow cooker.
Hershey is home to Hersheypark, the self-proclaimed Happiest Place on Earth. I don't think Jonestown, about 20 minutes away from Hershey, has its own slogan, but for me, at this moment, it is the Soggiest Place in Pennsylvania. It's an even-darker-than-it-sounds Thursday night at 6:45 p.m., and I'm blindly squishing my rain-inappropriate sneakers through the many patches of mud this Kampgrounds of America has to offer, searching for Hugh Acheson's Airstream.
Turns out there are multiple silver-bullet trailers riding out the miserable weather at this KOA, but I eventually home in on campsite #63, where Acheson, his assistant Taylor Rogers, and right-hand chef Matthew Palmerlee have landed after a long haul from Ohio. They'd picked up this 28-foot International Signature 27FB at Airstream HQ in Jackson Center two days prior; tomorrow morning, they'll embark upon an 18-state winter road trip to promote Acheson's latest cookbook.
Appointed with creamy leather upholstery, chrome fixtures, a mood-lit kitchen with full-size fridge, and a plush bedchamber, this trailer is much, much nicer than many apartments I have lived in. It better be: For nearly two months, this long and lean aluminum-armored tube will serve as the Hugh crew's home base, office, sleeping quarters, and mobile prep space as they schlep the book, The Chef and the Slow Cooker, all over America. I find a relatively dry Acheson and Palmerlee inside, hovering around a seven-quart, digital-display All-Clad slow cooker.
There's something wonky going on with the Airstream's power and gas supplies—the read-out says "E7," but they don't know what this error code actually indicates—so they're troubleshooting with one hand and cooking with the other, melting down diced onions in a cast-iron adjacent to the All-Clad. The contents of that pan will eventually commingle with garlic, cinnamon, coriander, beer, and a nicely trussed eight-pound pork shoulder, ingredients for a taco recipe that appears in the "Porcine Dreams" chapter of his new book. They're starting now because this particular slow cook takes half a day, and it's got to be ready for their Friday lunchtime appearance at the Gowanus, Brooklyn, Whole Foods—stop 1 of 26 on this self-styled journey.
This past spring, Acheson says, he got "a bee in my bonnet," whipped out a sketchpad and shot his shot, sharing an illustrated proposal for this tour on Instagram. Airstream got back fast with a yes, lending him both the trailer and the Ford F-150 to drag it (he just had to pick them up). Acheson is not the first high-profile chef to act as his own wheelman for promotional purposes, but he might be the only one to travel coast to coast with the express purpose of lionizing a gadget that sits much closer to Betty Crocker than James Beard winner on America's epicurean spectrum.
If you don't live in Georgia or keep up with this stuff, it's likely you recognize the Ottawa-born Acheson from his several seasons on Bravo's Top Chef. A scholarly stirrer of pots in restaurants and on Twitter, he's the wiry, puckish one on the judging panel whose barbs range from wry to brutal ("homespun yet acerbic," per the network). Not necessarily the first dude you'd tap for tips on how to work the hand-me-down Crock-Pot eating up space in your cabinet. He admits to harboring reticence about the concept, presented to him by his editors as an erudite market response to the popularity of the Instant Pot ("the Ginsu knife of our generation," Acheson predicts). But then he started plotting out the possibilities.
The Chef and the Slow Cooker has a real Aesopian ring to it, a catchy structure that suggests there might be life-affirming lessons bubbling within the pages. For Acheson, the intended takeaway is as unfussy as your mom's pot roast. "The book was written to strategically get people into cooking from scratch again, with something they probably had," he says, "because most households have some sort of slow cooker."
Yet Acheson, who didn't grow up in one of these households—he didn't even own such an appliance until about 12 years ago—is not some set-it-and-forget-it savant. While some classic slow cooker dishes can be very good, "they can also be mushy lumps of protein," Acheson, the proprietor of five restaurants between Athens and Atlanta, observes. Leaning on decades of professional experience, he aims to prove that it's possible to exploit the versatility of the gadget to create chef-caliber results—so long as you have a plan of attack and the drive to do a little more.
"Half of the people are like, this is great," says Acheson, itemizing his earliest reviews as he sips Côtes du Rhône from a ceramic campfire mug. "The other half say, you're supposed to just dump it in the pot and walk away. But it's The Chef and the Slow Cooker, not The Kitchen Hack and the Slow Cooker."
Accordingly, Acheson went hard on the R&D for his fourth cookbook, a painstaking process that begat a truly global collection of recipes—pho broth, Hoppin' John, Italian ribollita, cider-braised quail, Hungarian Pörkölt, Mexican goat stew. Some of these offerings require stovetop preparation beyond a quick dump-and-walk—cooking the onions and pan-searing the meat to make those pork tacos, for example, or blanching Savoy cabbage leaves before stuffing them with lamb for a slow cooker version of Polish golabki.
"You just have to adapt your mindset to how to maximize flavor—to make food exciting but still logical," says Acheson of the steps he perceives as imperative, whether you're using a slow cooker or not. "You're not trying to re-create the wheel. You just have to get into it to begin to understand the vernacular of real cooking."
When I was a kid, spotting my mom or dad messing around with the Crock-Pot in the morning as we got ready for school always indicated to me that our family was in for an arduously busy day. Acheson has rejiggered this narrative—to him, slow cookers are tools to emancipate yourself from the rigors of life, freeing us up to enjoy ourselves, if only for the time it takes your hominy grits or Middle Eastern–spiced lamb shanks to finish. That's why the photos throughout the book feature him in various stages of leisure—taking a nice soak in the bathtub with The New York Times or lounging on a picnic blanket with a personal stash of boiled peanuts (yes, the adopted Southerner provides a recipe for those).
"What a slow cooker does is actually really important in our modern world: It gives you time," Acheson writes in the introduction. Time is certainly at a premium the morning after our initial meetup—the sun is several hours away from rising at the hour the caravan, captained by Rogers, pulls away from Jonestown, so early that my shoes are still soaked from the night before. All four of us are in the cab of the F-150, listening to NPR and attempting to form coherent sentences between updates.
It could be that we all need more coffee, but Acheson in this setting is more reserved than the telegenic one-liner machine he offers onscreen—see this Top Chef Masters Q&A, where he's already mastered incorporating the questions back into his answers (producers LOVE THIS), or this zinger-filled Eater clip of him making Kris Jenner's nacho recipe. I guess I assumed that he'd speak in a series of jokes and irreverent bon mots, imbued with just the right amount of native Canadian candor. In reality, Acheson is a much more measured conversationalist—not unfriendly or standoffish, but certainly more calculated than the off-the-cuff tone he strikes in front of the camera.
The difference between these two Hughs becomes even clearer once truck and trailer arrive in Gowanus after three hours on the road, a trek highlighted by Rogers's successful, if slightly white-knuckled, navigation of the Verrazano Bridge (toll: $50). The original idea was to host the demo outside in front of the Airstream, but it's so bitter and windy that they decide to shift to the (still very cold) Whole Foods vestibule, setting up in front of a Chichen Itza–inspired tower of Lacroix 12-packs. Most of the tour stops are taking place at Whole Foods locations; the chain is a sponsor, along with All-Clad and hot sauce brand Cholula, partnerships that require Acheson to file occasional label-out shots on social media.
The pork he and Palmerlee had prepped the night before has finished its 12-hour cook, and now they shred it onto griddled-warmed tortillas with tomatillo salsa and cotija and wrap them up in bits of foil, all ingredients the chefs hunted and pecked from the aisles upon arrival. By now, Acheson has switched all the way on, abetted mostly by curious citizens approaching him to figure out what the hell he's doing.
The tacos, he cheerily informs any shopper who asks, are free with a small donation to his Seed Life Skills initiative, which modernizes home-ec curricula in American schools ("We update our phones 10 times a year, but we don't update a curriculum for 50 years"). Of course, Acheson's also there to sign and sell units, literal heavy lifting that's handled with aplomb by Rogers, armed with a bank bag, a Square credit card reader and a constantly replenishing cache of books they've strategically mailed to upcoming destinations like they're Appalachian Trail rations.
Admirers of Acheson have flocked to Gowanus for this midday soiree—people like Christina Ryan, who earned her veterinary degree from the University of Georgia in Athens, falling in love with his cooking along the way. She and her husband, Jeremy, took a nearly hour-long ferry ride into Manhattan from Monmouth County, New Jersey, then hopped a Brooklyn-bound train just to meet him and grab one of his books. Acheson graciously makes a little time for them, plus anyone else who approaches his impromptu taco stand, scribbling personalized notes into a number of factory-fresh cookbooks while he's at it.
To a family commenting on the blustery weather: "I'm Canadian, and I'm cold!"
To a teen in a letterman's jacket who politely declines his offer of a taco on account of vegetarianism: "You are empowered, my young friend!"
To a hip Brooklyn dude in an expensive peacoat, wondering what the appropriate charitable contribution for food would be: "You can pay whatever you want—50 cents, a dollar, 85 dollars, whatever."
To a man who doesn't seem to know who Acheson is but does seem to be hungry: "Is it the best foyer taco you've ever had?"
Photos by Melissa Hom, Taylor Rogers, and Andrew Thomas Lee