A New Story With Old Bread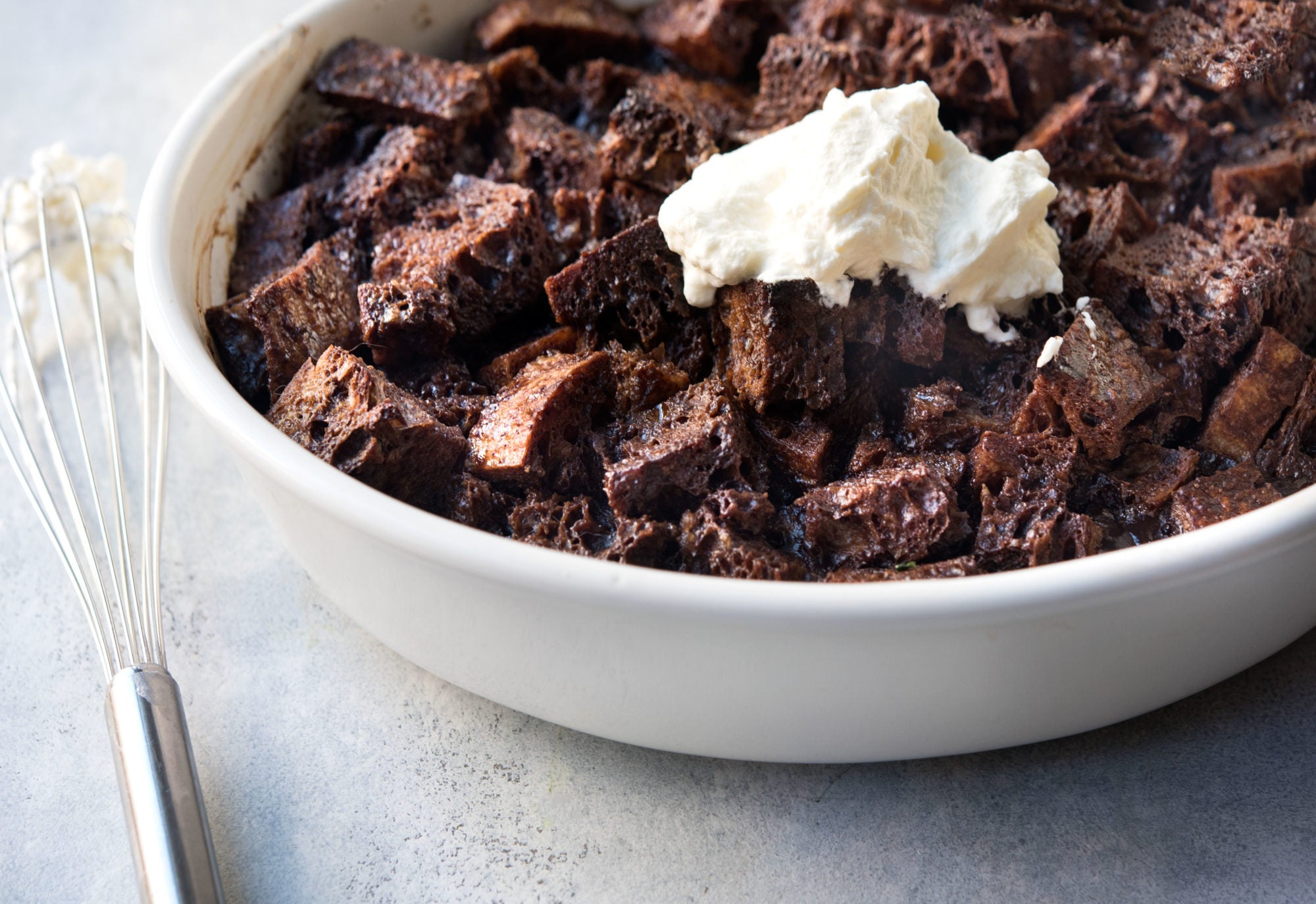 The custardy, chocolate-flecked bread puddings of today have come a long way from the dessert's austere origins.
Bread pudding is an old dish with humble roots. It evolved out of necessity, as a means of using up leftover, stale bread at a time when food was scarce. If the last heel of bread in the house was too stiff to chew, you could always add a bit of warm liquid and sugar to it and make it new again.
Food historians trace bread pudding back to Europe in the early 11th and 12th centuries, and it has been popular in England since the 13th century, when just about every kitchen had a deep bowl called a pudding basin that was used to collect scraps of stale bread. Bread pudding of that era was not nearly as luxurious as the kind we know today. Rather than the custardy mix of cream and eggs, stale bread was often soaked in hot water and squeezed dry before being mixed with sugar and spices. Early settlers brought pudding to America, but because wheat was not readily available, they often thickened the mixture with cornmeal instead of bread.
Plenty of countries have their own take on bread pudding. In Mexico, there's capirotada, a bread pudding layered with cheese and soaked in a syrup made with piloncillo, a type of brown sugar. Egypt has Om Ali, a pudding made from puff pastry, milk or cream, raisins, and almonds. There's Eish es Serny, a Middle Eastern dessert made from dried bread (rusks), simmered in sugar and honey syrup, flavored with rosewater and colored with caramel. And in India, there is shahi tukda, a dish made from bread, ghee, saffron, sugar, rosewater, and almonds.
Bread pudding has come a long way since the days of the pudding basin. These days, it is often made from fresh artisanal bread, like brioche, challah, pannetone, and even croissants, which drastically deviates from the dish's austere origins. New Orleans–style bread pudding is often topped with pecans, walnuts, or raisins and is served with a sweet sauce containing a strong dose of booze (typically bourbon) and a scoop of vanilla ice cream.
Modern bread pudding typically starts with a custard that consists of eggs whisked with milk or cream and thickened over low heat. Some recipes call for sliced bread; others for cubed bread. Regardless of which bread you use or how you cut it, make sure you start with stale or fairly dry bread to allow for maximum absorption of the custard. After baking, the top layer gets slightly crispy while the interior soaks up all that rich, creamy, warm, custardy goodness.
In this recipe, I swapped out some of the heavy cream with a favorite imperial porter, cold-steeped with coffee and vanilla in bourbon and rye whiskey oak casks. I'm pretty sure that bread pudding of the past did not include craft beer, more specifically a barrel-aged coffee porter, but cooking is all about having fun, putting your own spin on familiar recipes. I used two-day-old sourdough bread for its tanginess (crust included, for added texture) and brown sugar for its complex, molasses notes. A good amount of dark chocolate (70% cacao) gives the bread pudding a fruity richness, and I like to finish it with a dollop of hand-whipped cream.